Kris Keefer answers your questions about the new Honda CRF450
Kris Keefer answers your questions about the new Honda CRF450
So last week in Alabama it may or may not have slipped Honda's mind to invite Pulp MX, but fortunately I was there covering the 2017 CRF450R intro for Dirt Rider and HERE'S my first impression about the bike.
This is by far one of the most anticipated bikes of the New Year and my Twitter feed usually gets blown up with questions about this particular model the most lately. While I haven't rode all the new 2017 models back to back yet (Dirt Rider Shootout starts November 8th), I have rode all of the 2017's at one time or another. I decided I would answer some of the most burning questions I get on my Twitter feed and give you my personal opinions right here. After spinning over 120 laps, over the course of two days at Monster Mountain, I got to know this bike pretty good. In no particular order here are some key insights on the new 2017 Honda CRF450R:
Is it better than a 2017 Yamaha YZ450F?
All of you know I love the 2017 Yamaha YZ450F as it's the bike I choose to ride on my own time. And just in case you are talking to yourself while reading this saying "he gets paid by Yamaha to ride their bike", just to clarify I don't get paid by Yamaha, I just enjoy a good bike no matter what color it is. In overall horsepower feel, no the Honda is not faster than the Yamaha. However, it is very close to the Yamaha up through mid-top end though. Bottom end roll on power (or torque feeling) is not quite like the YZ450F. The Honda builds RPM's a little more calculated out of the corners, but with the same RPM response as the Yamaha. Very crisp. I would say the Honda has more rear wheel traction than the Yamaha does and your throttle hand feels more connected to the rear wheel on the Honda. The awesome part about the Yamaha is that it has a "very exciting" engine feel to it, which really makes it easy to hop over holes or big bumps. The Honda's engine has less engine braking and feels more free revving than the blue bike. So what does all of this mean? It means Honda closed the gap between itself and the Yamaha in sheer power feeling on the track. I am not ready to disown the Yamaha's engine character, as I still really love having that big torquey power out of soft corners. The Honda is just a different animal down low.
Since we do "Blame Pies" on the Pulp Show I will give you a Honda/Yamaha engine pie right here. If I were going to rate an "engine pie" I would say it is 55/45 (55 Yamaha power and 45 Honda power). In 2016 the pie would have been 75/25 (75 Yamaha and 25 Honda). That is a huge turnaround. Where would I want the Honda engine to increase? I would just want a little more excitement/torque down low, but I know I could easily get that with a different cam or possibly a higher compression piston. The Honda corners better than the Yamaha and of course feels lighter everywhere on the track. Laying into ruts or coming into a corner the Honda falls into each line very well and it is easier to make sudden line changes on the red bike. Straight-line stability is much closer to the Yamaha in 2017, but I would have to give the nod (by a hair) to the Yamaha on super choppy rough straights. At the end of the day these two machines are extremely close to one another as each machine has its own strong suit. I will be able to get a much clearer view when I get the Honda in my possession to ride on my home turf. If these two machines were being considered for your next purchase, by comparing these categories above, you should be able to decipher and create your own conclusion, as to which bike would be more suited for your riding style/ability.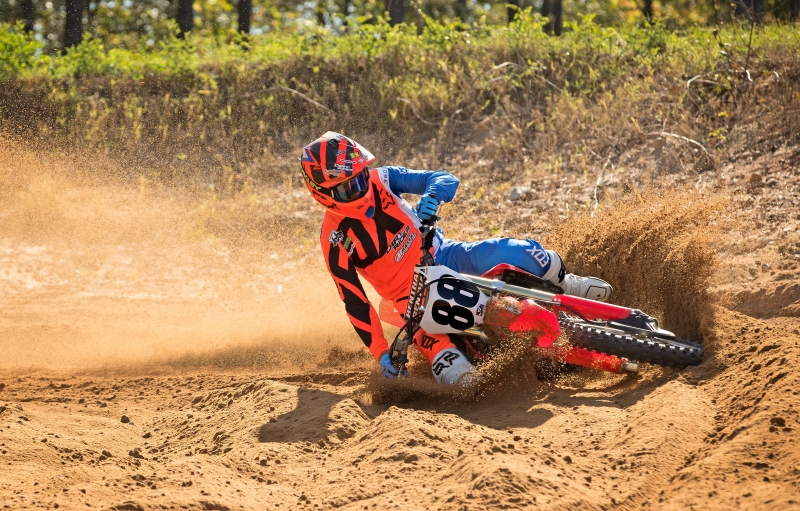 Keefer blows up a berm on the new CRF. Photo by Preston Jordan
Is the new CRF450R better than the 2016 model?
A resounding YES! This is nothing like a 2009 CRF450R where all of this hype was built up and it ended up letting people down. This bike actually handles and has a way better engine character than its older brother. The 2017 version corners as good (not better) as the 16, but has so much added straight-line stability that it makes for a more forgiving ride. The frame has better bump absorption and will not beat you up when the track gets rough like the 2016 did. It has a spring fork people!!!! Thank you baby Jesus! With Showa's 49mm spring fork the front end has traction again and has comfort on de-cel bumps. If I could find one negative it would be that it is a little too soft for me, but I will take a slightly softer fork setting than a stiff harsh front-end any day. The engine is more powerful and kept its controlled 2016 feeling out on the track. I like how Honda seemed to have kept an easy to handle power character that makes great rear wheel traction, but made it more powerful in the same breathe.
So what I am saying is that if you have an older CRF450R put it up for sale and ask the wife if you can get a new steed. Cause this Honda is way better than what is in your garage right now! I should know cause I bought a 2016 with own money, put spring forks on it, 22mm offset clamps, ignition, high compression piston, cam, ran race gas and its still not as good as the 2017 version.
But it doesn't have electric start!
This is more of a comment than a question, but I get this one a lot as well. Yes, I know you love KTM's and you can push a button. I get it. The good news is IF you choose to purchase a Honda and you want an e-start, it does have the electric start as an accessory and it's fairly painless to install. The cost of the electric start will be around $650.00, but it will not have a battery with it. Before you get all "Jody" on me and say "they should have done this with the stock production unit" think of how much a KTM costs? The KTM is roughly $500.00 more than the Honda so adding an electric start and battery will put you in the ballpark of a KTM. We can go around and around about KTM having a hydraulic clutch as well, but honestly I am a "cable guy", as I like the feel of a cabled clutch pull so a hydraulic clutch is not that crucial to me. Hopefully in 2018 the CRF450R will come stock with an electric start.
Will any of my 2016 parts fit on the 2017?
The only part that can literally be transferred over, will be your wheels. Everything else is pretty much a new item.
The earliest you will be able to purchase a 2017 CRF450R at your dealer will be late November/early December. I will be writing the Dirt Rider 2017 450 MX Shootout again this year so look for all the facts and figures when we ride all the new models back to back. If you have any questions you can email me at keeferinc@hotmail.com and I will try to answer your questions as long as they are legit. I will be co-hosting the Pulp MX Show on November 7th so if you have any questions about the new Honda don't forget to call in!