Here's the former SX and MX winner's thoughts on what he saw from the couch
Here's the former SX and MX winner's thoughts on what he saw from the couch
Photos by James Lissimore
Wow…what a race! Dungey pushed Roczen all the way to the end for 23 laps. A real test of fitness for both guys and with all the off-season talk about training Roczen had to be stoked. What did you see in their battle?
Here is what I saw. I saw Dungey start in front and lead for 7 out of the 23 laps clocking the best lap of the race. It's understandable that he got the best time because he had a clear track and best track conditions. The track got beat up pretty quickly. Roczen clocked his best lap time the lap he passed Ryan. Dungey stayed within 1.5 seconds until he bobbled in the last lap in that long rhythm section. It was a very intense race and I don't think those guys could've gone any faster. 3rd and 4th place guys where even farther behind than in Anaheim. That's also understandable because Roczen was alone in front in A1. He didn't push as hard as San Diego because Dungey was 16 seconds behind then. Ken and Ryan were very close in San Diego but the German started behind, passed the champ and led for the last 17 laps. It's always difficult to be the hunted and Roczen held his own perfectly. We didn't see any mistakes from him and we didn't see Dungey be able to try a move on him. Seems like Ryan only had it in him to stay with Ken. He wasn't able to attack him. Not sure if it was because he couldn't or he didn't want to get to aggressive at the second race or because he was too nice. I can think about a few times he could've tried a move but instead he peacefully stayed behind. It was a way better showing for Dungey in San Diego. His start in A1 wasn't great and when he got to 2nd, Roczen was gone. Dungey was 16 seconds back in A1 and 2.5 in SD. That's a big improvement and a lot of people are talking about Dungey being all over Roczen. I see it differently than most of you. I saw the champ in front for 7 laps. I saw Roczen pass Dungey when he decided to. I saw Roczen very strong mentally and physically because like I said above, he led for 17 laps and it's tough mentally to be the hunted.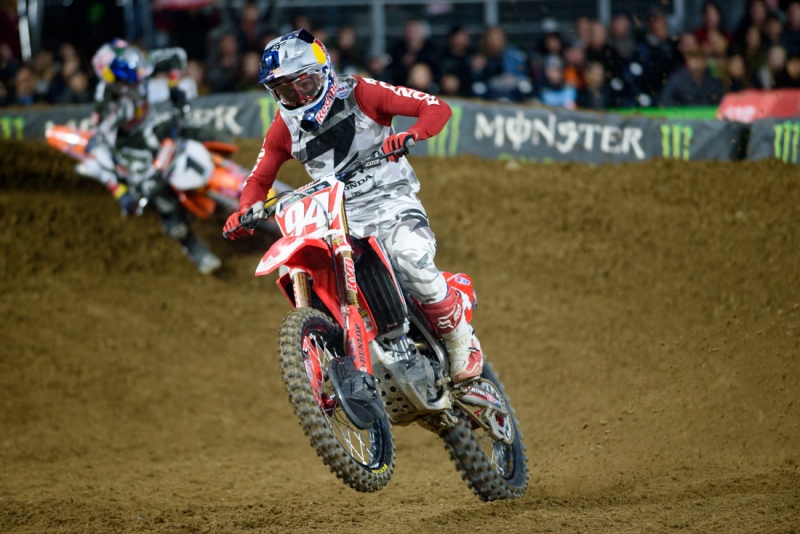 "I saw Roczen pass Dungey when he decided to. I saw Roczen very strong mentally and physically because like I said above, he led for 17 laps and it's tough mentally to be the hunted."
I saw Dungey not able to pass Ken back. I saw Dungey crack first even if it was in the last lap when he bobbled the rhythm section. A lot of people are embracing Dungey's performance which, dont get me wrong, was great but don't overlook Roczen's performance. They're both riding great, fast and in shape. Hence having Musquin and the rest of the (deep) field 20+ seconds back. The champ is learning fast and is adjusting is riding well to give Roczen a run for his money. He's not quite there yet but he's obviously not far. He's going to have to be a little bit more rough and take some shots at Kenny to destabilize him. At their level today, unless they make big mistake, they won't be able to pass each other "clean". Ryan will have to realize that and start getting rough and get in there even if he isn't too comfortable doing so.
The Whoops were a spot that Roczen was better than Ryan but Dungey said that he started entering them a little faster later on and found he wasn't losing time. What about those whoops did you see?
In the main, it was very noticeable that Roczen was flying in them but he looked in control. Looks like he had Bubba's "A days" speed with McGrath/Reed control. The first few laps he was entering them so fast, to tell you the truth, I was squeezing my butt cheeks. It felt like he was going too fast and that he would grenade himself, Bubba A1 2015 (or was it 14?) style… But, it turned out that he was in total control and flew thru them for 23 laps. We saw Dungey realizing he was losing time and he started entering the whoops way faster. I love to see that, a rider who adjusts during a main event when he sees he's not good enough in a section. Those whoops looked tricky in the main and some riders seemed a little scared when they landed from the little double prior to them. The key was to be gain the most speed possible at the landing of that little double. Basically, be agressive on the throttle. They guys who were shy on the throttle at the landing struggled in the whoops because they didn't have enough speed to hit each of them the highest possible. In case you were on the moon for the last 20 years, to go fast in the whoops, to have to hit them as high as you can. To do so, you have to have the balls to pin it to enter them. Size does matter when it comes to whoops and balls, people…
Is it too early to be worried about Tomac or Webb?
I think Tomac should stop watching race videos of RV. RV is the only successful rider in the history of SX who could pin it at the entrances of turns, slide his way around the turns and win 4 SX championships. This technique worked with 1 rider since the creation of SX in 1973. It doesn't work for anyone else. It shouldn't be taught to kids. RV's corners shouldn't be an example to anyone. Eli wants to ride like RV, pin it early in the turns, make huge dirt roosts for the cameras but it DOES NOT work. Just like it DOES NOT work to ride like Barcia. It DOES NOT work to ride like a 17 year old kid on a KX125 who wants to impress high school girls on Saturday morning at Perris Raceway. Once again, it does not work. What works is keeping momentum, finding traction, have enough speed in turns so you don't have to put the pedal to the metal at the entrance of corners.
Don't people/riders/coaches/man friends/mechanics/truck drivers/managers/goggle guys/gear guys/wives/girlfriends/mistresses see what wins races? Just watch Roczen/Dungey last 2 seasons + these 2 races and then watch Eli. If you don't see a difference, I can't help you. As far as Cooper is concerned, something is obviously wrong. All the know-it-alls start blaming the actual bike. I blame the bike set up in A1. Looks like the chassis was a bit better in San Diego the little I saw during practice and on TV. For the people who blame the bike, the bike is the same he rode last year and you thought he was great. It's the same bike with a 450 engine in it. Like I said, something has to be wrong for a rider like Cooper to struggle that bad. I understand it's a learning year but we expect a bit more from a rider who makes 7 figures before he puts his tires in the dirt. But in his defense, his bike set up looked horrible in A1. It was better in SD but he needs to push the equipment to see what they need to do. If you ride 2-3 seconds off from what the equipment can do, you'll never be able to improve it or build your confidence.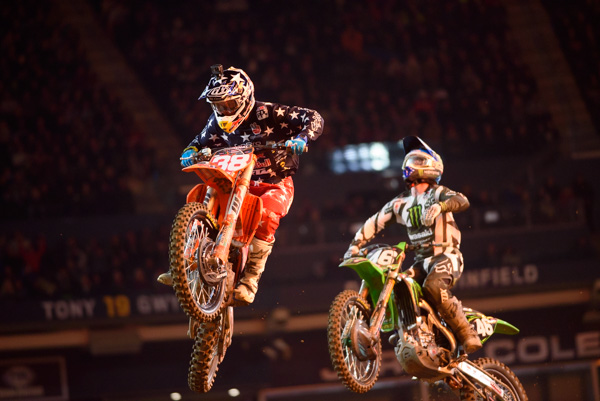 Mcelrath is two for two to start 2017
What a 250 main event! 18 laps and Davalos goes from first to fourth, Hill comes out of nowhere after being great all day, Plessinger was there and then McElrath won again! Where do you even start with something like that main?
That race was amazing! With 2 laps to go I thought Davalos was going to win. Martin looked great in that main. He was very solid in the whoops. Passed a couple people to take the lead and rode well. Then, he didn't jump the rhythm section twice (the one Martin crashed in practice) and shit hit the fan. McElrath, Hill and Plessinger were on a mission though. They were 5th, 9th and 10th on the first lap. Aaron, just like in A1, clocked the the fastest lap time of the race but he needs to get off the gate better if he wants to win one of those things. The top 6 guys' fastest lap times were within .3 second. That's close. Jimmy D looked great early on but blew up. He led 10 laps and in the last 8, he lost 24 seconds. 24 seconds divided by 8 is 3. He lost 3 seconds a lap on the leader in the last 8 laps. Not often we have the top 4 finish the race within 4 seconds. It was great on TV. But, if we want to analyse the stats, the 3 fastest riders in the race finished in the top 3 and you can add they were the strongest as well. The 3 extra laps they did compared to a regular 15 lap main event changed everything!
There was a triple that had a low take off and big square-like landing that took out three riders (Oldenburg, Top Jimmy and J Mart-almost) before they fixed it. Some riders when they walked the track said they noticed it being funky…what's the situation like for a rider in that? Do you hope they fix it? Do you not say anything? Do you say something? Thoughts on that
I started racing US SX in 1996. I raced tracks that looked like war zones like Seattle, Pontiac, Atlanta etc… I rode my entire career with uneven take offs and picky landings. I've crashed when I came up short and broke bones. It's part of the game. Tracks have come a long way since then. They're rounder, safer, tamer and more maintained nowadays. Technical tracks go hand to hand with dangerous tracks. A safe track isn't technical nor challenging. Do we want tracks with technical challenges where the best can excel or do we want tracks where the 80 guys in the night program jump the same things? That's really the question here. We are in the SX business and SX is dangerous. And if you mess up, you should unfortunately pay the price. There shouldn't be any "trying" in SX. It's either you don't jump because you don't feel like making it or you're good enough to jump and you make it. I don't like tracks where you can try jumps without thinking of the consequences if you don't make it. Track builders are working with dirt. It can't be always the same and be built with a compass. I feel like track builders can never win. It's either too easy and riders complain because they can't make any time or it's too picky and dangerous. Some tracks will be great. Some tracks will sucks. But at the end of the night, the best guys will be in front. Keep in mind, the tracks are always great for the winners. I've never liked High Point but I won twice there. The times I won, the track didn't bother me…
Timed mains caught some riders by surprise…verdict on those two races in?
Timed mains are great. They should have been timed a long time ago. It's easier to get ready for and it's always consistent. Timed mains shouldn't be an issue. A 20 lapper in some years at Anaheim on a 45 second lap time were 15 minutes. 20 lapper in Daytona in 2000 was 30 minutes because the track was a minute and a half. It makes more sense to time the main events. At A1, the mains were exactly the same as they've been, 15 & 20. In San Diego they were 3 laps longer in 250 and 4 in 450 but the overall time on the track is the same. Riders shouldn't be caught by surprises in A1 since it was the same amount of laps. The San Diego race was 28 seconds longer than A1 for the 250 and 20 second longer for the 450. 20 and 28 extra seconds shouldn't catch anyone by surprise…
Who's caught your eye in either class after two races that you're impressed with?
To tell you the truth, there are more riders who did not impress me than the other way around. Quite a few guys who should be in front are struggling right now. For me, the most impressive is McElrath. Because Shane is 2 for 2 with 2 great performances. I don't think anyone would've thought he'd be up there that high. Justin Hill was also very impressive in San Diego after a 9th place start and finishing 3 tenth off the winner at the checkered flag. Other than those 2 guys and the fact Roczen/Dungey are dominating the field right now, nothing else impressed me so far…