NBA, NFL, MLB all have one…so why can't we?
NBA, NFL, MLB all have one…so why can't we?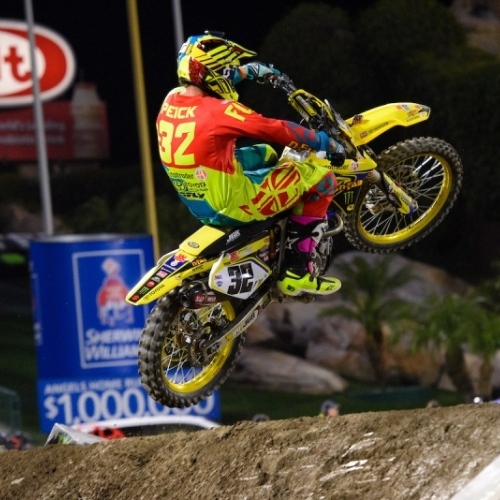 Peick is worthy enough to be an All-Star.
Photos: James Lissimore
I have other hobbies and interests outside the sport of supercross/motocross. I'm sure you're sitting there reading this thinking, 'Yeah right, Troy…like what?' Well I'm glad your conscience asked because I have a few things I could name right off of the bat. I like to eat and workout, that includes some road biking, hanging out with my home crew, battling raccoons in my attic, and I also enjoy watching the NBA, which brings me to the point of this column.
Why doesn't supercross have an All-Star weekend? I know we have so many one off races that showcase a lot of talent, and one could argue that the main events every weekend counts. Yeah, I can see your point, but hear me out on my theory for this. I watched the NBA All-Star weekend and I got really excited about this topic.
How about we have fans vote on who is an all-star on social media and then the top twenty vote getters will go out and do an exhibition main event. This could potentially work because it isn't going to matter what class the rider is in. If a fan thinks that they should be there, then they should be there. The riders will race their 250 or 450, just their normal setup they have for the season.
I say that we should make a weekend of festivities at the event, just like they do in the NBA. On Friday we can have a race take place between first and second year pros to showcase up and coming talent. The celebrity All-Star race would obviously be too dangerous and too much of a liability. Could you imagine Beyonce or Kevin Hart suiting up to partake in a celebrity supercross race? However, it is funny to think about. Kevin Hart couldn't even touch the ground on an 85cc. Instead of having celebrities compete we could just get as many of the sports greats as we can to line up for a race. I can see it now…we'll have Dogger, Wardy, Stanton, McGrath, Emig, RC, JS7, Reedy, and the great Red Dog all for an incredible exhibition race. I had Matthes at Red Dog…
Also on Friday we could take four or five riders who want to participate in some skills challenges. We could have a fastest lap time competition, which would be one lap to bring your fastest time. Then we could have a bracket style race just like they do in Amsoil Arenacross. To top it all off we'll have a best whip competition off of a triple jump and have celebrity/greats of the sport judge it. The rule will be that you can only enter one event on these challenges to make it fair for everyone.
After the All-Star main event on Saturday night with all twenty of our guys showing their stuff, we'll have fans vote for an MVR (Most Valuable Racer). It doesn't matter if you finished first or 18th in the race for this voting. If the fans think you deserve the award then you do.
Hey, this is all just crazy talk and will never be brought to life, but think about how cool this would be. Each year the race will be held in a different city on the seventeen race tour. We can have some musical guests and some of the longest opening ceremonies introductions in the history of the sport.
This would be a great way for the riders to kick back, relax, and just have fun for one weekend in the middle (or end) of the supercross season. If the argument is made that riders will sit it out because they don't want to get hurt then we have bigger issues in this sport. Yes, our risk for injury is a bit higher, but every sport has some sort of all-star game or weekend devoted to showcasing some of the best athletes they have to offer. Think about all of the possibilities this weekend would bring. We could have all-star one off gear and apparel. It could generate some more money and popularity to the sport.
With the fans voting on who is to participate in the All-Star race we will be able to see who has the most fans in the sport. If that rider is doing well then the fans will vote for them because they deserve it. I'm sure a guy like the Seven Deuce Deuce Adam Enticknap or Adam Cianciarulo would make it into the top twenty in votes with no problem just based on their popularity alone. I think this should happen in the sport and I'd like to hear your opinion on this as well.
Email me your suggestions at troy@pulpmx.com or troybendgen@gmail.com and what you think of this idea and maybe we can generate enough noise to organize a weekend like this. You can also reach out to me on Twitter @troybendgen.