Here's what DV934 saw in his week in Florida
Here's what DV934 saw in his week in Florida
The track was, uhhh, not good. Now RC has some parameters he's got to work with as the pit lane was widened by ten feet a few years ago but this track and last year's was not very good. What happened and how do you fix it?
Most riders were complaining about the track from the get go. When I walked the track, I thought it was pretty tight and narrow. I remember my first Daytona, in 2000, it was completely different. The obstacles also were actually very simple and the track crew mellowed everything out after the first practice. I really think the track builders should try not to reinvent the wheel, whether it's a regular SX, in Daytona and even in MX. We should know what works now, long lanes, long whoops, long start, 180 degree bowl turns. Daytona should come back as a day race too. Standing next to the track I couldn't see crap.
But, after all this negativity, the track is the same for everyone. Riders, crews and industry people, we should stop talking about the tracks week in and week out. Tracks are the way they are. We bitched at Gary Bailey for decades because the Daytona track was made half fast and ridiculous. Now, we almost want him back as track builder. I wanna see riders stop with the "track sucks" and have a positive approach to it. They need to want to find the solutions to go fast. Be in demand to make them improve, find passing lines. You can't get a good result at night if you said all day to your crew, friends, fans that the track sucks. As far as Daytona is concerned, they should go back to a more open layout and go back to some of Gary Bailey's shitty obstacles to keep the average speed down.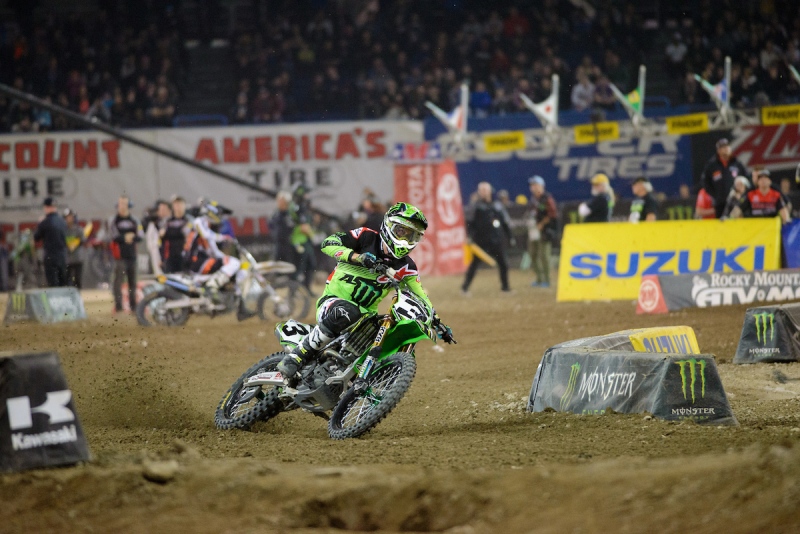 Tomac won again! Lissimore photo
Eli Tomac won again, Dungey rode great to get fourth but the gap is 17 points now. Tomac's got all the momentum…what happens?
As Eli, myself and the industry have been saying, the Kawasaki rider only has one strategy since Dallas SX and that's to win every race. He's on the right track to make the championship interesting. On the other end, Dungey has to beat Eli a few times and be right behind him when he can't beat him. Eli had a little hiccup in Atlanta where Dungey grew his point lead but Dungey had a bigger hiccup in Daytona even if he salvaged the most he could. I thought Ryan rode great in Daytona with a lot of fire. He could've easily lost the championship there with his horrible start. He went to work and got the job "almost" done. Losing only 7 points after seeing him in 19th place at the beginning of the race is a great accomplishment. Who said we couldn't pass on that track? Like I said in this column before, starts are important for the second and third tier riders. The top 2 guys seem to be the only ones making it work no matter the start they get.
Actually, Baggett did great in Florida. He was 22nd and last on the first lap and came back to finish 7th. That's almost a better performance than his podium in Atlanta. Obviously it's tough to win when you don't start in front but even the best rider in any era didn't win with a mid pack start. It's not a new thing, It's always been that way. Starts help for sure but they aren't the key. The key is to be better and faster than everyone else. This season, the best two guys are Eli and Ryan. It's not a coincidence they are the only ones able to go through the pack.
Jeremy Martin was fast in qualifying, crashed in the heat, didn't have a great semi but he pulled a start from the outside and led a lot of laps before getting second…what did you think? Is J Mart a 450SX rider now?
Like most people, I was a bit skeptical about J-Mart racing the 450 after his tough 250 West start of the season. I know he's great at Daytona but I didn't think he was going to be that good. I was glad he got the start he did in the main from the outside. I was saying all day that the inside on that start wasn't good. The way the first turn was with the outside berm being pretty close to the inside, the line in the first turn to start in front was exactly the one JMart took. If you want to start in front at Daytona, you had to line up by the doghouse on that start. The problem nowadays is that the riders don't want to really get the holeshot. They line up where they could get out of the first turn in a decent position if they don't get a good start. Their philosophy is to pick the less worse spot on the gate rather than picking the right gate to start in front. MC would've never lined up in the first 5 gates this weekend. He would've been towards the middle. Since all the good guys lined up on the inside, most of the time, you're gonna see one of those guys get out in front. But if you watch the starts to determine where the best spot to start from, the outcome of those starts are manipulated by the best riders picking the wrong gates. Saturday, you had to pick a gate that would get you in the outside berm first. That was the key of the start. To do so, you can't do that from the first 5 gates because you have to get on the brakes too soon. It's why I loved JMart's start because he proved my point. Coming in the first turn in the right angle to over-brake everyone to get in the berm first.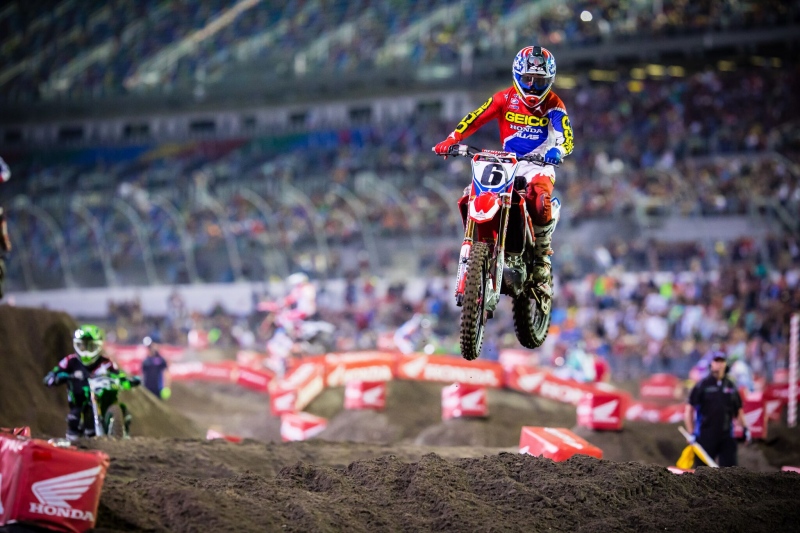 Jeremy Martin led laps and finished second! Jeff Kardas photo
As far as his riding went, he was fast all day and he really impressed me clocking 1'11's during the main. He lasted half of the race but he was the one setting the pace and clocking great times. It's not an easy task to do but he did it. As far as him being a 450 rider, he showed that he could and that proves another point I've making for a while. Riders stay in the 250 class for way too long to win a not so important championship in the 250 class. I was talking about it with a French journalist who interviewed me before the race in Daytona. We were talking about Marvin and the fact he's the same age as Dungey but it's only his second season in 450 while it's RD's 7th 450 season. When you're a 2-time world champion in the MX2 class and want to race in the US, you should jump in the 450 class right away and learn. Jeremy Martin, same thing, it's his 5th SX season in the 250 class. That's way too much for a 2-time 250 national champion. Who cares about a 250 SX championship? The goal in this sport in to perform and be successful in the 450 class right? If we say a generation of riders is every 5 years, Marvin for example lost a generation compare to Dungey. In this sport, too many riders want to win a SX championship before moving up. Most of them tried too many times. If you want to be a great 450 rider and have time and experience in that class to be a 450 Champion, you only need a couple years in the 250 class in SX. Even if you don't win a title, just move up and ride 450s. It will be more beneficial in the long run to race and get experience in the 450 class than race 5-6 seasons in the 250s to get a title.
Adam Cianciarulo got the start and won. Who else could've won if they got the start?
Adam got a great start and rode very solid for 15 laps. Savatgy was right there behind his the whole time. So we could say Joey could've won that race if the positions were reversed on lap 1. Osborne was also fast and pretty solid all day. He struggled passing guys and even crashed. As we saw in the 450 class, there were spots to pass. Some riders were better than others and Zach struggled a bit in that department in the main. He got a bit frustrated at times with Jordon Smith and lost some precious points in the championship. It's good for us fans. Those three guys guys are now closer in the standing which will make the series even more exciting.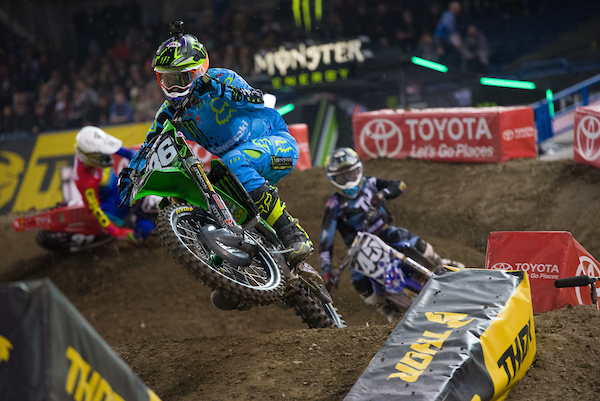 Adam Cianciarulo won his first race in three years in Daytona. Lissimore photo
But good for Adam, it's been three years since his last win and two or three shoulder surgeries.
It has to feel good for Adam to win a race again. He's been through hell and back but he's been working hard to get back. It had to be so frustrating for him after such a promising start of his pro career. But he's obviously back and we have to respect his work and drive to come back to the top. He wasn't riding well enough to win any of the races until Daytona but everything finally clicked on Saturday. It will be a big confidence booster for him. He's still in the hunt for the championship and this race should give him some extra motivation. But, it gave Savatgy some momentum too with his 6-point gain on Osborne in the championship. Zach is still the guy to beat at the moment and the next 3 races before the break will be very interesting before the last stretch in New York and Vegas.
Is Vince Friese now faster than Chad Reed?
That's a subliminal question and I see where you're going with it. If Dungey can pass 15 guys in 20 laps in the main event, Chad Reed could pass Friese in a 6 lap semi. It's Chad's fault, not the track. Try again…
Your rider Christian Craig's entire day was ruined when he got a bad jump or whatever happened and he came off last. What happened and other than that, how did he ride?
I thought Christian rode well in the first timed session Saturday. He was only a second off. It's actually not far off on a long track like Daytona. In the second timed session. he crashed early and could never got a good clean lap in. He was only 7th fastest. I thought there was some room for improvement and I wasn't worried. In the heat race, he got second. He finished pretty strong but couldn't put a move on Alex Martin for the win. I still feel he's riding too far in his comfort zone and too safe. In the 250 class, the strategy and the philosophy of riding is way different than in the 450. You have to charge way more on a 250 to be fast. We saw it with Adam, Joey and Osborne this weekend again. They're going for it with a small margin of safety. Adam won the main but was sketchy at times and that's ok on a track like Daytona.
You have to deal with those moments because it's impossible to ride a flawless race in Daytona and win. It's why we need Christian to push the envelope a bit more. Riding too safe in that class this season will not work, you gotta push. Christian's main was a bit frustrating after being last in the first turn. He was stuck in traffic, he made some good passes but also a couple mistakes where he almost crashed and cost him a few positions.
How was the nest? What did you think of being back there and oh by the way, what was up with RV coaching J Mart?
The nest has a great setup and everything you need and more. I think all those Florida facilities are all pretty much the same. The dirt is good, tracks are prime but I still think it could be even better and more efficient for a practice facility. I am not a fan of having brand new perfectly watered tracks everyday to practice on. I'm very old school when it comes to that. I don't think practice tracks should be fun and have perfect conditions everyday day. It's too easy to ride well on those type of tracks. I like Corona test tracks at 3 in the afternoon when it's shitty and riders struggled to ride. That's when you learn to carry your speed thru shitty slick turns, to use throttle control, to find traction use your footpegs etc… But, they charge the riders an arm and leg to ride so they have to deliver the best they can because one, riders won't be happy and two, they'll lose business…
You enjoy being back in Daytona? You broke your back there in '03 and you lost the points lead (or almost) in '02…bad memories for you!
Losing the point lead in Daytona in 2002 had nothing to do with Daytona. It had to do with me being stupid and making bad decisions. In 03, it was a bad deal. I was riding great in the mud and crashed on an on/off in the heat race. Broke 2 vertebrae and that was the end of my SX season. It was a tough deal because I was riding well in '03. I had shoulder surgery in '02 and didn't start the '03 season great. First 3 races were tough but I podiumed 5 of the next 6 races. The weekend before I got hurt in Daytona, I got second in Indy behind RC after passing Reedy straight up in the main. I had some momentum going. This Daytona '03 race and injury would become a big moment in my career without knowing it. I was never the same after that. I never won a race again after it. I still podiumed a bunch of races in SX and MX but I was never good enough to win ever again. While I was hurt, I found out I was going to be a dad too. Maybe this serious injury and the fact Charlotte was coming affected me subconsciously a lot more than I would've thought and ultimately did because I was never the same again.