You want the truth? You can't handle the truth!
You want the truth? You can't handle the truth!
Photos by Lissimore
What's your take on what's going on with Dungey? He said last week that he was going to change up his strategy then this week he didn't ride that well until the main. Then about halfway he dropped back and Marv got him. On the podium he said it was "just a dirt bike race". Thoughts on this?
The last couple races have been rough for Ryan. He rode great but he lost 7 points. Indy looked a lot like Minneapolis for the Champ. In those 2 races, it looked like he had something for Tomac early in the race and he lost contact by making mistakes. He didn't regroup well and Marvin caught and passed him. It's unusual coming from the most consistent rider of all time. Since he got the red plate in A2, it seems to me like he's either containing his point lead well or on the verge of blowing his point lead. It's almost like he's becoming unpredictable now. He has great rides like Toronto or Daytona when he doesn't win but rides well to salvage points and races like Minny and Indy where he kind of blows up. It's difficult to analyze because I'm pretty sure if he rides with the same drive he had in Daytona in Indy, he would've stayed with Eli. He has it in him but he doesn't show it every weekend.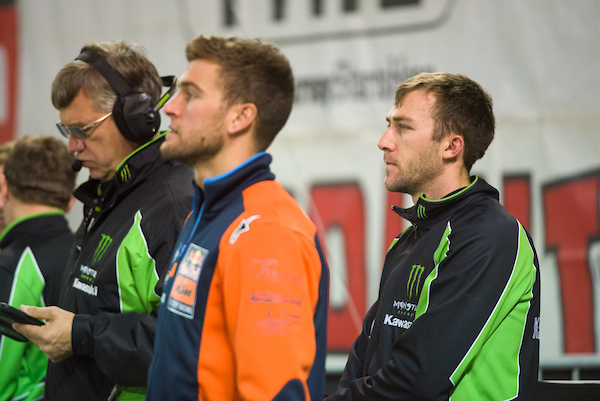 The battle between these two is officially on.
Like I said earlier, it's very unusual for him to be that full of turmoil. Then, we hear him in his podium interview that it's just a dirt bike race and there's more important things in life. I thought it was bit weird to hear him say that and it sounded like he has almost given up even with a 12 point lead. I really hope not. He's gonna have to re-motivate himself and show up in the last 6 races with his Daytona drive to be able to fight for this championship. Then, we can always speculate on the fact that it could be his last season racing with everything is going on lately.
Tomac's corners, when he's on, are amazing. He's steering with the rear like RV when the dirt allows him to which you're not a fan of. He obviously makes it work or are we wrong?
Tomac is on a mission and he's doing exactly what he needs to do to win the title. When he was 27 point of the lead after Dallas, he only had 1 strategy and that was to win races. He's won 4 out of 5 since his horrible night in Texas. As far as his riding style goes, he has changed a lot since he moved to the 450 class. We remember him railing the turn like a rocket on the Honda feet on the pegs. Now he's using RV's technique a lot. Do I like it? Not really but it's obviously working well for him. I liked his corner technique on the Honda better. I think that evolution in riding style is to compensate for the set up of his Kawi. His forks are super stiff and hardly move going into the turns. Eli rides hard, hits obstacles fast so he needs stiff forks around the track to go with his riding style. the problem is that it hurts his corners a bit so he has to compensate by using his rear to steer. RV had the same issue. That's a reason RV wasn't as good in Washougal as on other tracks for example. It's tough to get in shallow ruts with rock hard forks and you can't really steer with the rear. It becomes a problem on hard pack tracks. We've seen it early in the season with Eli in both Anaheim and San Diego. I'm confident, if you put east coast dirt on the first 3 tracks of the season, his results would've been different.
Despite what I think about his bike set-up and how he goes around the turns, Eli is doing great and has done everything he needs to do to come from a 27 points deficit which most of us thought it was to big to overcome. At the end of the day, what's important is the amount of points you score and your position at the end of the racing nights. He's 3 points away to be perfect in the last 5 races so we shouldn't try to find anything wrong with him
Marv's sickness is over and he rode great to get second. A bit slower in the first half of the race but he used some smart lines, like before finish, to make up serious time.
Marvin also had a similar race to his main event in Minneapolis. Not great at the beginning but he got going, caught Dungey and passed him to get 2nd. I loved Marvin's heat race. He was so creative to find new lines. As usual he jumped the whoops early. He was the first one to use the inside after the whoops. I love how instead of jumping the last 4 rollers before the whoops he went 3 and jumping from the last roller into the turn and squaring off to the inside. I think he passed Millsaps doing that. His outside line before the on-off before the finish worked well too. Most of the guys stay in their lines forever even if they struggle with them and he's the only one always thinking to find new lines. He has the technical ability to do so but also the intelligence to know if they work or not without seeing the splits of the sections. I really like this about him and he's fun for me to watch it.
It's also interesting to watch a rider like Tomac versus one like Marvin. They're totally different but they both are doing great and making what they're doing work. I'm also surprised he attacked Dungey like he did in the main knowing it would hurt Ryan to lose 2 extra points. Some would say it's great there aren't any team tactics but some are surprised, like me, that Marvin actually went for it. I guess it makes it even more interesting. Now, I'd like to see Marvin and Eli, two completely different riders, go head to head in a main event. I'd be curious to see that.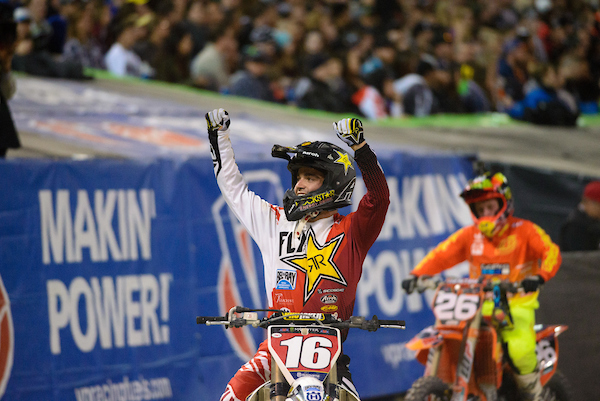 Osborne won again to extend his points lead.
Savatgy rode great, Osborne rode a little greater using some better lines. Where was Zach faster?
Joey and Zach were on another level in Indy. They were both going for it and gapped the field. They were a second faster in the main than the two next fastest guys, TLD's Smith and Martin. Those 2 lost time when Alex crashed but they had nothing for Osborne and Savatgy. Zach spent 10 laps behind Joey and it looked like he had the PC rider covered and was faster. Seems like he was just waiting for an opening or for Joey to make a mistake. I was telling myself when Zach would take the lead he would take off. I was wrong. Savatgy gave Osborne a run for his money and stayed in his wheel for the last 10 laps. They lapped riders all the way to 8th and were almost 30 seconds in front of 3rd place, Smith. Let's say, Jordon lost 10 seconds in the incident with Martin, a 20 second gap to 3rd place is still a lot. Even with a win in Minneapolis, Savatgy wasn't as fast as Osborne there nor in the next couple races, in Atlanta and Toronto. But since Daytona, he has stepped up and he matched Osborne's pace this weekend in Indy. It has to feel good for him and he's only trailing the Husky rider by 9 points.
What's your take on the AC/Osborne practice incident?
I was watching the practice live on my computer. I saw Adam taking Zach pretty high in the first lap of practice. I heard someone say Osborne actually started it before the Adam move. I didn't see that but it never feels good to be taken high in the first lap of practice when you're the points leader. Osborne went to pass Adam two turns later but it wasn't bad at all. It seems like Adam wasn't expecting it, which is surprising after his move two turns early. Zach's blockpass wasn't bad at all though, at least, I didn't think so. It's a bummer Adam went off the track and hurt his knee in the process. When you blockpass someone you have to be ready to get it back soon after. I learned it the hard way with K-Dub in Phoenix 2004!
Osborne has been pretty aggressive but you have to be if you want to win a title. Webb was pretty aggressive the last couple years in the 250 class, way more than Zach has been this year. He also made an aggressive move on Savatgy in the main but when two guys are riding at the same speed on a pretty tight track, sometimes you have to get in there use your elbows and shoulders. Obviously, I didn't think Osborne move on Joey was bad in the main. He saw an opening and went for it. Savatgy might see it the same way and I wouldn't be surprised if he does the same to the points leader soon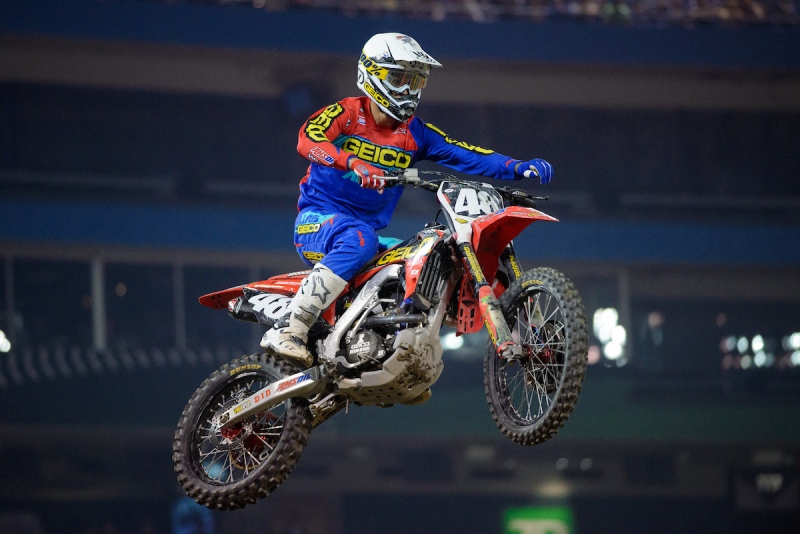 Craig rode ok in Indianapolis but the DV/CC pairing is officially no more.
What's up with you and Christian Craig? The people demand answers! Christian didn't get great results but he rode ok.
As of today, Monday, we will not be working together anymore. We worked very hard since the beginning of October but something is obviously not clicking. There's no need to keep going if it's not working and if there are no results. I'm back in retirement mode, watching the races on TV from my couch and going to my kids basketball games…
Indianapolis memories for you?
I think we've talked way too many times about Indy 2002 and i don't need to talk about it again, just like Phoenix 2000. If you were on the moon the last 15 years or in your dad's balls, you can always catch that race on YouTube…