You want the truth? You can't handle the truth!
You want the truth? You can't handle the truth!
Photos by James Lissimore
Moon dirt was back in style at Seattle making for a difficult track. Tough to race on right? What's the key to going fast on a track like that?
The track is always challenging in Seattle and it's been that way for decades. It was super rutted back when the race was in the Kingdome and always very loose in the new stadium. Even when it's dry, the track breaks down a lot. It's very difficult to ride in those conditions. You have to be very smart and not scared to change lines often. Obviously the lines you take on the first lap might not be good the whole motos. Basically, you have to keep your eyes open and move around a lot and find efficient lines when the fast line gets too deep. For example, in the whoops Saturday, you had to get out of the main groove. I saw too many riders stay in it and lose time. Quickly, blitzing the whoops off the main line became faster. Lot of guys kept riding the main rut and losing balance. The guys who went right or left of it were faster, like Tomac or Anderson for example. Your lines have to evolve with the track almost on a lap-to-lap basis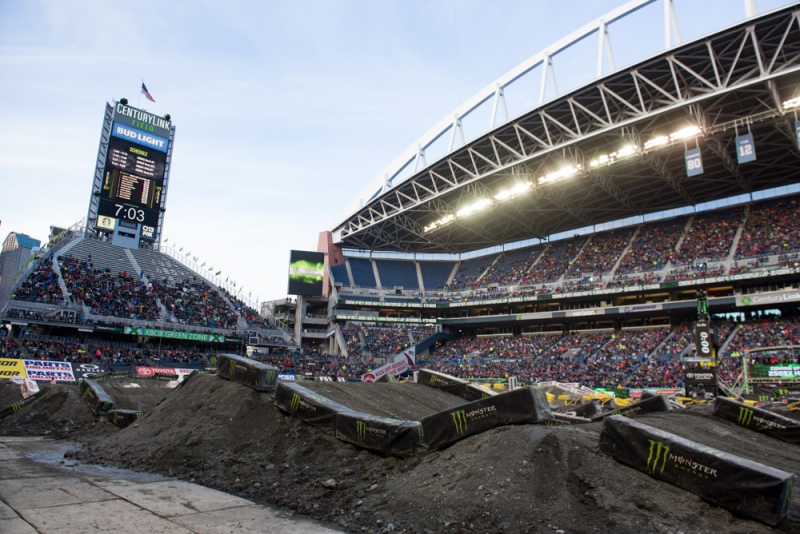 It was a rutty soft track in Seattle that really tested the riders.
Would the cancelling of two practices and making one practice just ten minutes freak you out as a racer or ?
For some riders, it's an advantage. I didn't like it because you have to jump everything in the ruts right away because if you are in the big class, you pretty much never ride on a smooth track. It's very awkward to ride on a track you never rode on when it's already rutty. You have to jump everything very quickly so you can focus on speed and getting a good lap in. It's very challenging. It also feels weird to line up in the heat race with so little time on the track. You almost never feel ready to race. You have to take the heat race as a practice too. Best case scenario is to get into a transfer spot and try stuff during the race. You can see what lines or combos are faster too. If it doesn't rain more like in Seattle, you also have to come up with new combos. Tomac did just that by doing the triple step on after the finish and the 2-3-3 where Webb crashed in the main. I can relate it's very tough to do that during a race. It helped Eli go thru the pack faster. But, for example, in Marvin's position he didn't have to take chances to do that since he was in front. Going around the track the very basic way worked for the Frenchy…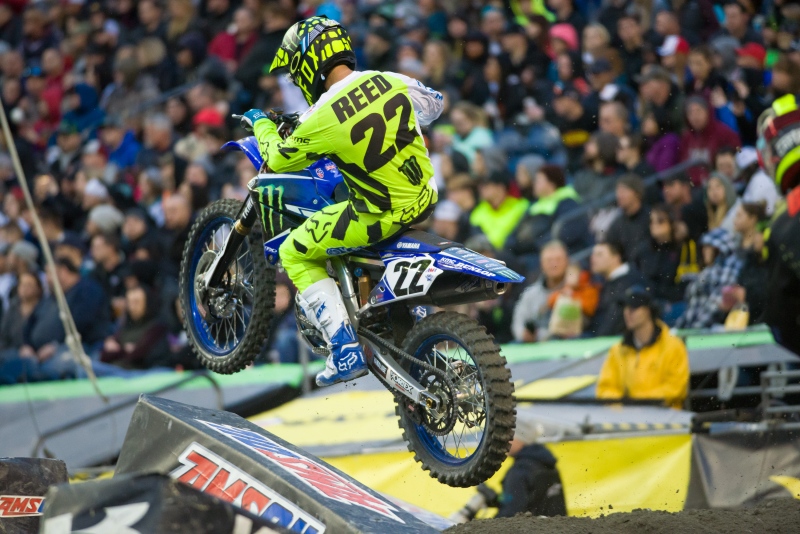 Reed made news again for his off-track appeal of his fine/penalty.
Marv won again and he's so technical that this stuff never really fazed him. What did you see?
Marvin is extremely good when he track is rutted and challenging and when he rides alone without anyone around him. He proved it again Saturday. Like I said above, he didn't have to do anything special. He didn't even jump combos that 250 guys were doing but he rode smooth without making hardly any mistakes. He rolled his turns in the ruts very well too. He stayed in the main rut in the whoops but made it work because his balance and precision are on points. He even seat bounced his way out of the whoops from the main line. That was cool. He wasn't as impressive as Tomac but didn't have to with the configuration of the race. Maybe it wouldn't have been enough if Eli stayed on his wheels but he didn't. His strategy of not taking too many risks and going around the track the generic way the fastest way possible was enough to gap Webb and Anderson early in the race. His strategy was perfect with the way the race went down for him. Taking chances, trying sketchy jumps wouldn't have been smart. The way he's been riding this season, he deserved his second win. It looked very similar to Dallas where Eli and Ryan had their share of difficulties and he made it look easy. I'm happy for him and indirectly; he helped his teammate this weekend. Marvin staying in front of Tomac was a good operation for Ryan.
Eli Tomac/Ryan Dungey. Wow.
They didn't win and Dungey didn't even podium but both of their rides were very inspiring and were champion-like performances. I don't want to hear you can't perform without a start anymore. When you are good and "want it", you can achieve great things. Ryan had a tough start of main event. Whoever decided that was a good idea to put that Suzuki tuff block in the first turn the way it was isn't very smart. They should've put 2 tuff blocks making a 90 degree angle instead of just one like it was. The tuff block made so many riders crash during the night of racing. After that, Ryan even fell over again in the turn before the finish. Getting a fourth place was great, just like he did in Daytona. I can critique maybe one thing about Ryan in that race. Since he was so far back I would've liked to see him try more triples in the rhythm sections like after the start and in the lane next to it. But overall, not too many people would've bet he was going to get a top 5 the way the race started for him. Kudos to him.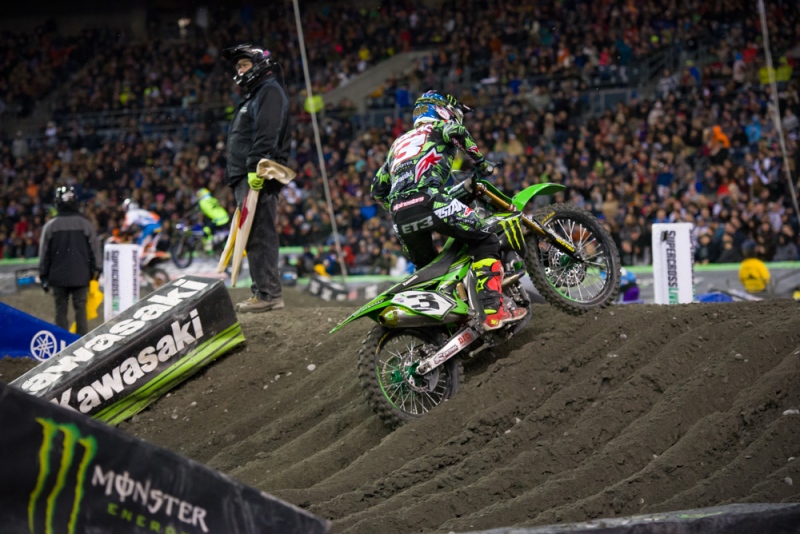 Eli Tomac had an amazing race even though his win streak was stopped.
As far as Tomac goes, he was on a mission. He started jumping triples everywhere and passing guys when he wanted. On a track like track, that's the key to make up time. Most of the guys jumped doubles, he started tripling at least twice in every rhythm section. Ruts looked big on TV and I can imagine how big they were in real life. His mistake on that sideways double might have cost him the win. He wasn't even in the top ten on the start, had a pretty big get off and managed to finished 4 seconds from Marvin. He was over a second faster than anyone on the fastest lap. That's huge at this level. It made for some great TV time and I also wish Eli and Dungey would start outside the top 10 at every race to witness that again.
Three races left, tied in points. Who do you like for the title and why?
At this point of the series, it's almost impossible not to pick Tomac for the title. In the last 11 races, he won 8 mains, finished 2nd, twice and had a mechanical in Dallas. He has had the momentum since the 4th race of the season and he's dominating. I like the way Dungey is fighting for it after he scared us a little bit with his "it's just a dirt bike race" comment a while back. He's not gonna hand the number 1 plate over to Eli without a fight and I like that. For the suspense of the series, it would be great if Ryan could beat Eli in Salt Lake. If that happens, most likely it will come down to who finishes in front of who in Vegas. That would be great! But to answer your question straight up, if I had to put my money of someone for the title, I couldn't bet against Eli at this point.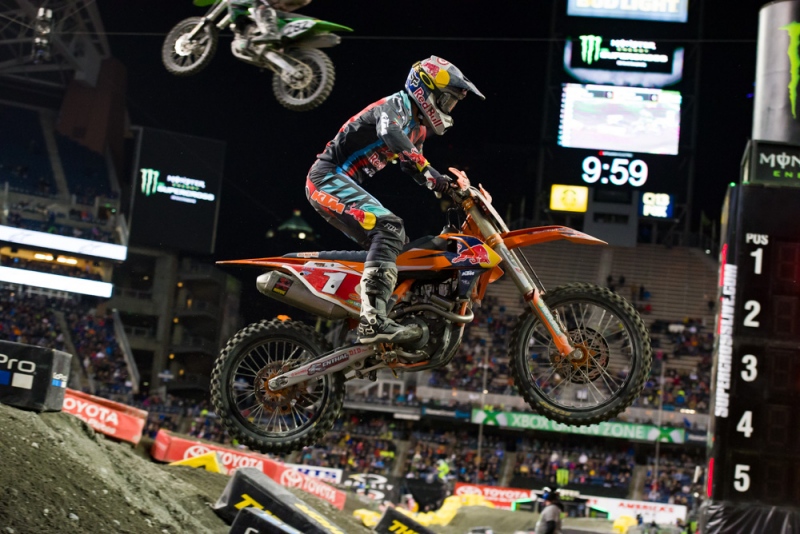 Dungey rode amazing as well coming up from a first turn crash.
Chad Reed is appealing the penalty from St Louis saying he saw the blue flags but Dungey never got close enough to him. Thoughts?
Why appeal a penalty of 5 points/$5000 if you're not in the hunt of the champion and you're worth $20 million? I don't really get it. I like Chad and I was the first one super excited after his Glendale race but he needs to pick his battles. He only scored two top 5's this season and I would rather see him put his effort in figuring out how to get more top 5's instead of fighting a penalty that doesn't affect anything. Without the penalty, he'd be $5k richer and would be 9th instead of 10th in the series. Where's the big deal in the penalty and where is the big deal in moving over a few feet in St Louis to let the points leader go by when you're getting lapped? I might not know the whole story but I just don't get it…
Plessinger was the man all day long in winning his first main event. What did you think?
Aaron rode very Tomac-like in Seattle. He's the 250 rider who tried the most things during the night program. We saw him entering the whoops at mach 1 where the others were riding on eggshells. He went 3-3-3 in the big rhythm section even when it got very sketchy. I gotta give props to Decotis too. He went for it a few times also. Too bad he didn't feel the whoops that well. Aaron was a mix of a fearless Tomac with the body english of Musquin. If you can mix a bit of those 2 riders, you're right there for the win. I love that he doesn't care if it's rutted or not. He rides the same way as a regular west coast round. That's pretty much what you have to do to be efficient. Not be scared of the ruts, jump as if it was dry and hard packed and evolve with the track without getting stuff in one line. Too bad Phoenix and Oakland didn't go great for him. The championship would've been a bit more interesting. He still gained a few points on Hill Saturday and he's 18 points back. It's always good to know you can mathematically be champion and it most likely will go down to Vegas just like the 2 other series.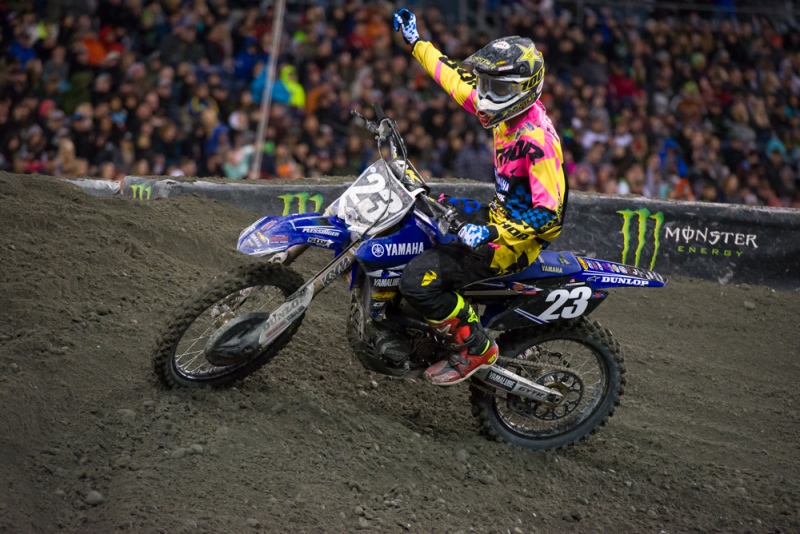 Plessinger got his first win of the season in a dominating ride.
Seattle memories for you?
I got a few. I actually won my first SX 125 race in the Kingdome in 1997 as well as my last 125 SX win the following year. My first time in Seattle was in 1996. I was racing a KX125 with the number 125. I rode my first ever SX in Anaheim in 96 the week before Seattle I believe. I got 4th in Anaheim which was a great result for me because I wasn't that good then. I arrived in Seattle in 96, it was freezing, the track was sketchy/soft/rutted and I was so scared of it. I remember casing the crap out of the triple in practice. I never rode on a track that soft. I didn't do very good and got 10th. But that wasn't my memory of Seattle '96. What I remember is the battle between McGrath and Huffman in the main where Damon passed MC a few times in the whoops but ended stalling the bike later in the race while leading. Jeremy obviously won. I was an 18 year old French kid who was so scared of jumping the triple and I was right there watching those 2 guys in the 250 class. They were great and the ruts didn't affect them nearly as much as myself. I was impressed and that day I truly believed I could never be as good as them nor winning a SX race. I was both in awe and devastated because I could never ride like that. They were too good.
The year after, in 1997, I was here again to race the West coast with the help of FMF. They couldn't or didn't want to send a box van on a 40 hour round trip drive just for me. They found a privateer to bring my bike in a box van with a box of spare parts and a plastic toolbox from Home Depot. We had to pay the privateer $200 then. He had 6 bikes in there. He was bringing bikes for several privateers. We got to Seattle, rented an U-Haul box van and found my bike. We pitted out of the U-Haul. The guy who brought my YZ125 was named Bateman if I remember right. We did Friday practice, I couldn't believe how bad was the track. Loaded the YZ in the box van, went to the hotel, drove the U-Haul to have dinner at Denny's. I was always at Dennys for breakfast, lunch or dinner. My dad loved that place and couldn't get enough of it. I was over it but had no say!
The next day, Windham, who was dominating the class, had a rough main event. Lot of stuff happened back then when the track was sketchy. I capitalized with Ramsey and Roncada crashing and I actually won my first 125 West Coast race with a U-Haul and a plastic tiny tool box. I had stock suspension modified by my dad and to add to our adventure, the AMA asked us to take the forks apart after my win. We had no tools to do it. We had to bring my forks to the Yamaha semi where they opened a tube to see if my forks were legal. We put the forks back together without oil and put the bike back in Bateman's van… Privateer island is actually factory compare to my set-up in Seattle 97. And you know what? We celebrated my win at… Denny's with a Moon over my hammy! I want to say "Good Times" but it was not at all…