You want the truth, you can't handle the truth!
You want the truth, you can't handle the truth!
Photos by James Lissimore
1- Wow. What a race in Las Vegas! First up, what did you make of Tomac's strategy to bunch people up and take some runs at Dungey?
Eli was in a tough spot coming into Las Vegas. He was 9 points behind. He needed to win and Dungey to get 5h to be crowned champion. When we know Dungey hasn't gotten worse than 4th in a main in exactly 3 years (6th in East Rutherford 2014), the odds were against Eli. If you look back at the season we just had, Eli came back from his difficult first 3 races of the season and his 15th in Dallas to gain the red plate all on his own after an amazing ride in Salt Lake City. I can understand he was irritated with what happened in New Jersey when Marvin allegedly let Ryan by. As you know, the way how/where it happened, I'm still not 100% convinced it was on purpose. But we also know that 3-point swing from East Rutherford isn't relevant today. What's relevant is that Eli blew his chances all on his own by crashing while leading the race in New Jersey and by seemingly losing his abilities to ride a dirt bike after the crash. That race was the key of the season.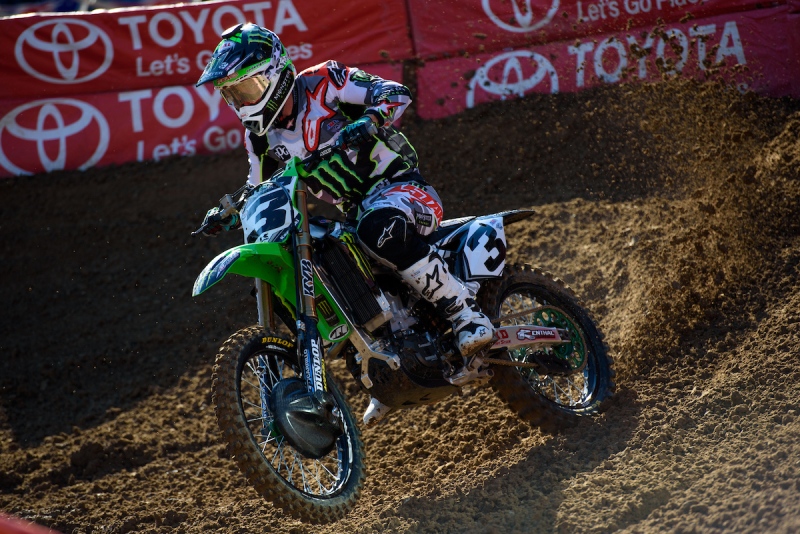 What a race in Vegas and Tomac tried the best he could to help him out.
We can't say Eli lost the championship in the first 3 races of the season nor in Dallas because he came back from it and was leading the championship by 3 points with 2 races to go. Being 9 points behind entering the last race of the season, something had to happen to Dungey. Most likely, Ryan wasn't going to finish outside the top 4. He had to get help not to finish in the top 4. After seeing the Vegas main, it's obvious Eli needed Grant to get in the mix to steal points from Ryan. Josh was right there to put pressure on Dungey even if before the last lap, Anderson was still between Ryan and Josh. Dungey also had allies with Baggett (before he crashed) and Anderson. Both weren't going to try to pass the Champ. They were human shields to keep Grant behind so he couldn't get in read of Dungey. That strategy changed when Reed got taken out by Anderson and Baggett crashed and wasn't in the picture. They were only 4 guys in front then and if Dungey stayed on his wheels and finished even last of the first group of riders he was going to be champ. He just had to be careful with Grant.
As far as Tomac goes, slowing the pace down was a good strategy when Reed was still in the mix. When they were only 4 guys left in front of the race, that strategy wasn't going to be enough. He needed another rider than Anderson and Grant to pass Dungey to be champion. I didn't like the fact Eli let Ryan by to try to slow him down or push him onto the tuff blocks. If Eli was in the state of mind to eff with Dungey, he should've take him out in the opening laps when he had the chance after the second set of whoops, then check out and pray that RD wouldn't come back in the top 5. He could've also made a bigger statement by winning with 20 seconds and be the first rider in SX history to win 10 races in a season and not win the championship. He wouldn't have looked like he did everything he could to win the championship but at that point his destiny wasn't in his hands anymore. With so many "allies" in Dungey's corner, I doubt Marvin, Millsaps, Baggett, Anderson or Wilson were going to do anything to hurt Dungey in the main. They are all connected directly or indirectly to the KTM family nowadays. Eli had only 1 ally and perhaps 2 with Reed riding well. That wasn't going to be enough. It's why I wouldn't have bothered with the strategy Eli used Saturday. I would've won the race by a mile, let the race happen and count the points at the end of the race. Eli blew his chances in New Jersey and he can only blame himself for not being close enough in points entering Vegas to be the master of his destiny… Eli deserved to be champion this season with winning more than half the races but SX is a point system championship who determines the champion with the most points. At this game, Dungey was better…
2- Why was Dungey trying to pass Tomac? If I was him I would've just checked up and rode behind him, no matter what the position. What could he have done differently?
Dungey was in a tough spot when Eli was starting the slow the pack down. Ryan would've had to deal with Tomac or Grant at some point. Obviously I wouldn't have tried to pass Eli. Everyone knew what Tomac was trying to do but you can't blame RD for passing him because he can't be 100% sure on what Anderson and Grant were going to do behind him. When Reed was out of the picture, in a way I'm pretty sure Ryan saw that, Dungey could've easily pulled off to let Anderson and Grant by, get 4th and win the championship. Do we really want to see that? Then, people would've broke the internet if Tomac lost the championship by 2 points. We wouldn't have heard the end of the Marvin-Gate in New Jersey. Doing that would have been the safest way to do it but we still don't know what Grant would've done. Dungey was in such a bad position. Another strategy for Ryan was to just take out Eli and put him out of reach. That would've been even crazier but not too bad of a strategy if you look at what happened. Looking back at this season, some people might feel Tomac deserve the title more because of the amount of wins but we have to have tremendous respect to what RD had to endure all season, the pressure, Eli's water walking etc… We can't blame RD for winning the title because Eli blew it last weekend. If Eli didn't crash in New Jersey nor rode like someone else was riding his bike after the crash, he would certainly be champion today. Dungey deserve his title. Tomac deserved it too and I'm pretty confident Roczen would've deserved it also.
3- Josh Grant, Jason Anderson, Chad Reed…They all rode great and what a race. What did you see with these guys?
Those three guys got into the mix and it was pretty fun to watch. I'm pretty confident we wouldn't have noticed them as much if Tomac rode his own race and didn't slow the race down while leading. It's ok, it made the main event more interesting. Track was long, over a minute, but times were pretty close this year. Everyone was doing pretty much the same thing in front. All the top guys were doing that quad. I actually like the inside line in that rhythm section when they were doing 2-3-3-3. When the outside got blown out I liked that combo better. It was fun to watch JG33 try hard to steal points from Dungey. He was on it that's for sure. Anderson, with Marvin, is the rider I like to watch the most. I love his riding style and his dedication to give what he has in a main event. His battle with Reed was awesome. I'm sure Chad was a little irritated with Jason's move before the finish but that's racing. That turn before the finish was a good passing and a great block-pass spot. Races are way more fun when there are several guys racing in front instead of 2. The non-potential main winners need to step it like Chad and Josh did this weekend and mix it up. Makes the racing way better. We always blame the tracks for bad racing but I'd take a 5-way battle for the win on any track over a great track where the winner wins by 10 seconds…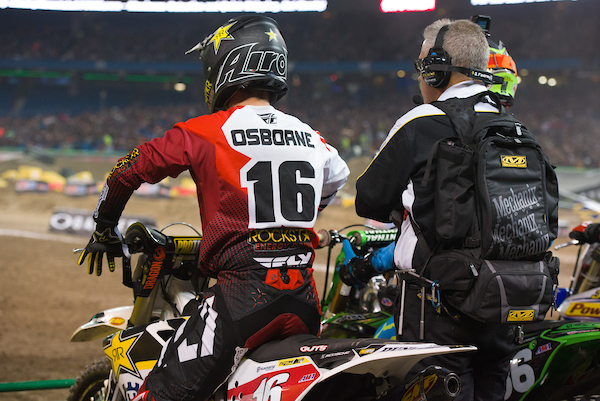 Your 2017 250SX East Champion, Zach Osborne!
4- What an incredible 250SX main event. First up, initial thoughts on what happened in there?
This race was the best and the most insane race I've witness or watched. It beats Atlanta 1990 or Anaheim 1986. I was screaming my lungs out in the stands. At the start, I was super bummed for Zach because the "kid" deserves this title more than anymore. He was the best rider this season and when he crashed on the start, I was like "dude, that sucks"… At that point, I was like there's no way he's going to be champion and wrote him off right away. Then, I was like, it's going to be between Joey and Jordan… Savatgy fell over after the finish and soon after, Smith grenaded himself where I really wouldn't want to crash, ever! That was super scary. I was glad to see him walk off. At that point, I thought Joey had it in the bag but that's when I saw the virtual points standing on the big screen. I've got to thank whoever did that. That was great to follow the virtual points standing live. That's when I saw that AC had a shot at it. I didn't even know he was that close in points. Think about if Adam would've became champion at the last race. That's would've been the best legal highjacking in the history of supercross!
At the same time, here comes Osborne while Savatgy is, to be honest, riding like shit… At that point, I respect what Osborne is doing but there's no way I'm imagining he's going to be champion. Now, I like Adam for the title even if Joey is still virtually champion. Adam is riding a great race. Joey is going backwards. He's now in 8th! Then, Zacho clocks the last 3 laps of his life and the rest is history. What an example of dedication, will and heart from Zach. That race should be shown to every kid in every MX school of the world. I'm tired of hearing about talented riders. I'm tired of hearing about skills. Those things are great to have, don't get me wrong, but what's most important in any sport is to "want it" and work hard. You can be the best rider in the world with the best skills, if you don't work hard and don't want it bad, you'll never win. Zach is the perfect example to the rule…
5- Joey Savatgy let the pressure get to him and didn't ride at all like he could have. As a former rider, can you explain what goes on in your head in a situation like that?
To ride well in a high pressure situation you have to do abstraction of championship points and racing scenarios. If you do too much math, you can't focus on your riding. If you try to come up with different racing scenarios, you can't focus on your riding. I know it's easier said than done but you have to focus entirely in being the fastest you can and get the best result you can. To do so, you have to set up your bike the right way. Vegas is always a bit different because of the lack of traction. Then, you have to figure out where you gonna put your wheels. If Joey would've focused on winning the race rather than focusing on winning the championship, it'll be champion today. Here's the best way, in my opinion, to do it. Use the practices to be the most ready for the night program. Come up with a comfortable set-up. Focus on clocking fast times in practice. Have a strong heat race. Race to win the main. Ride hard until the finish. Calculate points after the checkered flag.
6- Any problem with Osborne's pass on Savatgy?
I have absolutely no problems with Zach's move on Joey in the last lap, none. You have 2 turns to go and you have to make a pass to be champion and pocket half a million dollars. You gotta go for it. If you don't, you might regret it for a very long time. Kudos to Zach, rode an amazing race, made the perfect pass on the second to last turn of the race and won a well deserved title. I was screaming so hard in the stands and was so excited for him. Kudos to Aldon Baker as well. In Aldon's 17 year career in the MX industry, Zacho is the first ever rider "not already champion" to bring him a title. Now, we can stop saying Aldon can only win titles with past champions…
And lastly, you were in Vegas! What did you think of the experience at the race, who did you talk to? Did you go talk to Yamaha buddies?
I showed up with my friends buddies just in time to watch the 2 time practices. I missed the last West Coast time practice. I watched from the press box. Chatted with you and Allan Brown for a second. Went down to the pits. Got a text from Christian so I went see him at the Honda semi. We talked for a little bit. Said hi to Gothic J. I caught back up with my buddies at Lebig's van and it was pretty much time to go inside for the night program. I didn't see hardly anyone because I showed up way late. I felt like I was better at the hotel pool than roasting at Sam Boyd stadium to see SX practices. I watched the race from open seats not in the industry section. It was way too packed. We had to move around a couple times to let people with actual tickets sit in their seats but ended up at a good spot. I just couldn't see Monster Alley and the sand section.
Unlike any other races I attend, I stayed until the very end of the 450 main. I usually never do that. I either leave before the night show or halfway thru the 450 main. The show was too good so I stayed. I Ubered to the race so we needed a ride home. Surges were insane. Trying to get a car was insane and then it started pouring. We stayed 20-30 minutes in the rain before we got a ride back. That wasn't really fun but it was worth watching the whole supercross. It was such a good race. We ended up going to bed at 7 or 8am with way less money than when we got to Vegas but, oh well, yolo!!