You want the truth? You can't handle the truth!
You want the truth? You can't handle the truth!
Photos by Boris Splatkov
Well, that track looked like ZERO fun to race on. What's you memories of Hangtown and what did you think of that track…how do you ride something like that fast as well?
I've witnessed the evolution of the track over the years. Hangtown was my second ever National in 2000 after Glen Helen the week before. Back then, it was super hard packed and dusty. We all remember the heat wave that year, it was maybe the hottest National I've raced. The beginning of my national career wasn't fun. First, Glen Helen, over watered, super deep, choppy and then Hangtown. I managed to podium the first one and win in Norcal. Nowadays, since all the tracks want to look like Red Bud or Millville, they add tons of sand to make it deep, sand rollers and a huge jump. Hangtown is nowhere what it was 17 years ago but I've always liked it and did good.
The first 6 years I raced there, I won once and podiumed 3 times. Now, the track is challenging in a different way. There are a lot of very deep and long ruts. On a track like that, picking the right rut is important but the most important thing is to keep a good balance in the ruts and a good flow. The more you charge the most likely you'll mess up your flow. If you get in the turns too fast, your suspensions will rebound too fast and mess up your balance because the ruts are super long at the exits. Throttle control is very important as well as always keeping your wheels turning. Adopting an enduro style of riding is very efficient on a track with long ruts, just like in Mount Morris for exemple.
Eli Tomac did what we thought although Musquin raced him hard after being caught in the second moto. What did you see from ET3 and what about that short moto 2 battle between them?
We all know Eli is the huge favorite this series, from what we know he can do outdoors and also after a dominant second part of the SX season. Eli won both motos and was the fastest in both motos but didn't ride very good. He made a lot of mistakes. He was searching himself on the track and it seems like he didn't really know where to go. His flow wasn't very good either. He just didn't look very comfortable but he won both motos. It's not promising for the rest of the field though. If he can win looking a little off, he will kill everyone when he's going to ride well technically and be comfortable. Marvin led both motos but didn't have anything for Eli. He fought the Kawasaki rider in moto 2 because the overall was at stake. He rode better towards the end of the moto but it was too late. With Eli not looking amazing and having to come from behind in the second moto, Marvin should've won that moto easily as well as the overall.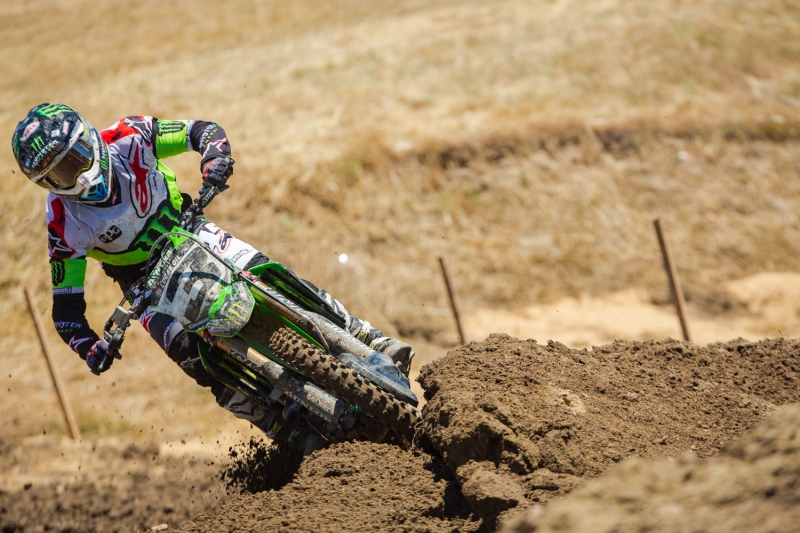 Tomac went 1-1 but DV says he can ride much better.
Josh Grant was riding very well in the first half of the second moto. Technically, I thought he was on point. He was taking his time in the ruts. He was flowing well. I really like how he rode and it obviously worked for more than half of the 2nd moto. But that being said, Marvin can't spend 17-18 minutes behind him if he wants to beat Tomac. He can't have slower lap times than Grant nor Wilson either… The French rider woke too late in that second moto. At the end of the day, Marvin only lost 6 points and a 2-2 score is good on paper for the first race of the MX season but he missed a big opportunity to win a race and still be tied in points with the favorite of this championship.
Is anyone else in 450MX going to get up to challenge Tomac?
If they couldn't challenge him in SX nor in Hangtown I don't think anyone can step up to the plate now that the second series of the year already started. Saturday was a day to challenge Eli because, like I said above, I don't think he rode that great. He was very far from the Eli we saw in Hangtown 2015 where he was walking on water. If you look at the results on paper, Eli won both motos, was almost 3 seconds faster on the fastest lap in moto 1 and 1.4 second in moto 2. That's a good day for sure but he can ride way better and I'm afraid the season will get super boring when he does. If you read the next 12 guys after Eli and Marvin in Hangtown, you have Grant, Wilson, Tickle, Baggett, Webb, Seely, Barcia, Bogle, Peick, Craig and Anderson… I can't really pick one from that list who could challenge Tomac to be honest. The two I'm thinking of, one just retired and the other one we're not even sure he'll able to race at the level that he was once at.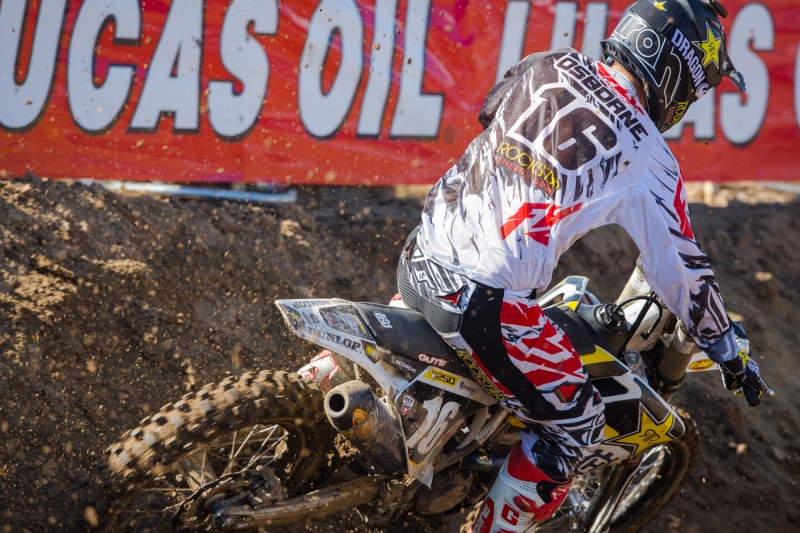 What a day for the #16 as he took his second career national win.
Wow. Zach Osborne…what a day. He was on fire both motos. What did you see from him?
Zach looked as dominant Saturday as he was on the East Coast in SX. I think Osborne is a better MX rider. His riding style and technique fit a MX track better. He was good in SX because he is a good MX rider not because he went thru the whoops better or jumped bigger rhythms than everyone else. He was dominant in SX because he was fast between the obstacles. He looked comfortable, rode his race, attacked Adam when he felt like it in Moto 1 and had an uneventful day. I don't think Zach will dominate as much as Eli in the 450 class but, if anyone had doubts, he's the guy to beat once again this season.
Who you got for potential 250MX sleeper title pick? Plessinger or A Mart?
Those two will mix it up as well as Forkner, Adam and J-Mart. Maybe Savatgy too but he was a little off the pace in Hangtown. Plessinger was the fastest in moto 1. He's good on those type of tracks but he's missing a little fitness. He got tired this weekend but the speed is in there. I guess it's better than the other way around. It's easier to get fitter than faster. I really liked what I saw from A-Mart in moto 2. When they showed him on TV he looked on rails. He was using a lot of outside, keeping his momentum and flow. I would bet in the turn after the big triple no one jumped in the race, he was the fastest of any rider/class of the day. There aren't too many sleepers in the class. All the riders we're talking about all won or podiumed Nationals before. They aren't really sleepers. I think we aren't talking enough about Forkner who had bike problems in first moto but passed several guys in moto 2 to get second not too far from Zach. The kid might be Osborne's biggest challenge.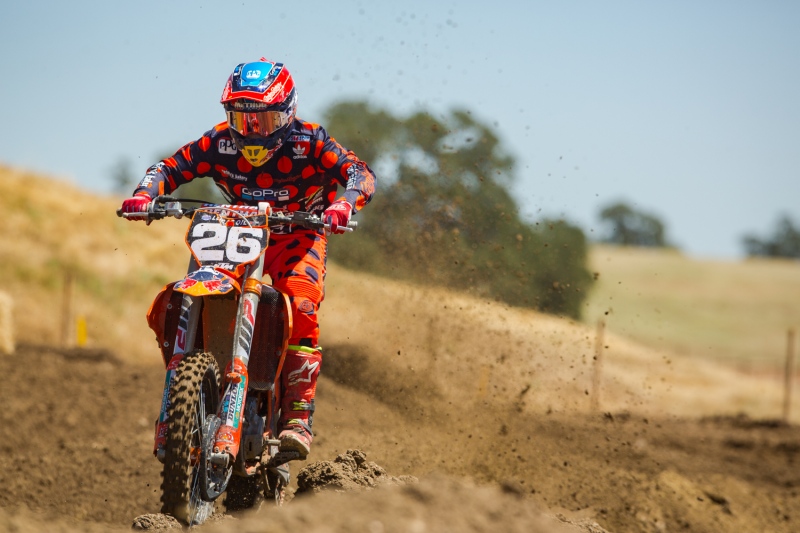 Vuillemin thought Martin was the quickest rider after the Fly 150 jump
Who impressed you, who disappointed you for the first round of the outdoors?
Impressed is a big word, buddy… Let's pick 1 rider in each class who did better than I thought. I would pick Nichols in the 250 class going 5-6. I thought it was a pretty good performance. In the 450s, I'd say Josh Grant. He was riding so well, so smooth and making it work. Exactly how you have to deal with a track like Hangtown. His 3-3 for 3rd overall was a great day. And, we're going to his backyard next weekend. I'm curious to see how he's going to do there. For the not so good, I'll pick Savatgy in the 250 class. Leading the second moto on the first lap, finished 7th. 13th on lap 1 in Moto 1, finished 7th and over 2 seconds off in both motos. For the record, he won both motos last year in Hangtown.
In the 450 Class, I got to go with Webb. The 2016 250 champ' making his 450 US National debut. Not his first 450 race ever on US soil because he raced the US GP in 2015 I believe. Coop' went 5-9 for 7th overall. He was also 5th and 9th fastest in the motos. Cooper Webb shouldn't be 2.5 seconds off Josh Grant and Dean Wilson in 2017… But, it's only the first race. It gives us some indications but there are 22 motos left. I just hope the racing will be a little more exciting. I had to re-watch the MotoGP race this weekend to get my dose of racing excitement because Hangtown was a bit of a snoozer…