You want the truth, you can't handle the truth!
You want the truth, you can't handle the truth!
Photos by Boris Splatkov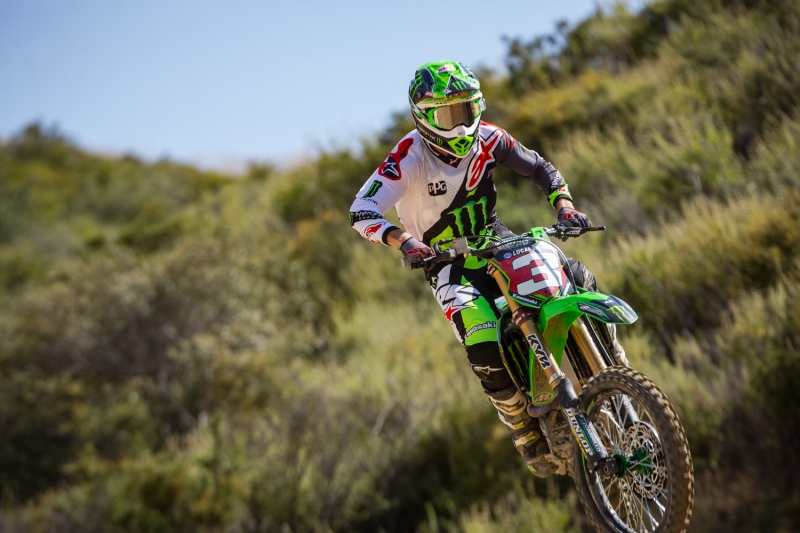 "Like in Hangtown, it looked to me like he was still searching out on the track. He was fast but still a bit inconsistent in his line choices."
Glen Helen looked less fun to ride than Hangtown last week, what's your thoughts on the track and the challenges it presents? What did you think of the different layout this year?
Glen Helen always has been a tough race. The track is often super deep and over watered. The track builder thinks it's the way to go to get multiple lines but it actually works the opposite way. It creates one main line which is faster than the rest of them. This year, it looked like it wasn't super deep nor overwatered. I liked it because the riders weren't stuck in one rut all the way around the track. There were still one-lined sections but most of the track was more usable than usual. I liked the new layout. Seems like it had a better flow. They didn't get crazy with the SX style section this year and it worked better. The track had a harder base on Saturday and became pretty choppy but I believe it was more enjoyable to ride than the previous year. I'm always very critical about the National at Glen Helen but I liked most of the things they've done for this second stop of the championship.
Marvin Musquin got the start in the first moto, Tomac didn't. Second moto he did what he had to in order to win the overall. What did you think of Marv's race and with his first four motos this year, can he legit beat Tomac for this title?
To tell you the truth, Marvin's results look way better on paper than on the track. He looked a little timid and like he could be way faster. In the first moto, he won. On paper, it looks good but he couldn't get away from Seely and Grant for the longest time. His fastest lap time was over 2 seconds slower than Eli's in the first moto. Seems like he did the minimum he could to win the race. In the second moto, he was 6th, then 5th and 4th for more than half of the race. He got into 3rd when Craig crashed. Tickle stayed within a few seconds of Marvin the whole moto. He was "only" the 4th fastest in moto 2. Anderson was almost 2 seconds faster. Craig and Bagget also clocked faster lap times.
I am not sure if it's in strategy to start the season without taking too many chances. Despite being on the podium the first four motos, winning a moto and an overall, he didn't show us he had the speed yet to challenge an Eli Tomac head to head. He's going to need to ride with more fire in his riding style and gain some speed.
What did you think of ET's day including another front brake problem?
Like I said, he was way faster than everyone else in moto 1 but he ended the first lap in 12th position. Like in Hangtown, it looked to me like he was still searching out on the track. He was fast but still a bit inconsistent in his line choices. He moved around a lot on the track to find the best lines but had tough time making up his mind. I find Eli super lethal when he doesn't have to think about where to go and can just pin it. When the main and fastest lines are obvious, he is unbelievably fast and tough to beat. In my opinion, he has struggled a bit in that department since Hangtown. I can't really talk about his riding in the second moto because he had this front brake problem in the first lap. Looks like the Kawi crew took a while to figure it out what to do with that issue. Seems like they didn't really learn from what happened at the Dallas SX.
From the couch, it looked like these two problems were very similar. Eli still managed to score a couple points which is a good consolation from being 1 lap down after a lap… Still 20 motos to go. He's the fastest guy and still the guy to beat. The other guys will have to capitalize on his mistakes if he makes any and mechanical problem if they want to stay in the hunt in the championship.
Anderson won, Wilson got fourth again, Baggett was good in the second moto..crazy race and who do you think can emerge from the "other guys" to start riding well?
Anderson was the 2nd fastest guy in Glen Helen Saturday behind Tomac. It's good to see him rebound like that after a tough Hangtown. I'm a fan of the kid. He's always going to give 100% whatever happens to him. I'd like to see him mix it up front more often. We kinda knew Baggett was going to be good in Glen Helen. Like Josh Grant, Glen Helen is his backyard and he's super fast there. To pronounce myself on Blake, I'm going to have to wait a couple more races to see what he's going to do. His 6-8 score in Hangtown wasn't super impressive but he was the fastest in the second moto Saturday. We have to see what he does in Lakewood and High Point. Wilson went 10-4-6-7 in the first 4 motos of the season. It's a good score but he's not quite there to mix it up straight up for an overall podium. In the championship, Deano has pretty much the same amount of points than El Hombre but Jasonhas finished 25% less motos than Dean.
Hey, Christian Craig might be a better 450MX riders than 250…he was looking good for a podium until the crash in the second moto…thoughts?
Christian's smooth riding style fits obviously a big bike better. When I worked with him and to be competitive in the 250 class, having that riding style is almost a flaw. You gotta ride a 250F aggressively because peak power is around 3000 rpm higher on a 250 than a 450. If you ride a 450 like a 250, it doesn't work. I won't pick a specific rider as an example but you should understand the concept. If you ride a 250 like a 450, it doesn't work either. Christian's style is perfect for riding in MX with a 450. He did well in the first moto with a 4th place and was running 3rd when he crashed. He had an overall podium in the bag until that crash. That would've been a great performance for a replacement rider. It's a bummer he got hurt. I hope the injury isn't too bad and hope he'll be back soon.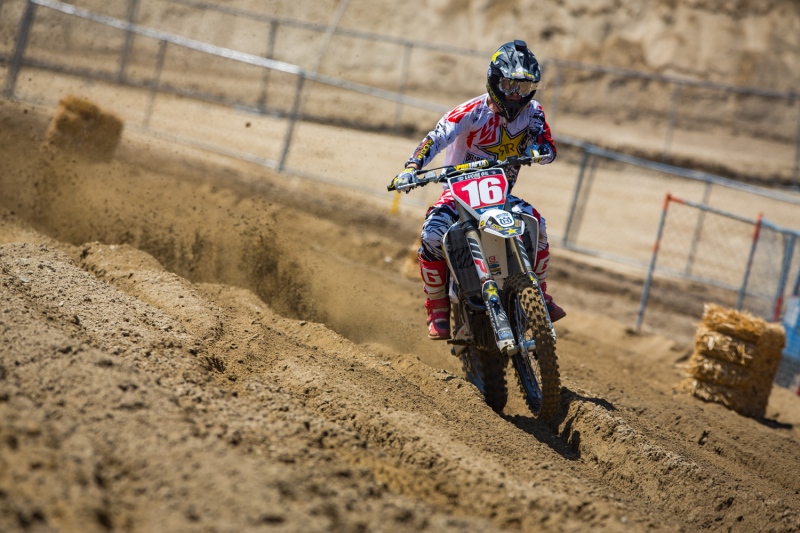 "The next 3 riders behind him in the championship didn't beat him once yet this season. The guys who finished in front of him this season in a moto, and there are four of them, are already more than a moto down in the standings. He's still the favorite for me."
Osborne's on a roll when you go 4-2 for the overall…what did you think of his day and with Ferrandis beating him as well as J Mart, do you think he's still the favorite for the title?
It's always great to win an overall with a 4-2 score as well as the $50k check that goes with the W. Most likely J-Mart would've won the overall without his crash but it's a great operation for Zach. He scored 10 points less than the perfect score and still managed to grow his lead in the championship. I think he salvaged some good points in the first moto after a bad start. He also had a high-speed close call towards the end of the first moto at the exit of Talladega which might have cost him the 3rd place finish in that moto. He wasn't as dominant as last Saturday but got the job done. We have to realize also that Glen Helen is a special race. Most of the riders despise the track. I'm not sure if it is the case for Zach but that's something to keep in mind when we don't see riders super comfortable or taking chances. Zach is solid, he'll be here week in and week out. The next 3 riders behind him in the championship didn't beat him once yet this season. The guys who finished in front of him this season in a moto, and there are four of them, are already more than a moto down in the standings. He's still the favorite for me.
What happened with J Mart's crash?
It's pretty simple. The line he was in when he crash was a bit weird. It had a rut in the first half of the turn, then nothing for several feet and a tiny rut at the exit of that bottom of the hill turn. J-Mart went on the gas too early on the flat section of that turn and his rear wheel wasn't in the rut in the last part of the turn. His rear wheel spun, went over the rut and he high-sided. It's a very common crash in our sport. Jeremy wasn't patient enough and wanted to take too fast too soon. Those type of mistakes happen in those situations
Musquin took his first 450MX overall of his career at Glen Helen.
Dylan Ferrandis looked great after crashing out at Hangtown, what do you think about his race and future results?
Hangtown was a bummer for him. He was 4th when he crashed hard and hit his head. That would've been a good moto to start his National career. In Glen Helen, he struggled and didn't look great nor super fast in the first moto. He even fell over in the sand section before the mechanics area. But, in the second moto, boy, he turned it around. I really liked what I saw from him despite not seeing him much on TV. He found great lines and rode to win. He was 2 seconds slower than J Mart in moto 1. Then, he clocked the fastest lap time in moto 2, 1.5 second faster than Osborne in 2nd. That's a big swing and tough to do with only a hour break between motos. I really like what Dylan is doing this season in SX and now in MX after seeing that 2nd Glen Helen moto. He doesn't look French. He doesn't ride French. He doesn't act French. But, he has a French mentality when it comes to line choices.
I think it's a great combo. To me, he looks a lot like an Anderson. Since I like Jason, I automatically like Dylan. He's going to be tough for him this summer. Before you've raced a full National season, you don't know how gnarly it is. He's going to learn it on the spot but I hope he's gets the hang of it. Seems like he's doing a good job so far. I don't think he's going to be super consistent but in my opinion he's gonna win more motos this season
Chad Reed's out of a ride, he's shopping himself around including talking to KTM and JGR and maybe going back to Yamaha…would you hire him and where would you put him?
Those are tough questions. If I was in charge of a factory team, I wouldn't hire him. Not because he's not good enough but because Chad Reed doesn't mean future anymore. You can't hire him as a number 1 guy anymore and I'd rather sign a young guy as 2nd rider instead of an experience veteran even if he could still score podiums. I'd move a 250 guy in the 450 class without putting pressure on him so he could get some experience in the class as a mid-term investment rather than a year to year investment.
Where would I put him? I'm not his consultant nor his agent but I'll tell him to pick the bike he's the most comfortable on after trying them. Chad is unbelievable when he has confidence in his equipment and feels like everything is working good. When he feel that his equipment sucks and doesn't feel good on the bike, his results are hurting. He's a very emotional and affectionate rider. I'll tell him to go wherever he thinks he would feel the best. At this point of his career and with the money he made, money shouldn't be a factor. I would think the big factors are to feel good on the bike, with the people of the team, have fun at the races and get good results…