You want the truth? You can't handle the truth
You want the truth? You can't handle the truth
Ok, Red Bud….best track on the circuit or second best behind Millville?
Red Bud is liked by most of the riders and overall, it's their favorite. It wasn't my favorite but that's not important. I liked the track this year because it wasn't over disced nor over watered. Riders could move around on the track and were able to change lines easily. The track got rough but we've seen it way rougher in previous years. I don't mind having a faster track and not as rough. It's more fun to see riders charge the whole motos rather than survive. It seems like the riders have more fun riding a track like this years.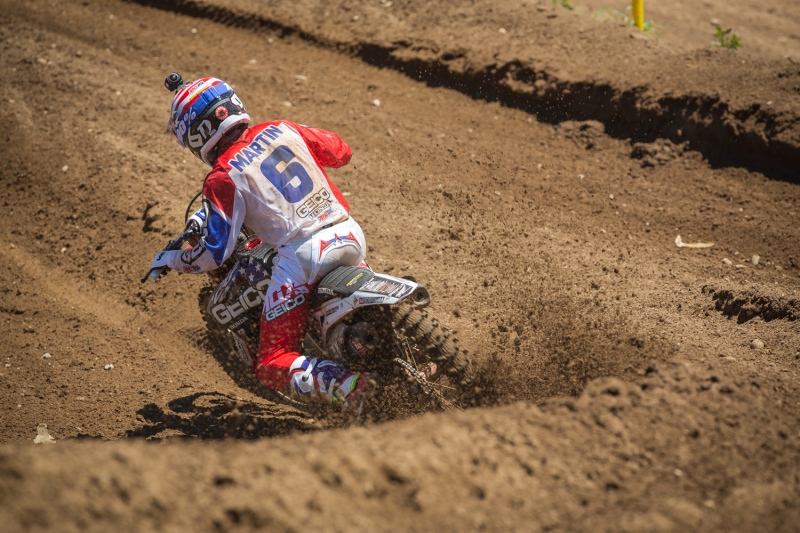 REDDDDDDD BUUUUUDDDDDDDDDD!
I'd be interested to know the average speed of the riders this year compared to other editions. It's difficult to compare lap times because tracks change every year but I think the overall speed had to be up there in this 2017 edition. The changes they made worked well. We saw the guys using the whole width of the track. It might have looked like it was tough to pass but there were options in multiple sections of the track to make the difference in my opinion. Overall, the Red Bud track crew did a great job. Talking about Millville, it also one of the best tracks of the series but it doesn't give nearly as much options as Red Bud. There are very fast sections with very tight and narrow parts where it is way more difficult to pass than in Red Bud.
Track wasn't the easiest to pass on but Tomac got it done both motos by passing the 4 and 21. What did you make of his ride?
I think I talked about that in previous columns. The tracks coming up will suit Tomac way more than what we had before Red Bud. Eli did good and won motos in High Point and Muddy Creek but I don't think those tracks are the best for him. Red Bud suits him way better. His aggressive and wide open style will always perform better on a softer track with berms instead of ruts. The next two tracks, Southwick and Millville, are just like that too. It's not a good thing for the guys racing him in the series. Baggett's style also worked well on those track hence Blake giving Eli a run for his money in moto 1. I thought Eli rode very well in Red Bud. His starts weren't holeshots but for him being just outside of the top 5 in moto 1 and in the top 5 in moto 2 after a lap is great. I thought he wasn't so anxious to pass people early in the race and showed some patience. This is an improvement coming from Eli in my opinion. He took his time to find spots to pass and got the job done with a 1-1 performance.
At the end of the first moto when he saw Baggett charging hard, he had more in the tank to contain him. The end of that moto was great but, again, we didn't see Eli over ride his bike or track. He kept his cool and raised his pace just enough to stay safe and win the moto. We have to remember, winning by a second or 30 gets you the same amount of points. Those guys aren't racing Le Tour de France. Finding the happy medium between speed and riding safe is really important when you're racing to win a title. Eli did just that in that first moto.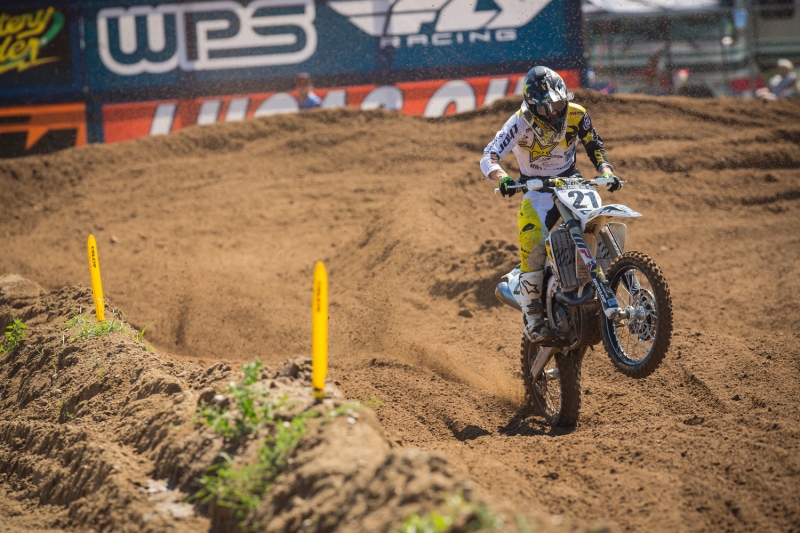 Anderson had a great ride in the first moto from a crash to fourth.
What a ride by Anderson in the first Moto…all the way to fourth!
Jason rode very well and needed that ride to stay somewhat close in the points. That ride might be more impressive than Baggett's in Lakewood, just because the track was easier than in Red Bud. In Lakewood, the track was so traitorous and made riders make mistakes, it helped Blake capitalize on other riders errors. In Reb Bud, the track was easier than Lakewood and directly, the riders didn't make as much mistakes. Coming back to 4th for Anderson was a great performance. Fourth might not be where he wants to finish but I think this ride will help his confidence. Jason backed up his great first moto by finishing 2nd and being the 2nd fastest in moto 2. Eli was quite a bit faster in that second moto but Anderson was faster than everyone else. He lost 10 points on Tomac Saturday but it was a good day for the Husky rider. He gained points on Blake. He's getting closer and I hope he will be able to mix it up with Blake and Eli straight up soon. I love Jason's commitment in the motos and he's so fun to watch. I can't wait to see a 3-way battle with those 3 guys.
Anderson's pass on Baggett, fair or foul?
El Hombre's pass on Baggett was more than fair. I don't see any foul play in it. Blake saw him come on the inside and I don't know why he kept trying to stay in front. He should've just braked instead of trying to resist. There was nowhere to go but down at this point. I don't think it was too smart from Blake perspective. Just let him go and try to pass him back later instead of resisting where the only outcome was to go down. Baggett made a bad decision that cost him a lot of points.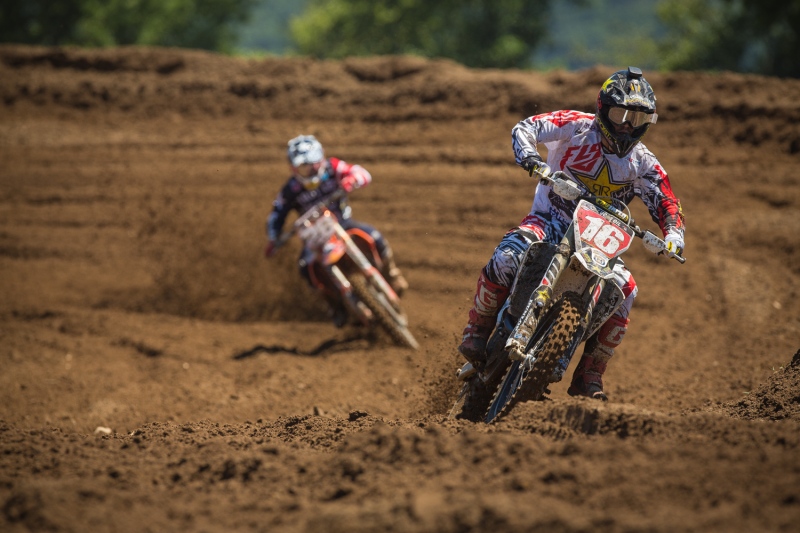 Zach Osborne increased his lead in the 250MX points.
Osborne won with a bit of luck when A Mart went down in the second Moto, he's by far the most consistent rider and can come through the pack it seems.
I don't believe in luck. I believe in both Martin brothers making mistakes while leading the second which obviously made it easier for Osborne. Zach has been showing us he has the best package in the 250 class this season. There isn't luck involved in his 38-point lead in the championship. We saw his dominate this season. We saw him not riding his best but scoring points. We saw him fight hard to win motos. The second moto saturday wasn't easy even with both Martin's crashes. The top 4 riders were within 3.5 seconds at the checkered flag. It seems like a bunch of riders are very close in this 250 class. Lots of them can win motos and we already saw that in the first 6 races.
We've raced 12 motos and have 6 different moto winners. Knowing that stat, you wouldn't expect the leader of the championship to have a 38 point lead. But,it is the case. Osborne has the abilities of adapting well to the circumstances and make the best of them where the other guys aren't able to do so. Call it what you want, experience, preparation, mental strength, racing IQ, Zach is doing what needs to be done to win with series he's racing this season. Then, it will be time for him to move up to the 450 class. For the record, he's older than the top 8 riders in the 450 standings. Time to move up buddy…
First 250 Moto, three riders dropped everyone. What did you make of that battle?
I was surprised because more than just those 3 riders were close lap times wise. I blame Forker's shroud for it. I think Austin slowed down the rest of the pack with his shroud flapping around. It happened to me in Unadilla one year, it's so annoying. I'm sure it affected him. Both 250 motos were great. Osborne was charging hard to pass J-Mart. Jeremy kept his composure, stayed mistake free and won his third moto of the season (for the record, Jeremy and Zach have won 2/3rd of the motos this season). I like want Alex he's doing though. He stayed with both of those guys when they were going at it. He was right there. I really like the way the big Martin brother is riding. He's so good at keeping his momentum through the turns. He's way smoother than Zach and Jeremy. His turn technique is so good.
I'd be curious to sit in some of the turns with ruts with a speed gun to document the difference in rider's speed. The guy never stops in the turns, he doesn't brake as much as the other guys, he just gets in the ruts and lean the bike. It's very cool to watch. He was on it in the second moto too. Too bad he lost the front before the rollers. That second moto was great too. Harrison came out of nowhere and was riding well. Alex recovered from his crash and Ferrandis came into the picture after battling with Plessinger. Those 250 guys need to keep it up. They're putting up a great show for us. It's very entertaining.
What would you do if you were Yamaha and you had a high profile rider like Cooper Webb struggling?
I guess you need to support him and try to find the right solution to help him. I still think he needs to find his confidence back on the bike which might need drastic changes on it. I've said it before, give him a stock bike to ride during the week so he can charge on it and have fun. Then, start modifying it little bit by little bit but from a bone stock unit. There's obviously something wrong but they need to start from zero. But, the factories and their riders aren't ready for those drastic decisions of stock bikes, stock suspension with springs for the rider's weight, stock clamps, stock linkage, pump gas and just go ride the shit out of it and have fun. Go back to the bases. Go have fun riding. Don't worry about the bike. Just ride…
Ride a few days like that and start bolting a minimum of pieces on it to improve it. I think that's a case where the rider doesn't trust his equipment anymore so starting back to zero is the only option. Everyone talks about the 2018 bike which supposed to be so great. So, get it here, get the amount of bike need in the dealership so it's legal to race and race that. But, same thing, start modifying little bit by little bit from the stock unit.
Give us a DV Redbud story please?
I think I only have one. Back when a bunch of us had our motorhomes, we stayed at the track. Races were two days back then. After practices on Saturday, we would hang out in the pits. In '04, bunch of us, riders took the teams golf carts and went to see the little night amateur SX race Red Bud had on the amateur side. I remember Red Dog, Reedy, RC, Stew and Windham being there. Fans were so excited to see us check out that race. We were socializing with those guys and having a blast. Screaming "Reeed Buud" in every other sentences, high fiving everyone and signing paper, cloth and skin… Then, it started pouring so hard. Amateurs kept racing in the mud and we bailed out. Got to my motorhome. Figured out I had a leak over my bed. I wasn't happy about it. Bed was soaked. Took the mattress off to the side and I let my driver Kiwi deal with it the next day. He was in a dry bed in a hotel in South Bend…
I set up the folding out couch to sleep in and went to bed. 2 hours later around midnight or even 1am, the track owner thought it was a good idea to blow fireworks over the track. It scared the shit out of me. That's the second time I got mad that night. I went out, screamed at some random track guy who had nothing to do with fireworks. Just another guy who thinks I'm a dick since that night. I watched the fireworks and went back to my fold out couch… I went 5-4 the next day for 4th overall without making a dime in bonuses and rushing to get to Chicago to catch my flight to sleep in a dry bed in California.