1- Well, Jason Anderson won another race and looked great in the process tracking down early leader Cole Seely. What did you see that enabled him to reel in Seely and take the win?
On a track like San Diego where everyone was doing the same thing, it's difficult to make the difference with riding technique. They key is to commit to grind all moto and the desire the riders have to want to win. It was the most noticeable with Marvin for example with the way he rode in the heat and in the main. He didn't do or jump anything more in the main but his commitment was drastically different. He just rode in the heat, losing 5 positions in 6 minutes and a lap. In the main, he actually raced and was trying, even if it looked a bit sketchy at times, especially in the whoops. Anderson excels in grinding and races to get the best results he can in any main event no matter the position is in after the start. Seely was riding very well for the first part of the race, but like in Oakland with Roczen, Anderson wanted to win more than Seely Saturday. He kept digging. It wasn't pretty all the time. Even when he makes mistakes, he has the reflexes to carry on and get back in rhythm right away without losing time. He also has the ability to ride outside his comfort zone. That's why a lot of people think he rides on the edge. We said the same thing about RC back in the day but being a bit sketchy was something he was comfortable with. He had the reflexes to counter his mistakes very well. Anderson is a bit like that but his biggest strength is always trying. He never gives up and never thinks he's beat until the checkered flag. That's what I think he's doing great and he's been doing that for years but this season, his package is a bit better as well as his top speed.
2- Jason admitted that his pass last week in San Diego was a tad over the line and there are tensions with Marvin Musquin and we saw Marvin go for it opening lap on 21 as well. All normal part of SX racing and title hunts you think? Marvin admitted that he owes Jason one as well.
It's an unachievable-utopia to think riders can win SX races without trading paint and bumping each other. Anderson's move on Marvin in Oakland was aggressive but he's leading the championship, and at that point, he couldn't afford to lose too many points on Roczen who was in front. Marvin's move on Seely in Oakland shortly after was pretty much the same move. The level in SX this season in both classes is very homogeneous. Riders are close in speed. We don't have a couple guys above the rest like we used to see in the past. With that being said, to make the difference, the riders have to be aggressive to pass each other. Everyone jumps everything the same, they take the fast line and their lap times are close. The fastest lap times of the 5 fastest 450 guys in the main were within less than 0.3 seconds. Those 5 guys can't really pass each other cleanly with that short of a margin and I'm ok with it. Anderson passed Seely with authority, jumping inside far from the fast line, Baggett bumped Cole out of the way after the sand and Marvin went across 3 or 4 ruts to put himself in front of the Factory Honda rider. When the speed of the riders are so close, that's the only way to make a pass and it actually makes for some good racing for the crowd and the people watching on tv.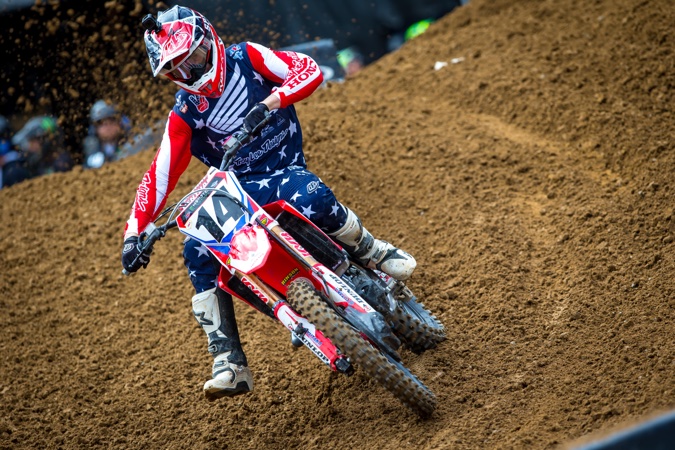 3- Seely has to be ruing the last couple of weeks when he led a ton of laps and couldn't get it done. Fitness, technique or what?
Seely led pretty much half of the laps of the last 2 main events but didn't finish on the podium each time. If we would let the riders ride a 20 minute moto by themselves, I'm sure Cole's overall moto time would be one of the best at every race. But unfortunately for him, there are 21 other riders on the track in the main event. He doesn't have the racing fiber of an Anderson or even a Baggett (the last couple races) this season. They might not be as consistent and as smooth looking but they can find a few tenth here and there with their commitment and will, to get the best results in any main event. When Cole rode without pressure from others like in Oakland and San Diego, he rides very good. As soon as he gets challenged, he breaks down. In Oakland, he messed up a rhythm section and Saturday, he fell apart when his kryptonite (El Hombre) caught up and passed him. I'm sure he puts the work in. I've seen him motoing on SoCal tracks and looking great but he doesn't have that fighting spirit others have and doesn't have the ability to get out of his comfort zone to make the difference. When he's not challenged, he's great. His first moto at the triple crown in A2, he won easily but he only had Brayton in second the whole moto. Justin wasn't pushing him. Cole was comfortable having Brayton behind him and knew he should beat number 10. In the last moto, when he didn't get a good start but had to get a 4th to win the overall, he spent 9 laps behind Grant and wasn't able to go get Baggett and Peick and finished 7th. You gotta want to win and do what it takes to win on the track, not only interviews…
4- The first turn crash..what happened?
It was an usual first turn pile up. Anderson and Roczen came hot from the inside with Tomac just outside of them, no one really wanted to let off. Jason had the best position since no one was on the inside of him. Roczen went for it but Tomac was there as well as other guys on the outside. Those situations can be avoided but you have to break-early with a split-section decision when you see you can't holeshot being on the outside or when guys on the inside are coming hot. The line to holeshot is 5 feet wide at the first turn. A handlebar is 80 centimeters wide which is 2.6 feet. Basically, the ideal first turn fast line width is 2 handlebars. When you want to squeeze 5 handlebars in 5 feet, some don't get out of the first turn safe… Sometimes it's not a bad strategy to give up before the first turn when you realize you won't make it and cut inside instead of pushing to get the holeshot… There is no shame in getting out of the first turn safe if you feel like it's going to get sketchy.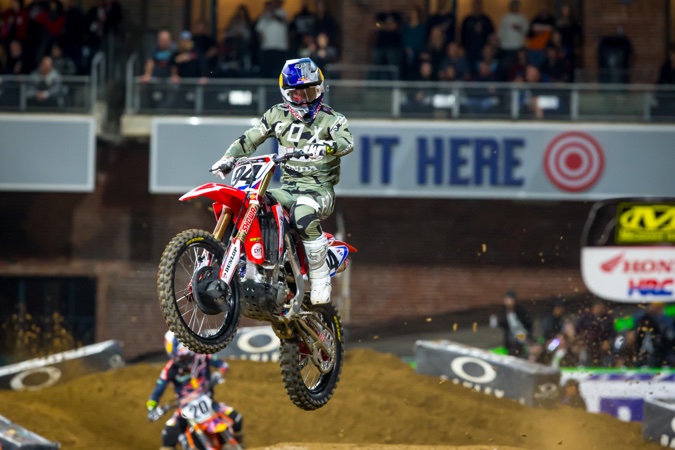 5- Roczen and Webb incident, how does a rider crash like that and I guess we won't be seeing Ken for a while which stinks.
San Diego was filled with dumb retaliation moves. Cianciarulo moves against Hill were pretty stupid earlier in the 250 main event. And Ken wanting to pass Webb back at any cost, after being block-passed the turn before was clearly not very smart as well. Roczen blew a gasket when he got passed by Webb. He went for the kill in the next turn but his rear wheel decided otherwise. On the slo-mo, we can clearly see he twisted the throttle hard with the clutch in coming in the turn. He let the clutch go at the entrance of the turn to bump Webb out of the way but soon after his rear wheel slid into one of the bowl turn's ruts and caught a huge amount of traction. Ken got caught by surprise by the traction and also by the direction the bike took because of the rut. Ken made an emotional decision that didn't work. They usually don't though. His injury is a real bummer. It looked really bad on TV. On the slo-mo, I though his forearm was broken in half. I have no idea how he didn't break his radius or ulna or both. He has to have some pretty elastic bones! It's devastating for him I'm sure, he was in the hunt for the championship but it's also a bummer for the fans and for the series. Now, Barcia, Seely, Baggett and company have to step it up to challenge Anderson in the points to make it interesting.
6- Justin Hill stinks to start the year now has a podium and a win last two weeks…Supercross is so mental!
I don't think it has to do with mental. I don't believe in it. You can clearly see a big difference in his body english and commitment between the first 3 races of the season and Oakland/San Diego. I thought in the first 3 races he was just riding, not really racing/charging. The intensity wasn't there. Since the last couple weeks, he's riding like he was in 2017, aggressive and committed to do the best he can. His state of mind is different and it shows in his riding. I don't think he has as good of a bike as last year or compare to others this year but the last couple races he compensated by going for it and it shows. He's going to have to perform at the next race which is a shootout to stay alive in the championship though. He's already over a race down in the points. Doing good at both shootouts this year will be very important for the points with East Coast guys mixing it up.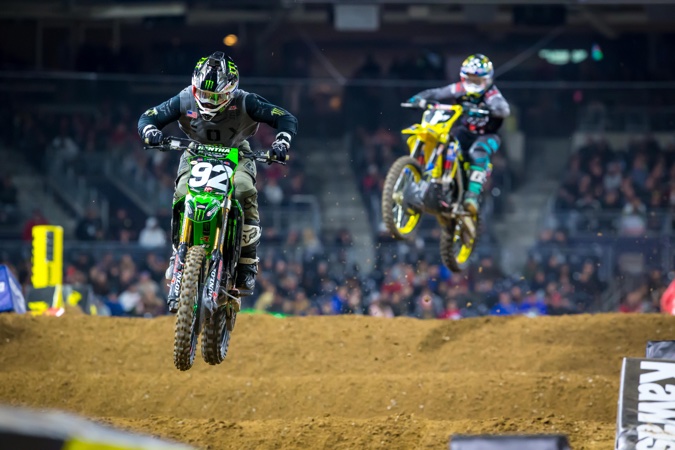 7- Anything else you got on your mind? Any DV San Diego SX stories?
San Diego is always a special race for me. It's the only city where I won multiple SX races, 2 and I won my first ever 250cc (2 stroke) main there too in 2000. It was maybe my easiest win, holeshot and led 20 laps . It's not at the same stadium anymore though. I loved Qualcomm Stadium because it was the only football size stadium in California. I always like the tracks in football stadiums. But the vibe in Downtown San Diego is great and Petco Park in the middle of the downtown buildings is awesome. As far as a story goes, in 2000 the year I won my first SX, I crashed very hard during the first Friday practice. I came up short on a triple at the end of a rhythm section, went over the bowl turn and landed on the starting line. I hurt my left wrist. When I got to the semi 10 minutes later, my arm was so swollen, it had tripled in size. I remember crying because I thought my SX season was over which would have been a bummer because I just got my first ever podium, a second place behind the King, McGrath at Anaheim 2 the week before. We went to see Dr Murphy to get X-Rays and stuff. Turned out nothing was broken but I didn't know if I could ride. I decided to try to practice on Saturday. I taped my wrist good and rode. I was sore but I could ride. On the second lap of practice I actually jumped the jump I crashed on to get it out of the way. The night ended by being one of my best memories of my career, something I worked so hard to get and something I made so many sacrifices for. But it was still a bittersweet moment. Earlier in the day, in the first practice I think, Jimmy Button, my teammate at the time, crashed in practice going not even 10 miles a hour in the whoops and got hurt badly. His career ended the day of my first win ever. I'll never forget both…