Feld put a big push into another run at the series visiting the great state of Florida. Will it stick?
Florida has always been a weird state for the Supercross series. It's the goto state for serious racers from my neck of the woods when the temps drop to freezing and the snow begins to fall, and it's the home base for some of the most prolific training outfits the sport has ever seen. The Greatest of All Time calls it home and it really is his home, as well as Ryan Dungey (for a little bit longer anyway). It's got grueling humidity in the dog days of summer and it's superior dirt to the West coast makes it's year-round ride ability a great answer for aspiring and progressing professionals.
So how come every time the Supercross Series adds a Florida round it kind of lands with a thud and attendance is lacking? Clearly the average Supercross fan isn't the same as the average Motocross fan. Lots of transplants, vacationers, senior citizens and well… let me just say Adam Corolla doesn't have a bit on his podcast title "Florida or Germany" for nothin… Florida see's some crazy shit happen pretty regularly and unpredictable Supercross success isn't going to unearth any clues that the common living standard hasn't already. So lets just chock it up to talking about what did happen instead of how to make it work better.
If racing like we saw at this years Tampa were the standard, I'd have to guess that the Florida round is in good shape and people in the pan-handle and surrounding areas would be crazy to not show up if it lands another scheduled spot in 2019. The track was pretty damn good for both treacherous surface, passing opportunities, rhythm options and flow. It's about time they put an actual sand SECTION in that held up for an entire night of racing and was literally ALIVE. It changed it's face lap to lap and inconsistency was it's rule. Even the born n raised sand riders were no mach for it and their mindset resorted to "survive" just like the California natives.
The fireworks in the 450 class came in many forms. From Cole Seely's gnarly crash resulting in a fractured pelvis/tailbone (holy shit can you say ouch), Justin Hill surprising everyone with a heat race win and a brake-check away from having a real shot at the win, Tomac furthers his reputation as the COW for the next era and Cooper Webb continuing to slowly regain his aggressive and successful composure in the lead pack.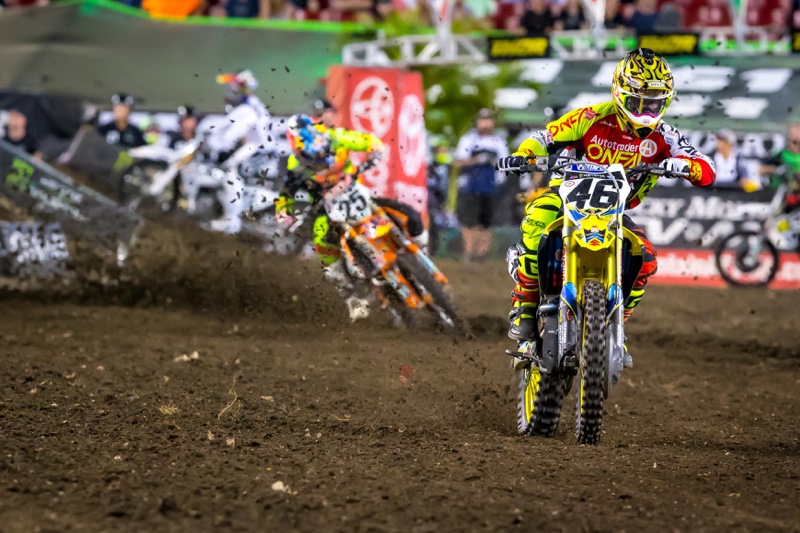 We all know that every rider moving up to the big bike says it suits them better… yeah no crap, more horsepower means less effort and energy by the body and that suits everyone better. Watching Justin Hill, I can't necessarily say that I think he looks any better on the 450, he looks incredible on the 250, I will say he for sure looks more collected and in control than most of the 450 graduates in their inaugural ride. I had a feeling he would do very well and even with those high expectations, I was really impressed. The guy has a sense of calm and intelligence above the 450 that, dare I say reminds me of Ryan Dungey with more killer instinct and willingness to push. He's smart. Usually smarts can bit you in this environment but it can also yield great success with an elevated level of in-race, seat of your pants race-craft throttling. When Musquin brake-checked Justin in the main, I saw it coming and I think Justin did too, he just didn't think Marvin would commit to it as long as he did and he had nowhere to go. Justin filed that moment away in the back of his head for future consideration. I can't wait too see the 46 progress on this 450 trial run. I just hope he doesn't get too amped up and short cited, resulting in an ill advised move leaving him on the ground with injury. This is just a trial run to learn the flow and tendencies in the 450 class.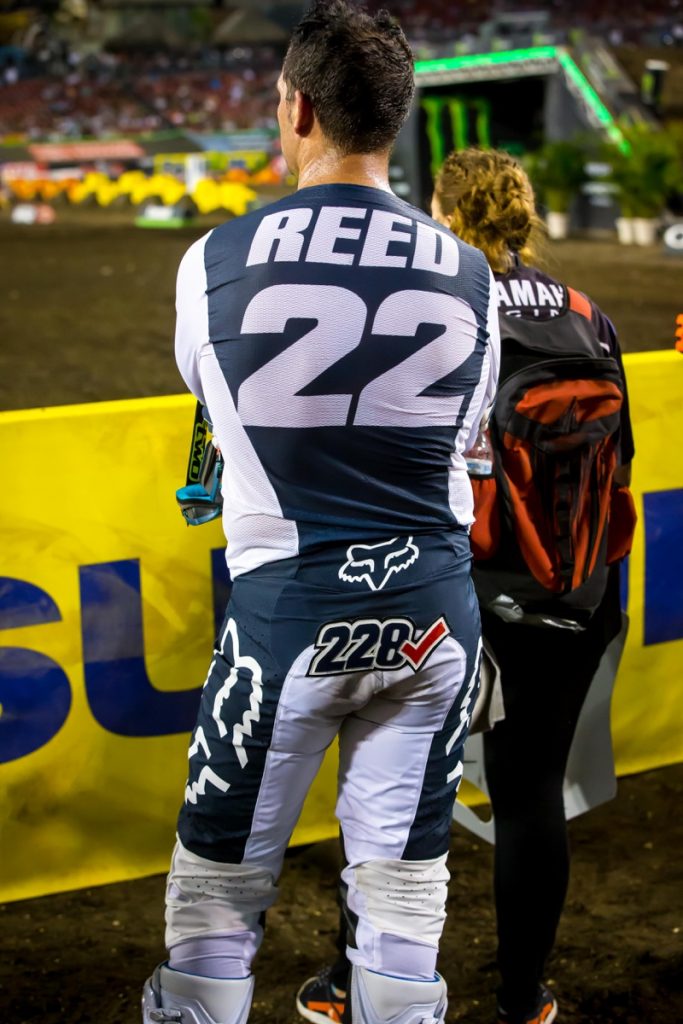 Then of course there's the Chad Reed premier-class starts record. 228. Cemented. Chisel it on Mount Rushmore because that number is never getting passed. In his San Manuel Yamaha days I would have said it would never happen because he didn't appear to be loving the sport, only the money and acclaim. Chad has come a long way in that time, becoming a father lends itself to your ability to appreciate the admiration for more than just selfish reasons. Chad's not necessarily enjoying his finishes thus far in the year but he came into it knowing it would be a grind and it's just another hurdle on his way to breaking the oldest SX winner mark. Still on his todo list.
In the 250 class we saw far less craziness and even Tampa winner Austin Forkner looked really composed in his win. Zach-O uncharacteristically tightened up in the main and knew with Forkner and Ferrandis out front, the obvious decision was to back it off. RJ Hampshire has definitely got his starts figured out but he's making just enough little errors to keep getting swallowed by the other elite guys. It seems to me, a focus-forward and execute issue. Kind of the same deal as Jordon Smith if you take away the starts… Although Jordon has more of a propensity to make bad choices than RJ.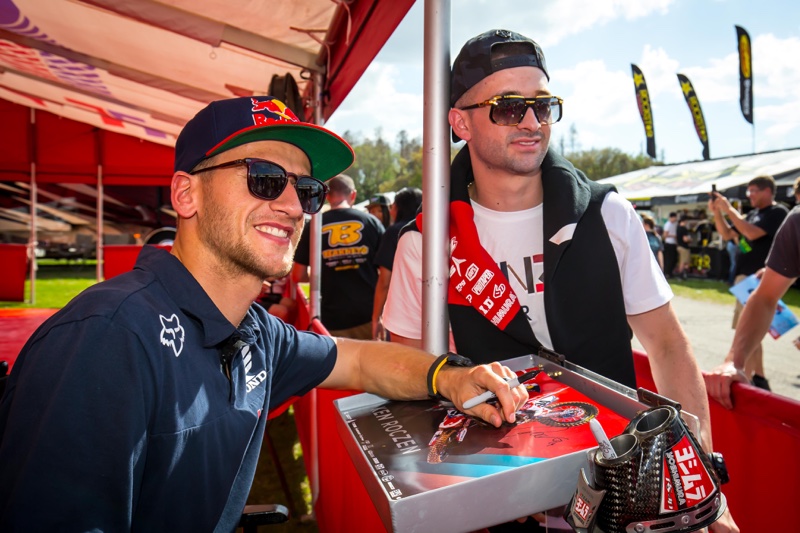 Lastly, I want to think out loud about this Jeff in the booth deal. He's been bad there's no doubt but with Ken in the booth this weekend, it was REALLY apparent at how low the commentating level is when someone THAT good is in there shining a spotlight on it. Everyone heard it, the part where Kenny dropped some truly compelling poignant thoughts and Ralph and Fro just went catatonic. It was like they both turned into Johnny-Cab from the original Total Recall movie when the cyborg cab driver's head explodes because Schwarzenegger says he's not paying for the ride. Their heads exploded for about 10 seconds and there was nobody in the booth. I'd be shocked if they allowed Kenny back in the booth again. He's so good and only served to make the two regulars look so bad. Part of me thinks that Fro is so worried about his stutter re-emerging that he has to form his next though in his head and recite it there before he will voice it and that crutch just kills any chance for him to create a flow or intriguing race knowledge from being voiced in unison with the on track action.
Whatever the case or excuse, at what point does this get spotlighted enough to make an improvement?