Well, that sucks. After getting on the podium last week and finishing second in main #1, your rider Dylan Ferrandis had a bad crash and will be out for a while. Take us through your feelings about this, the crash, what the prognosis is and anything else?
The injury is obviously a bummer but I guess it could've been way worse. I've been working with Dylan for almost 6 months and I think we did a great job in his preparation. I've changed a lot of things in his program, in riding and also his position on the bike. Since Dallas, he showed a lot of improvement since last season in SX. He was more in control, smoother and faster. The crash comes at a bad time because he was riding very well. Fastest in practice at 2 of the first 3 races and finishing second in Tampa and in the first-moto in Atlanta. He made a mistake when he crashed. He came out of the turn before the triple too wide and hit the tuff block on the left side of the track in the face of a 70 foot jump. Maybe the worst place to hit a tuff block. That crash, unlike the first turn pile up in Dallas, could've been avoided. It's a mistake he's paying a high price for. He broke his radius and ulna but also his jaw and several teeth. He'll be out for a while and we won't see him before the Nationals. I've gotten hurt badly a few times so I know what he's feeling right now. I've been alongside him for 6 months, also after an injury (broken navicular in a first turn pile up in Budds Creek), and I know how hard he worked to show up ready, fast and fit to start the East Coast season. As far as I'm concerned, it sucks that he got hurt but I see the positive side of things. I see that what we've done this winter worked. He's riding very good and very fast. All that work wasn't for nothing because what he has changed, made him better. He had to learn a philosophy of riding which he won't lose with the injuries. He's already back in France getting fixed up and will have to be patient and come back at 100%, whenever it will be, just like he did after Budds Creek last year. He's done it before and I'll be here, next to him, helping him, if he wants me to.
Triple Crown format… six winners in six races, in Anaheim is was five out of six. Thoughts on the entire format?
I really liked the format at Anaheim when I was watching the races from the couch. I was working in Atlanta and I didn't like the format as much. It's a tough night of racing for the riders and everyone involved with them. On TV, it seems like there is a lot of down-time but not when you're there working. There's only 30 minutes between the end of the motos and when it's time to head down to the gate. But overall, I like the format where you have to perform 3 times, be consistent and be able to use different strategies because the races' lengths are all different and also because you have to adapt to an always evolving track. The track was also very tricky with the soft dirt and the ruts. I think we had some good races and not only at the top of the field. Sometimes long main-events can be boring but not with a 3 race format. There's always action and it's good for the fans to see the 22 best guys ride 3 times. But, from the inside working with a team or a rider, it's super challenging and a hard day. I guess it's good that there's only 3 triple crowns on the schedule. I'd like to see a 2 main event format in the future. I think it would be the best of both worlds.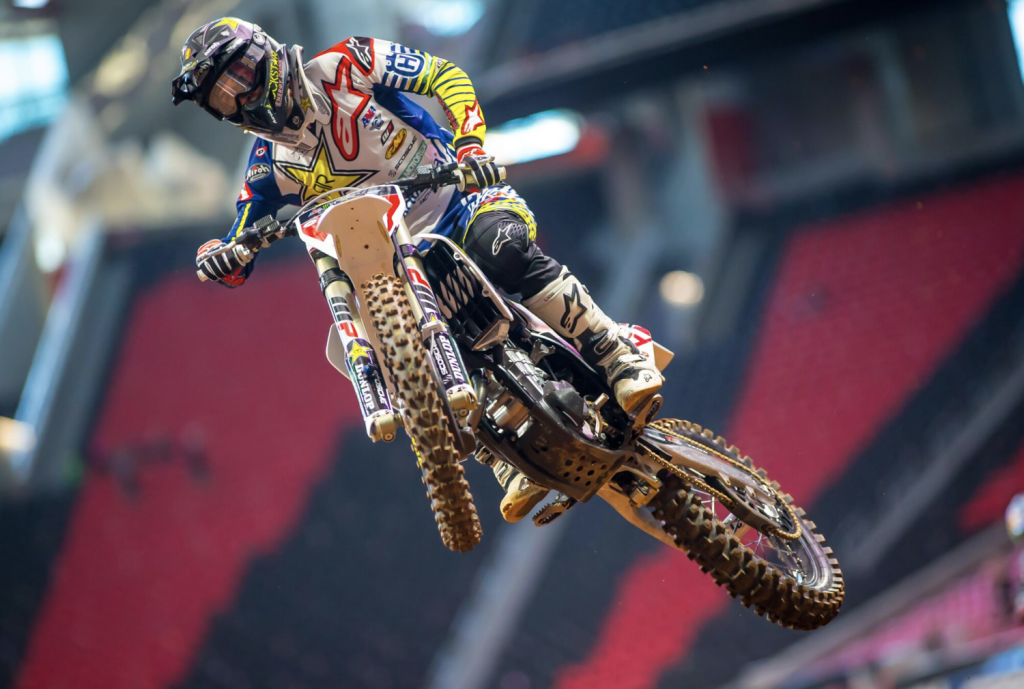 Jason Anderson rode a smart race in all three and was really the most consistent guy there. What did you make of his race?
Jason is, for me, the most exciting rider to watch. He was in Atlanta in the first 2 motos. His battle with Baggett in the first moto was great. I like how he always tries different things and he's not scared to change his lines or his jump combo. I really liked how he took it easy in the second part of the 3rd moto. He had nothing to gain by charging hard because it would not have changed anything in the overall results. I thought it was smart of him to ride safe on a tricky, rutted track. It wasn't the best El Hombre we've seen but he won the overall and gained back a few points on Marvin and Tomac after losing points back to back in Dallas and Tampa. He struggled all day in the whoops for some reason but compensated elsewhere. His inside line after the finish line was always very well executed compared to other riders struggling to make the line work. It's going to be difficult to gain that many points on him if you're Marvin or Eli. He always performs well even with a bad start because he's always charging until the end. If he stays on 2 wheels and ride like this, I don't see how he could lose this championship.
It looked like Eli Tomac would for sure win one or more of the mains. He was doing jumps others wouldn't do but he just seemed like he couldn't finish the deal. He even got caught and passed by Musquin in main #1. What did you think?
To me, it seems like Eli needs a more open track to excel like Dallas, Tampa or Phoenix. When the track is tighter and busier, it looks to me like he has a tough time finding his flow and keeping his momentum. It doesn't look natural to him. The 3-3 was very impressive and faster but he didn't really take advantage of it. I was surprised to see him get passed in the first moto by Marvin who was a few seconds back at one point. That's my opinion and some might disagree but I don't think a tight track and tight turns work for him. He's way better on fast tracks with long lanes and wide turns.
What about Peick? Wow. That dude is tough, did his crash and Dylan's look the same to you?
In his crazy crash, Weston got lucky to clear the triple and land in the downside while Dylan landed on the face of the landing. It's tough to see what happened in Peick's crash because I only saw the footage from the front but I don't think he hit the tuff block. It looked more like he cross-rutted from what I saw. I might be wrong though. Anyhow, Weston is a tough and strong dude. I wouldn't want to crash like that, it's something out of any riders' nightmares…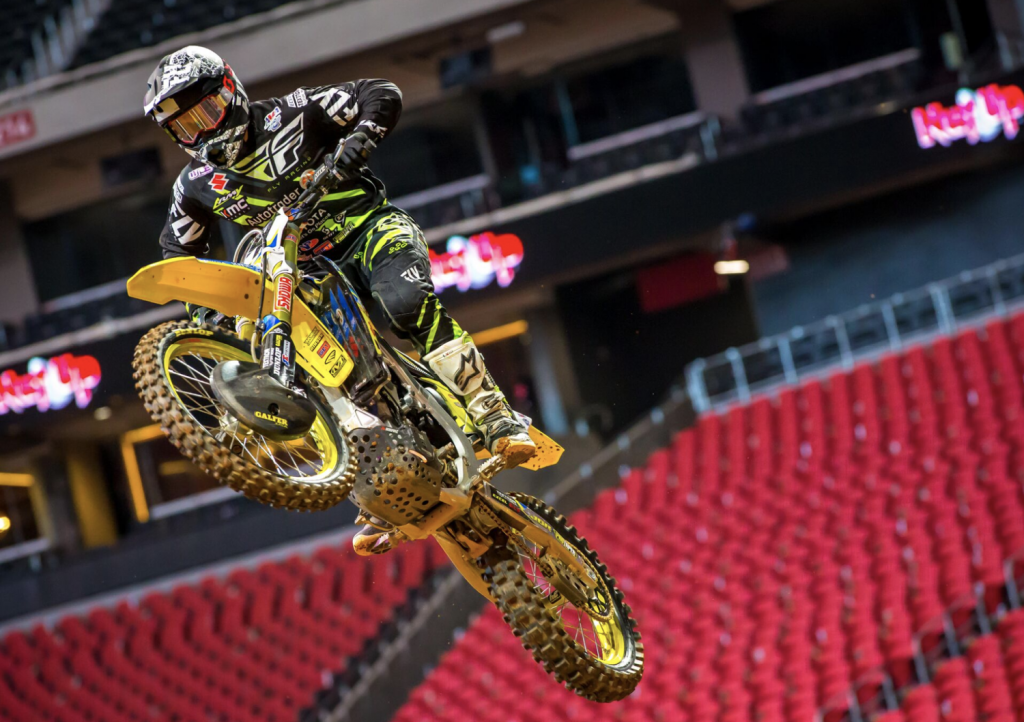 The 250 class had some drama as usual. What did you think of the Forkner/Osborne incident? Who's at fault, what happened in your eyes and keep in mind there's bad blood there already.
Here again, some might disagree but when you look at the footage, Forkner lands in the middle of the track when he takes off all the way to the right. The fast line through there is to land the most right you can to open the turn after. All of the riders were landing all the way to the right to prepare for the next turn. In that instance, Austin jumped across and lands 10 ft inside of the racing line while Osborne is jumping right besides him. I think Zach got surprised by Forkner's trajectory and couldn't avoid him. Again in my opinion, Austin is at fault on this particular action…
Jeremy Martin won the last main, got the start and held everyone off. Maybe that's it, he can't ride SX that great because of guys around him? Thoughts on J Mart's SX skills?
Jeremy is a great outdoor rider and can rail a turn but when you put jumps and whoops between the turns, he isn't as good. I think he had some favorable circumstances in that moto with Forkner and Osborne, the 2 best guys in Atlanta, being far back in the beginning. J-Mart lacks precision in SX and whoops skills. He's often short or long in rhythm sections and can be a bit scary in the whoops. In the 3rd moto, he jumped the whoops like it was his first day ever jumping whoops. He almost endo-ed jumping in them on the first lap of the 3rd moto. But, he made it work in that last moto and even clocked the best lap time. That will help his confidence after a difficult start of the season but I think there's more to it that that if he wants to race with Forkner and Osborne in a regular SX main event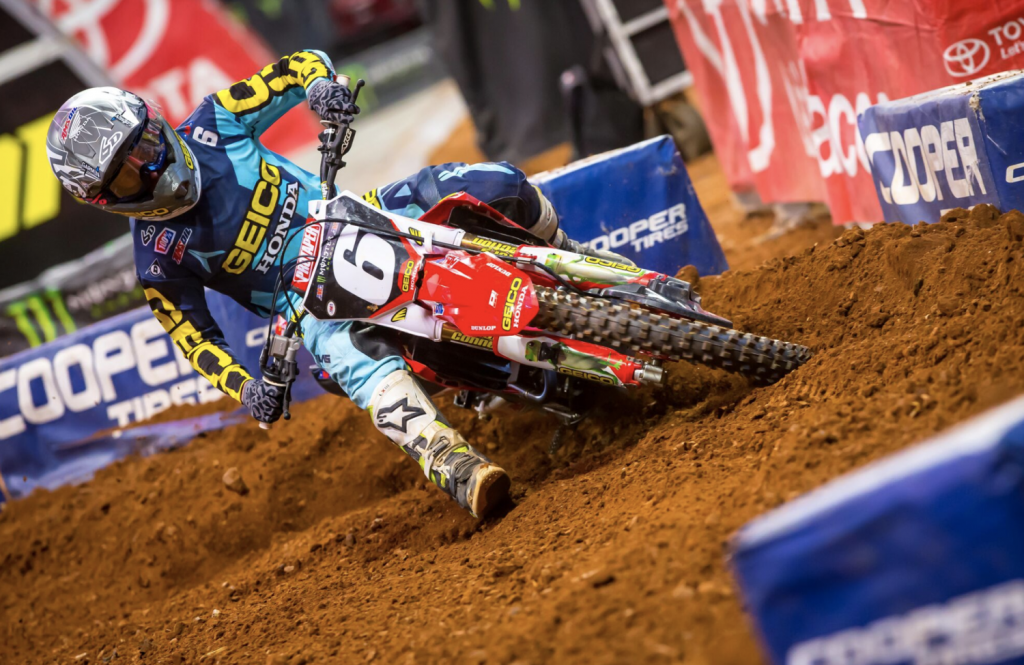 The track in ATL was busy, what did you think of it?
It was indeed very busy. It worked because the dirt was soft and got rutted. Smart and technical riders could make the difference by being smooth and by being creative when the track was evolving quickly. It was difficult to find a good flow to it and not too many guys succeeded at it. Most of the time riders stay in their lines for too long in those conditions. You have not to be scared to change lines when they don't work anymore. When the track was rutted up, there were some solutions to keep a good pace. I saw too many guys staying in there lines and not being able to turn good or do the jumps correctly. That's when the creativity and the technique come into play. Marvin was good at it in the final race of the night. It would be boring if all the tracks had long lanes and big bowl turns. It's good to switch it up. The track in Atlanta brought us some interesting races and that's really all that matters for us in the stands or in front of our TVs