This is no Matthes campaign to try and get everyone to say that Millville is the best National track instead of the true, time-tested answer of Red Bud. Sorry, it's just not. The midwest has the best dirt and since this is after all "dirt-cicle-racin'" you can't really mount a valid argument that there's anything better for racing Motocross or Supercross than midwest dirt. St. Louis has often proven to be a key round in the Supercross series. Perhaps it's due to it being near the middle of the season, perhaps it's due to the propensity for riders to "send it" with the bevy of tractable dirt? I'm not sure but in a world where you never want to say never, guarantee anything prematurely or count those damn roosters before they hatch, I'm gonna throw caution to the wind and declare, St. Louis Supercross will always be awesome and a round that racers look forward to… like Red Bud.
Last year there was "Reed-gate" when Chad got a little crosswind of immaturity and purposely slowed Dungey's progress (a fact he will deny till the day he becomes incapable of speaking "Reedology") in catching Tomac. In 2010 it was Villopoto who hit the eject button after getting rear wheel-spin on plywood just as he had begun mounting a title run to knock Dungey off of his perch atop the points. St. Louis has plenty of history for intriguing storylines and while this year we didn't see any particularly title-altering results, for the 450's anyway, there was plenty of excitement.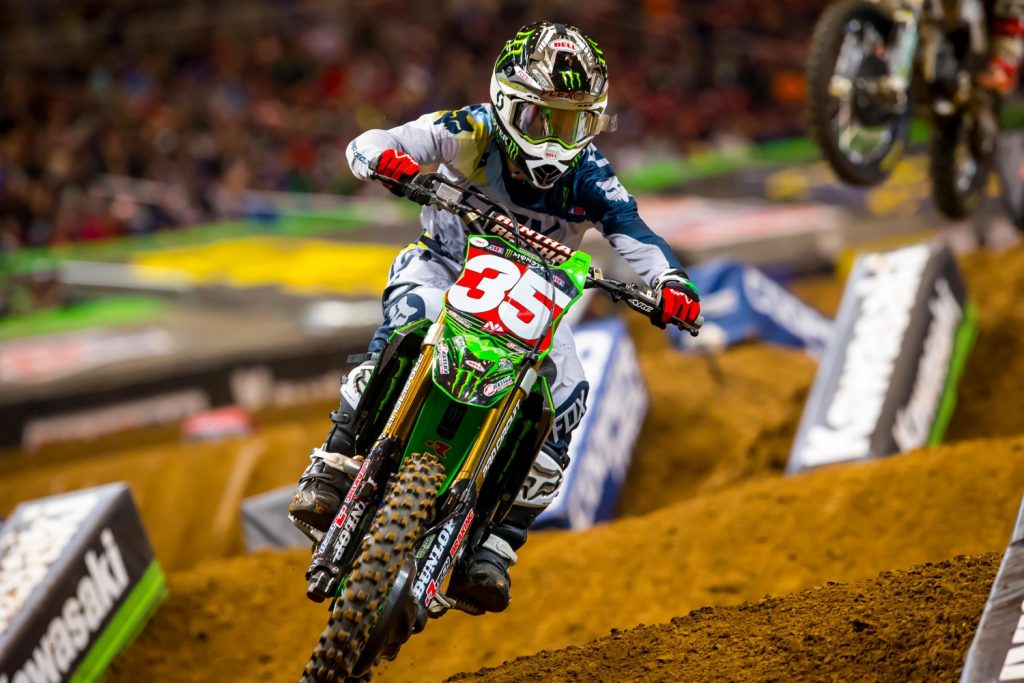 In the 250 class we saw what RC thought he saw last week in Daytona, an actual straight up start between the 1E and the 35. Initially it looked like Forkner was tapping into Ludicrous speed ( if you haven't seen Spaceballs, stop reading meow and head to Blockbuster, Family Video or Netflix) as he launched the quad at the head of the pack on lap uno. 35 was hitting his marks with Zach-O trailing him by about a second, at first glance it looked like Forkner had the edge in speed as the gap increased marginally but pretty quickly, Zach diminished Austin's lead and did what veteran's do, he matched pace, which of course creates a tenuous situation for the rider ahead and it's kind of like fishing, you wait for the bite. You can't really fault Austin for the error he made. He knew Zach was perched on his rear wheel, Zach qualified fastest, there was a lapper and of course Zach has exponentially more experience in that situation than Austin.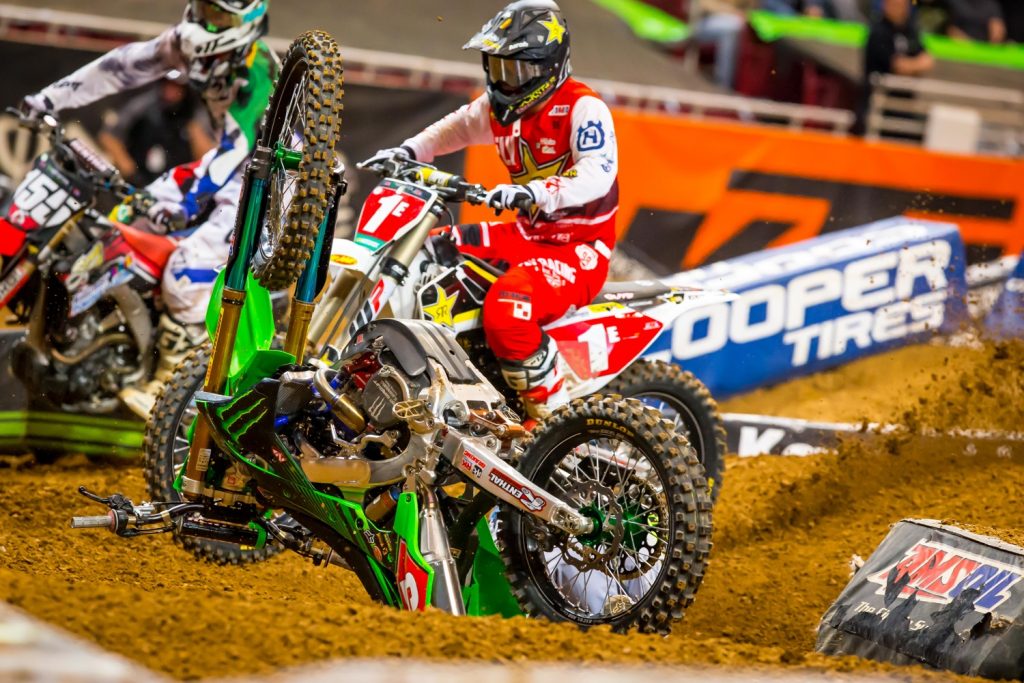 It played out pretty much the only way you'd expect it to. Much like Austin's cross jump in Atlanta and more specifically the fan-response to that miscalculation/poor execution/decision, it will be catalogued in Austin's head as a learning tool and how to better respond in the future. A few laps later in the main Austin came upon lapper Rameylier Alves who blue flag or not, knows the difference between the sound of a guy he's racing with and hell on wheels in the #35 Pro Circuit Kawasaki. I've never raced at their level but you can be damn sure even I can tell the difference between the sound of a guy a may be racing with and the guy who reeled me in like the Tasmanian devil and all but swallowed me like a Sharknado. Austin had all the right in the world to be pissed at Alves' utter lack of situational awareness and I don't see anything wrong with him yelling at the dude after the race. Just like me saying I thought Forkners cross jump was a dumb decision, Forkner yelling at this dude after the race is a tool to try and make him act differently in the future. Let's not get it twisted here, this is no Justin Barcia on a Geico Honda roosting Doc Bodnar during an absolute temper tantrum.
The Eli Tomac Experience in St. Louis was just nuts. The dude lapped up to 8th and made it look like it was his backyard track and everyone else was racing in the dark by comparison. It's rides like this that make everyone, Eli included and his bosses and Factory Kawi too, utterly confused with the wild swings in positive races versus the negative ones. Early on in the season, it looked like Jason Anderson could be the true fastest guy in the field as well as the points leader but lately there is no doubt, Eli is what we all thought he could be prior to A1. It's just too bad it's too late to matter. I gotta think that this series is gonna rank right up there with McGraths level of regret for that 250MX title he let slip away by not looking at the bigger picture.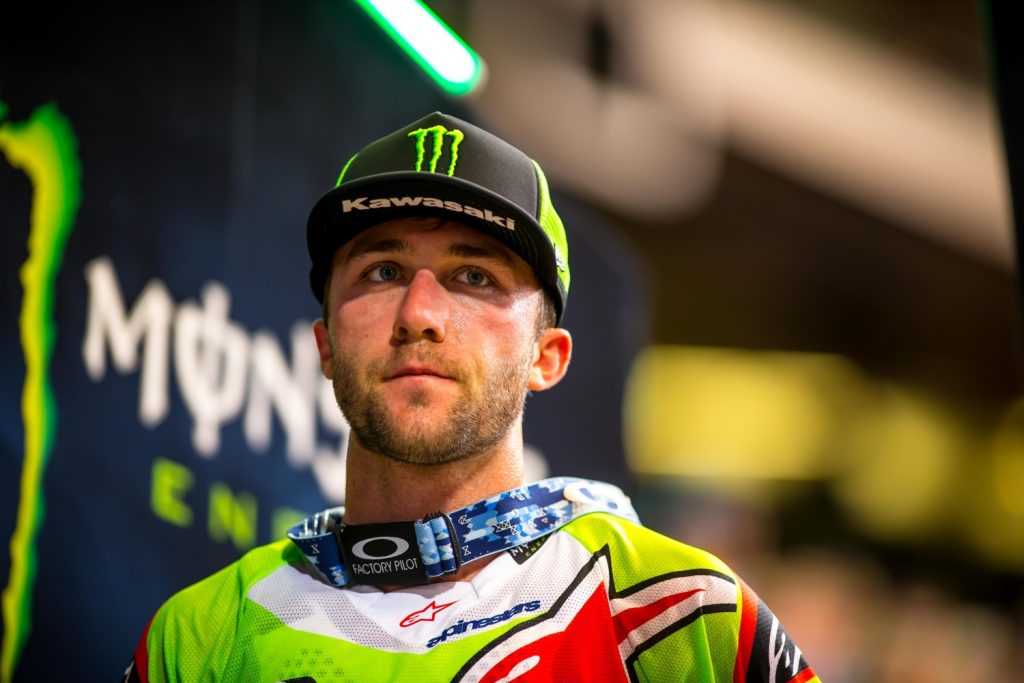 Get up faster Eli.
Gut out a finish for some points, even when you don't think you can in the moment.
Title. Scoreboard.
Learn.
What could have been…