Photos by Rich Sheppard
Well that was fun right? What a complete mess up in Seattle this weekend for round 13 of the Monster Energy Supercross Series. I feel sorry for all of the mechanics, riders and even fans that had to go through the wet and sloppy mess that was Saturday night. I mean think about this from a privateer standpoint. You have to run your one and only bike then completely tear it down to only spend more money to get that sucker to the next race. However, on the other hand you have great chance at getting your best result of your career, in a mud race. Man! I'm in a pickle, dick! I have raced a couple mud races in my time and it definitely is a different approach to racing in general. You have to harness in that inner racing tweaker and stay off the clutch, smooth out and get the outriggers (your feet) out at times. There wasn't a ton of action from Seattle, but I put a few tidbits together for you to read while you're on your bathroom break!
Cody Webb: No this isn't a typo! I tweeted Saturday night that Cody Webb could not only make the main event in a race like this, but had a great chance of wining this sucker. When I watch the top riders in supercross race in these conditions, it's apparent that the guys don't practice on these conditions. I mean you can't blame them right? However, Cody excels in these types of conditions and has tremendous amounts of skill to maneuver through the mud, deep ruts and has the balance to stay up for the whole race. The race was muddy enough that jumping the obstacles wasn't a factor and Cody is tall enough to use his legs to his advantage. Before you judge and say "Keefer you're high" watch this dude ride a dirt bike. He is more technical in these types of conditions than our top supercoss racers. Is he as aggressive as Tomac and Anderson? No, but he would be in the mix for the win on these conditions!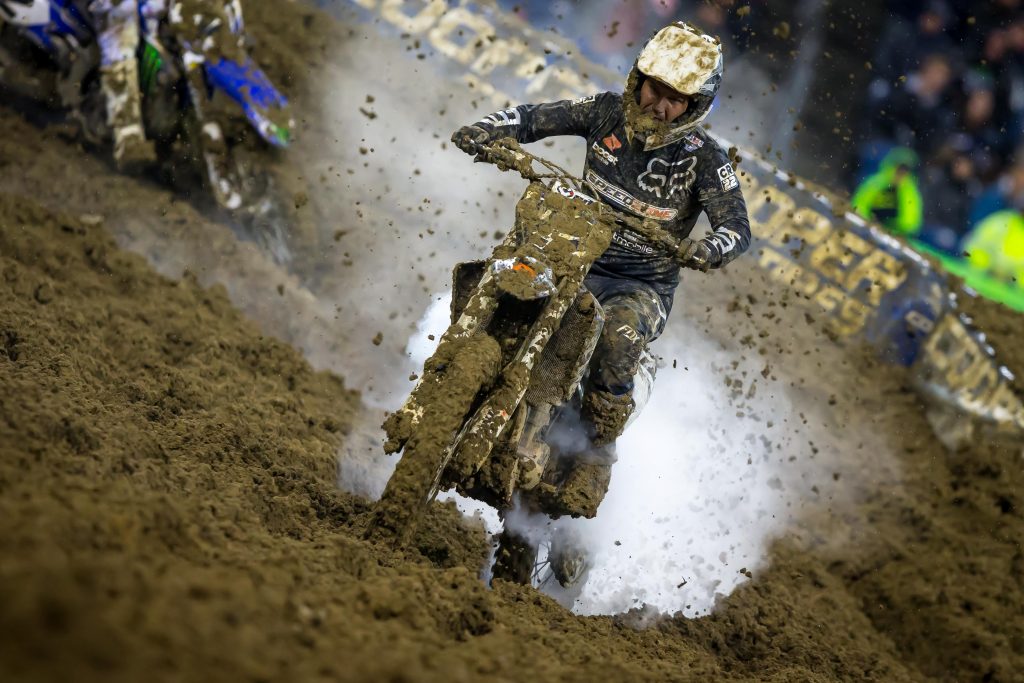 Chad Reed: As Ralph would say "Chad Reed is gritty"! Chad is coming around a bit and looks to be more of a consistent 5-10 place guy. Yes, the mud helped him out this weekend, but I feel he will also be good in Minneapolis as well. More time on the bike and some of Ellie's training at home will help the Australian. Chad's Husqvarna was smoking in the heat and he admitted that he should of did a engine swap between the heat and the main. To see him push his smoking bike up the face of the finish line was bad ass! It was also bad ass that he didn't just dump his bike over and leave it for dead. Oh and if you like Chad Reed, go check the article Brett Smith did on Reed at wewentfast.com. It's pretty cool to read about where Chad came from.
Eli Tomac: We usually say Eli either crashes or wins, well he did both in Seattle. Tomac didn't ride balls out like Jason Anderson, but he rode hard enough and smart enough to win. Tomac looked to have put a couple bad laps in early and then found a rhythm to start reeling in JA. JA made that mistake and that mistake allowed for Tomac to take the W. There is a thing called "eye racing" that goes on with the riders. Eye racing is when a certain rider keeps their eyes on the guy behind them by looking over to the other lane after a bowl corner. This kind of "racing" is preferred by racers because it's something they can control and see. It's easier to try and control things that you can see versus things that you can't (like a dude right on your ass, behind you). It's not uncommon to see riders glance over while they're in the air to see where their competition is. You don't need a pltboard for that!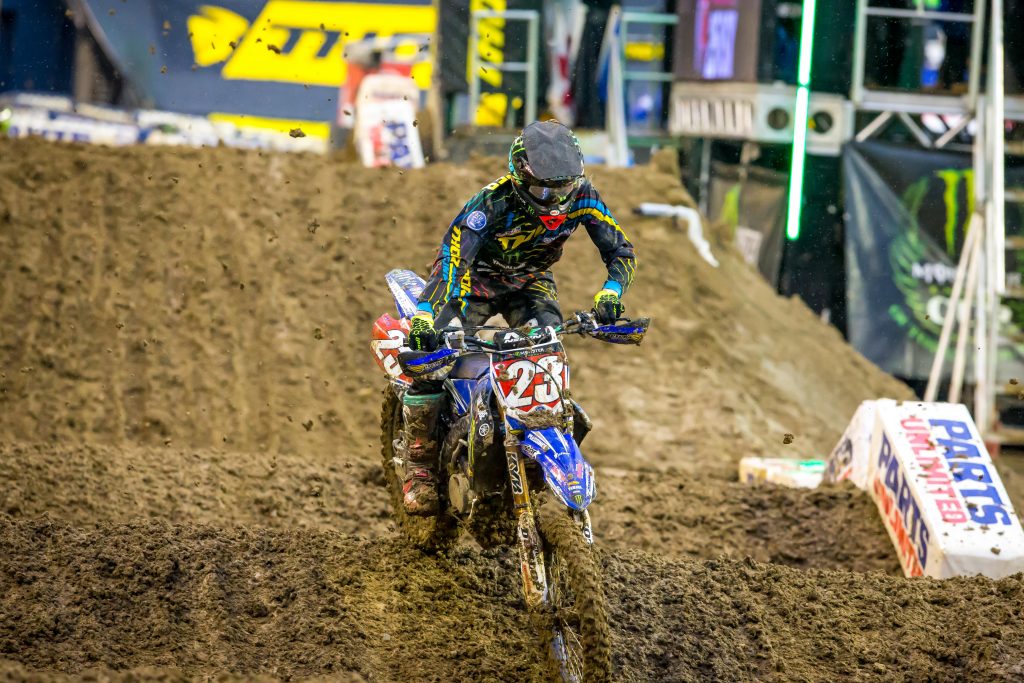 Aaron Plessinger: Did you guys like the belly flop or not? I mean it's kind of whatever, but at least the guy is showing that he is having fun. Aaron can ride some mud and those GNCC races are coming in handy right? Don't let the off-road haters fool you. Top off-road dudes can ride moto well and when moto guys ride off-road it teaches them how to be great readers of the course. When you ride off-road you constantly have to scan the terrain in front of you quicker (than in moto) to pick the best line. Plessinger did an excellent job of this very thing Saturday night and that is one of the reasons why he is so good in this stuff.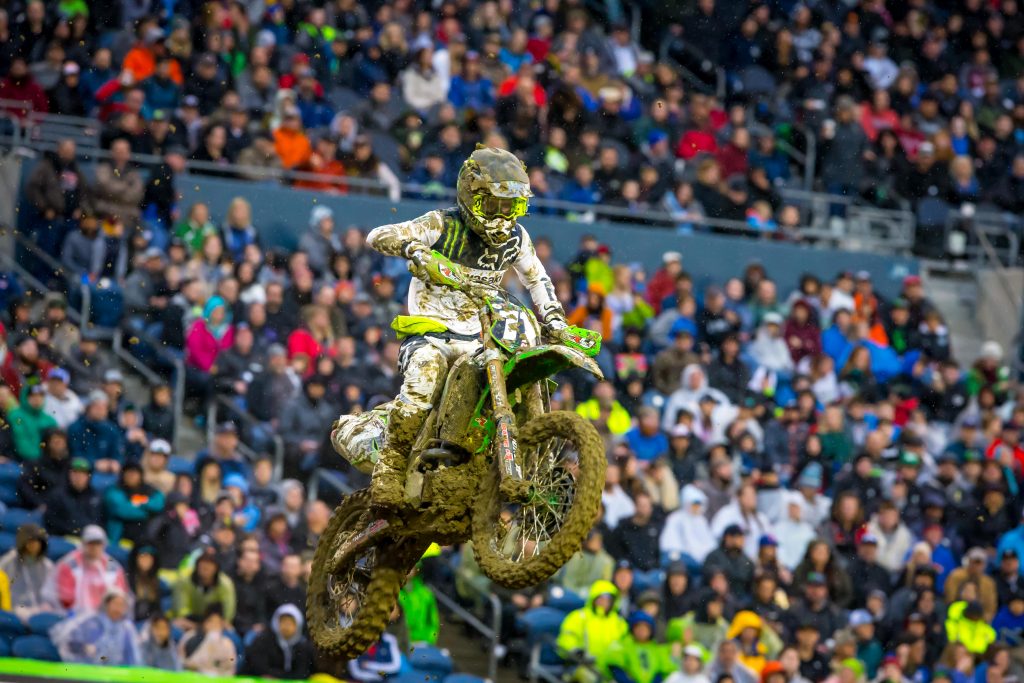 Joey Savatgy: Joey is puzzling me lately. The guy has solid technique/form on the bike, but it seems his crashes are more mental than anything. Joey is not doing himself any favors by having these mental breakdowns come main event time. The 450 class is coming for Joey next year and if I was a manufacturer I would be thinking to myself "how is the guy going to handle the big bike class, if he's making mistakes in the 250 class"? I am not picking on Joey because I really appreciate his skillset, I just want to see him win another round or two before he bails out of the 250 class, so he can get that Kawasaki 450 ride next year!
Justin Starling: Who knew Starling could ride mud? I appreciate and like Starling's positive attitude. I follow him on social media and like that he puts in the work. He trained with ex- professional bicycle racer Tom Danielson, so I know he was coached up right when it comes to fitness. Starling has been racing his 250 on the east coast against the 450s and I think this is a great move if you're able to afford it. It helps with nerves, gets you comfortable with your bike and let's you gain some confidence when you go back to the west coast rounds. Kudos to Fox Sports for getting him some TV time because that was one hell of a ride! Great job Justin!