Photos by Rich Sheppard
Track wasn't ripped as deep as usual, most racers say it was much harder than ever before. Therefore braking bumps got choppier, what did you think of the track?
I might be biased talking about the tracks because I never liked when MX clubs bring a ton of sand to make their track look like Red Bud or Millville. I like when they work when the natural terrain. It didn't seem like they brought a lot of sand this year compared to others. I also don't really like when there are a lot of man-made jumps. And they made a bunch of it this year. Do they really need 3 sets of rollers on the Hangtown track? I liked the new switchback/off camber section. It slowed the speed down and I think we need more of that. I also liked the couple walls they made for the same reason. Other than that, Hangtown should be on the harder side with choppy bumps. It's the natural soil of the location that doe that and I'm ok with it. But it's difficult for riders after a SX season where they ride on smooth tracks to jump right into the type of track conditions. I'm sure a lot of them struggled with their arms. Overall, other than those man made rollers I thought the track was good and reflected very well what Hangtown should be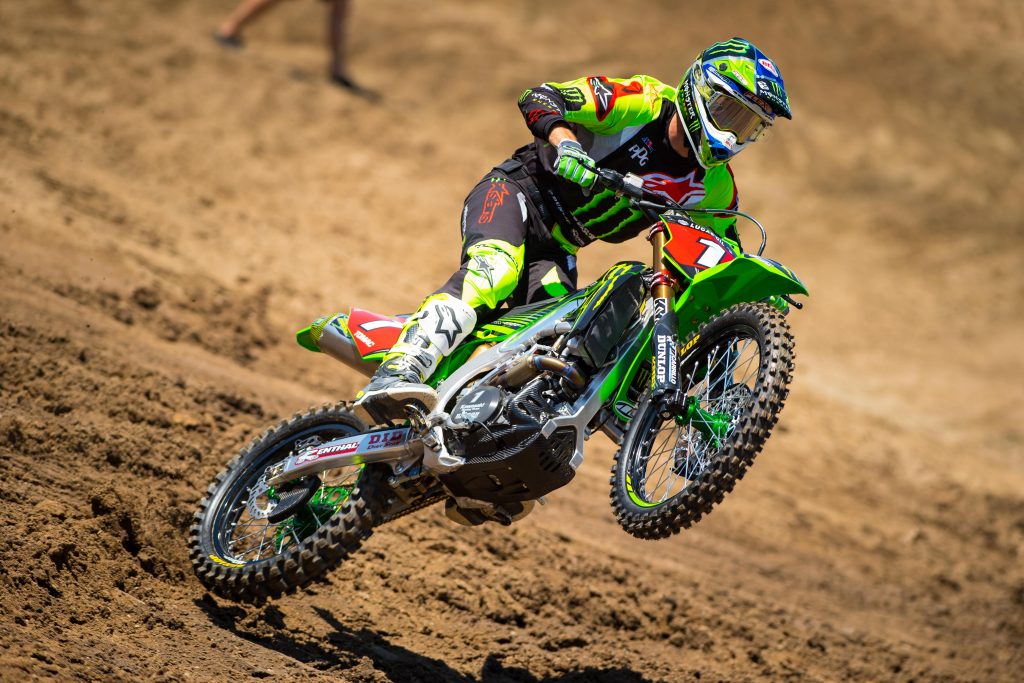 Eli Tomac was amazing, first moto was a clinic, second moto he fell then set some amazing times. What was it about a fall that would get him going so much as opposed to before the fall? Any theories or reasons for this as a rider?
I think before his crash in the second moto, Eli realized he had time to catch the guys in front so he was riding a good but smart pace without taking too many chances. After his crash, he realized he had to go for it if he wanted to win the overall. I don't think he wanted to "give" the overall to Marvin knowing their history and also knowing the championship will be between them this season. You don't want to give points away when you don't have to and even if it's only the first race of the season. I thought Eli rode really well Saturday.
I actually think he could've rode even faster because he looked pretty smooth and in control even being a step faster than anyone else. We've seen him in the past being more at the limit which I didn't think he was in Hangtown. In a way, it's not great news for the 450 field but it's great for him to be able to ride that pace and keeping a margin of safety. That's what he's been lacking at times. I'm curious to see if he can keep that philosophy in the next couple races. If he does, he will be more consistent and will make way less mistakes.
Marvin Musquin rode well, clearly the second best guy on the day. Thoughts on him?
I saw 2 Marvin's Saturday. One who was very fast, more aggressive than usual and who was passing guys quick which he's not often good at. I was actually surprised of his 2 first halves of both motos. He was efficient, fast and moved forward. I really believe if he would have kept the same philosophy during the whole motos he would've been more of a threat for Eli. The other Marvin that we saw, rode cautious and to get a second losing the least amount of points for a first race. He switched to that mode after he went off the track in moto 1. It's not a bad strategy for a first race but when you have the opportunity to give Eli, the favorite of the champion and reigning champ, you should take it.
Marvin knew Eli was very fast after practice and knows he's fast in Hangtown but you have to try to beat him. One, to see where you stand on a 30 minute moto against the favorite of the series. Two, to see where you stand physically. It's ok to hit the wall physically in a first race and maybe he wouldn't have but at least he would've known where that limit was. Three, to put pressure on Eli and maybe push him to make a mistake. Overall, I think there were a lot of positives in the way Marvin rode Saturday. After seeing Hangtown, I'm a bit bummed because I don't see too many guys mixing it up with those 2 guys this summer. It might become very boring very soon…
Were you disappointed with Jason Anderson's ride at Hangtown as a championship contender?
I actually tweeted about it and called it in our LebigUSA pre-Nationals video show. I think we all are a bit disappointed about his performance but it's pretty understandable though. The kid had so much pressure for a few months in Supercross to keep his point margin and delivered almost perfectly where others didn't. I think the fact he was relieved to clinch the title in Vegas had to hurt his ability to get motivated again to start another series. We're half way thru the season and Jason reached everyone goal to win a SX championship. We can't be that disappointed after one MX race because he went 4-6. I'm sure he didn't like what he did Saturday and will turn it around in the near future. We have to give him a pass this one time.
What else caught you by surprise in the 450 class?
Barcia going 3-3 was a bit of a surprised. I'm sure a lot of people picked Anderson, Baggett or even Roczen to be on the last spot of the podium before picking Bam-Bam, me included. I thought he rode good, pretty smooth for a rider who isn't known to be the smoothest and delivered two good performances. I'm happy for him and for Team Yamaha who don't have both of their original 2018 riders behind the gate in the Nationals. Justin delivered in SX before his awkward injury and he's delivering again in MX. That was a great pick and a good gamble for Yamaha.
The second surprise was Taft who showed up with a 450 Husky and ended the day 10th overall. That's pretty good for a pretty new pro who raced 250s in SX, lost a ride and showed up at Hangtown with a bike he bought… It shows up that you don't need free bikes, a semi and other stuff people give importance to in order to get results. Bradley deserved us talking about him in this column. Hopefully he can find something to race the whole season.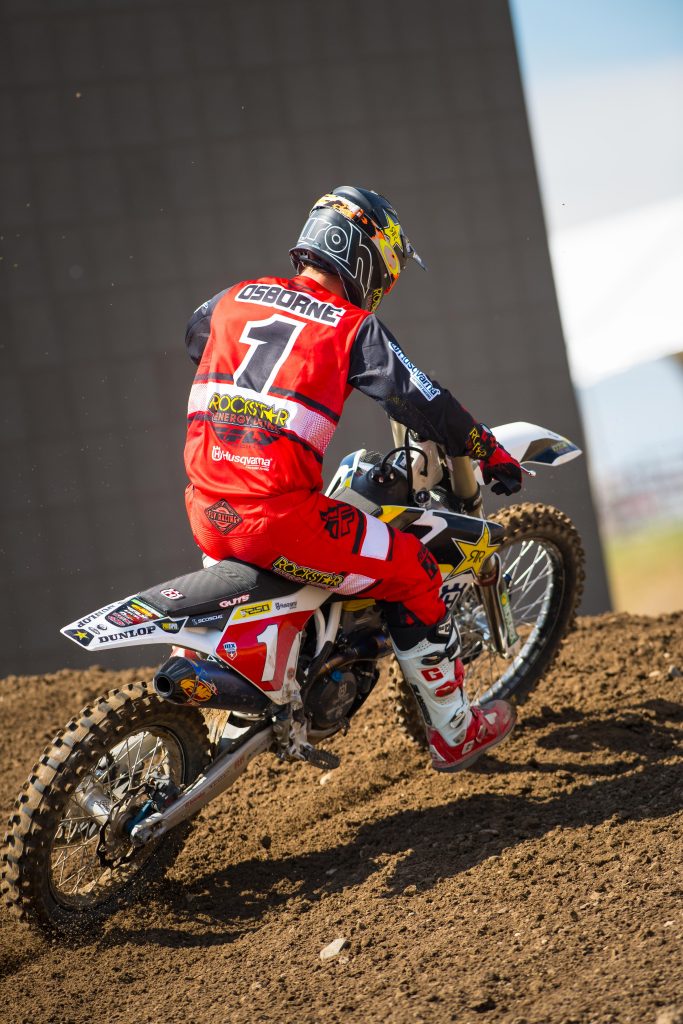 Zach Osborne was perfect in Hangtown came from fifth or so in each moto to textbook wins- what did you see?
Zach is a great MX rider. He has a lot of experience at a high level and he's the latest champion in the class. I also think he's a better outdoor rider than he is indoors. He's ready. He knows what to do to win. He's the huge favorite this season. We all know that so it's not surprising to see him where he was in Hangtown. He always grinds and tries hard. He never settles which was a big factor Saturday. In terms of riding, he has the ability to change his lines and make them work. He's not scared to switch his lines when he feels they're not working. He's also not scared to travel more distance on the track which let him keep his momentum. We see so many riders stay in their lines or use too many slow insides. When in doubt, Zach just rails the outsides to see how they work. Too often riders don't try new lines and are afraid they won't work. Zach doesn't. He goes for it and he's able to know where to go because he put his wheels pretty much everywhere on the track.
Jeremy Martin told me "Zach was right there. He was just a little bit better in the beginning part of the moto and then in awkward places, if that makes sense. A little bit better aggression and flow. I was able to suck him up a little bit there, but overall he had just a little bit of an edge on me." about Osborne passing him each moto- what do you think?
Jeremy is one of the guys I thought stayed in his lines too much and wasn't creative enough to find the best and fast way around the track. He was too much "stop and go" to be able to ride Zach's pace. His brother is actually very good at not stopping and going in his corners. I've liked Alex's corner momentum for a couple years already and I've talked about it in this column in the past. I think Jeremy is trying to fix his little lack of speed by twisting the throttle hard and he's not thinking and being creative enough.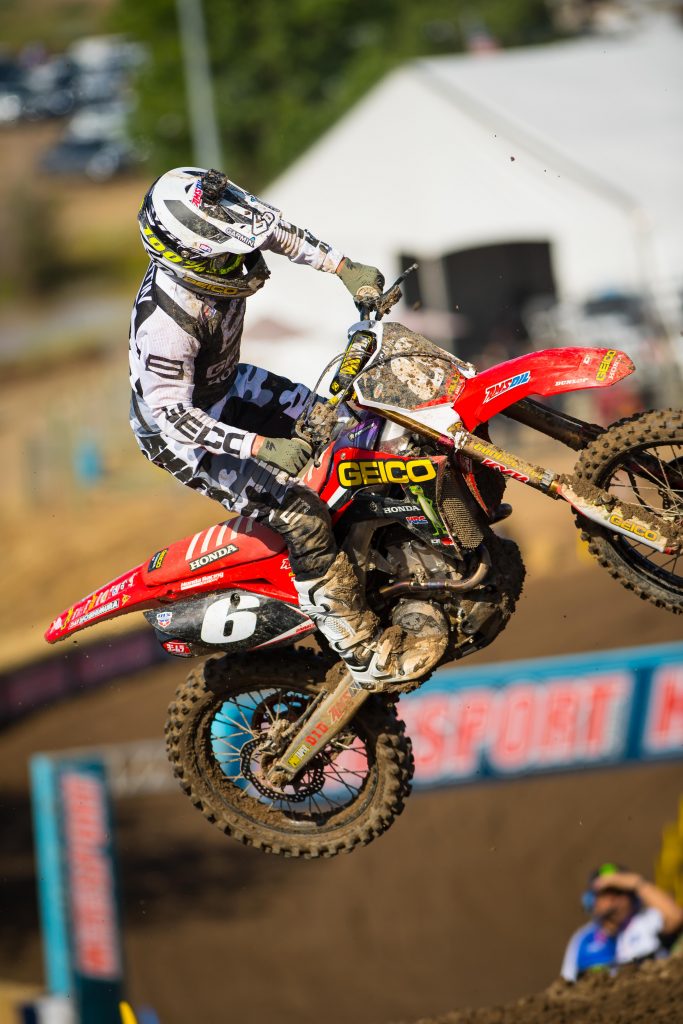 Who surprised you at Hangtown 250MX, who disappointed you?
I was surprised by the first moto of Justin Cooper. He was solid and fast for a good 10 minutes with past champions behind him. 5th overall is a great result for a rider who only has a few national under his belt. He will obviously have to confirm but I thought it was cool to see a young kid mixing it up in front with the class veterans. Talking about veterans, I was a bit surprised in a bad way to see Savatgy, Smith, Hampshire and McElrath go respectively 7th, 8th, 9th and 11th overall without even a moto top 5 between those 4 guys and 2 motos. They've been in the class for a while, they are in good teams, they have great equipment, they need to do better than that.
Anything else catch your eye at Hangtown?
Who the hell won the 125cc class? A kid I've never heard of beat the great RV? What's going on?
Vegas Golden Knights are in the Stanley Cup Finals!  Amazing right?
Pookie has to be super excited. It's amazing for a brand new franchise to go to the finals. But, I know as much about hockey as I know about curling or cricket. I've watched one hockey game in my life. It was at the Staples Center, I remember it was freezing and couldn't wait ti get out of there and I remember never being able to see the stupid puck…