Photos by Rich Sheppard
Ok it was a mudder- you won more than a few of these so how do you ride fast in that stuff?
There's no secret about being competitive in the mud. First, you have to be in the state of mind that it's just like any other challenges you have to face while being a MX riders. Then, you have to ride like it's dry basically. Pick the right lines, use your legs, stay away from the deep mud parts of the track. It's just like any other day, your riding has to evolve with the track changing all the time. This weekend, some lines dried up so the drier they get the more you can charge thru them. I think the main issue with riders when it rains is their negative approach. I was always excited when it was a mudder because I knew it would be an easier day to make the difference. I would rather ride in the mud than in Red Bud in 90 degree and 90% humidity conditions.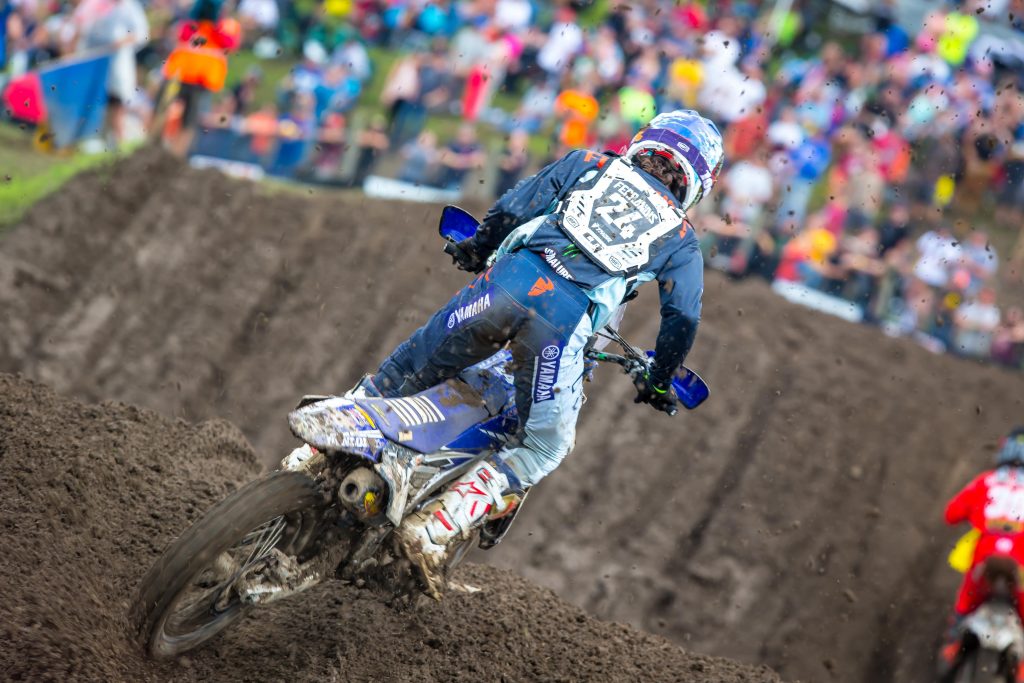 Great race by your pupil Dylan Ferrandis going 1-1. It looked like AP was going to win OA but Dylan got him back and then put in a fast lap to pull away. You must be stoked on his second win of the year!
I don't get over stoked about great results. I'm very critical even in success. I saw a lot of things that I didn't like but the 1-1 score is great. I won GP's and Nationals before but I never had a 1-1 score. For me, and when you work with a class favorite, winning has to be normal and the result of the work well done. Guys like Dylan in the 250 class are paid to win so ultimately, he delivered what he was hired to do. Nothing more, nothing less. In another end, seeing a ride like he did on Saturday is a relief. We saw him more aggressive and more with the will to win. That's something I've been waiting for for a while because I knew he had it in him. He's been amazing to work with because he's been following the DV program and my philosophy to the T.
In a way, he's proving to me that the way I want a rider to ride and train actually works. I was a bit nervous in both motos. In the first one, he was charging hard even with a comfortable lead and his bike started smoking. He could've ridden a little bit more conservative. In moto 2, Aaron was riding well too and Harrison was slowing those 2 guys down a bit. Dylan was sandwiched between them. He took the lead for a bit and chose a bad line and got passed by both of them again with 5 minutes to go. It was an exciting race at that point but my guy was in 3rd and if Aaron would have passed Harrison, Dylan would've lost the overall. I really liked how Dylan regrouped and charged back to pass Aaron after Harrison tipped over. That pass in the last few laps was textbook. Now, we have to turn the Unadilla page and Dylan has to confirm this form in dry/normal conditions. He has 2 more chances to do so.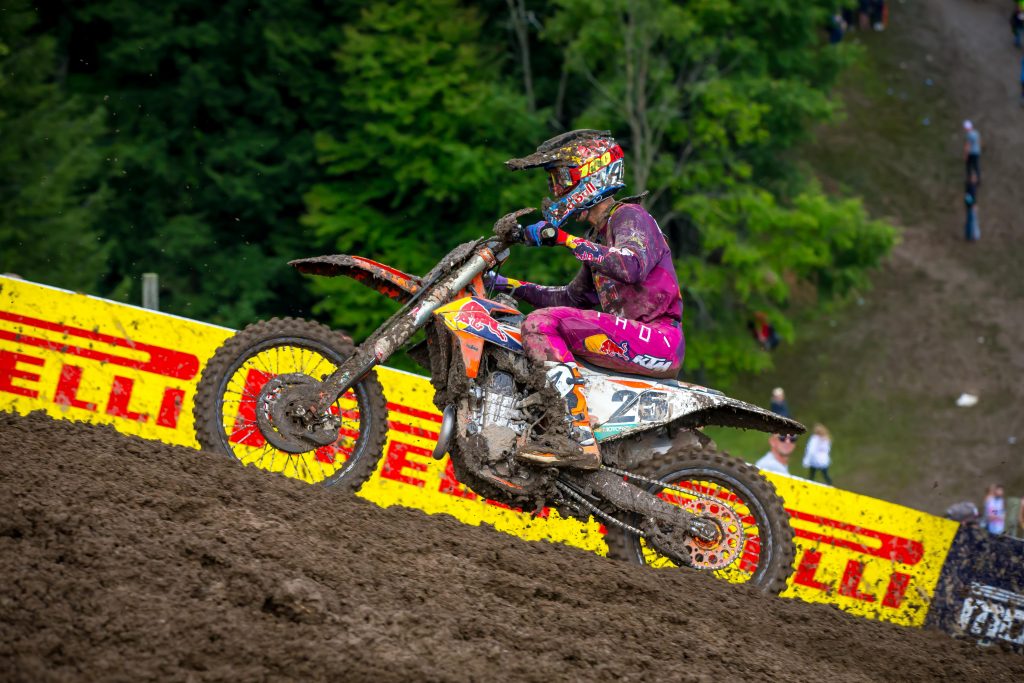 What did you see in the ET/Marv two motos?
Eli was on a mission in moto 1. He was the best guy on the track. His start wasn't great. He stopped to swapped goggles and went ahead to win the moto. Like I said in the first answer above, he was riding a lot like if the track was dry. Just picking his lines and charging when the other riders were riding on egg shells way to much or making bad line decisions. His second moto was a bit different. Marvin was riding well and Eli settled a bit to ride for 2nd. Nothing wrong about that when you have a 15 point lead with 2.5 races to go on a traitorous and muddy track. I like and respect when Eli rides a-la-Dungey a bit. You can't win them all. You could, it's happened before, but it could be risky at this stage of the series. I thought Eli managed Unadilla well even if we all know he would've have liked to go 1-1.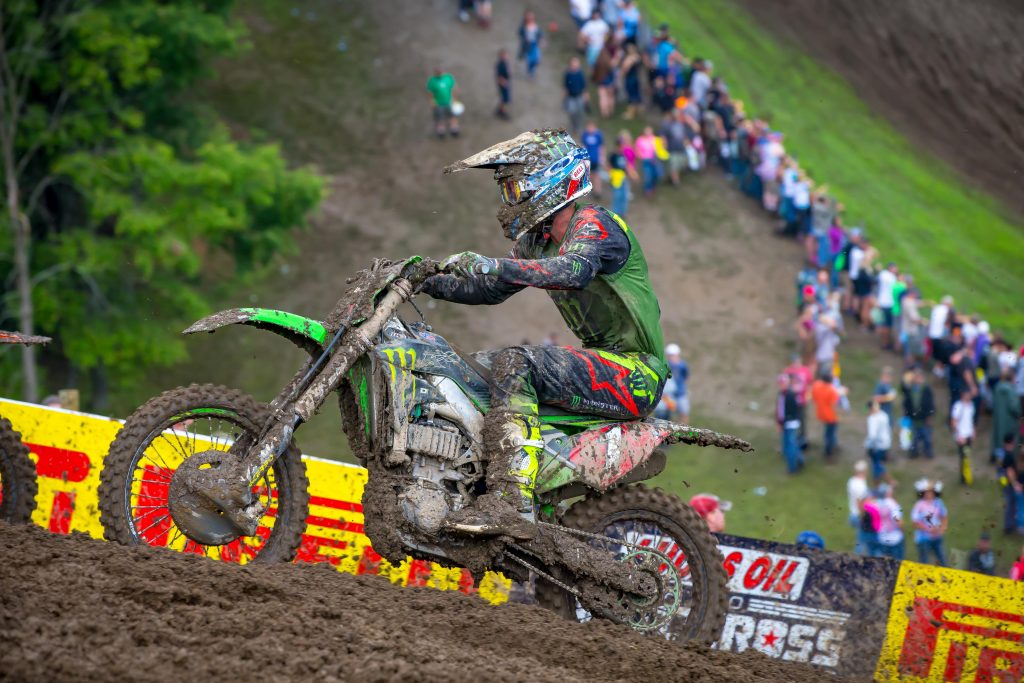 As far as Marvin is concerned, he was a bit too cautious in the first moto. He rode a little tight and way too much in his comfort zone. In those conditions, it's understandable but he has to make up points on Eli. He won't if he rides like moto 1. In the second moto, he was way better. The track was dryer and he looked more like himself. Those conditions as we say in french, are "blessed bread" for him. Meaning, they fit his style very well and it showed. But at the end of the day, it was a wash between them in the points. Good operation for Eli. It's better to have a 15 point lead with 2 races to go than a 15 point lead with 3 races to go. For Marvin, it's not as good even if he won the overall. He's got to make up points in Budds Creek on Eli if he still wants a chance in Indiana
Filthy Phil got third overall which made him and a lot of people happy. In front of his home crowd at that.
It had to be a great feeling for Phil. He podiumed a moto and led a couple laps in the other. His first few turns of moto 2 were great to move to the lead! I was surprised and I like when riders like him don't have any complexes toward the big names of the class. To do that in your home race is great. It wouldn't have had the same taste if it was at a race on the other side of the country. First career podium, I hope he celebrated it and I hope he will treat himself a bit with the bonus check money!
What about the GNCC Guy?
The Cinderella story was cool for a bit! It looked like he could've pulled an upset at one point. He caught up to 3rd in moto 1 but only lasted for a lap. He still finished 6th in the moto which is very respectable but there was room to do better though. He was running 10th in moto 2 until he had a bad crash and I think he DNF'd. Still good though. He had some TV time. People are talking about him. I'm talking about him today and KTM got some exposure out of their replacement rider. I think it was a good move from KTM. Now, I'm curious to see how he's gonna do in the next 2 rounds.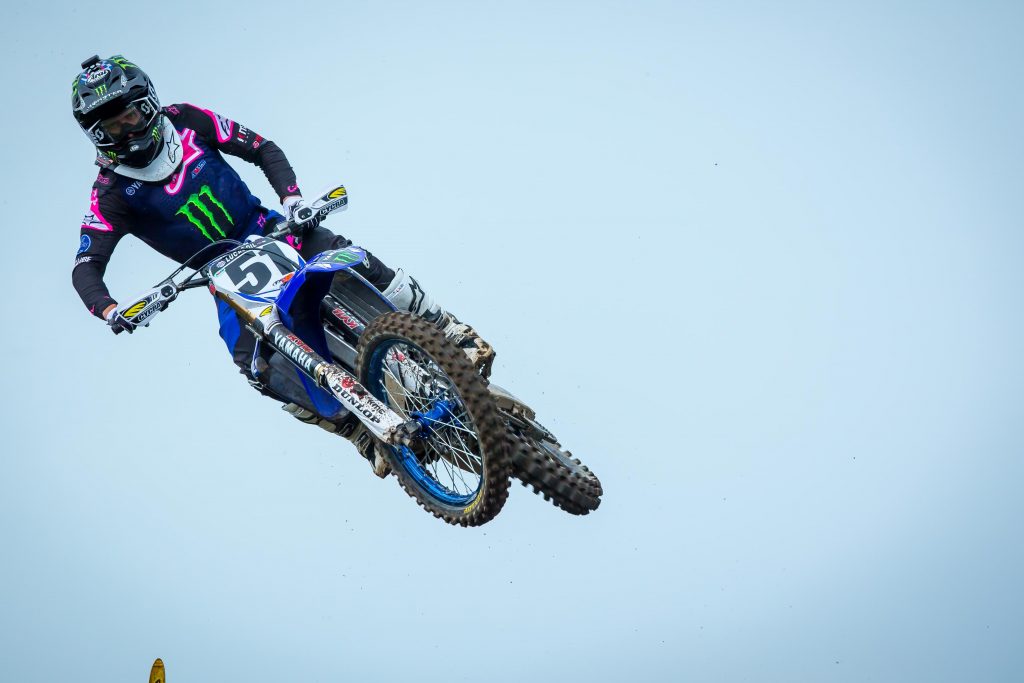 And what about Barcia flipping his teammate off! Think that's something that will carry on?
I missed that! They'll be teammates for only 2 more races. They are both known to have made some stupid moves in the past so I'm not surprised that if you put them both on the track and close to each other at the same time, sparks are going to ignite! It's ok though as long as it stays on the track. I'm sure Team Yamaha will handle it in the semi. A little controversy between teammates is always fun in racing. It's not the first time and won't be the first time it will happen. But, they have to shut it down. They need to focus on their bike, their riding and the track to improve their results. A feud between teammates never help the riders to get better results, on the contrary, it doesn't.
Some riders have remarked to me that the grind of the season has stuck them down. What's the key to staying fresh for the whole season?
Especially for the 450 guys who have to race 29 races. Not a lot of them raced 29 times this year so it shows you how hard it is. It all come to winter preparation. The more prepared you arrive at the first race the better it will be. Then you have to find your routine of work, recovery and rest. You can't do the same thing every week. The program has to change to fit the need of the rider. For example, after Washougal, Dylan was over it a bit. He felt a little drained so I told him to go away for 3-4 days and breathe. He went to Cabo with his chick on Monday after Washougal and we went back to work on Friday and Saturday. He took Sunday off and we worked good Monday, Tuesday and Wednesday before he left for Unadilla on Thursday. That's what riders have to deal with to race a long season. There's time to work your butt off and if you did, it's oak to take small breaks here and there during the season. But first, the priority is always to work hard in the off season to built a bad a**  base.
You WROTE a great column about Marv being left off the French MXDN team, anything new that you have heard about that since you wrote it?
Nothing really to add on the matter. I liked Marvin's video explanation after Team France was announced. He's still not in the team even after his overall win in Unadilla. The only thing I didn't talk about in that column is what if one of the 3 guys selected get hurt. Are they gonna call Marv? I doubt they will. He would obviously be the best replacement on any bikes, 250 or 450 but he won't get contacted and I would hope he would tell them to go pack sand if they did. I'm still in shock about Marvin not being in the team. How can you go to MXDN without your best rider of the moment. It's just like if Eli wasn't picked. How ridiculous would that be? I just want to clarify one last thing. I have nothing against the French riders in the team right now. My opinion is that Marvin would be a way better choice that Paulin. That's all. I still think the actual team could win MXDN with favorable circumstances. I'm just saying the French federation made a mistake, that's all…