Photos by Rich Sheppard
Muddy Ironman Raceway Sets Up Mega Fantasy Scores
It was the Chad!
Did anyone else get the feeling that the moto gods wanted Chad Reed to succeed at Ironman? The pieces couldn't have fallen into place any better. It wasn't hot, it was muddy and he's good in the mud, he found that inside gate in the first moto, and everyone above him somehow left it for him in moto two, everything just worked. It was awesome to see and he crushed it for his team owners, both real and fantasy. Welcome back to motocross Two-Two!
In other news we had not one, not two, but SEVEN perfect one hundred point scores this week. And did I mention the screwiest qualifying session all season for the 250 class? Did anyone else look at that 250 moto one starting list and feel like throwing darts at it? I know I sure did, and we'll get into that, first lets look at the scores and trends, there are some crazy numbers to look at!
Most picked riders AKA "the chalk
250 Class
Dylan Ferrandis (5 All Star) 44% picked, 41 points
Joey Savatgy (0) 38% picked, 26 points
Cameron McAdoo (4) 34% picked, 0 points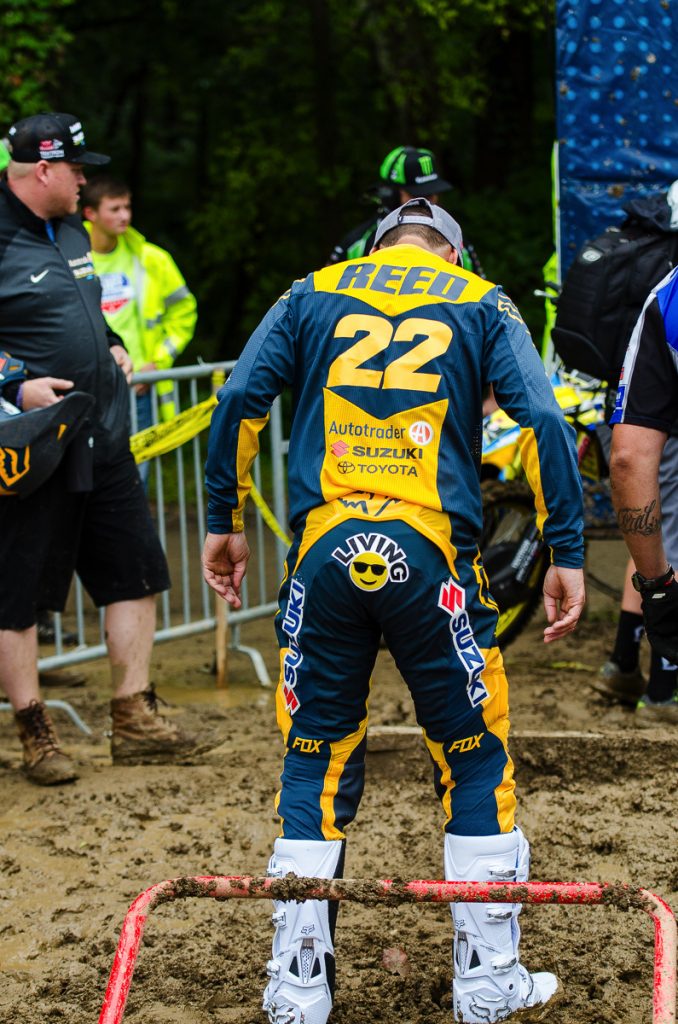 450 Class
Chad Reed (8) 73% picked, 100 points
Tyler Medaglia, (14) 46% picked, 100 points
Justin Barcia (4 All Star) 42% picked, 50 points
Dylan Ferrandis topped the chalk this week in the 250 class with a 44% pick trend. No surprise, as he had a generous handicap for an all star, especially given his mud riding ability, good equipment, etc. The muddy conditions cost his owners six points, proving once again that even with the best equipment, the mud can still win. Joey Savatgy and Cameron McAdoo followed as highest picked and they both sunk their team owners. Joey has to be grateful that his nightmare season is behind him!
Chad Reed just missed setting a new pick trend record! His 73% pick trend was second only to Kailub Russell's 78% at Unadilla. Chad definitely delivered, as did Tyler Medaglia and Justin Barcia. To me, all three of these riders were basically free squares; the week was won or lost by how you picked the other five riders.
 Low owned players who delivered – AKA great contrarian plays
 250 Class
Taylor Strauss (18) 0% picked, 100 points
Cole Zitterkopf (18) 0% picked, 86 points
Cale Kuchnicki (18) 0% picked 74 points
Carter Stephenson (18) 0% picked, 72 points
DJ Christie (18) 0% picked, 66 points
450 Class
Bryce Backaus (18) 0% picked, 68 Points
Nathen LaPorte (18) 0% picked, 56 points
The crazy qualifying in the 250 class gave us an all time high for low owned – high scorers as we had five riders who scored more than 66 points! Taylor Strauss topped the 250 pack by putting up a perfect 100. The Helenville, WI rider qualified 14th OA and backed it up with 14-18 moto scores, great job!
The 450 class didn't have as many crazy scores in this regard, as they had "normal" qualifying sessions. Bryce Backaus had a nice day, with 68 points, he qualified 35th, then went out and finished 21-25. He was followed by Nathen LaPorte at 56 points, he was 6th highest point scorer in the 450 class on the day.
 Fantasy Duds
250 Class
Cameron McAdoo (4) 34% picked, 0 points
Joey Savatgy (0) 38% picked, 26 points
Cody Van Buskirk (18) 27% picked, 0 points
450 Class
None
I would have to go back and check, but I'm pretty sure this section featured a Pro Circuit rider every week this season. This week the dubious distinction once again fell upon the shoulders of Joey Savatgy. I picked him this week, figuring he would be low owned and pull the ultimate troll job on his owners by scoring 100 points. Apparently 38% of owners were thinking the same thing, some of us never learn! We were also let down by Cameron McAdoo who had some fast lap times but couldn't finish, and Cody Van Buskirk who went 40-DNS after qualifying second overall, ouch!
No real duds in the 450 class as I typically reserve this space for riders who had 25% or more ownership. Honorable mention should go to Dylan Merriam who killed it in the mud at Unadilla and couldn't back it up at Ironman. He had 16% ownership and zero points.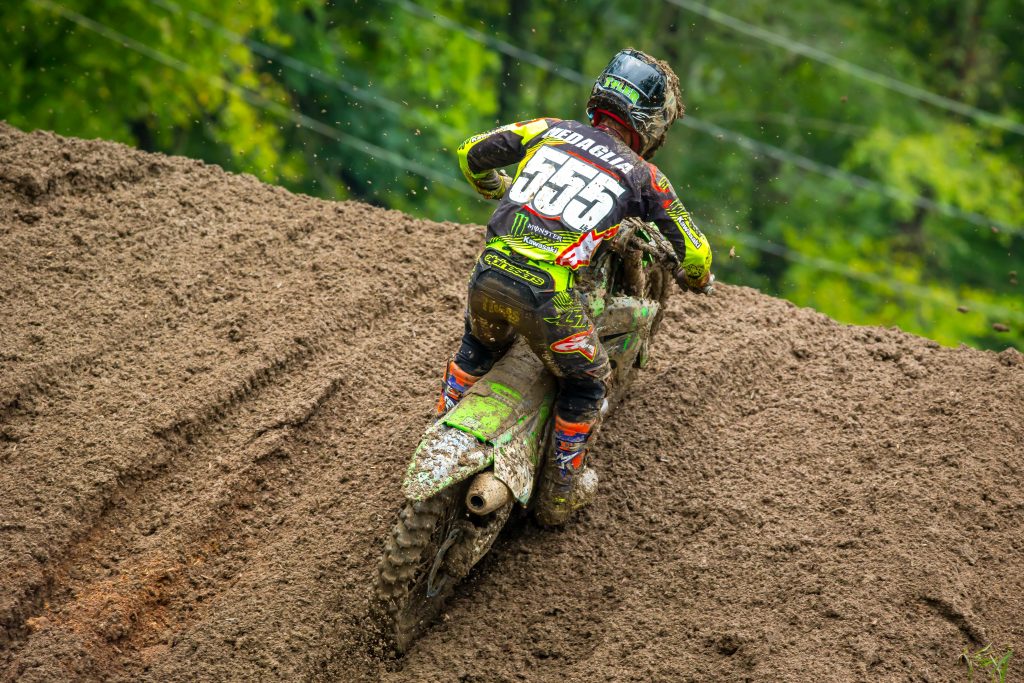 Scoring
At Unadilla we had scores suppressed by the mud. At Ironman we had scores boosted by the mud. It just goes to show how much things change from week to week in fantasy moto. This week we had seven riders put up 100 points!
The unusual qualifying in the 250 class definitely enabled some very high scores, there were four riders with perfect 100 scores, two riders with scores in the 80's, three riders with scores in the 70's, one rider scored in the 60's and five riders score more than 50 points. Colt Nichols is the only rider among this group that doesn't have a three-digit AMA number.
The 450 class scoring was a little closer to the season averages. We did have three riders with perfect 100 scores however. All three, Chad Reed, Tyler Medaglia and Valentin Teillet were lining up at an AMA MX National for the first time this season. If these three had chosen to take the weekend off, the 450 scores would have actually been on the low side as the next highest scorer was Bryce Backaus with 68 points, then Jeremy Hand with 66 points.
As to the All Stars, three of the 250 riders had perfect 50 point scores as Aaron Plessinger, RJ Hampshire and Austin Forkner got it done. Only Justin Barcia and Phil Nicoletti had perfect scores in the 450 class.
As to my team, it started with not one, but two riders in the 250 class score zero points in the first moto. With the mud I figured it would be best to stay away from the unseeded qualifiers and choose riders on factory equipment, so I went with Savatgy and McAdoo. Both burned me pretty hard, combining for 26 points total. Somehow that didn't completely ruin my day as I was on the three "free squares" in the 450 class. I had 437 points on the day, leaving me in 365th place overall for the season.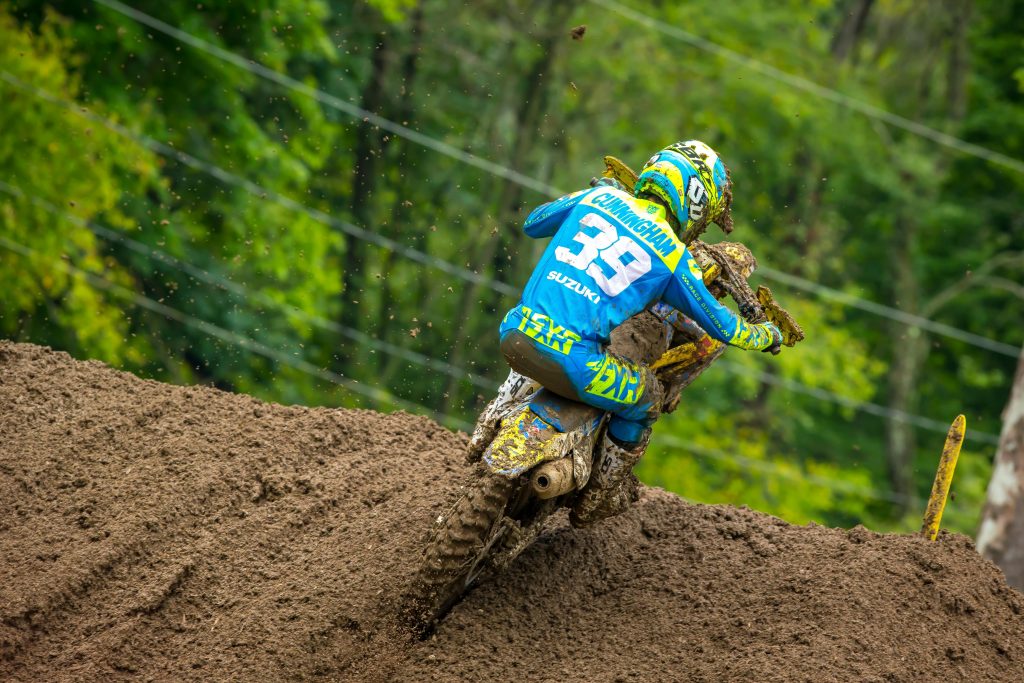 Final Thoughts
What a fun and crazy season of Fantasy MX! The season picks and trends definitely showed a few things to watch for during the upcoming fantasy Supercross season. First off, some of the highest scores this season came from riders who have a known racing pedigree and were lining up for a one off race (Ryan Sipes), or were returning from a hiatus as a fill in rider (Chad Reed). These situations are very hard to handicap and often lead to an edge for team owners.
We also saw a scoring trend lean towards staying on the chalk. For the most part it did not pay to go against the grain and try to gain an edge by doing so.
As to our MX Fantasy Season Champion, congratulations to Ryan Goodwin, AKA RGOOD711! Ryan took the season championship down by scoring 5579 points on the season, with an average weekly score of 465. He was also very consistent as his worst score all season was a 359. Enjoy that 2019 KX250F Ryan, amazing work!
Also, thanks to all of the PulpFantasy players for joining in on the fun. I hope you guys enjoyed it as much as I did. Hopefully we'll see you on the leaderboard at Anaheim One, if not sooner!