For many years Chris Hultner was the premier photographer in the sport and a great follow on Instagram @hultnerphoto for older stuff. I contacted him recently and asked him to send me some memorable photos of his and then called up him to ask him why. Some great stuff in here and here's a little interview with him first.
Matthes: How'd you get into shooting photos, and how'd you get into shooting photos of motocross?
Chris Hultner: It's kind of a long story, actually. We had some neighbors that when I was a small kid they lived right across the street from us, then they moved away. Their son got into motocross. They moved up to Los Angeles, and we lived in San Diego. Their son got into motocross. When I was in about fifth grade they were racing, I think it was the CMC Golden State series. So they were racing around in San Diego at Speedway 117. They needed a place to stay, so they stayed at our house and we went to the race with them. First time I've ever been to a motocross race. It's like the first time you take heroin. It drew me in like a tractor beam, and I was only ten or eleven years old. From that moment on, I would go hang out at the liquor store and sit on the floor in front of the magazine rack and just read Motocross Action and Dirt Bike until they kicked me out. Then my parents actually split up when I was in about sixth grade. My dad was just kind of looking for a way to bond with the boys. He had a friend at work that ran pits for Mag 7 in Baja. Mag 7 is still around. They're an organization that pits for all the privateers. So they have crews all over the peninsula when they race on there. So, he invited my dad to come along and help run one of the pits. This was like 1980. My dad had just gotten a camera. It was Pentax. He really was apprehensive and didn't really want me to mess with his camera. So we go to the Baja.
I ended up stealing my dad's camera and went around and shot pictures of all the racers going by. After looking at motocross magazines, I was already keen. I knew what I wanted to capture. It was the first time I ever picked up a camera. He did kind of tell me, you have to line up these two dots inside. The aperture and the shutter speed. I'm like, "Okay, cool." So I took that and by the end of the weekend I was doing slow shutter stuff, getting speed blur and everything. When the photos came back that's like heroin shot number two. I was like, "Oh my god, these are so cool." So that really got me hooked in photography and in shooting off-road and motocross and stuff like that. From there, I got my own camera.
For Christmas in 1981 I got two things that changed my life forever. I got my own camera, and I got a YZ80. It was freaking over at that point. So from basically throughout junior high school and everything I shot for the school yearbook, just basically learning the ropes, learn how to develop film, do all that stuff. Started kind of thinking of ways to get into pro events, because around 1980 they started doing supercross at San Diego. So as I got older, I was looking for more ways to get into supercross. I actually had a friend who would call the promoters. One year there was an arenacross in San Diego and I had my friend call and say they were an editor for a newspaper to get me a press pass, and it worked. So I was like fifteen years old and I got a press pass to this arenacross in San Diego. Broc Glover was there. I think he was the only big name guy. So that was cool. I tried it again for the San Diego supercross.  Penny Nicolai ran all the media stuff. We did the same thing. We called and said we were with a local newspaper. I think it was the Poway News Chieftain or something like that, outside of San Diego. They wanted to send me to shoot. So I go there and everybody's there. That's the first time I met Ken Faught. I saw Fran Kuhn there. Fran Kuhn was my hero. Fran Kuhn is responsible for me being a photographer period, and getting a job. Everybody was there. I'm in line. They open the gate to give out the press passes. I walk up to Penny Nicolai. I tell her who I am. She's all, "I called the Poway News Chieftain and they've never heard of you," in front of everybody. I was like, oh my god. She's like, "Get out of here." I was so humiliated and so bummed out. A friend of mine got a press pass from the San Diego Off-roader which back then it was like this magazine-sized little news print thing that they could get passes. So once I got kicked out and he saw that, we went to one of the openings in the wall for the stadium and he passed me his pass so I got in anyway. Then we shared his pass. So I got to shoot on the floor for a little bit, and he got to shoot on the floor for a little bit. Actually that was the night that Kyle Lewis won the 125 supercross and his dad died that night.
How old were you at this point?
1987, I'm 19 at that point. So, at the same time I'm working at camera stores and stuff. I didn't go to college. School wasn't for me. I was working at camera stores with film and stuff. I became a lab technician. I ran one-hour photo places and stuff like that. I worked at one in El Cajon. Actually prior to that I would ditch school whenever the San Diego supercross would come. I would ditch school and go shoot practice and stuff. They didn't have any security there and you can just go around and do whatever you want. I had this really killer photo of Broc Glover and Ricky Johnson and Jeff Ward. I had access to printers and everything, so I would make prints and stick them on the walls in this photo lab in El Cajon that guys like Broc Glover and Ricky Johnson would come into occasionally, so it was super cool. Then I moved to Northern California. I started shooting for San Diego Off-roader so I could get passes. I think one of the first things I shot for them was the '85 USGP at Carlsbad. That was my first cover. It was a black and white news print cover, but I got a cover. Maybe it was '86. Ricky Johnson when he got that monster holeshot. I had a cool shot of that, so they ran that on a cover.
Did you ever go down to RJ's and Broc's practice tracks and all that, and Dogger out in Barona and all that and see those guys and shoot?
I went to Barona Oaks a lot, but back then Tommy Clowers was racing a 60 and you could tell he was going to be something. Mike Craig was racing back then. I remember going to Barona a few times when they had big series in town and Donny Schmidt was racing. My friends knew Mike Craig so we would go to different places in El Cajon and stuff where they would practice and stuff like that. So I got a lot of access to good riders and people so I could practice and shoot and learn.
Your whole philosophy "fake it till you make it" that everybody talks about, you really literally did.
You had to. I remember when MXA used to run stories and you had to sneak into the pits and things like that. I tried them and I did them. You had to. You had to figure out ways. So San Diego Off-roader was the first publication I shot for, and then there was a magazine called On Dirt. They were a glossy cover news print inside. They were on the newsstand, which was kind of a trip. So I started shooting for them, and I got my second cover with them. I went to this race out in El Centro. I got a quad shot and they put that on a cover, so that was pretty cool.
So no problem getting a press pass now. You're established with the off-road magazine so it's fine?
Yeah. I'm not having to sneak in anymore, which was kind of the goal. I just need to get in easy. So, the whole time I'm reading magazines and everything, there's one photographer that everybody references and one photographer that I just thought was the bomb, and that was Fran Kuhn. Basically I did everything I could. I collected gear that I thought I needed, whatever I had to do to copy what he was doing. To me, at least in the United States – I know in Europe there's a lot of really good shooters. But in the United States, Fran was the first real photographer. He was trying different things. His stuff in Dirt Bike with Steve Schmidt, all the flash that they were doing was insane. That's what I wanted to do. I was like, that is badass. That's what it's going to take to get that job, is to be able to shoot like that. So that's what everything I was doing was geared towards, doing that. Then the fact that Fran quit and went to work for Peterson, is the reason I got hired at all.
When do you meet Fran? Is he cool, nice to you?
I always saw him at races but I was always too shy and too scared to talk to him. So I didn't actually meet him until I got the job at High Torque. Steve Kasper who was the editor of one of the ATV mags, he knew Fran real well so he introduced me. I really actually kind of hung out with Fran on one of the first shoots I went to, which was the Scottsdale supercross. It was when Bayle first came over. The only two guys that were really there were Bayle and Stanton. Dirt Bike flew me out to shoot that race and then I was supposed to stay the night or whatever. I met Fran. We talked a lot. We hung out a lot. Then I ended up flying back with him instead of getting a hotel room. It was a quick, easy thing. So Fran and I actually talked, we became friends. Just like everybody else that you meet on the floor, you're always friends with. That's what was just so cool about it back then. Everybody hung out together. There was no attitudes, no egos. It was just cool. Everybody was cool with everybody.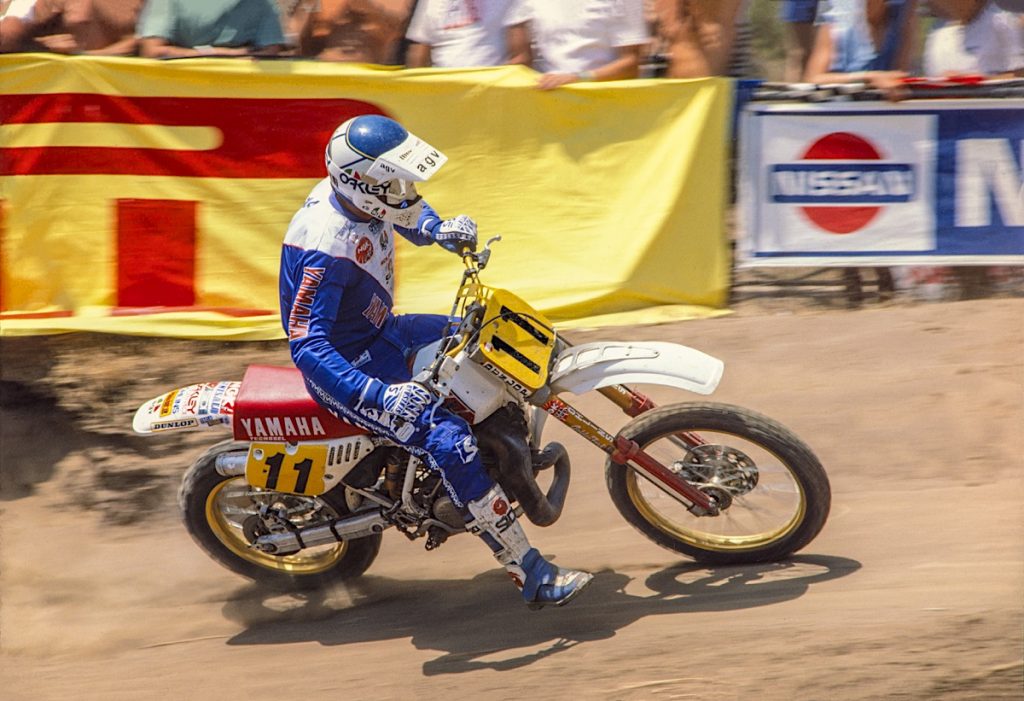 This is the '86 USGP. I went to Carlsbad '85 and '86. Dude, it was insane to be there and shooting photos. At that point, I knew what I wanted to do with my life. Everything that I was doing was towards my dream, which was working for Motocross Action. That was the ultimate goal. I was there. I was totally wide-eyed and just stoked to be there. I had shitty equipment. I remember looking at all the factory bikes. I was totally a fan of the Euros. Mikkola was my all-time hero and Bob Hannah. I had these guys plastered all over my wall. Just seeing all the works Hondas and everything. The coolest thing about the factory Honda guys back then was, it was the USGP so everybody was riding their country's flag or whatever. The Honda guys like Ricky Johnson and David Bailey, they had little California flags on them. I thought that was so cool.
This shot of Carlqvist…It kind of represents what I thought at the time was a really good photo. For me it was jumping off that shot and the RJ shot from back then too. As a photographer once you start getting to a point in progression there are certain benchmarks that you look at and go, "that's when I started to get it." That's what those two photos represent to me.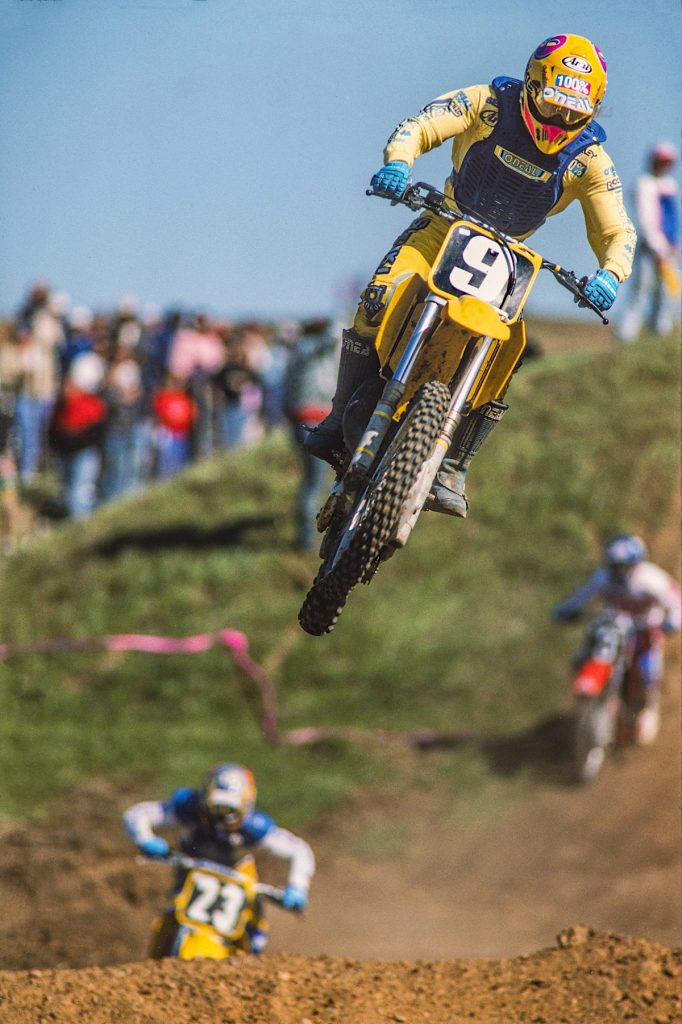 This Erik Kehoe photo was another benchmark. I think it's '88 and that was the year that I actually got hired. It's just another example of what I thought was my progression. I was working at a camera store in NorCal, so I had access to some decent equipment. I was using a 300-28, which is a big lens. So that kind of helped catapult me a little further. I just loved this era anyway. I just really dig that photo. It was right after the start.
This is pre-MXA. The story is I was living in NorCal and my friend's a horse trainer, who I got into the horse business. I was actually kind of at that frustration point because nothing was moving forward. I wanted to work at MXA but that wasn't happening. So I was actually learning how to shoot horses at the same time. My friend had gotten me a gig to shoot a horse show, which was a pretty amazing deal. So I shot Hangtown. That was in On Dirt magazine. Then they sent me to the USGP of Hollister in 1988. I got my best photos ever. So I took those photos. I sent them to High Torque care of Dirt Bike and Motocross Action. That same period of time I was really frustrated. I needed to get something going. So I was on the verge of selling all my 35-millimeter equipment, buying medium format stuff and just going into horses. And then Eddie Arnet called me. He was the editor of Dirt Bike at the time. So this was right after Fran quit. They were creating a new position and they were looking for a photographer. So, the day that I was ready to chuck it all and just go into something else, Eddie Arnet calls me. He's all, "So, what are you doing?" I said, "I'm a lab technician." He said, "That probably pays pretty well." I'm like, "No, it doesn't." He's like, "You ever think about working for us?" I'm like, "Yes!" So a month later I started at High Torque.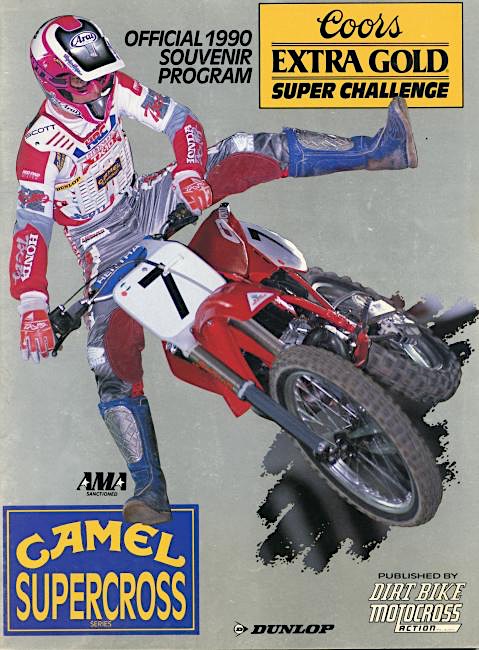 This Jeff Stanton photo is, I think, probably from Anaheim. That's kind of an example of longevity in photos, because that photo was used in MXA. Then it was used on a cover of the supercross program. Then a year or two ago Racer X used it on one of their shirts. I was totally stoked on that. Just cool to take an iconic photo like that.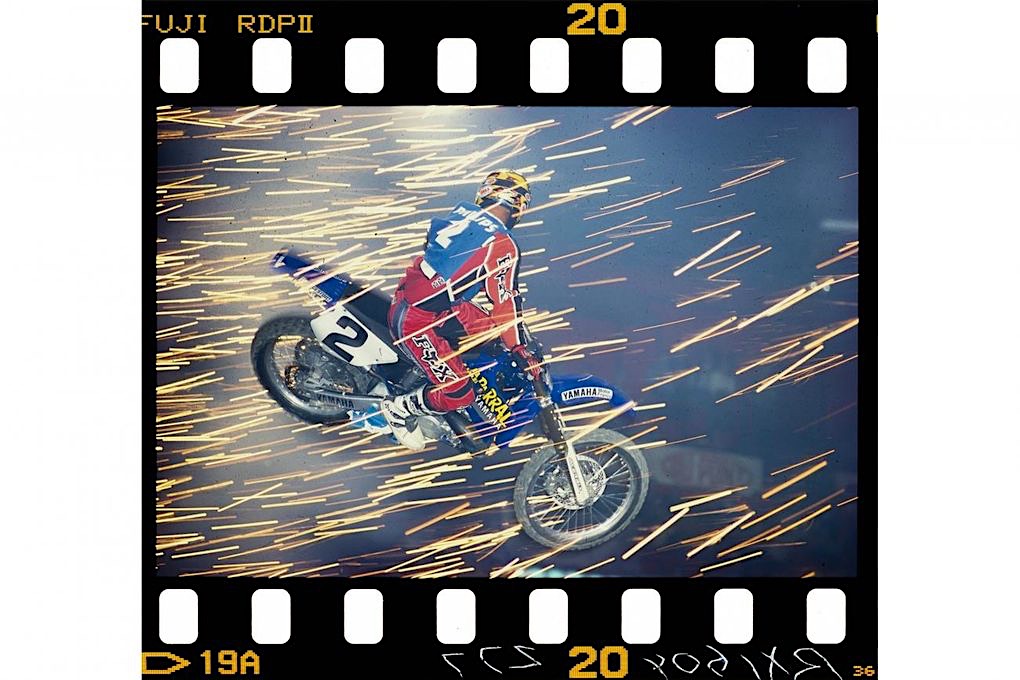 This is MC at Bercy end of '97. Actually I kind of saw this photo in my head and I was like, I wonder if it's even possible to get him flying through the fireworks? I'm pretty sure it's him winning because they fired off the fireworks at the end of the race. There's like both sides of the finish line table top. I was on the other side and I'm like, I wonder if that will work. I wonder if I can catch that. I got that slide back and I was like, fuck yeah. When you're shooting, you can usually tell. This is film before digital so you don't have a little screen to look at, but you could usually tell. If I got that, that's going to be the shot.
Marc Blanchard was laying out the magazine (Racer X) at the time. We were going through the photos. I pretty much thought that that would be the cover and everybody was pretty much in agreement. Nobody had ever seen anything like that before. It was kind of an easy pick for the cover and everybody was on board, for sure.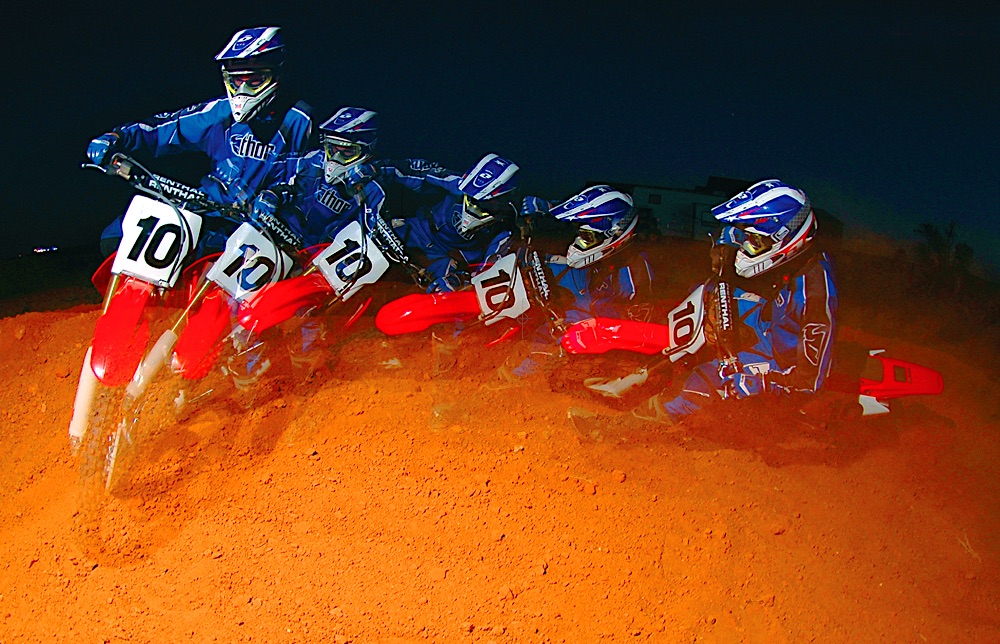 This is Brett Cue. We were testing his bike for Amateur MX magazine. I was trying to see what would happen if I did a long shutter and then popped the flash a bunch of times and see if we could get a sequence that way rather than stitching a bunch of photos together. That was just an experiment that actually worked out.
I thought you guys had to take these kind of photos and take each one and lay it over top, right? That's normally how you would do it, right?
Yeah. This was all one exposure. This was all one frame. I left the camera open for probably ten seconds and then it was pitch black. So I had him do this corner in pitch black and then I just popped the flash off as fast as I could hit the button. That's what I came up with.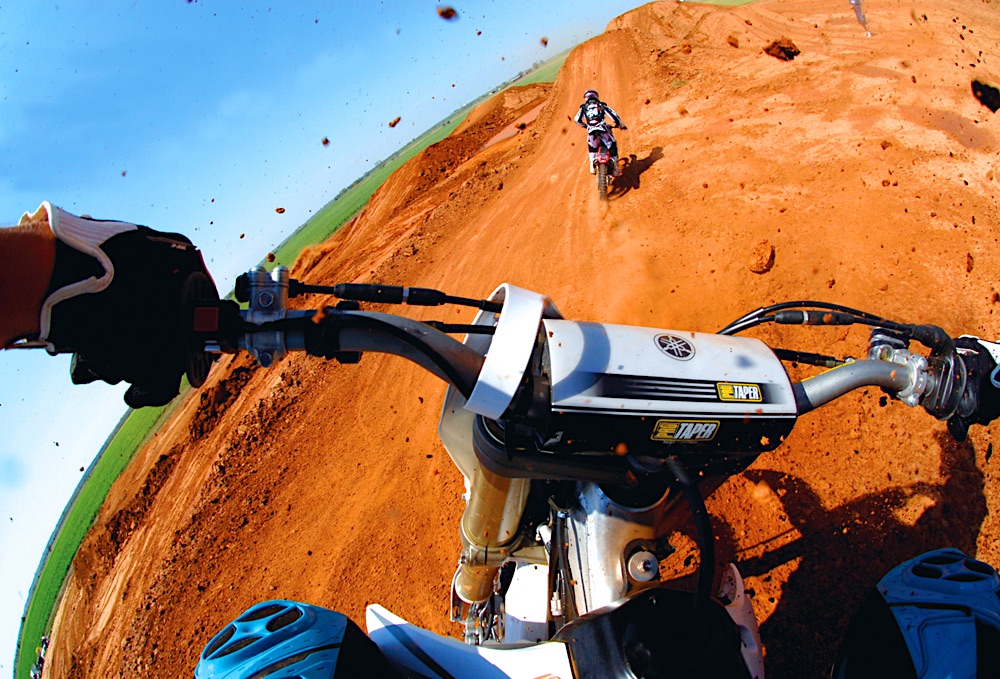 This is Brett Cue again. I basically tried what I did with Denny Stephenson at Las Vegas 20 years before and I zip-tied a camera to his chest protector to get a POV shot. Even the digital shot, the one of Brett Cue and Trey Canard, this is before GoPro. So the only way to mount a camera on somebody was to stick it to their body.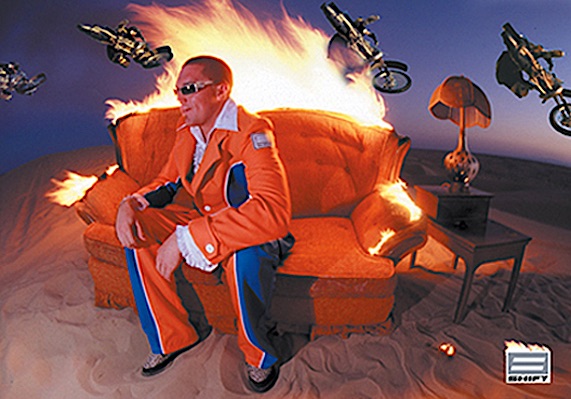 I left Hi-Torque  and went to work at Fox. That's when they were just thinking about starting up Shift. With the whole video revolution and everything, all these new moto celebrities were coming up without really a home. So they latched onto Seth Enslow, which was great because Seth is actually a really cool guy, a really nice guy. He was super cool. So we wanted to take Seth out and go get some photos for an ad. We went to Glamis in the hopes of getting something cool in the sand dunes. I was kind of like, "Let's try something else." It was the whole image of Shift and everything. So we were in Blythe or whatever the town is. We're in this little town and I'm like, "Let's go in that thrift store." So we go in the thrift store and I'm like, "Let's set up a living room out in the sand dunes and light it on fire." They're like, "Yeah, yeah!" Everybody was totally into it. So we pick up this little couch and table and lamp and everything. Pete had already sent Seth some leisure suits. We were going to do stuff in this little town at night because it was pretty sick looking.
It's crazy that the leisure suit matches the couch. You just figured you got lucky.
We planned that. We found a couch that was the same color as the leisure suit. We get the thing, and I'm like, "We don't really want to burn the cushions because that will catch you on fire, Seth. So let's just pour gasoline around the edges and see what happens." So we lit this thing on fire and it went fast. I had like three shots before he had to bail out because he was about to catch on fire. He's like super nervous at this point. I'm like, "Hold on! Don't move!" We almost lit Seth on fire.
Seth jumping in the background- that's photoshopped in. That's the other thing – we did this around sunset so we did the couch shot first and then I said, "Quick – get your gear on and go do some jumps!" So we had maybe all of this is done in the sand in like fifteen minutes. We just let the couch burn. The rangers came by to see what was going on because we were making a bunch of smoke.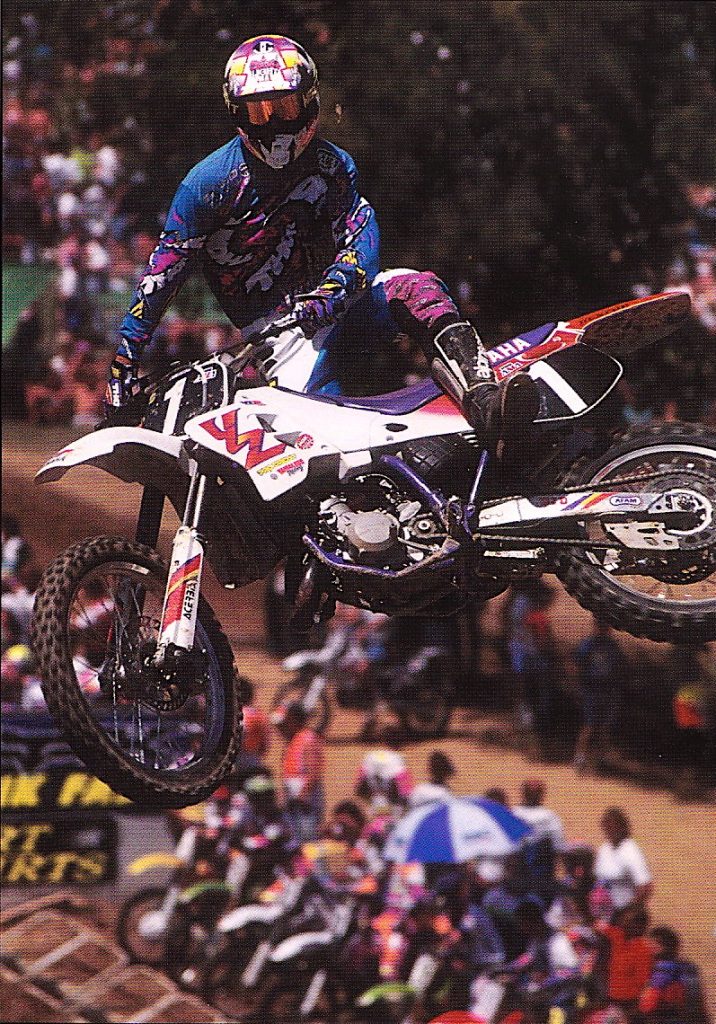 Jeff Emig at High Point. I think one of the first kind of iconic shots I got back then. It's that uphill triple by the starting line, and not everybody was hitting it. Fro just kept hitting that thing on a 125 and just throwing it sideways and it looked so cool. So I got upside of the track on the other side that you could look down on it. It was so badass. It was one of my early favorite photos.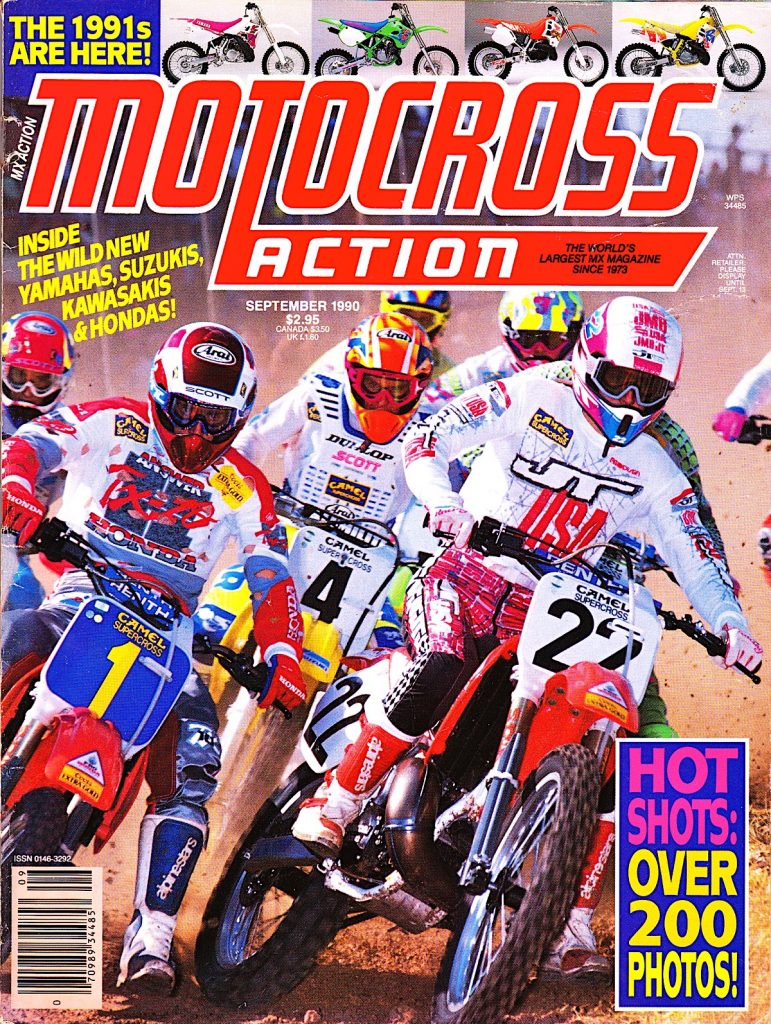 One of the things that Fran did when he shot – he started this – he would take a long lens and there's a certain kind of flash, it's called a Norman. It's meant for studio work, really, for event work. But they sell this portable battery. It's a huge battery that you wear around your waist. It's a very simple flash, but they have these flash that you can change out. They made one for a telephoto lens. So the flash beam is narrowed and it travels further. So it enables you to shoot flash at great distances with a long lens, which creates a totally different look. Fran did a lot of that when he worked for Dirt Bike. He did a lot of it with supercross. That was the first time I ever saw it was that one time that I snuck into the supercross and got caught, but snuck in anyway. He was there and everybody that he was working with had the same setup. So he rented one for everybody. I remember I saw Ken Faught there with the same setup. But he was the only one who was any good with it. So when I started at High Torque I'm like, "You've got to get this flash setup." So they bought me one. Then everybody made fun of me because it looked like this huge radar dish. It was all shiny and chrome. I would walk around with this massive radar dish for a flash. Nobody was really doing anything with flash photography in motocross back then except for Fran. High Torque was doing flash, but core stuff with on camera flashes and the little Nikon flashes or whatever. This setup just created a totally different look. It is a day race. During the daytime. Using a flash gets rid of all the shadows. If you look at how bright the photo is and how much it just pops out at you, that's what I was going for.
How'd you get along with Bayle? How was he?
I loved Bayle. I thought he was a great guy. It really bummed me out when everybody would boo him. I thought he was funny. He'd always try to take you out in his rental car. He was funny. He was just very serious and he was very focused. He was in it just like everybody else, just for himself. He didn't want to play team games.
Part of that was due to Jody, too. Jody didn't do a great job with making him liked, because MXA was…
Jody gets a bad rap. There's probably nobody in the sport that I respect more than Jody. His style, the way he looks at pro riders I think he thinks a lot of them are a bunch of spoiled children who make a lot of money, and they should be picked on. But if you follow a lot of other sports writers and stuff, they do nothing but rag on a lot of the athletes. For me personally it was kind of hard because Jody would rag on riders and then I would have to go see them. They would be pissed at me. It's like, "Oh, the MXA guys are here. They're assholes." I'm not an asshole, I promise!
He ran a photo of Bayle with his helmet on with the national anthem. He would make comments about Bayle. I know talking to JMB he feels that way, too. He feels like MXA didn't help him at all.
No, they didn't. They liked to play both sides. They want to be the Americans rule and all this. Wherever they can picket somebody, at least back then, they would. If you weren't the golden boy like Jeremy McGrath or whatever, then you were fair game. Everybody that worked there that wrote played the same game. When I started, I actually was an editor there before I left. I was the one writing the story, but then Jody was editing the story. I was trying to be the peacemaker and he was editing my stories.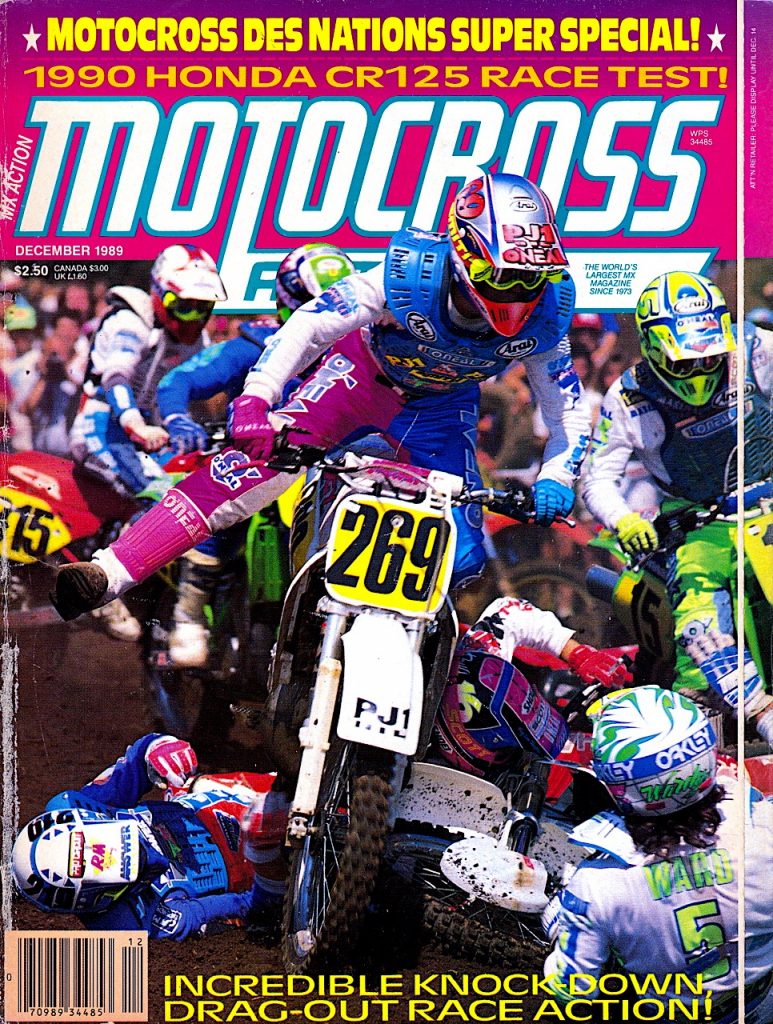 This is Steve Lamson in '89 at Washougal. It's probably my best cover ever.
The reason that this one hit home for me was because this is '89 and the guy on the ground on the Honda with the Answer gear, he's a Canadian guy who I know. He was number two Canadian rider to the number one, Ross Pederson. For us, we were like, "Look, Al Dyck made the cover of MXA! Yes, he's getting run over, but it's still a big deal!" 
That was one of those photos that once I shot it, I knew it was going to be a cover shot. This was the first race MXA sent me to. I went to stuff at Dirt Bike. Ed Arnet is the one who hired me. Ed Arnett and Jody weren't really getting along. Ed Arnet, when I sent my package to High Torque, it was in MXA's mailbox, but Eddie saw it and it said "Dirt Bike," so he stole it. I would have never been hired if Jody would have gotten it. Jody wasn't like that. Jody only hired people that he knew, and I didn't know Jody. I'd seen him, but I didn't know him.
It's insanity in a photo. This is the first race MXA sent me to solo. They sent me down because they wanted me to get pictures and a little interview with Steve Lamson because he was riding the 360. So, when I came back with this shot I was like, I got a picture of Steve Lamson. I don't make a habit of shooting crash photos. This was the first crash photo I think I ever shot, and there's only one other and that's the Guy Cooper shot. So I don't normally make a habit of shooting crash photos. But this was right place, right time, right setup. This was again with that long lens flash setup, so that's why there's only one or two shots of it because you can't keep pressing the button if you're using flash because it has to recharge.
Wardy's on the ground looking up at him, Dubach is getting a peg to the head. There's just so much going on there.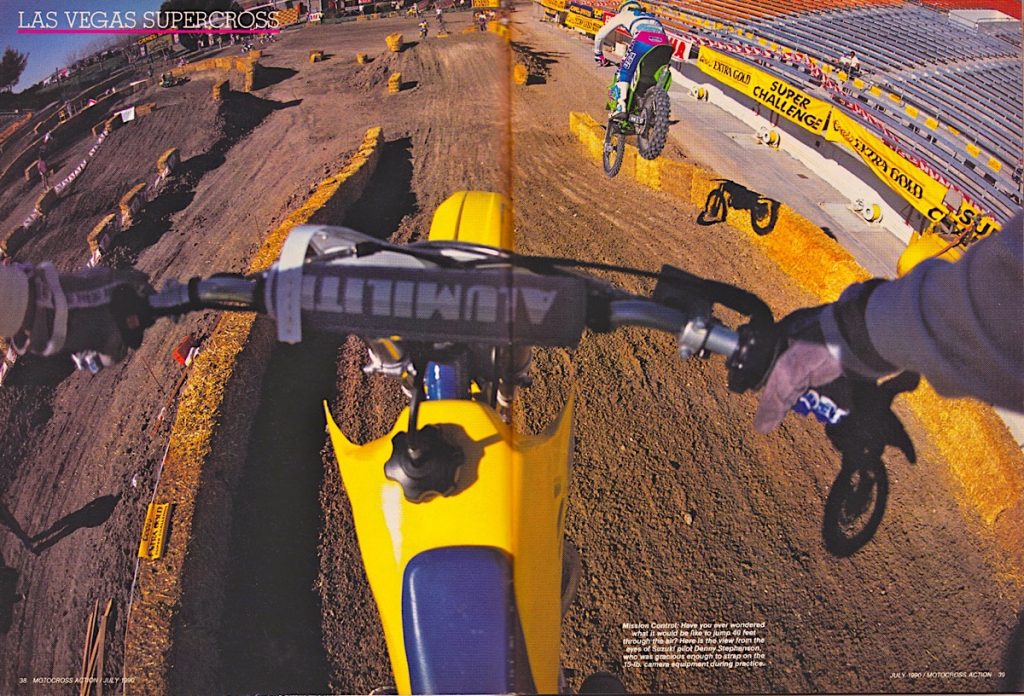 I had this idea. I wanted to attach the camera to a rider to get their POV. When I was hired at High Torque I was hired as the staff photographer for all their magazines. So I shot BMX, I shot mountain biking, I shot quads, I shot everything. I lived in the BMX world and there was this photographer there named Spike Jones. Academy Award winner Spike Jones. He worked for Wizard Publications which did BMX Action and Freestyle. But we traveled to freestyle events and the races together. We were pretty good friends back then. But he tried this with Mat Hoffman and he attached the camera to Mat Hoffman's chest protector and then he had a little remote trigger that Mat set off on the handlebars. I was like, that's sick!
I'm going to do that on a motocross bike. So, I rented everything that I needed. A little radio transmitter, all kinds of stuff. We go to Vegas, me and Mike Koger. I want to put this on somebody, so I start asking riders and nobody wants to do it. First of all, they don't want to carry a heavy camera around because they've got to go out and practice. Then the promoters didn't want us to do it. So I had to talk to a bunch of people to say this isn't video. It's still photos. Then I finally got Denny (Stephenson) and his dad to agree to it, but it would only be for a couple laps in second practice. It was a huge deal, and it almost didn't happen, and I'm so glad it did. So we strapped the thing to Denny.
It seems like Denny would be the perfect guy for this.
He was. They were really apprehensive at first because it's practice and they needed the practice. He didn't want to be distracted by anything. But I got him to do it. It took like fifteen zip ties to zip tie this thing to his chest protector. Then he had to tape his chest protector to his body because if he didn't do that it would just flop around. So we get this thing all taped up. He was like a freaking mummy and he's wearing this fifteen-pound camera. He goes out and takes a couple laps and I'm not even sure that the remote trigger is working. So I'm just pressing it constantly. He goes one lap and then he comes riding over to me kind of bent over. I'm like, "Dude, what's up?" He's all, "The camera came off!" He's holding it in his lap. The zip ties broke and everything. It was just hanging there. I'm like, "I'm so glad you didn't drop it."
So you got lucky to get Fisher in the shot.
That was the only shot that came out. That was the only photo that came out of that whole experiment.
So nothing else was good?
Nothing else. Everything else was garbage. That was the only photo.
Do you remember Jody or whoever's reaction? Was like double spread this thing?
Jody was, "Oh, cool." From Jody that's like… He wasn't really big on emotion, but he saw it and he was all, "Oh, cool." It was like, boom.  It was the two-page spread.