For more on who Chris Hultner is, how he got into photography and moto read Part one HERE.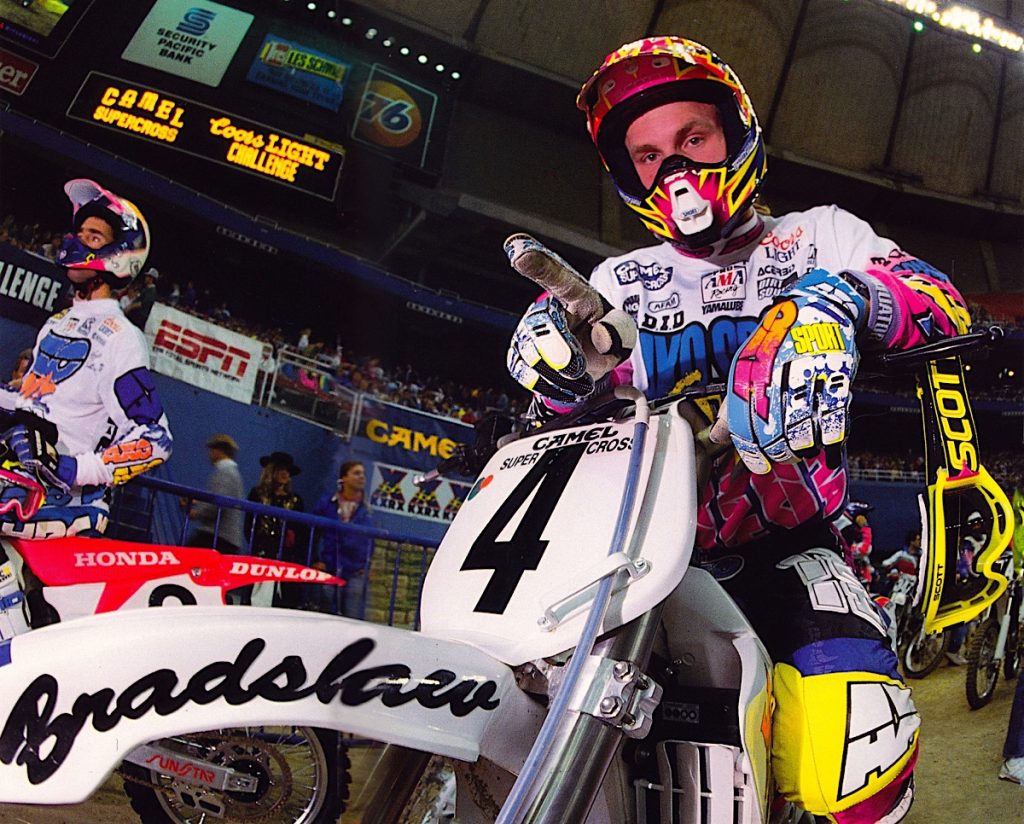 This is '92, which was the year that Bradshaw was basically dominating, and this was at Seattle supercross. With everything that I was doing, I was really starting to get into getting more personality out of the riders. So this was a good opportunity because he's sitting right there next to Stanton. I was sure he was going to win the supercross championship that year. He was killing it. Damon hated MXA. He knew I worked for MXA. MXA didn't like him either. I'm like, "Damon, give me a number one." He's all, pfft. Then he does it and I'm like, "Yes!"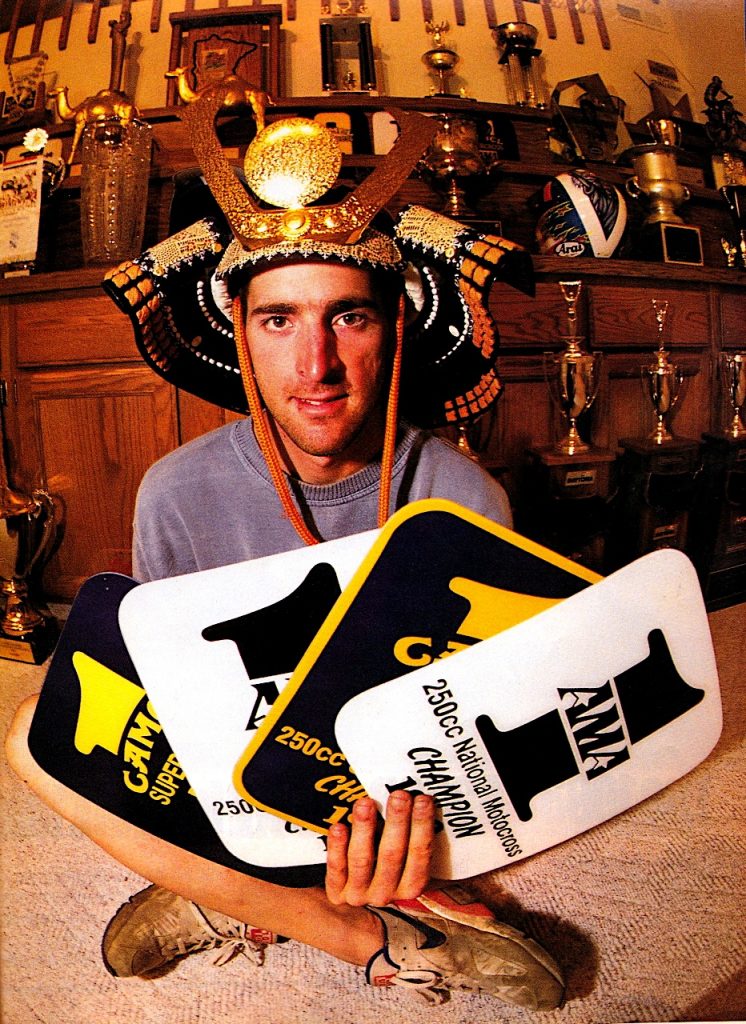 This is Jeff Stanton with a samurai helmet that he won at Tokyo. So this is '92. To me, that photo kind of embodies the whole season. This is at his house after Red Bud and this is Fourth of July. We had just gotten done drinking a bunch of beer and letting off fireworks out in his pasture. So he took us into his house and showed us his trophy room. I'm like, "Oh my god. You got to put on the samurai helmet." So he does. I'm all, "Sit down." I'm totally in my creative element right then.
You can see his shoes are all muddy from out in the field.
Exactly. We had just come in. That's what's so funny. He's a freaking farmer, man. I have nothing but respect for Stanton. I thought he was a great guy, especially away from the track. At the track, he was stone cold.
Bradshaw tells a story of throwing rocks at an MXA photographer who was shooting him when he hurt his knee.
This is right after that happened. That's why this photo to me kind of embodies the whole Stanton/Bradshaw thing. That day is when Bradshaw ate shit hard. He crashed so hard his pants came off. He tore his ACL. Nobody really knew that. They just knew he was kind of hobbling off the track. He walks off the track and he just kind of climbs up this little grassy hill. Me and Mike Koger are across the track. We heard that he crashed, but I didn't see it. A friend of mine named John Valdez got a photo of Bradshaw after he crashed with his pants down and everything. It was totally gnarly. So Bradshaw climbs up this grass hill and he's sitting up there. Me and Koger are like, we got to get a photo of him. He's sitting there by himself, just totally dejected, just totally pissed. We start walking up the hill and he's all, "Don't you put that camera up." I was like, "Okay." Koger is like, "What?" "Don't you put that camera up." Koger's all, "Pfft, what?" So Koger starts putting his camera up and Bradshaw's got this boulder in his hand. He didn't huck it at him. He just kind of tossed it and it landed in front of us and rolled down to where we were. Bradshaw was like, "Fuck you guys. Get out of here."
He tells the story now where he was so pissed and he knew you guys were from MXA. He hated MXA. He was pissed. He knew his knee was done.
That was everything right there. That night when we were at Stanton's house for this photo, Stanton told us Honda rented out the Colosseum next weekend on Sunday. "Why would they rent it on Sunday?" Jeff's all, "Because I'm going to win the supercross championship. They're going to shoot the win ad on Sunday." I'm like, holy shit. It was that confidence that he had. It was just off the charts. So to me, that photo, that's it. That's the whole '92 season right there because that's four championships. Five and six came right after that.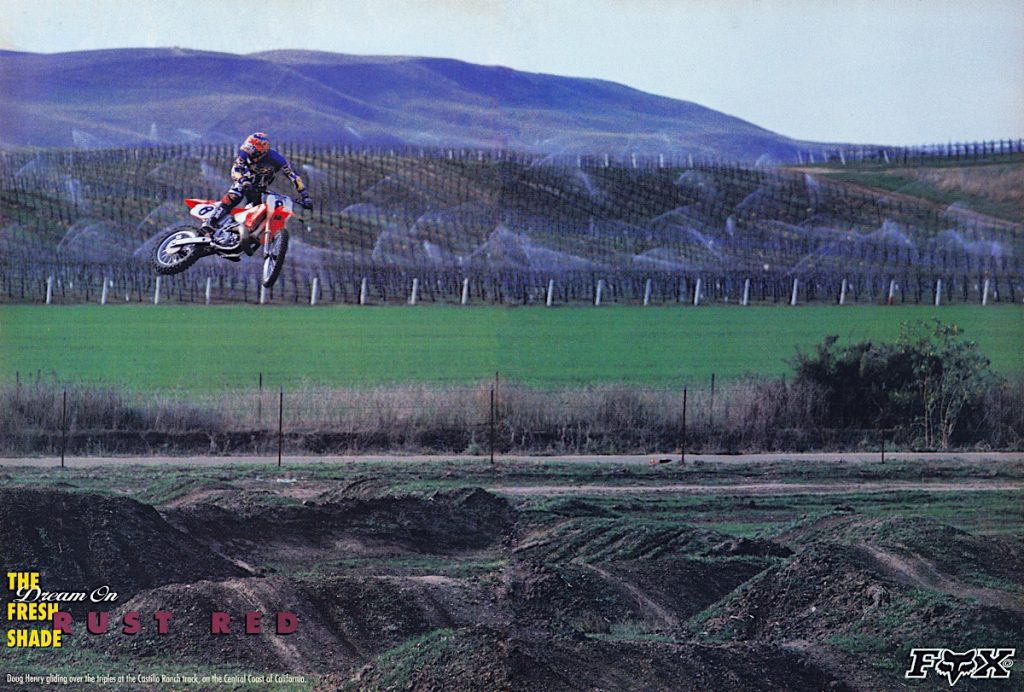 That was actually a very good day. Fox was out there shooting Terra Firma, I believe. This was when they first started doing videos. Pete and I were good friends and I had actually kind of done a lot of work for him at this point. He started doing the Dream On campaign, starting with the Reynard shot at Hollister. So I was going around when I was shooting and stuff, looking for things to do for Dream On. This was the first time I had ever been to Castillo Ranch too, so he asked me if I wanted to come up there because they were shooting video. They had just released the Forest Green stuff. He was super pumped on it. So we shot this shot. We shot photos of Doug in the weeds in the Forest Green stuff with his bike in the background, so that was another spread. And for the same shoot, I shot the video cover for the first Terra Firma. So the whole day, it was just a really productive day. We got a lot done.
When they (Fox) started doing the video thing, they hired Troy Adamitis. He was going to film school at San Jose State. Greg (Fox) found him. I guess he knew somebody there and they went to some showing of a bunch of film students' works. They had already started doing Terra Firma at this point, but they wanted to hire somebody that had some more background in making movies. So they found Troy Adamitis at this student film festival, and then they hired him. At that point, John Fox is the one doing all the video stuff. He actually did a really good job learning how to edit and everything and shoot, but they wanted to get into 16 millimeter because John was a big skate/surf fan. They all skate and surf. He lost a bunch of skate and surf videos and he knew that everybody was using 16 millimeter film then and that was the way to go, so they wanted to progress in that direction. So they hired Troy Adamitis. They had me come up to Glamis to shoot a bunch of guys. That's when Pete kind of mentioned, "Hey, you want to come work for us?" They wanted me to further expand the video department and work on the catalogues, shooting photos. That was a lot of fun because I was doing both things. So I left MXA. I left High Torque. I had worked there for eight years. In '96 I went to work for Fox, and I only worked there for a year. My heart was still kind of in… I wanted to do my own magazine. I wanted to build something on my own. That's when Davey wanted to turn Racer X into a magazine. So we hooked up and then I moved back down to Southern California and started helping him turn Racer X into a magazine.
I loved Fox. Fox is my favorite gear brand. I love Pete (Fox). Pete's a great guy. I just kind of never felt at home. It wasn't anything personal. I didn't really like living in that part of NorCal. I just kind of didn't really feel at home. Still I love the brand. Pete's a phenomenal designer, phenomenal businessman, phenomenal guy. We were really good friends back then.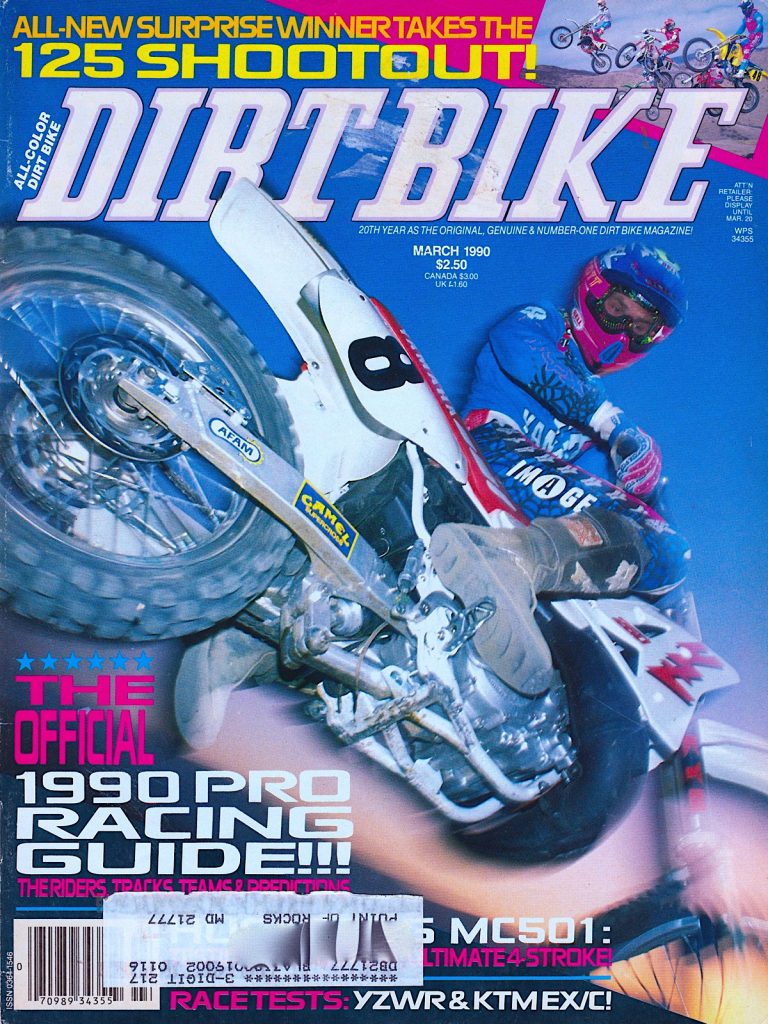 I put this photo in there just to prove that we can make friends with our enemies. This was actually shot at DeAnza at dusk. I was playing around with doing more BMX style with flash and everything going for face. Just something different photographically than what other people were doing. Damon was super close to me.
He's hitting a little hip jump. The other thing is, when I would shoot with guys I would have them do something that they thought would be pretty weak, but to me just the angle and what they were doing and the body English and everything, I could make it look like they were doing something more than they were. Like this other shot of O'Mara going around the corner doing the wheelie, he didn't want to do it. He thought that was pretty lame. I was like, "Dude, trust me. It will be super cool." Honestly it's one of my favorite shots. It's my favorite shot of O'Mara. I have a few shots of O'Mara that I really like. Super clean, perfect light. That was with that long lens flash again. Black background. That shot is so awesome. But when you tell riders to do these things, they're just like, "Dude…" "No, trust me!"
That's what's going on with this Bradshaw shot. It's just this little, tiny, stupid hip but to me it's the way the bike was thrown sideways and leaning into it and everything, it's against the sunset. Just the whole thing.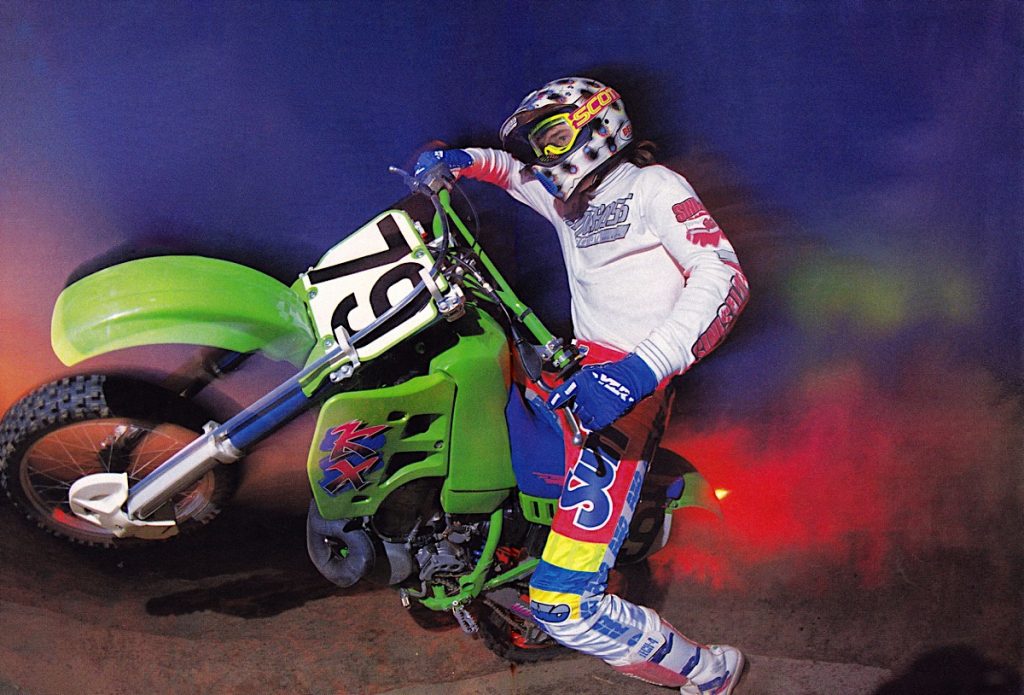 This is Mike Chamberlin. My flash photography is evolving at this point. There's a KX500. I don't know why he's wearing Surf pants. Maybe Jody was trying to help (Jeff) Glass by using some of that gear in the magazine on test bikes and stuff like that, giving Glass a little more added value.
He's wearing Yamaha gloves, too. YZR was Yamaha's line of gloves.
It's a full mismatch of everything. So this is a situation where Jody gave me and Mike Koger the motorcycle and said, "Take Chamberlin and go shoot it." Usually Jody was on the shoots with us and would direct us. It was really good because he really would try to bring the creativity out of you. He'd encourage you to try different angles and stuff. So working with Jody was actually really good in situations like that. Working with Jody was really good, anyway. So me and Kroger were charged with taking this bike out and going and shooting it. So we went to this dirt bike like off of 91 that people would just go ride their motorcycles at. It was like one of those lawless places. So it's sunset. I'm like, I want to try some different flash stuff. So I had these two flashes. I had a red filter on one of them, and I put it behind the bike. I thought it might look kind of cool. I had crappy equipment back then too. I didn't have radio transmitters like everybody has now. I had this fifteen-foot PC cord that I had to plug the flash into and then plug it into the camera. So I had that in the front. So I had two different lights coming in. So the idea was to just make the roost red. When it came back, it made it look like a rocket blast or something. It was a 500. I was like, that's perfect! I thought it was super cool.
There's green by his elbow up above the red. I don't really know what's going on with that.
Yeah, I don't know how that got in there. It's a long shutter, so what that actually is is probably the gas tank or the handlebars. So if it's a two-second exposure, because it was starting to get really dark, so you leave the shutter open longer to get more ambient light in the sky. So that was probably the gas tank or the front fender.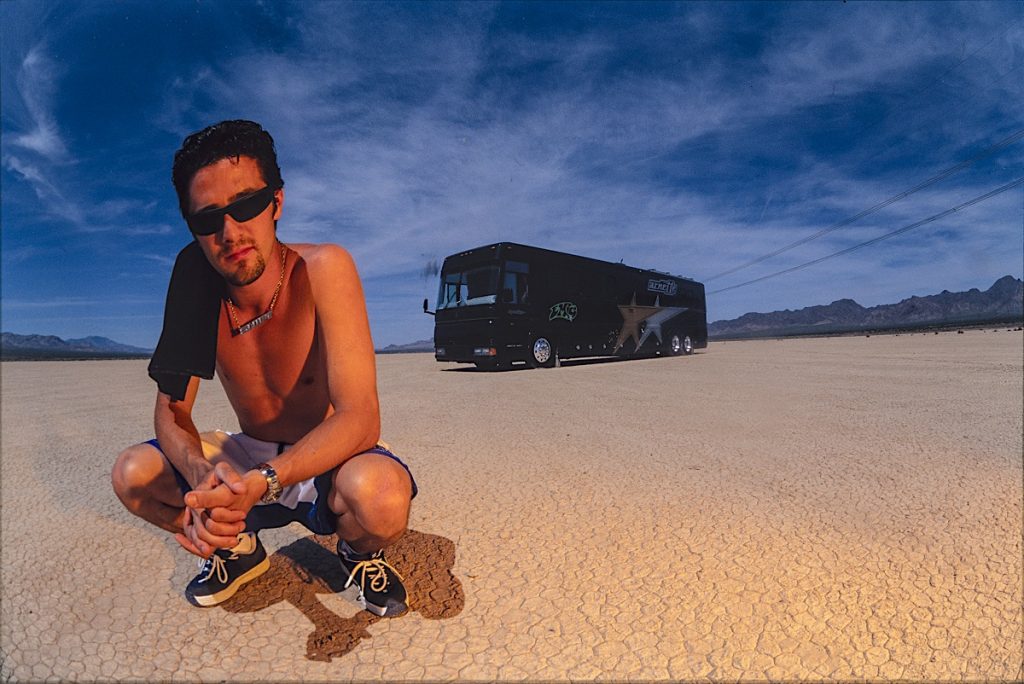 This is Jeff Emig for a feature that was in Racer X Here's the thing – I really like personality shots of riders. I don't think that's done enough. I think people are just too much into seeing guys railing corners and stuff or throwing fat whips. To me, doing creative things photographically with the riders to show personality. That was one of my most favorite shoots. Do you remember the opening spread? I had him like Jesus on the cross. We were getting a little Doors on that one. Jim Morrison in the desert.
We took the bus to Las Vegas for the World Mini. This was on the way back. On the way there, we'd go from California to Nevada right there and there's that big, dry lake bed. So it's right around Primm. I think it was right at Primm is where we got on the dry lake bed. Tim Dixon was driving the bus. So we stopped and shot these photos. Then I said, "Dude, it would look really cool if you got on top of the bus and drove around."
He was cool with everything until they got the bill for cleaning the bus. Because when they were driving it down the lake bed, it sucked a bunch of dirt into the air filter and did like $13,000 worth of damage. Fro told me about that later. But they were cool photos. Yeah. He was really down with everything we wanted him to do. I didn't have to convince Jeff. Jeff and I, I always liked to think that we were pretty good friends back then. I went to his house a lot. I went to all of his parties. I did a big feature with him for Motocross Journal. The story was about him struggling to defend the SX title. That's why I did him like Jesus on the cross because it was like he's showing his pain. But then at the same time he can party because he rides on top of buses. To this day, if I saw Emig again recently, he would bring up the fact that I caused $13,000 worth of damage to his bus.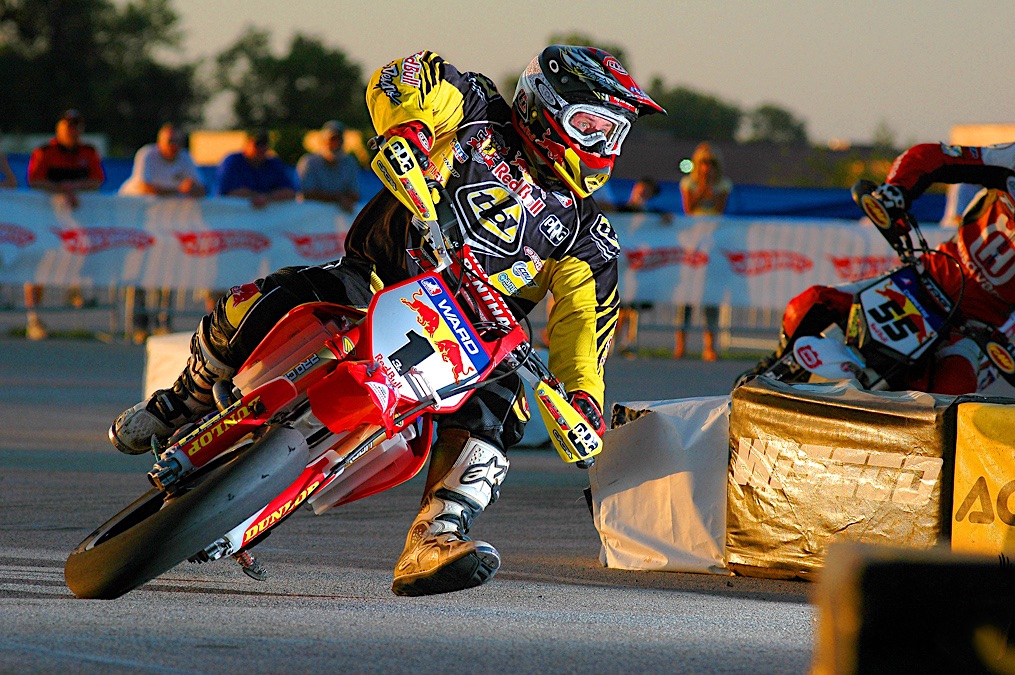 I just really love this photo. That was at St. Louis. Joe Bonello actually got me a gig to shoot the KTM supermoto team in St. Louis that year. '07 I think. Wardy was there. Cary Hart was there. A lot of the guys from the past were there.
It's a photo that looks like nothing's happening. There's no motion in it. Everything's stopped perfectly. It's almost like it was painted on.
That's kind of the idea. Do you remember the whole strobe gate thing? Nothing in motocross photography ever pissed me off as much as that. It pissed me off because Tony Scavo was a really good photographer, granted he was being a little grandiose with the whole strobe thing. But every other photographer that jumped on him about it, it really pissed me off because by doing so they shot themselves in the foot. They made it so you can't do any kind of off-camera flash or anything during a supercross race. They totally screwed the pooch, I think. So this was right around the time that whole strobe gate thing was going on. I was like, I don't go to a lot of pro races right now because I'm doing all the amateur stuff. I'm going to do some off-camera strobe because it looks bitching. It gives a totally different feel to the action. It looks cool. It's freaking Jeff Ward, man.
James Lissimore is a good friend of mine, Canadian guy. He shoots with strobes at this arenacross series and they just let him do anything he wants. Some of those photos are so good. It's a dark barn. So he sets these strobes up and it looks good.
The last time I went to a supercross race, I had to sneak around and put flashes in different places and hope nobody saw me do it because it was like a big issue then. I saw some photographers walking around with rolling camera cases with the light stands sticking out of it and they would park it on the side of the track and stuff. Everybody was trying to hide that they were doing this, but it's so stupid. It should have never been an issue.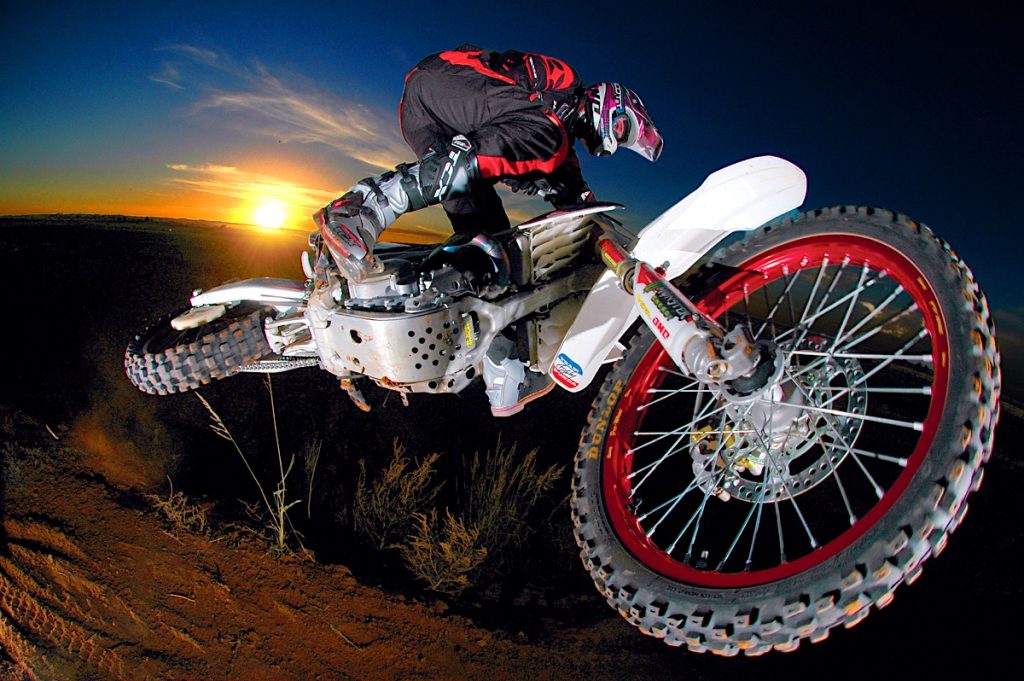 Yeah, I love this Brett Cue photo. Internet-wise, that's my number one photo. I took it a long time ago, actually. Same kind of deal as the Bradshaw cover one. I shot that with a short lens, so I'm less than a foot away from him. I could feel the wind off his knobbies as he jumped this little hip. So it was like super close. I was using a  flash setup. You had the sunset going on. I had these cheap-ass less than $100 flashes that I bought off of eBay and I wanted to try them out. I also needed to test some boots, so it was a boot test. So I got a good shot of the boots. That photo, I put it on Flickr. I don't even remember when. Probably ten years ago. I keep getting these notifications. "These photos were not photoshopped." I'd go and there's no photo. The best design blogs and stuff are using my photo with all these other really great photos, and it just totally went viral. So that's one of my favorite photos.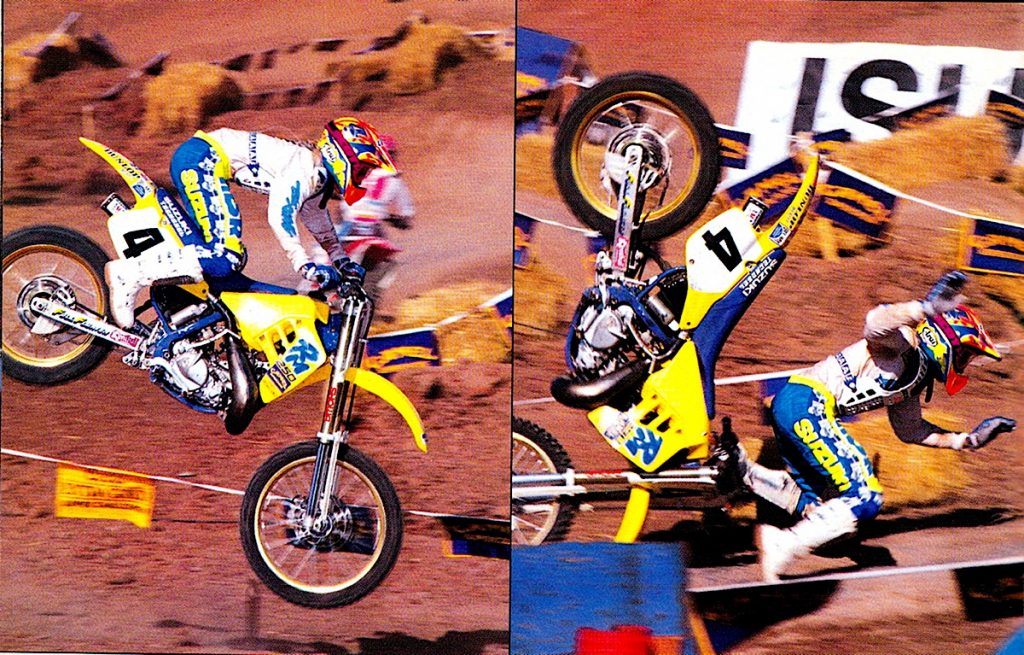 So, Guy Cooper was one of my favorite riders. I was always a big fan of his. I really wanted him to win a supercross race. In 1990 I think he could have won. He was leading. It was a daytime supercross. It was super hot. He's hauling ass and he's coming through this whoops section so fast, and every lap he's getting faster, and every lap he's getting faster. I was like, he's going to wad up. I could see it coming. I knew it was going to happen and I felt horrible. It was Oklahoma. It was his hometown. He was leading the race. He was over the edge. I knew it was going to happen and I knew where it was going to happen, so I'm like, "Well, it's going to happen so I'm going to shoot it." So I camped out in the whoops and I only had to wait two more laps. He came through, lost the front end and just cart-wheeled. It was actually a four-shot sequence, and I was shooting with that big, long lens flash thing again, but the flash only went off the first two times. The other two photos kind of sucked. So that's like the only time I have ever purposely set up in a place to shoot a crash photo.
Yeah, this was in MXA. It was a four-page sequence on a two-page spread. That's the one I feel the worst about, to be honest. I wanted Guy to win. I really wanted him to win a supercross.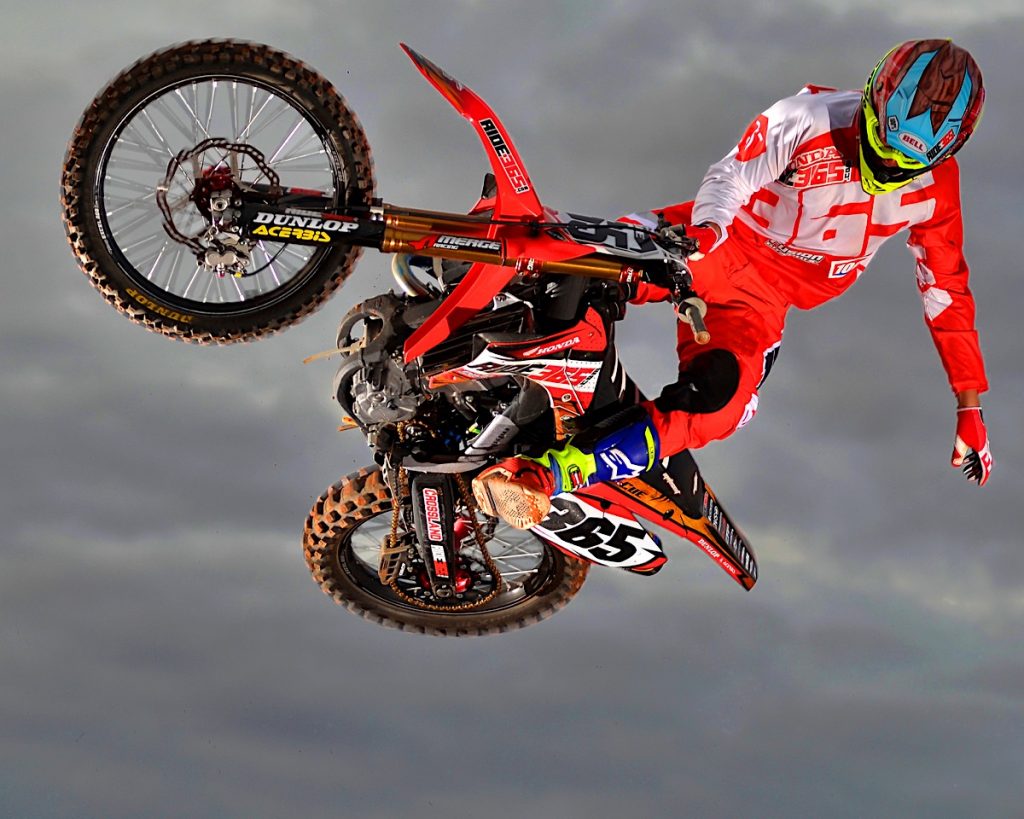 Next one is B Cue with his hand off, flat, Ride365. This was only a couple years ago. It just shows that I still got it! (laughs) Typical Oklahoma gray sky. I've gotten to work with actually some really good guys over the years, as far as riders go. Jimmy Lewis, who you just had on your podcast last week or something, he was one of my first guys. Larry Brooks was a great guy to work with. Chamberlin was a great guy to work with. Brett Cue is right up there with all those guys, bike skills-wise. He looks good on a bike. He can jump anything. For shooting photos, I was super stoked that I hooked up with him when we were doing amateur mx. He was a really good rider.
We even had a deal once where Yamaha flew us out to Budds Creek to do one of their intros. I think it was '07 or '08. I took Brett with me to do the riding and they had flown in guys from all over the world to do this intro. They were magazine guys. So they were the ones riding the bikes and I was going to shoot photos of everybody riding a bike. Everybody wanted Brett to ride their bike. He was like swapping gear out and going out and riding their bikes for them for their photos. They were like, "Why don't you race?" He's like, "I race." They're like, "Why don't you race nationals?" He's like, "No, I don't do that."