For more on Chris Hultner and how he got into the world of photography of motocross, check out PART ONE and for more of this, PART TWO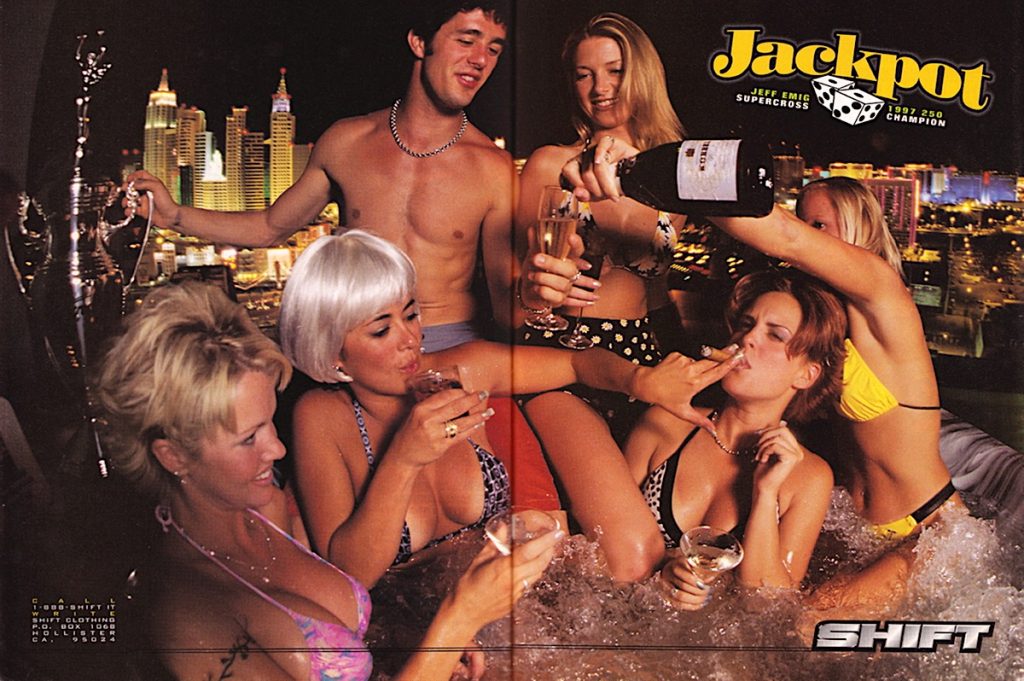 This is after Jeff Emig won the '97 SX title. The hot tub was cold. It wasn't a hot night either. The MGM hadn't heated up the hot tubs because they were going to get rid of them. Pete (Fox) and I talked about this because we knew Fro was going to win the championship, so we wanted to do something Las Vegas-y, something cool. I came up with the idea of shooting at the sign museum, the Neon sign graveyard. I wanted to shoot there, but for some reason we couldn't make that happen.
So I was like, "Remember that scene in Rain Man when they're standing in these big, giant windows and there's strippers in the background, there's a big, luxurious hot tub? We got to get a hot tub, a suite like that, then a bunch of chicks." He's all, "That's a great idea." So I left and went to Vegas because we were doing other video projects too while we were out there. Then the supercross rolls around and the day of the supercross Pete's all, "I got a room. It's at the MGM, and they have hot tubs, but they're getting rid of the hot tubs so the heat hasn't been turned on." I'm like, "Okay, we can make it work. No problem." So they were shooting Fresno Smooth at the same time, so you were at the party then. You saw all the things that were going on at the party.
Do you remember Adam Barker? Troy Adamitis and Adam Barker were the ones making Fresno Smooth. They had a scene that they were filming at the same time that we were doing the shoot. They needed somebody to throw up over the side of the building. So after the race was over, Adam Barker started drinking heavily. Then he went to the snack machine and he bought like every snack you could imagine and he just started gorging on it. Then he would drink some more. Finally they got the shot that they needed. He was puking over the side. But that whole thing, that was only like three photos. The water was cold. Everybody wanted to get to party, so we had to do it quick. Same thing. Just simple light setup, boom, boom, boom, done.
Fro and Denny and Nate Ramsey… Lonnie I think is the one who wrangled them all together. Monica worked for Lonny at the time and then Denny and Fro were really good friends, so his wife's in there. Jen Hughes is in there. The other thing is the background with Vegas, that's like photoshopped in there. The way the balcony was all you see was darkness. So I actually went over and I shot photos of the skyline and then we dropped that in there.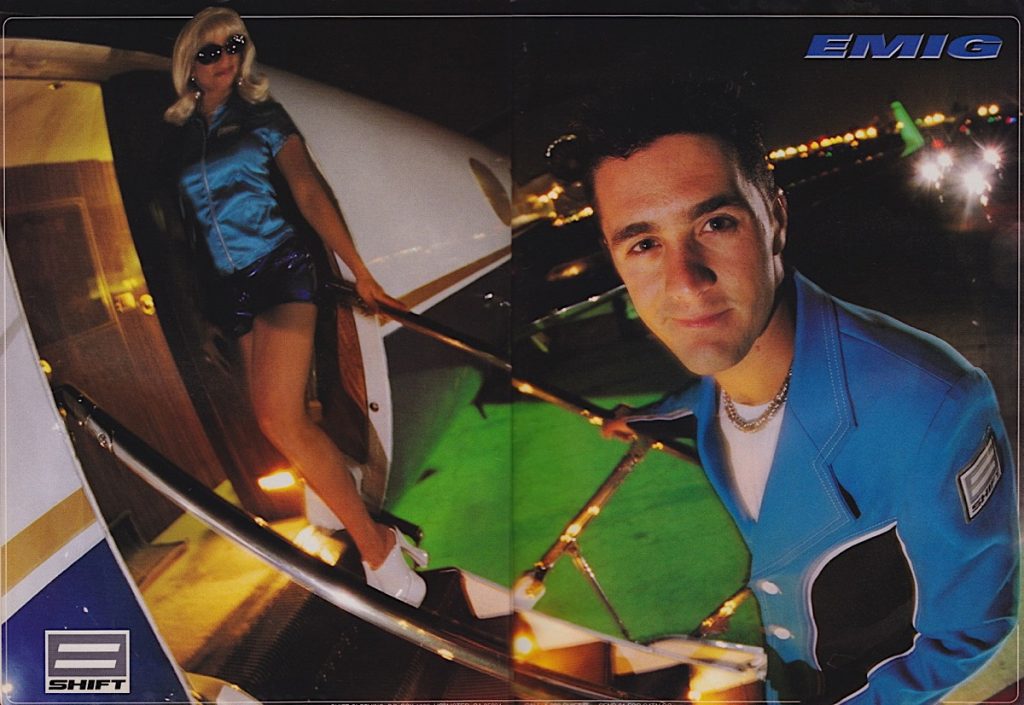 Pete (Fox)  had a friend in Burbank who owned a helicopter service and through his contacts at the airport we got access to the private jet. Pete wanted to create an image ad with Fro for shift. Kind of a "Jet Set" look for the Shift leisure suits. To get the shot of Fro climbing into the jet i set the camera on a ladder next to the stairs and had Pete fire the shutter for a 20 second exposure, while I popped Jeff with the flash and then walked around the jet and popped off the flash numerous times the light it up. While I was doing that Jeff had to hold perfectly still. Since this was before digital camera we had to wait to get the slides back to see if our plan worked or not.
I had a lot of fun being a part of conceptualizing and producing image ads for Shift. We did a lot of really cool creative and groundbreaking work.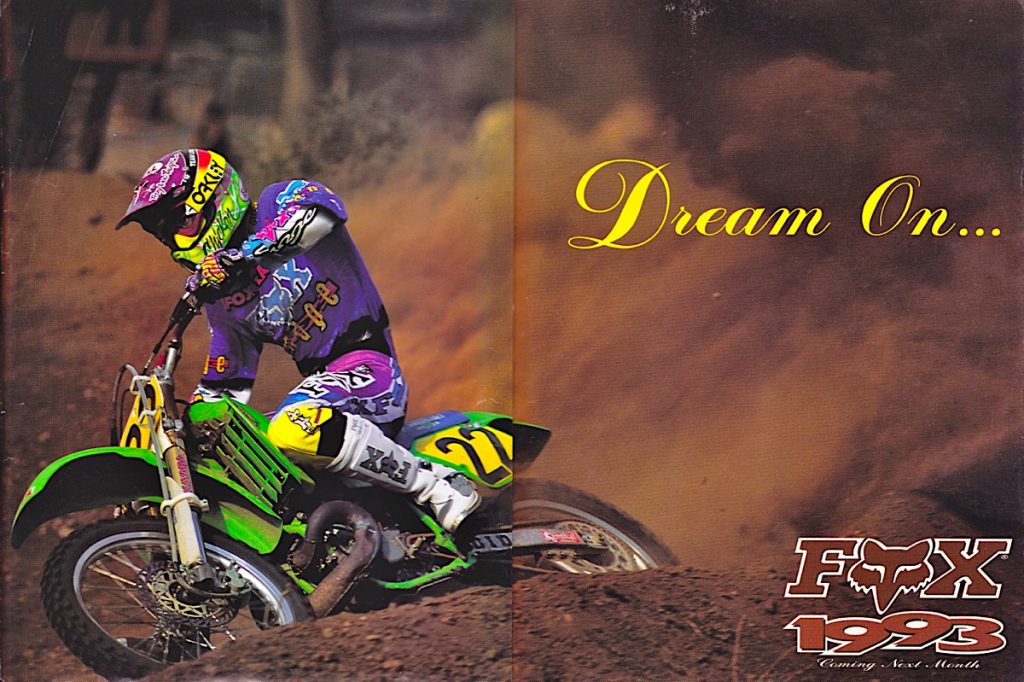 Mike Koger and I, who worked with MXA at the time, we were testing a bike at Barona and Chicken was going to ride it for us. So he brought his own bike so he could burn laps, kind of taking advantage of the situation. There was an open track. So he was out burning motos and he just kept hitting that one berm super hard every lap. So I just kind of camped out there. That's just him testing, basically.
The Dream on Fox campaign was epic for sure. The first one, from Hollister,  one was actually Pete's (Fox) because they were out there doing a gear session or something and had Robbie Reynard out there and he was just standing on the hill overlooking the track at Hollister and grabbed that photo himself. It was interesting because really nobody back then was doing any kind of image advertising. Pete was very forward-thinking and one of their slogans was "image is everything." He kind of took that literally and ran with it further than anybody. His vision in his advertising back then was just insane. I was just actually starting to be able to contribute to that and help Fox with getting images for the Dream On campaign. For me, that was a huge thing.
Back to this photo though. Everybody dives on the '90s for all the neon. As a photographer, I freaking loved it. One of the most colorful guys was Steve Lamson. It's like every patch of clothing on him when he was wearing that Yoko stuff was a neon color. I thought it was great. By today's standards, honestly there's some gear especially this year that came out that I just think is truly awful.
It's also interesting too because if you look at the gear from back then it's obvious that everybody just got their hands on their first computer. The way some of the logos are warped and stuff. It's just so typical of the time and the technology.
No photoshop, the track is just that dry. That's the other thing. This was '93. Photoshop was really expensive back then. I didn't have Photoshop. High Torque barely had Photoshop and the art director hated it and never used it and didn't like it. He didn't see an application for it.
The dirt in this is awesome. It was just from him railing it. I don't know if you've ever been to Barona, but you drop down into that little sand wash thing and all the dirt is loose anyway. The rest of the track is pretty hard-packed. That was like the only place down there that had a little bit of loam to it.
Actually this was the first photo in an ad that I ever had. I didn't send it to them. The advertising guys at High Torque would sometimes go through my stuff without me knowing it and send photos off to advertisers. I know this photo ran in the magazine, ran in MXA, so I don't know if Pete (Fox) called one of the ad guys and asked them to use it, which may have been the case, but when I opened up the magazine and saw it I was totally blown away. I was totally struck because I really love that photo. It's kind of representative of my style back then, just slow shutter stuff, the motion blur, playing with the light in the stadium and everything. I think I did that pretty much more than anybody else did.
He's (Jeff Matiasevich) coming out of a corner right there, like a little jump out of a corner. So he's pretty much kind of jerking to the middle or outside of the track and I'm right there. That also kind of goes to access on the track that we had back then. Until about '92, '93 we could pretty much go anywhere we wanted to go. Then they started tightening it up and they started making little photographer corrals in the infield where everybody had to pretty much shoot from the same place, which really doesn't lend to a whole lot of creativity. Everybody's getting the same photos. But I guess for insurance reasons or whatever they really started cracking down on where photographers could go.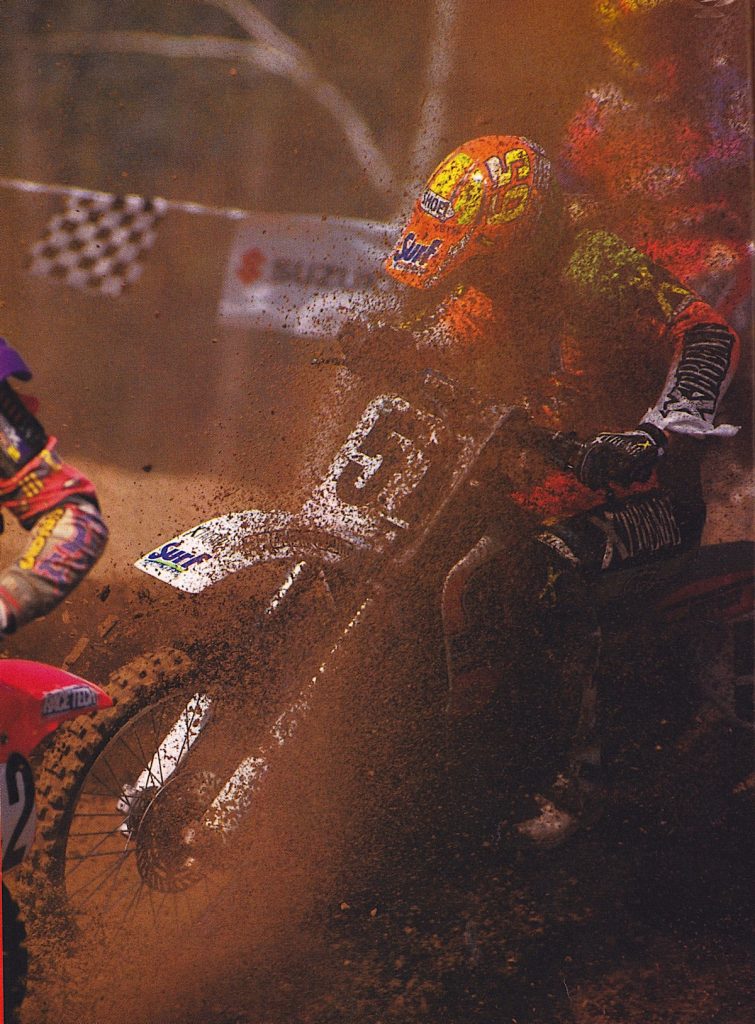 So we're at Southwick and Jeff Glass is racing and he's going out in practice and he's wearing an open-faced helmet. So after practice I went up to him like, "Dude, why are you wearing an open-faced helmet?" He's all, "Because I need to get some press."
So he goes out in the race and he gets roosted super hard. I just happened to be there and I get a peculiar shot of him just taking it right in the open face. He got what he wanted. He got a full page picture in MXA. He got press!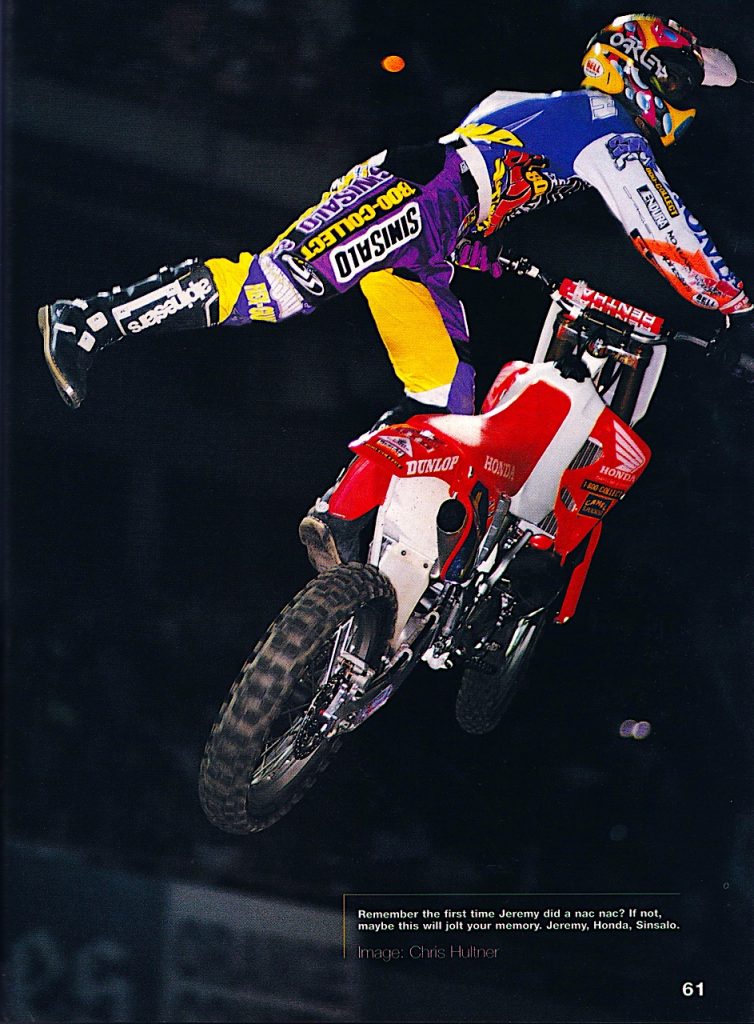 This isn't the first Nac-Nac MC ever did but it is from that year, but I didn't get the first ever Nac-Nac. This was a little later in the season after all the hoopla about the Nac-Nac. I think – I'm not positive – the first time I saw a photo of a Nac-Nac, Davey Coombs shot it. It was a really cool shot. It was a black and white photo and it had a supercross crowd in the background. I was totally jealous that I didn't get the photo. But this isn't the first Nac-Nac photo. This is my first Nac-Nac photo, but it wasn't the first one published.
I'm thinking this is probably San Diego. It looks like he's jumping off the bike. Compared to what's going on now in freestyle and everything, it's such a tame trick. But back then it was like, oh my god. And then they busted out the superman and it's like, oh my god!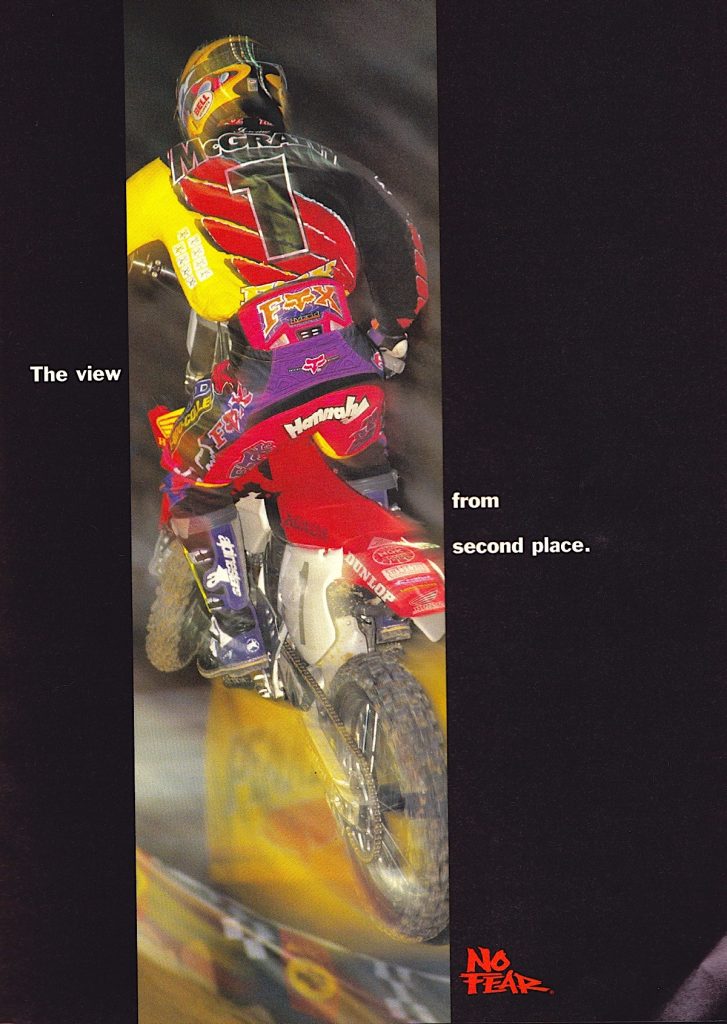 This is some of the same techniques used in that Chicken shot. This is from further away so it's that setup that I was explaining to you last time with the big radar dish. The Chicken shot was with a wide angle lens and I was a lot closer. It was a little more difficult to shoot action blur stuff like that with the long lens, but I think after a while I got pretty proficient at it.
When did we start Motocross Journal? I think around '95, '96. We did a story with Jeff Surwall for Motocross Journal, and pretty much ever since then Jeff and I have been pretty good friends. This was before they were doing gear. So I wasn't working for Fox. I was friends with Pete, so I was helping out with photos. Same with Surwall. We were friends and I was helping him out with photos. There was really no conflict because they weren't really making gear. They just made casual wear that was sort of in motocross, sort of not in motocross. Their customer base was a lot lighter. So through that relationship with Surwall I got to help them out with that also and photoshoots and stuff with them.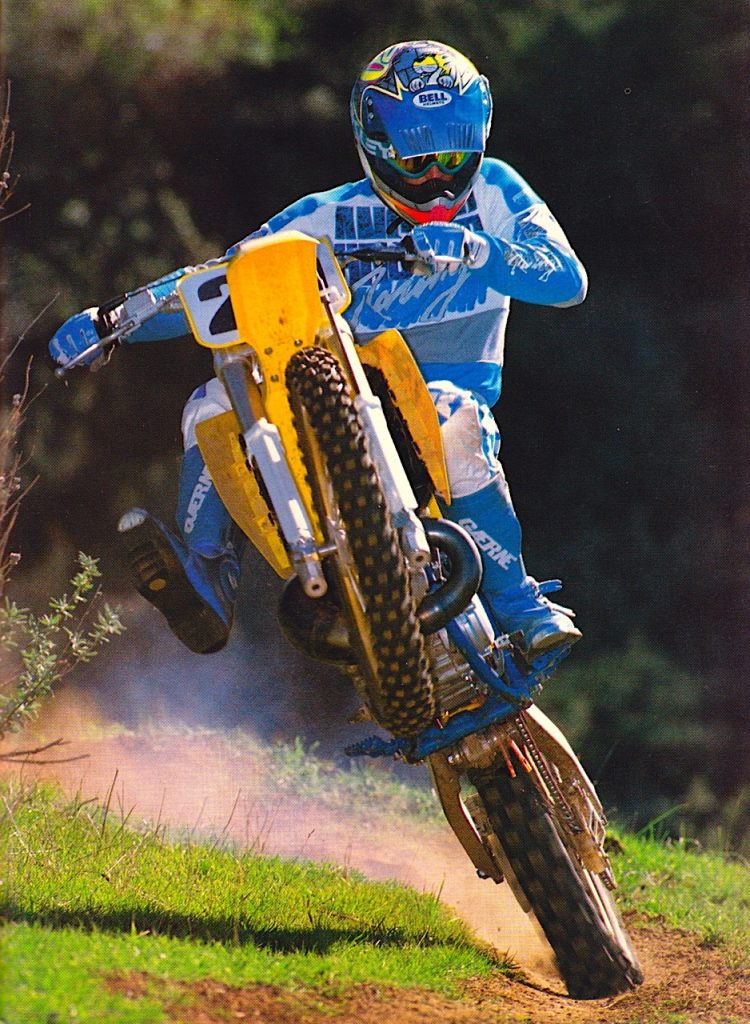 We were talking about this Johnny O'Mara photo in part one. This was for an interview in Dirt Bike. That wasn't an ad. I kind of like the fact that you can't tell the ads from the editorials sometimes. For this it's not that he didn't like it, it's just that he was skeptical. He was like, "You want me to do a wheelie? That's so boring." "I think it will look cool, dude. Just try it." This was out at the end of his street in Simi Valley, back in the area where MASH was filmed, the TV show. This was kind of back in there.
O'Mara's style was insane. He was so smooth and fluid on the bike. No matter what he did, he looked good. He always dressed the part, too. If you think of the coolest-looking guys on a motorcycle with gear and style and everything, it's like Ricky Johnson, David Bailey and Johnny O'Mara.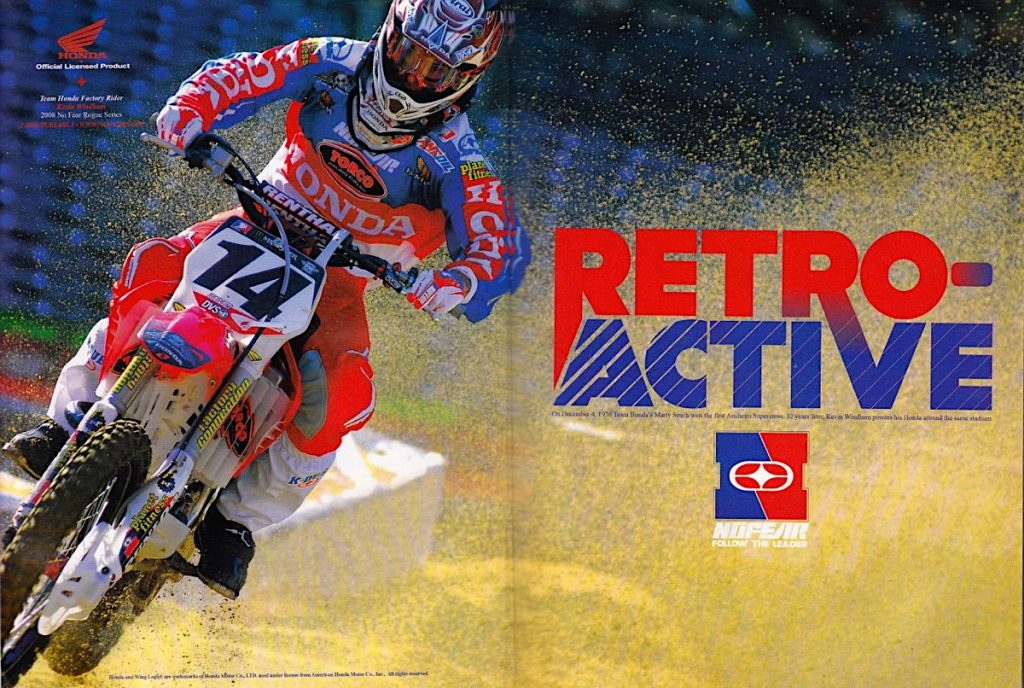 My relationship with Surwall actually went pretty far… When I was still doing the amateur magazine, he was sending me to races and stuff to shoot catalogue stuff for him. Whenever I did anything, I'd always send it to him. The funny thing about that photo is actually Simon Cudby got pretty much the same exact photo and it ran on the cover of Racer X. This photo in the same issue ran as a two-page spread in Racer X. They're pretty much identical.
That's the example of restrictions on where you can stand. For that race basically they had a center part of the track and there was one sand berm and everybody was shooting the sand berm at the same time. That's how you double up on photos.
Boot gaitors! That's what was so cool about that race, the fact that they even busted out the gaiters. That was totally cool.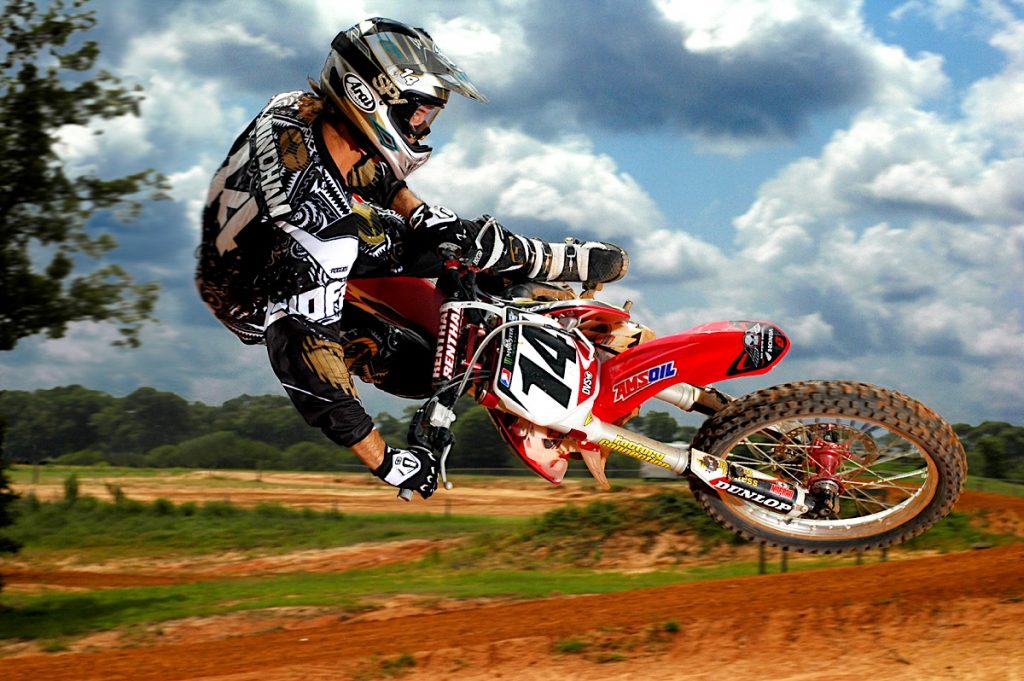 Windham again. That was actually at his track in Louisiana. Again, Surwall flew me out there to get some catalogue photos. Actually the way I shot this was basically just had him do the same jump over and over again but I set up different flashes all over the place. So if you geek out on photo stuff, this is a two-light setup in the daytime with a fast shutter speed, which back then was a little more difficult to do because the technology didn't exist yet to do high-speed shutter with flash photography because you would cut off part of the frame. Now you can do it with Radio Slaves. They have a feature on them that will delay the flash to time better with the shutter, so you can shoot high-speed shutter with flash.
Does any of that pertain to how the clouds look, or do the clouds just look cool because they look cool?
The reason the clouds look cool is because if you're trying to balance your flash with the ambient light, to make the flash stand out you want to make the background a little darker. That's how you make the clouds stand out. Basically you're underexposing the whole photo and then you're adding the light back in with the flash. That's what gives you the contrast between the rider and the sky and the background. The background is a little darker. The flash makes him pop. You can achieve that by using a faster shutter speed. Cameras come with a set flash sync. Usually it's 250th of a second on Nikon cameras. On Canons it's actually slower, but I'm a Nikon guy. So it's usually 250th of a second. At 250th of a second, which is what we did everything in MXA with, so that's why all the daylight flash, all the bright riders and everything, all the bright colors. This is a little different than that. I shot this at like 1200th of a second, but I used one of the first Nikon digital cameras that I had. It was a Nikon D70, which is a really cheap Nikon digital camera, but it had an electronic shutter that allowed me to shoot flash at all speeds. So, I was using this really cheap camera to get these impossible results. So from a photo geek point of view, at the time that I shot this it wasn't really possible with any other camera, to do something high speed like that with flash in the daylight. It wasn't really possible with the technology available then.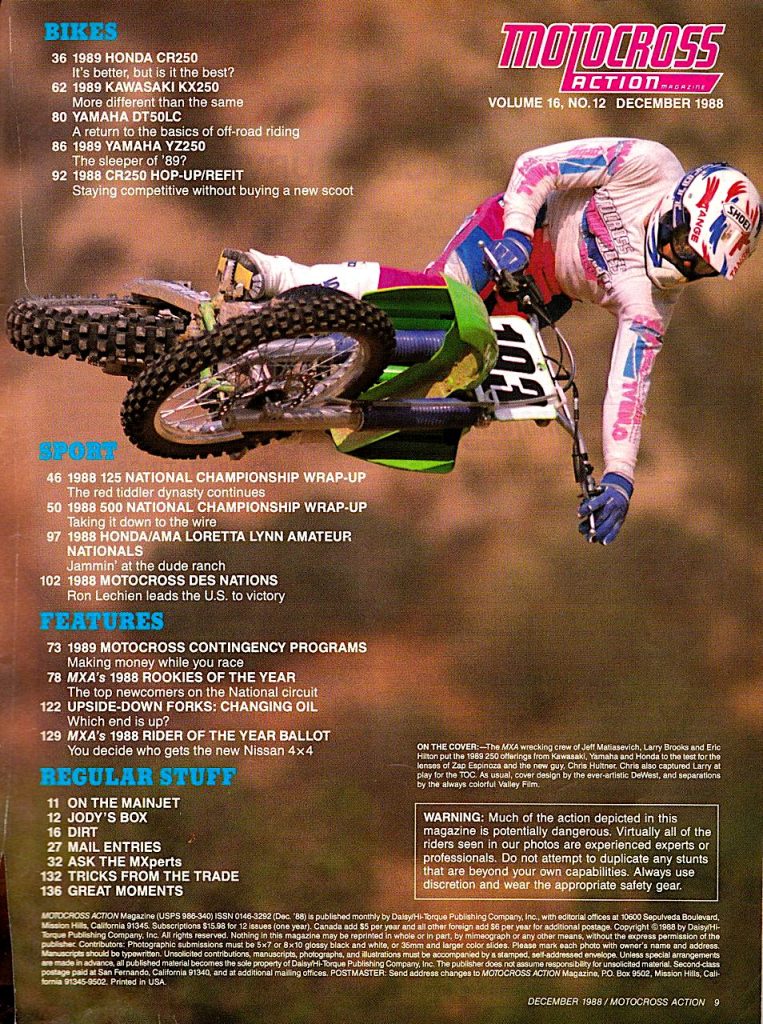 This is Larry Brooks out at DeAnza. When I started at High Torque it took Jody a little while to warm up to me because Eddy (Arnet) hired me. So, this was actually the first shoot that I went on. I was High Torque staff photographer, so I shot for all their magazines. I shot mountain bikes, ATV's. I had this calendar that hung up in the office and the editors are supposed to write in days they wanted me to shoot, and Jody wouldn't do it. Jody didn't play by everybody else's rules. Jody played by his own rules. He wouldn't do it. So I had to go ask him when he wanted me to shoot. He would tell me and then I would have to go write it on my calendar. This was actually the first time that he wanted me to come shoot, and they were doing a new bike test. That was '88 so they were '89 bikes. So this was the first time I actually went out and shot with MXA.
So it holds a special place in my heart a little bit. Larry was out, basically in the bottom of this little valley and there's these really tall hills surrounding it. Then the track is right next to a dump actually, and it's all California green sticker land, basically. The green sticker paid for this motocross track. It was just all hard pack, but it had really cool terrain around it and just these cliffs with these fingers that came down. Larry just kind of took off on the bike and he just started hitting this hip. It was super high and totally getting flat. I was probably 100 yards away and I had my big lens on. I was like, "That looks cool," and I just grabbed a shot of it. They ended up running it on the TOC.
Brooks was cool to work with. Like I said, this was the first time I went and shot with MXA, and the whole moto scene back there, there was this serious truck culture. Everybody had cool trucks. Larry had this slammed Toyota, super cool. The first time I met him was on this shoot and I was wearing my big flash battery thing and I kind of bumped into his truck. He just looked at me and he's like, "Oh, dude. You scratched my truck?" I felt like such a dick. But after that, Larry was always great to work with. He's a super cool guy. We were good friends back then. He could do anything on a motorcycle and he would do anything on a motorcycle. He was really good to work with.