For more how Chris Hultner got involved in the sport and his background, read PART ONE. For more in this series, read PART TWO and THREE.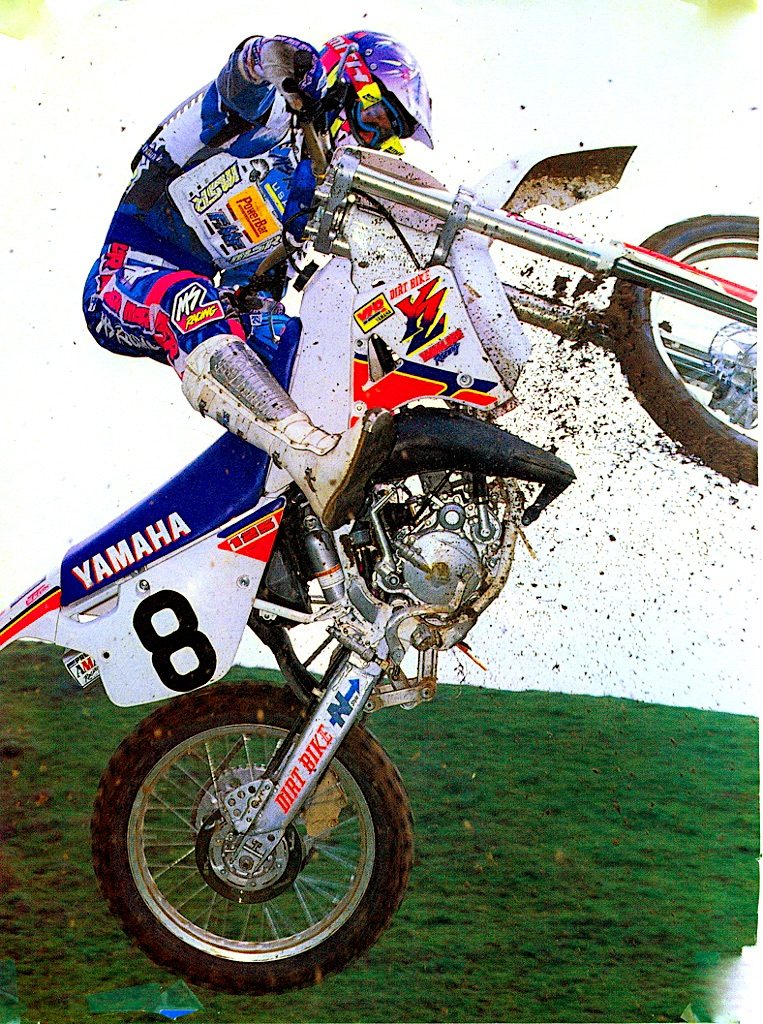 This is Jimmy Lewis. Along with test guys I got to shoot with, just like him, Larry Brooks, probably two of the best guys I got to work with, and Brett Cue later on in life. He was insane to work with too. But this was Jimmy Lewis out at his house in Somis, California where his family has an avocado grove out there. He had all the hills around there wired. For Dirt Bike, we would take bikes out to him and we would just go ride in the hills and he would find something crazy to do. To be perfectly honest, the dirt fling off the bike is probably the result of somebody throwing dirt at him. There's really no way to get dirt to fly off a bike naturally unless you dig a rut that's a foot and a half deep. So I probably had somebody throwing dirt at his engine case to make it look like that. Jimmy was game for anything. He was a badass on the bike, too.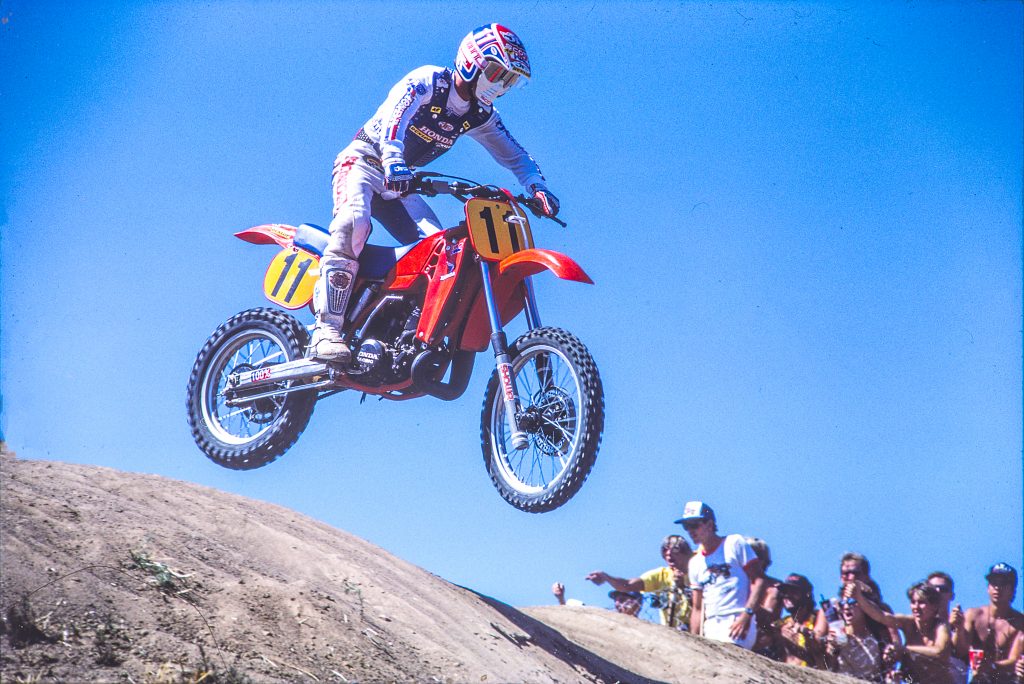 I'm confused on this photo I put on Instagram. Somebody said it's Devil's Drop, but I thought Devil's Drop was, there's two basic things on the track. There's a ledge that's in the back of the track where people drop off of. I always thought that was Devil's Drop. This is kind of the straight coming back towards the first turn. It's the furthest north on the track. It's basically just a hump. So I'm not sure if that's Devil's Drop or the other thing is Devil's Drop. It's like one of the only jumps on the track. Carlsbad didn't really have a lot of jumps. It was natural terrain. The thing I like the most about that photo is the bike, really, to be honest. It's like the last works bike. It was the one with the long fuel tank and the fuel pump and everything. It's just a full-on works bike. The funny thing is he was still running a drum brake on it.
Hannah and him, they went back and forth between drum and disc that year. 
Ronny (Lechien) ran the disc because he thought it looked cool. I remember the story. He just thought it looked cool. He didn't care if it worked or not. Hannah and Bailey, they kept going back and forth because the brakes would fade on those things so bad. Ronny just wanted the disc brake because it looked cool. Bailey went 1-1 that day and won the race. He won because Glover crashed while he was leading.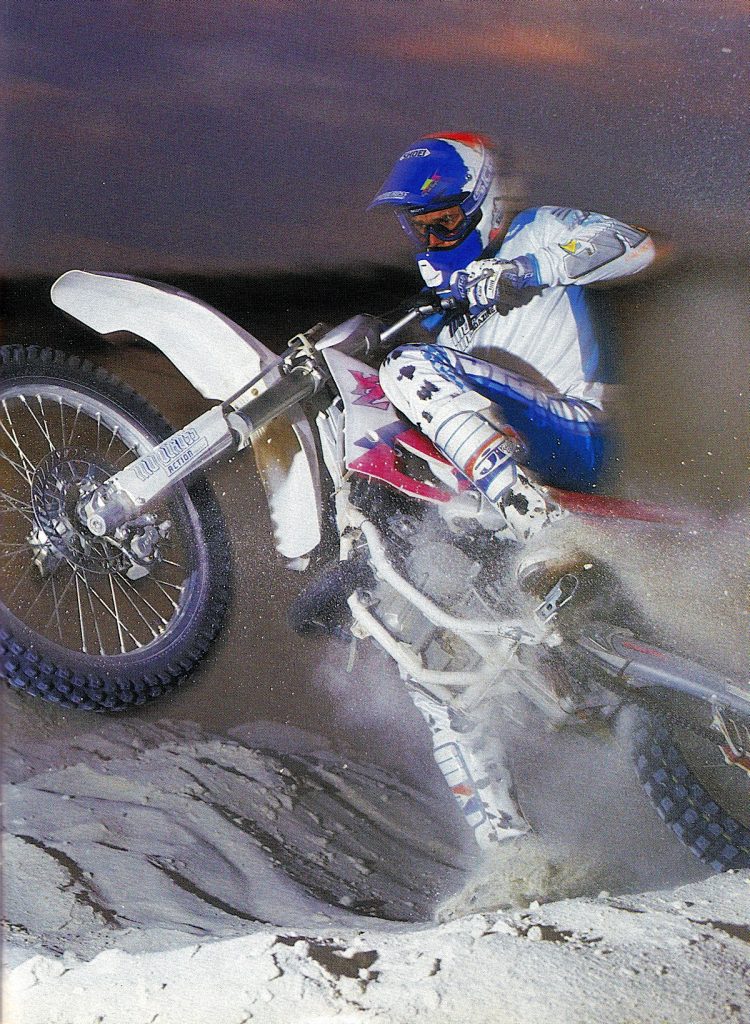 That was in MXA, it's Mike Chamberlain. The cool thing about working with Jody, if you had an idea and wanted to try something he was always game. He was always game for doing something creative. Whenever we shot at White Sands we always got good results. That place was awesome to shoot photos. That Fox catalogue with all the guys like Phil Lawrence and everybody on the cover, railing White Sands. I shot all those photos in that catalogue too. White Sands was one of my favorite places to shoot at. Somebody said it's bauxite or something, but it was just this pit where they mine this white sand. It wasn't very big. It was kind of small. It just looked surreal because it was pure white. This shot, I was experimenting with off-camera flash again. This was way before anybody else was doing anything like that. Like I said, I couldn't afford radio slaves and the technology wasn't really there yet, so I had this long cord on my flash that I'd have somebody stand fifteen feet away from me and point it at the rider and I would stand somewhere else. You get a different direction of lighting on it. But White Sands was the coolest place.
The white boots and the white gear and the Dalmatian pants all make it look cool, too.
Exactly. There's another shot from this session that ran I think on the Table of Contents of MXA where he's actually kind of doing a foot plant almost. He's like floating through the air. That's even better than this shot, I think personally.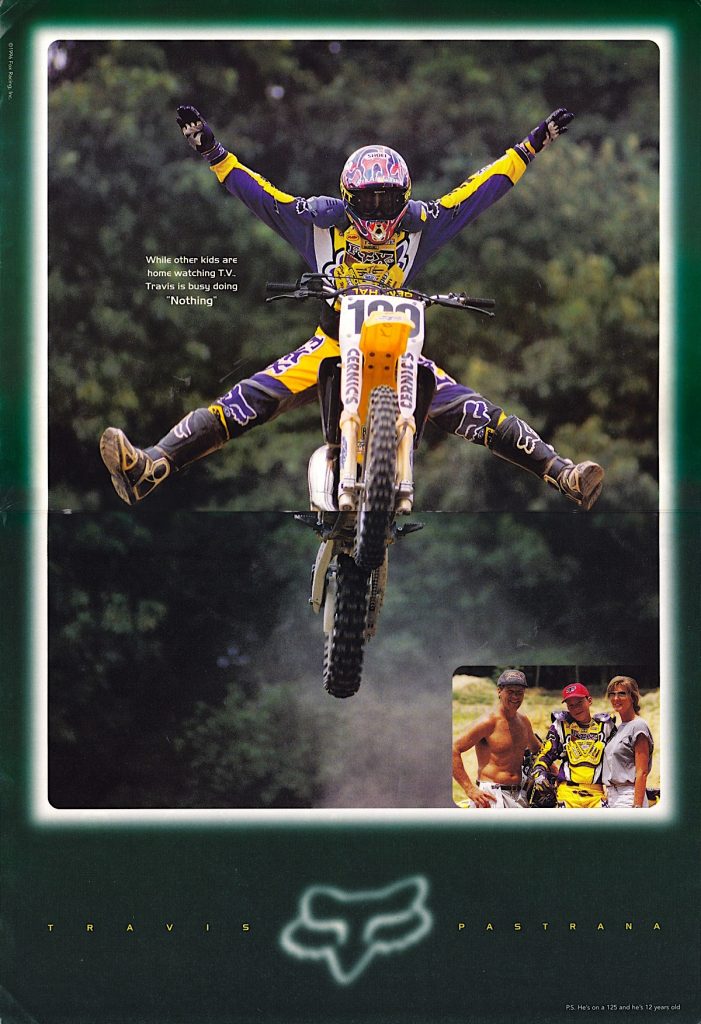 This was when I worked at Fox. We actually went and stayed at Travis's house. This was when he was like twelve years old. The word got out that Travis was doing a "nothing" – no hands and no feet. We needed footage for Terra Firma. So we went out and shot race footage at Budds Creek, and then we stayed at Travis's house and went to his little practice land. I don't know if he still has the same land as he did back then. We got to shoot photos of him doing tricks and stuff. That's when his parents were still together. That was one of our Fox trips for Terra Firma.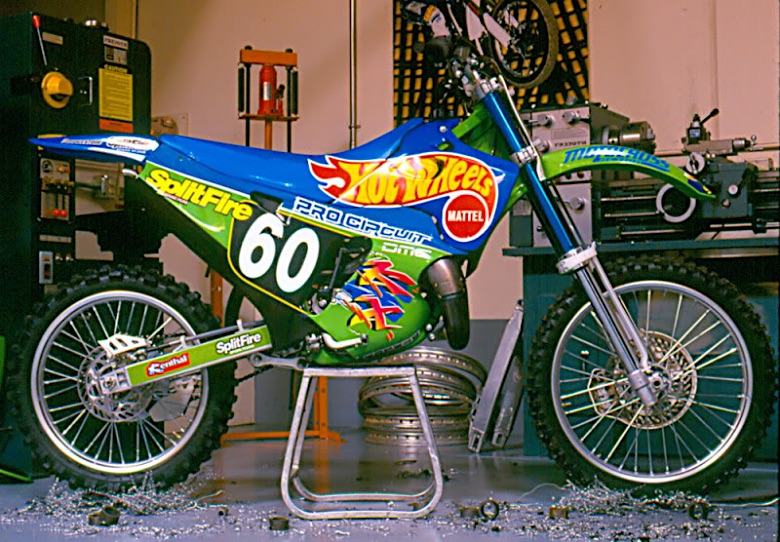 Honestly, I know this is going to sound pretty lame, but we thought this was the future when we shot this. We thought this was how motocross was going to look. It started with the Honda Cub with the full fairing and everything. That's why we event tested that stupid Honda Cub in the first place because Jody's all, "That's the way motorcycles are going to look in the future." They're going to be full fairing because there's more signage. I don't know the exact story. This was a full fiberglass skin. This is at Pro Circuit in the race shop. This was a total fab job, the fiberglass and everything. This was before Slater skins. I just kind of like the futuristic look of it and the way the signage and everything.
There were definitely disadvantages with it. it turned into a big sail if it was windy. That wasn't good. It trapped the heat, so that wasn't good. It just didn't happen, but it looked cool.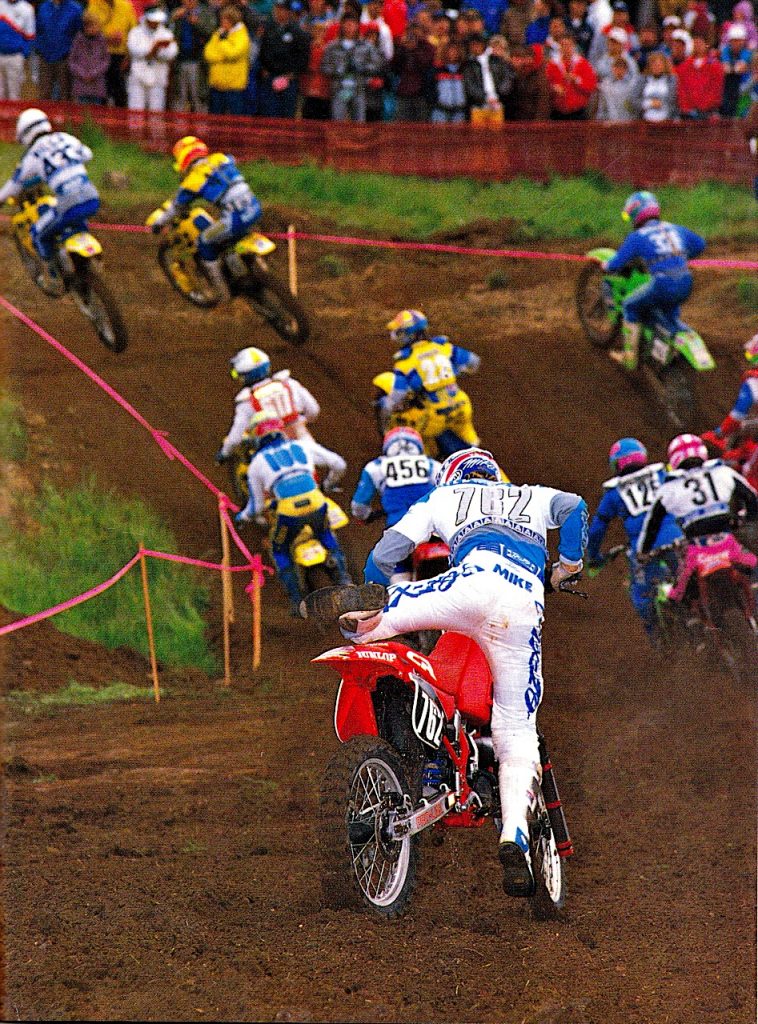 This is Hangtown, 1989 and it's Mike Keidrowski. The reason I like this shot is because I think he got up and finished second. So he started dead last and finished second. So there was one of those "don't give up" kind of photos.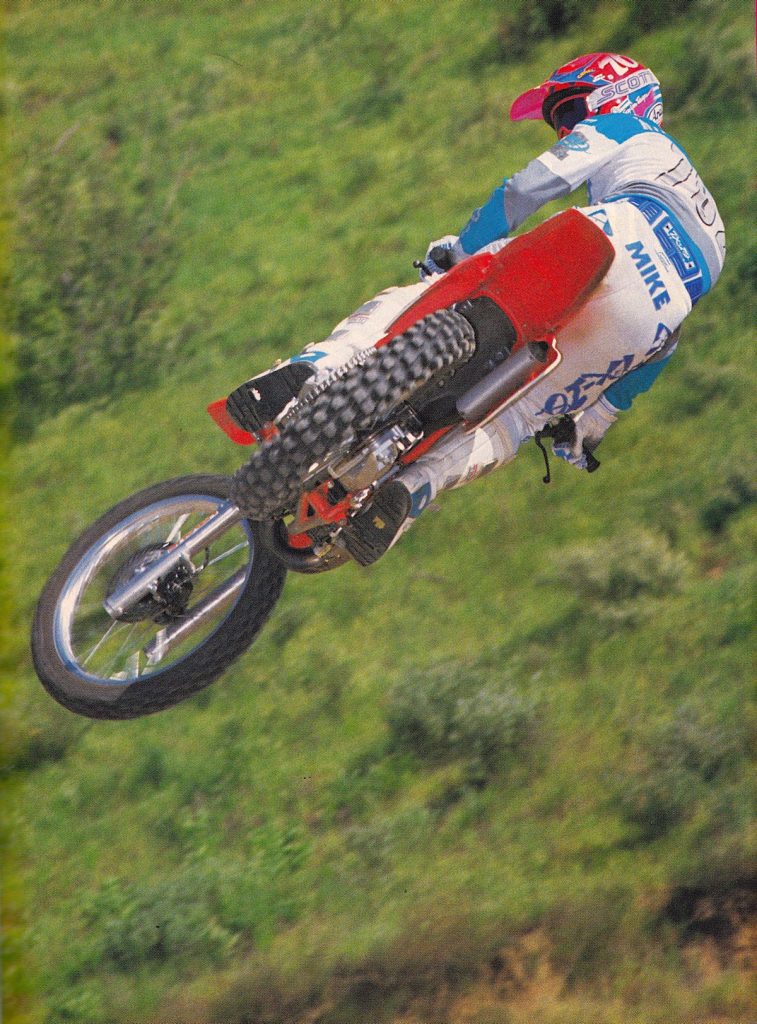 This is at Hondaland and Keidrowski again. We were out there and I think we were doing a test for Dirt Bike. This is really embarrassing, but this was at Hondaland so he was out play riding and stuff and I got some photos of him. But we were testing the CR500 and I wanted to ride it. So I get on it and I try to start it and I can't. So Decoster had to start it for me. It was super embarrassing. Hondaland, that place was badass. It was just another place in this valley with these steep hills on the sides. There was so much to do on a dirt bike there because they had a supercross track built there. They had an outdoor track that just went up and down the hills and everything. This was obviously Spring in the rainy season because the hills are still green, which never happens in California. It's like everything turns green and then dies a week later, so this was the perfect time. It's just such a cool place. Not a lot of people got to go out there and shoot photos.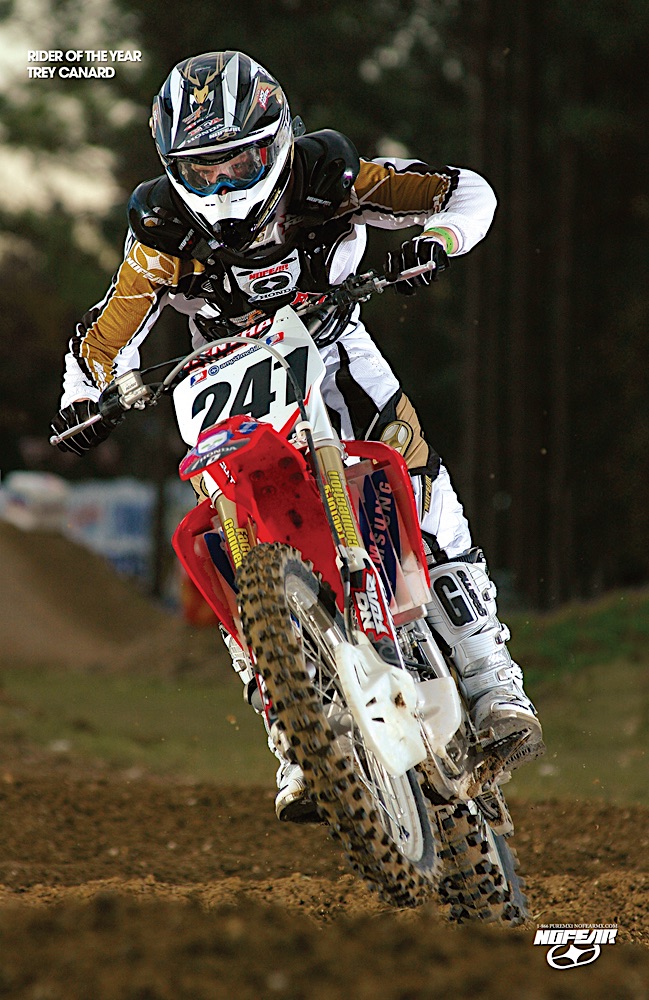 Trey Canard at the Mini O's. I just liked that photo because I was trying something different with lighting. I was trying to shoot it like you would shoot a studio photo, basically lights on both sides of him. I just thought it looked cool. Trey is actually a super cool guy. He's actually ridden for photos for me for a bunch of times and I've always gotten amazing results with him because he's awesome.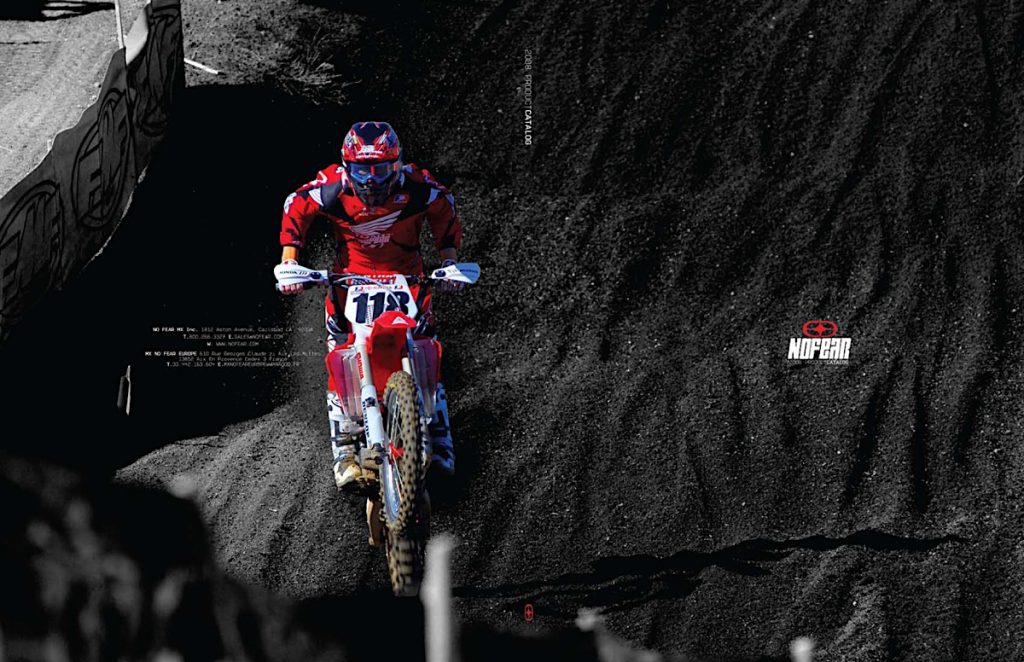 That was at Lakewood. Just another time that No Fear sent me to shoot for their catalogue. This was actually the cover of their catalogue. It was a gate fold cover for their catalogue. So the No Fear was the actual cover part, and Davi was like the back cover. But when you open it up altogether you get that whole spread photo.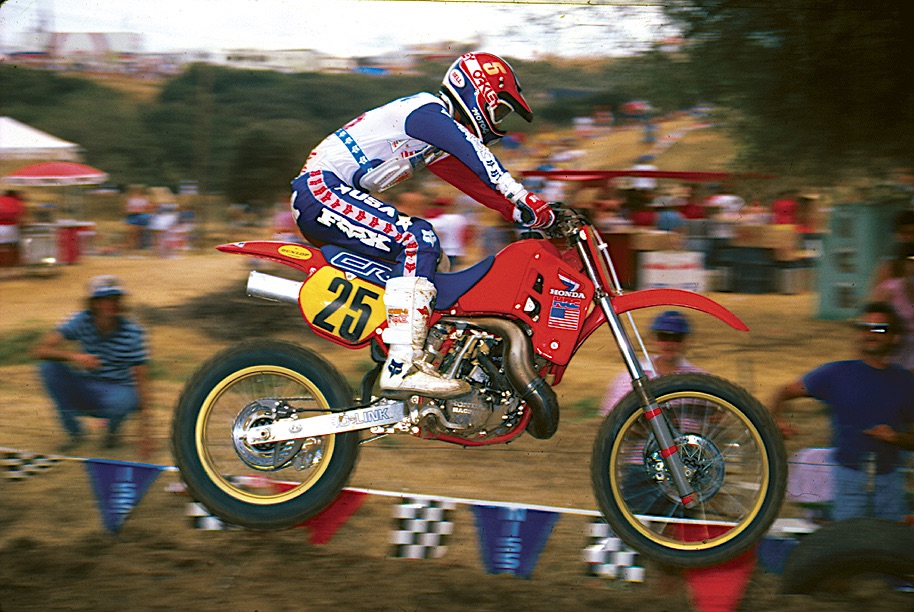 Rick Johnson at the Carlsbad USGP in '86. That's definitely my favorite gear. I actually have two favorite gears. That gear is definitely one of my top favorite gears because I think it was just so awesome because of all the red, white and blue – red on one side, blue on the other side. My other favorite gear was Scott Burnworth, he wore this JT stuff that was like 1984. It was all white with black trim.
RJ was the man at this point. He was a beast at that race, too. He was the hometown guy and he won. It was the last Carlsbad.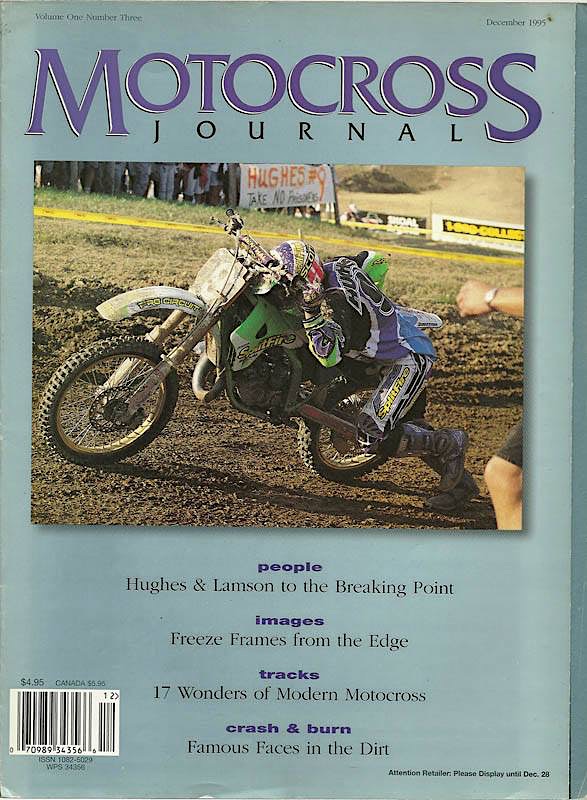 Ryan Hughes at Steel City in 1995. I think it's one of my most iconic photos.
The thing is, I don't even know where the photo is, honestly. I think High Torque sent it to Pro Circuit and I think they did an ad with it. After that, I have no idea what happened to the photo. But if I had a dollar for every time anybody posted it on the internet, I would be a rich mofo. The Hughes banner in the background-that's what makes it. It's like, "take no prisoners."
I think what it really represents though – he knew the title was gone. It's not like he was going to push his bike across the line and beat anybody. It's the fact that he just fucking did it. Manned up and fucking did it.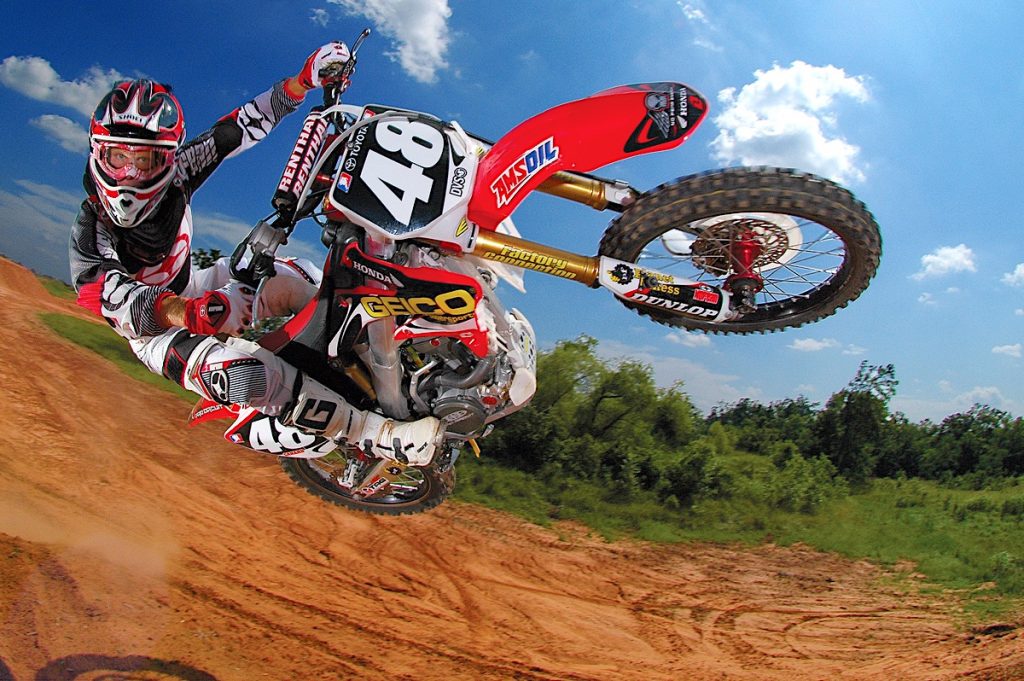 Yeah, it's a fisheye of a scrub shot. The story to the scrub – I know you know that James Stewart didn't invent the scrub.
There's a photo of Jo-Jo, right?
Not only that. We were out at DeAnza once and it was like '89 or something, '90, and there's this European guy out there. It was basically testing during the off-season. He was scrubbing this jump every single lap. Everybody's like, "That's pretty cool." But it was a scrub. He was using it for the purpose that it was meant to be used for. So James Stewart didn't invent it. Everybody was doing different things and nobody made a big deal out of them. There wasn't a photo published within four inches off the ground totally flat. So this was when the scrub was first being popularized. I was out at Trey's house and I wanted to get a shot of him doing a scrub, but I wanted to get as close to him as possible. So this is with the fisheye and I've got pre-flashes all around him, the same kind of scenario. I just wanted to see if I could get perfect stop-motion scrub, in-your-face kind of photo. I had three or four photos from this session that were pretty cool, and this was my favorite one.
I used this photo for Amateur MX. It got out on the internet. Somebody from some photo thing did an interview with me about this photo a bunch of years ago. On my Flickr feed, it was one of my top photos. That and the Brett Cue sunset shot were my two top photos. They're internet famous.