The first Triple Crown is done and dusted and although it wasn't quite as exciting as A2, we did have some good racing as well as some big crashes. A couple red flags, 29 main event laps (450 class), 23 laps (250 class), and a whoop section that took out some heavy hitters. Here is Daytime from Glendale.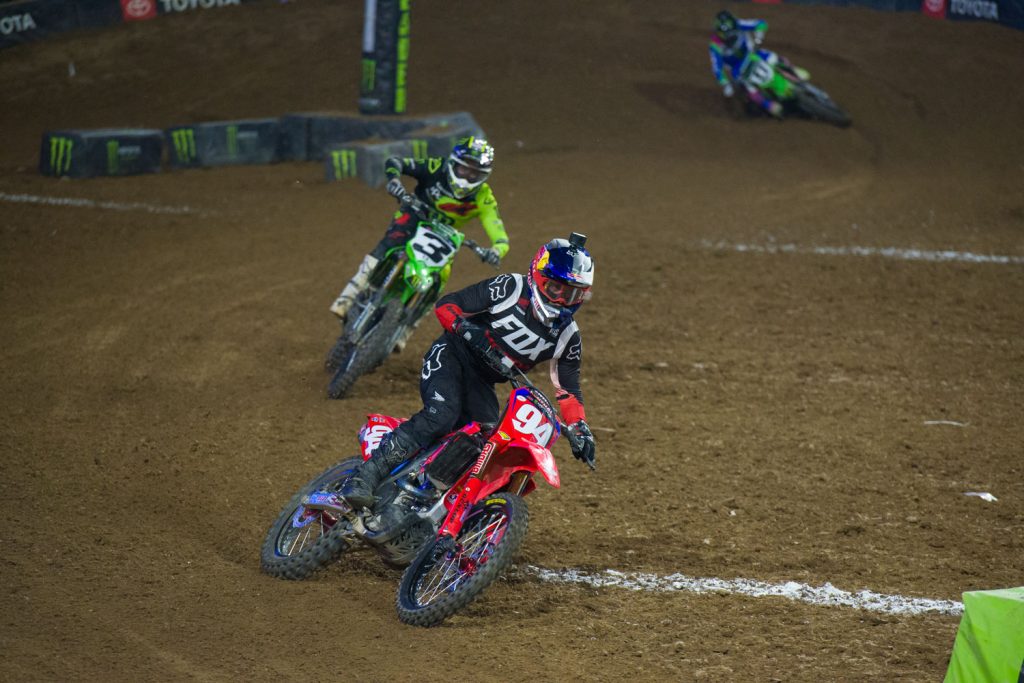 Ken Roczen: I will have to admit when I am wrong and boy was I wrong about Kenny and his factory HRC Honda. I thought he would struggle a little more in the slippery/hardpack conditions in Glendale, but the changes Honda made to Kenny's suspension has really helped the bike settle and put the power to the ground much more efficiently. You can map the bike all you want, but if you don't have the suspension to settle, you will not have as much traction. Travis Preston and I were watching the race and he even noticed how balanced his bike is. TP commented that Roczen's bike never moves too much front to back and always stays flat in the whoops. I know some of this has to do with Roczen's style, but his bike allows him to ride this way. I can appreciate how much work goes into Roczen's factory HRC bike because I am very familiar with how the production bike handles. Kenny is on a roll now and with that comes confidence and once he's armed with that, ehhhhh boy, watch out everyone.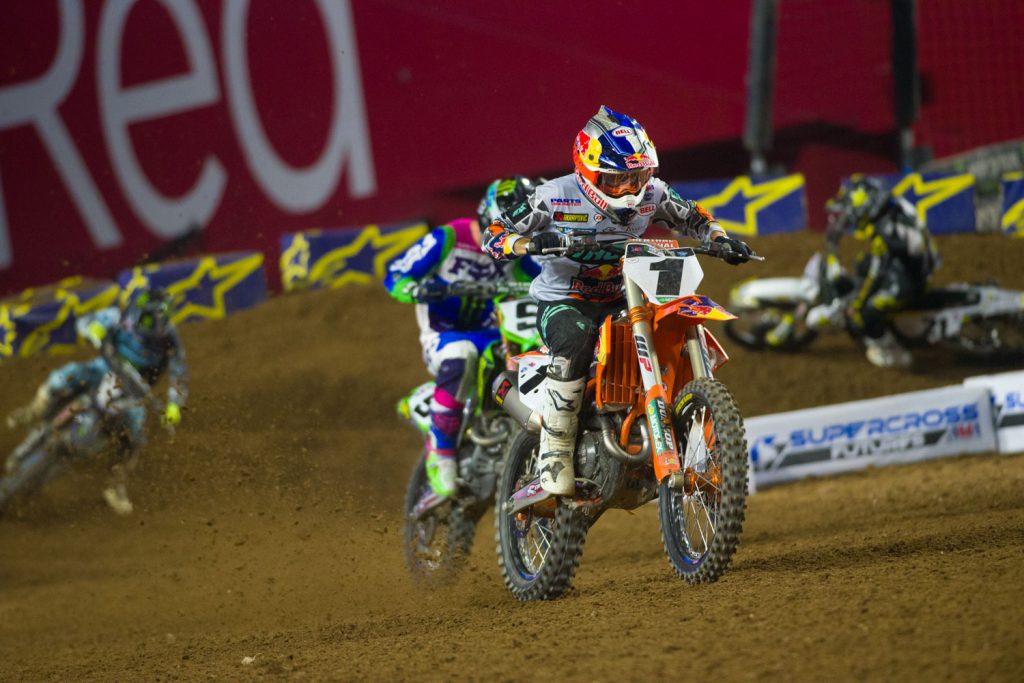 Cooper Webb: I am going to say this with a light/fun hearted tone… For how bad Cooper rode in Glendale, his overall result was pretty damn good! A 4th place finish for a guy that DID NOT look good in the whoops all night. How many times did he get passed through the whoops? A LOT! His entrance speed was good, but it was like his KTM started losing traction and slowing down near the end of the whoops, where everyone else seemed to pick up speed. This most likely is a shock issue they need to figure out and I am sure the KTM team will remedy this ASAP. I know Cooper isn't the master of whoops, but he is better than this through them.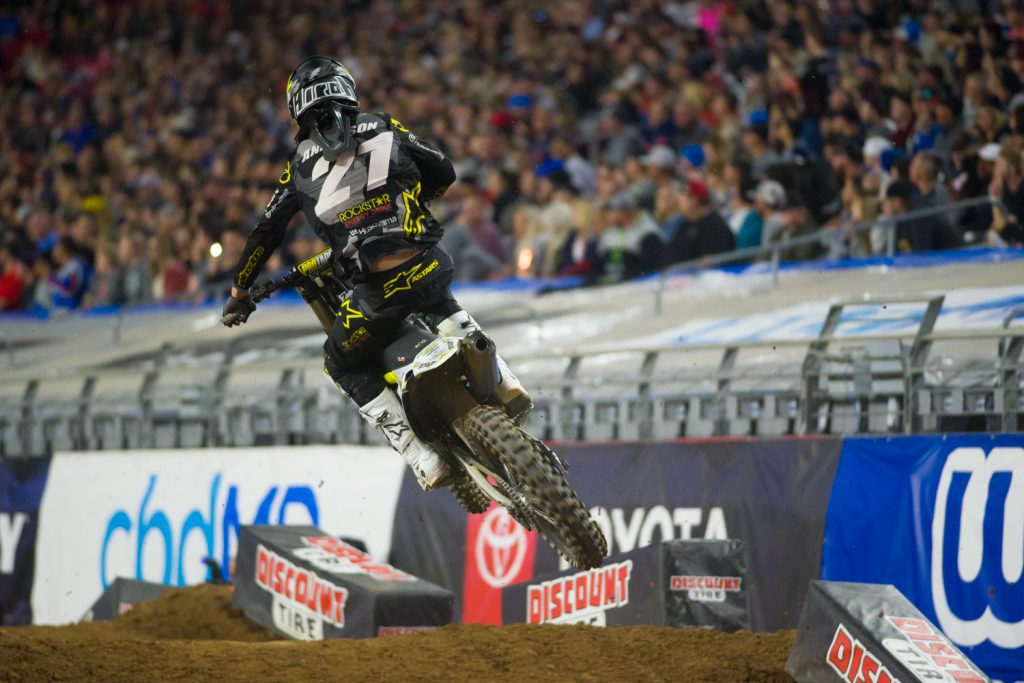 Jason Anderson: Sneaky again! This dude is just hangin around and has been in the top five every race. 14 points down off the leader isn't very much in this day and age and his riding is showing sign of improvement. Especially near the end of each race, which to me is the tell tale sign of Jason being on the verge of a win soon! Don't sleep on the 2018 Supercross champion just yet. 
Aaron Plessinger: Even though a ninth place is not what he probably wants, Aaron has to be happy with this result. He hasn't qualified well all season and his results in the main haven't been what he or Yamaha want. However, in Glendale he got good starts and was up in the mix with the "Big 8" for much of the race. This is all good for the friendly Ohio kid. Hopefully Aaron keep the ball rolling and improves on this so he can really go into outdoors prepared to be a podium threat. Yes, he's better outdoors. NO HATE COMMS.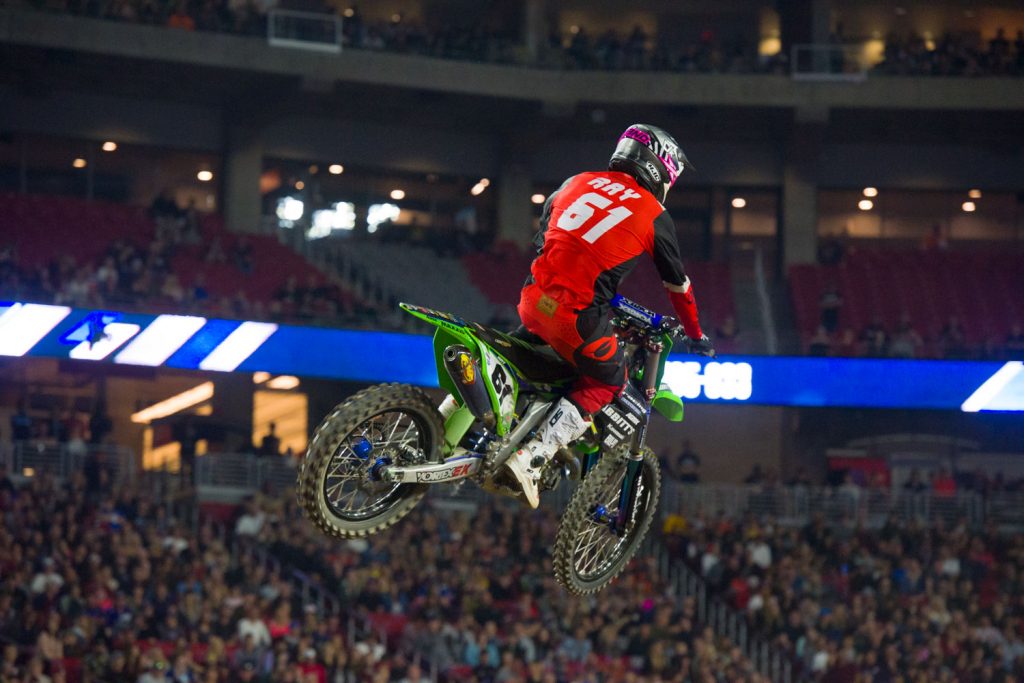 Alex Ray: I have to give it up to A-Ray. I mean the guy crashes every weekend and still is throwing it in the main weekly. His riding has improved a ton, but his crashes are some of the best I have seen. I mean if I crash when I am riding/racing it usually means my weekend is shot, but in A-Ray's case it's just a part of his day. I crash I call my friends, tell my wife, I mean it's a real topic of conversation. A-Ray crashes so much it's just expected and that's what loosens him up or something? I watched his LCQ and he rode amazing, with only one "OH SHIT" moment, but after that he went about his business like "yeah that was supposed to happen"! Here's to you Tennessee Kid! Chill down bro! Chill down! #Homelife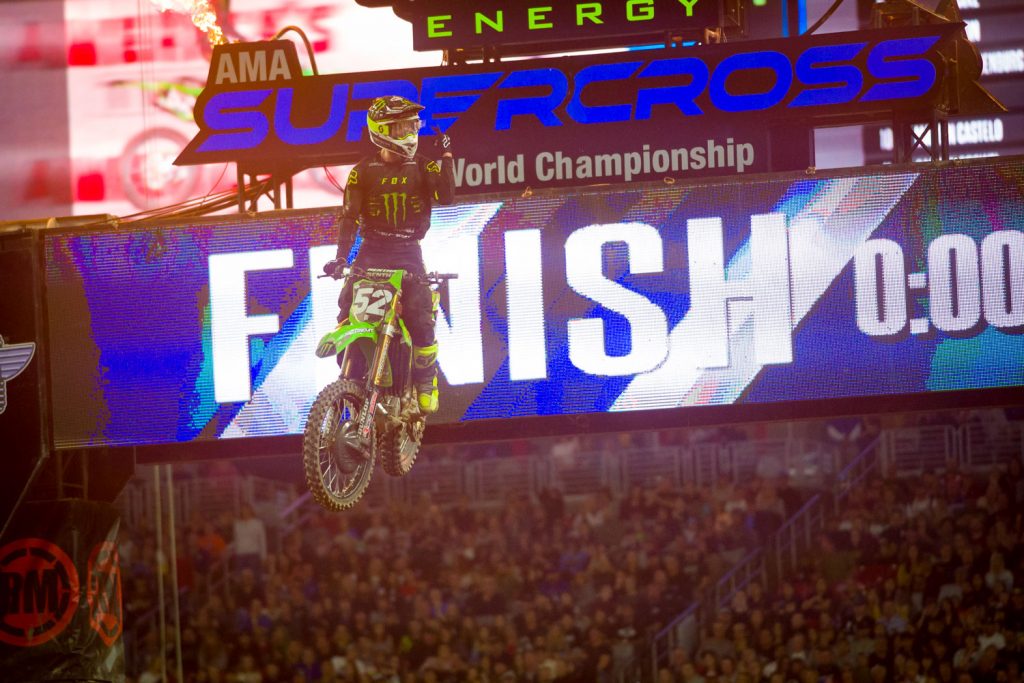 Austin Forkner: I just like this kid… He's not flashy, he doesn't talk that much, but when he does he speaks with authority and I like it. I like his go-for-it-at-all-costs riding style and I like that he jumps quads on the last lap when he has over a 5 second lead. We haven't heard much about Austin during the week leading up to Glendale so no one knew if he was hurt from his crash at A2. Well, Austin showed up in Glendale with great starts, impressive speed, and more importantly went through the whoops very well considering that is where he has been crashing all season. It takes mental strength as well as balls to be able to say "I got this whoop section on lock tonight" after you've weeded yourself  a couple times in them. I have been critical of his riding this season, but to me this ride was his best of the year by far.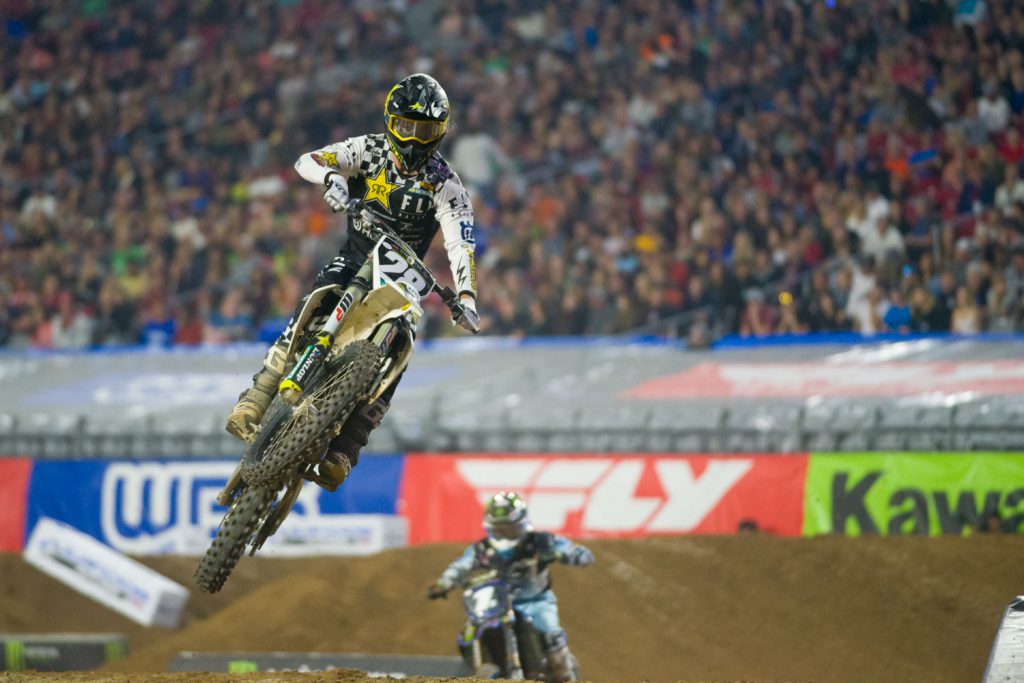 Michael Mosiman: Another rider who has been kind of missing this year has been MOSI-MAN. The man hasn't been "The Man" yet this season, but he's coming around. I though his podium speech was interesting this week as he was saying "he did it for himself and not so much the team". I could understand what he was saying because when you're on a factory team, train with Aldon Baker, you're expected to have results. You're expected to be up front and when that doesn't happen, shit flows down hill. I think he finally just went and raced his dirt bike and forgot about all the other crap that was surrounding him. At least this is what I got from his podium speech. Hopefully this is a springboard for more podiums for this nice kid!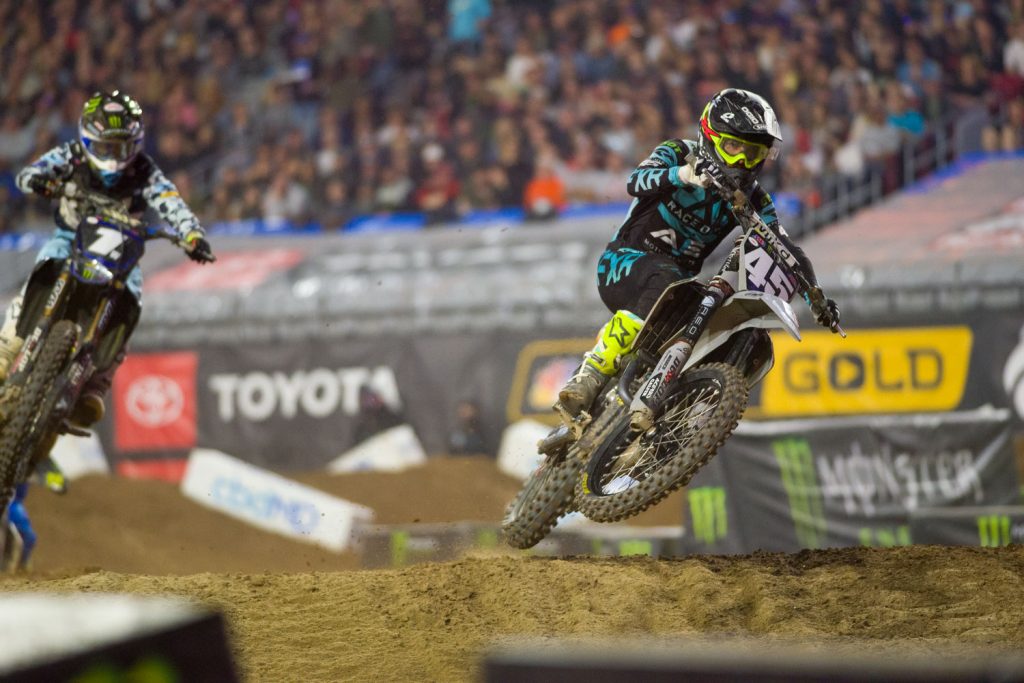 Jacob Hayes: I heard on Saturday night that one of Jacob's weaknesses was the whoops. I thought he has been quite good in them this year though. I also heard that he has been working on hard on them and it hasn't come easy. I just remember Hayes killing the whoops in Arenacross, so I would have thought he would kill Supercross whoops.  Well that showed Saturday night because there is no way in hell you would have got a top five finish if you weren't good in the whoops. Hayes has been steadily climbing the results board and getting better with each week. He isn't quite podium speed, but he is sniffing it more and more. Not bad for a guy that was hurt before the season started and didn't get to spend much time on the AJE Husqvarna machine.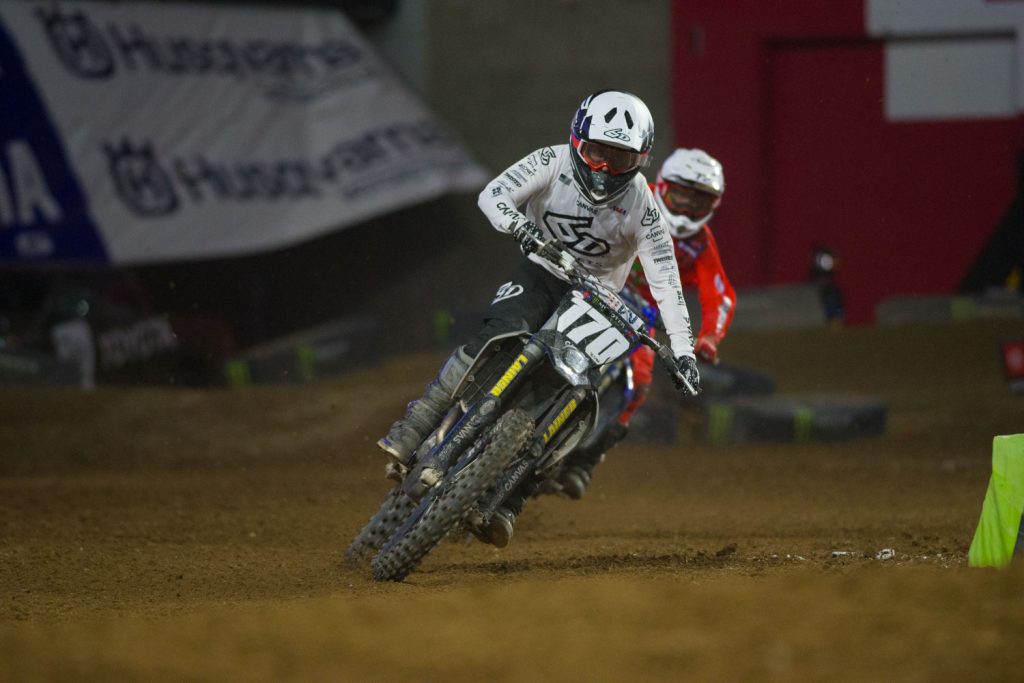 Best Dressed: I like what Michael Leib and Canvas is doing and I thought it was bad ass that he created a full 6D Helmets set of gear. I am not saying the colors were the brightest and had the most pop, but the overall design and thought behind it was very clean! I respect outside the box thinking to go race and Leib is doing that this year with this whole gear set up. The best part is that the gear doesn't look like trash. It looks really good! Nice job to Leib and Canvas!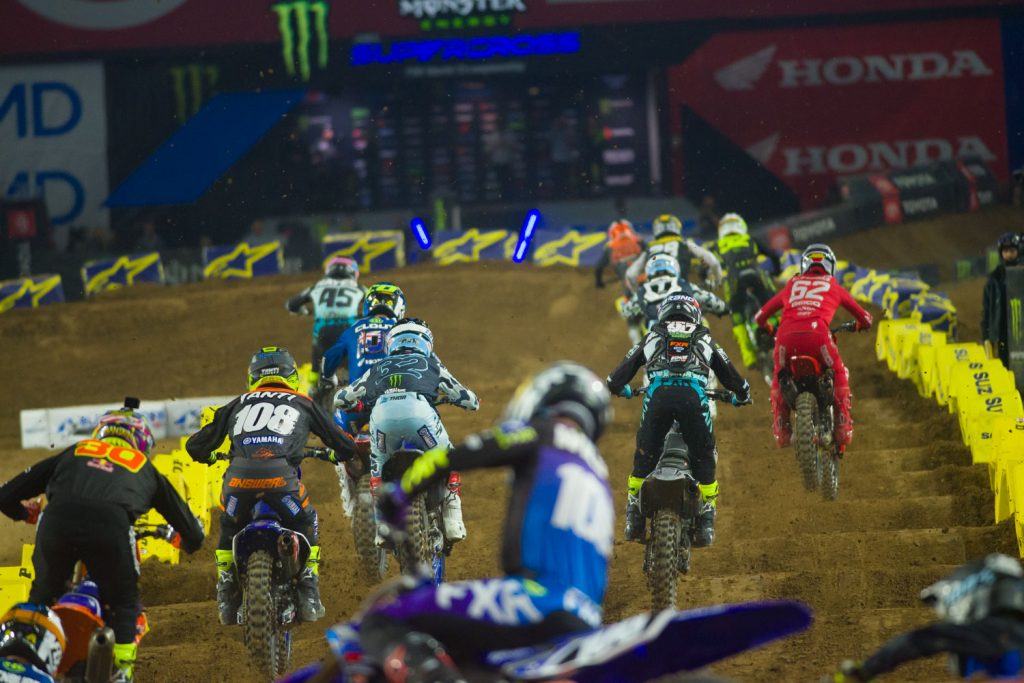 Triple Crown Format: I like this format as a fan, but it's brutal to watch at home. The breaks seem so much longer when the race isn't a live broadcast or maybe it's just me? It seems like it drags on a little. What do you guys think? Hit me up at kris@keeferinctesting.com.