For people who don't know Marc Blanchard, he's one of the best designers in motocross history, starting out in France, coming to JT Racing, starting ONE Industries and then 100% among other things. He's a true moto enthusiast, historian and I did a very interesting podcast with him HERE.
I asked Marc if he could give us his ten favorite gear sets ever and yes, he could include his own in there if he wanted. This man knows style, fashion and motocross like no other. Here's Marc's ten favorite gear sets in MX history.
#1 – AXO
1991 Bradshaw's Mission Control. (Or anything AXO in 90-91-92)
"It's not necessarily the graphics itself, it's the new material, molded pieces, patches and colors that made this one memorable at the time. Worn by Bradshaw sealed the deal."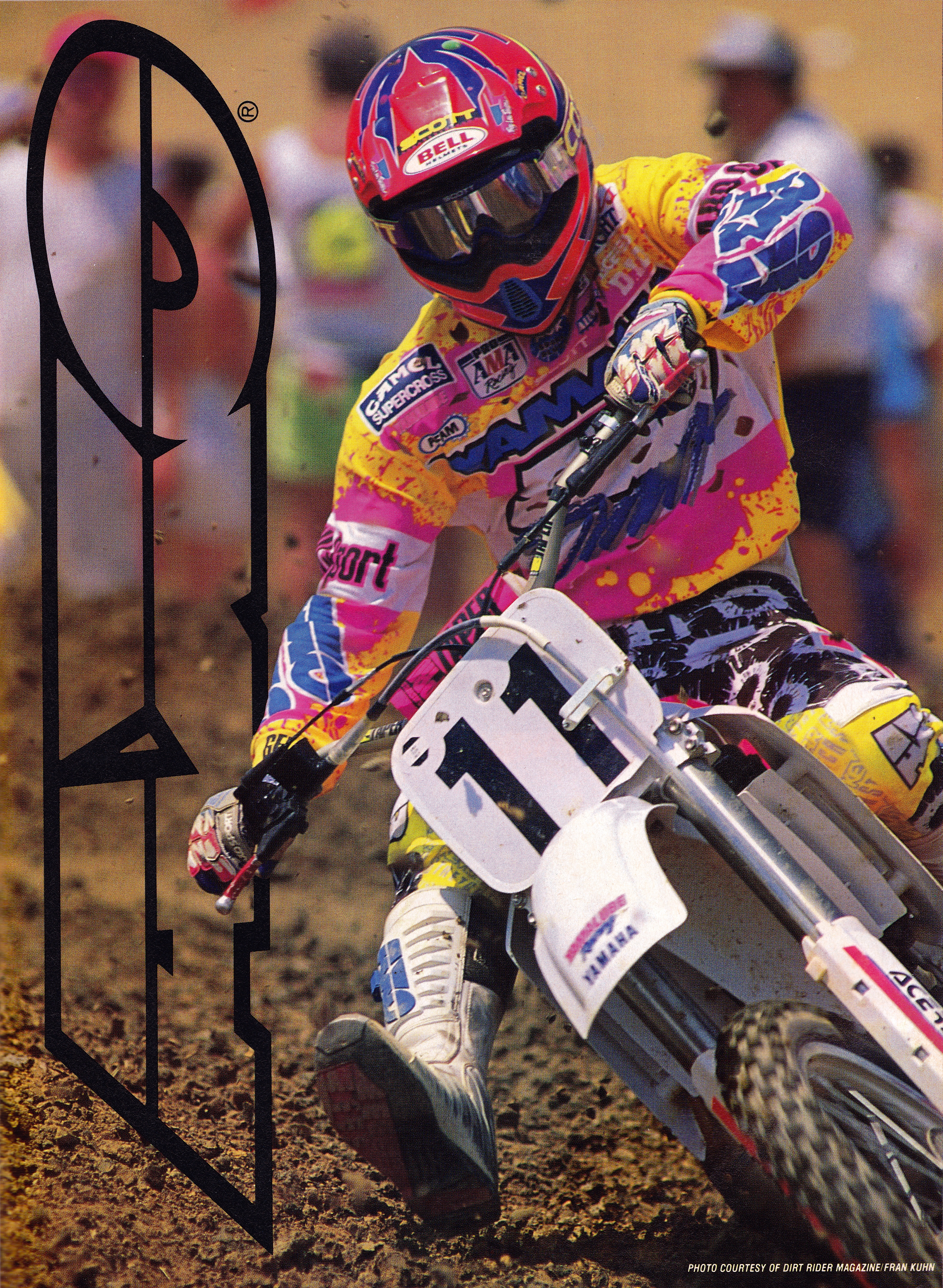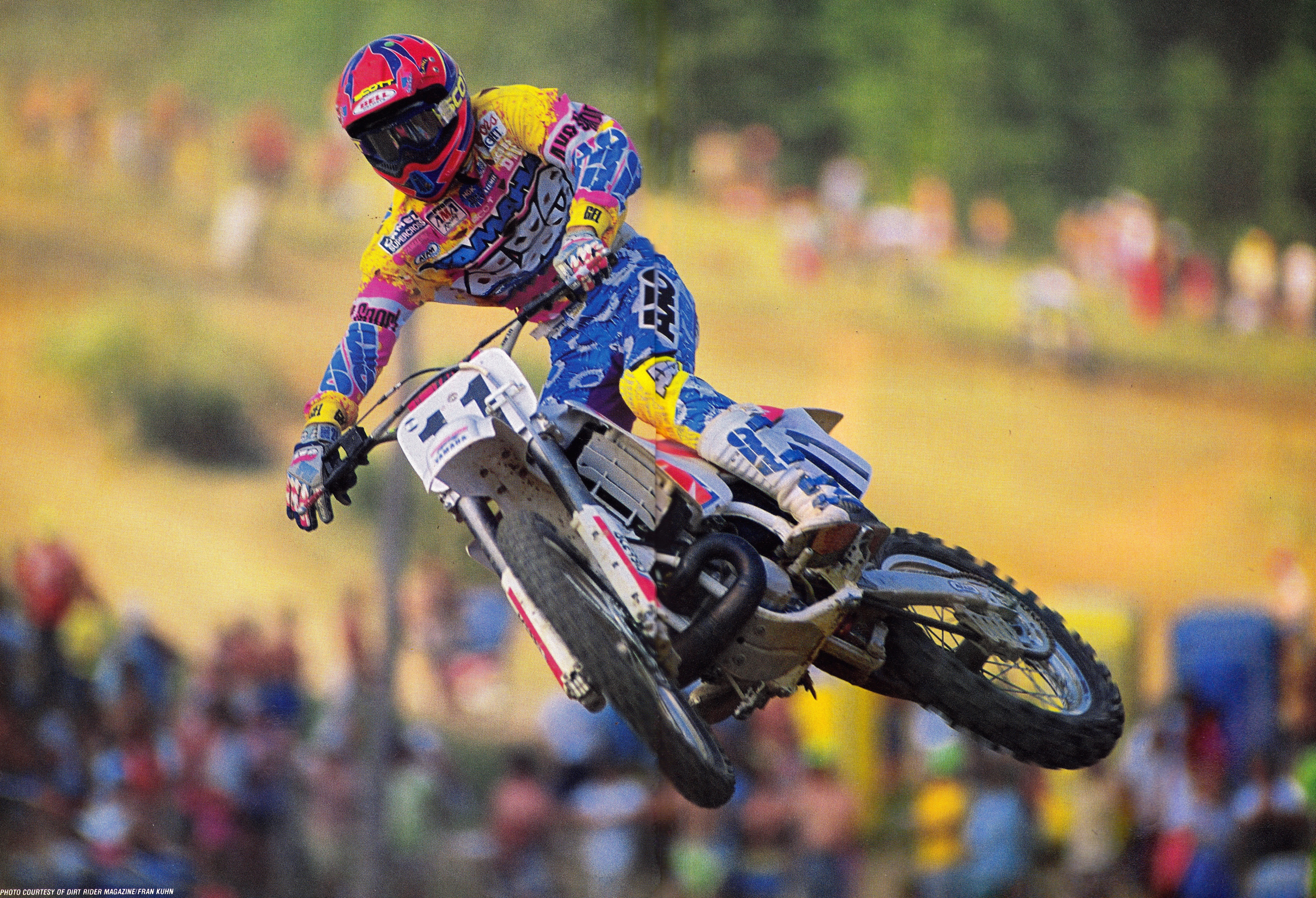 Matthes- I find it interesting that Marc chose this set from AXO as his all-time favorite. I remember when it came out I wasn't a fan but it looked better on Damon than in the ads for some reason. AXO had a few sets better looking than this in my opinion but it's Marc's article and he knows better than I do!
#2.  –  JT Racing
1986 Bailey's Flo Orange kit
"Flashy, smooth, Factory Honda, DB, the perfect combo. Still cool to this day. This one could be tied with #1"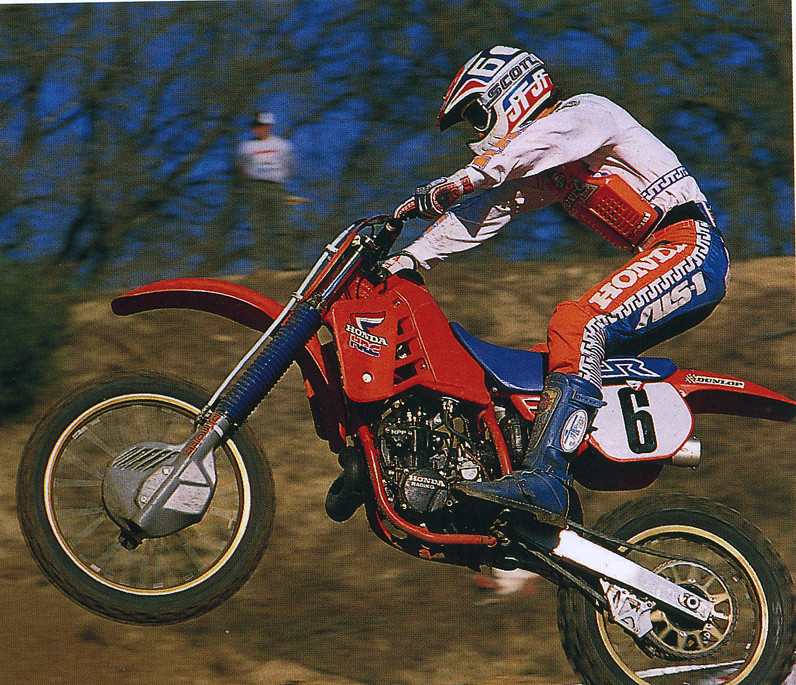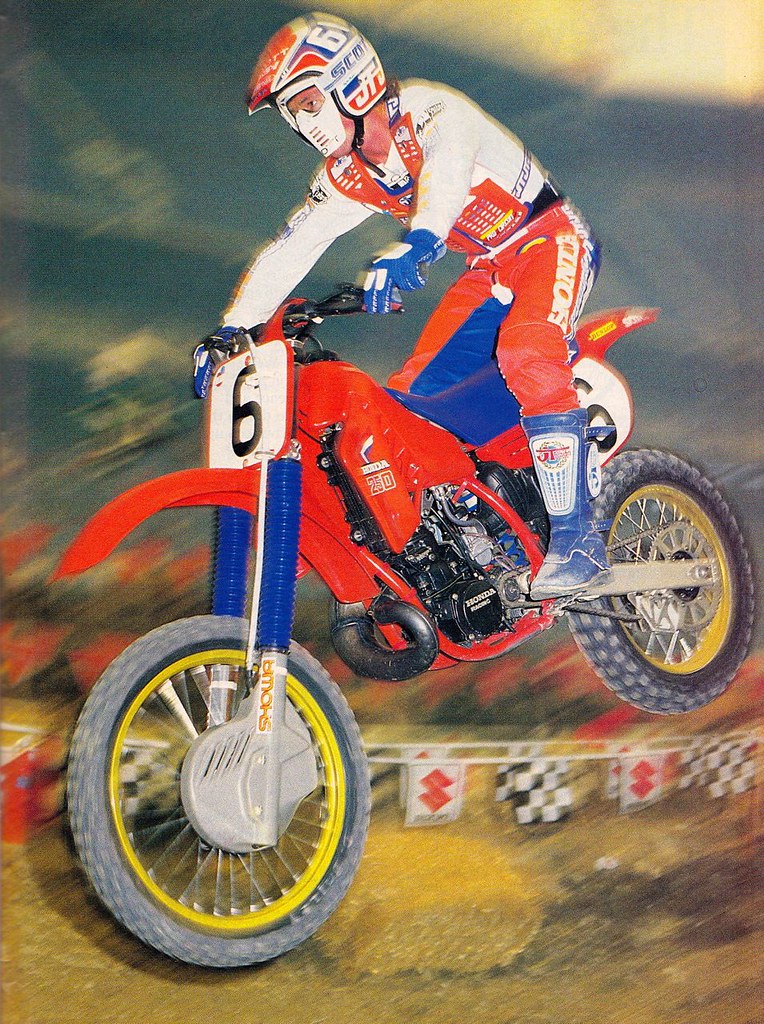 Matthes- Iconic indeed. This stuff was bad-ass in the day and Bailey had a real bounce back year in 1986 which also made this gear look great. A home run for any era indeed. Before his accident, David was going to be #2 in 1987 and run blue/silver JT stuff which also would've been pretty cool. He wore it in a few off-season races.
#3. –  No Fear MX 
Pastrana – Windham Neon Green/Neon Yellow kit
"The rise of NoFear. It went to the top with this combo. Again this can be only associated with TP. Iconic moments for an iconic rider. He dressed the part with that one."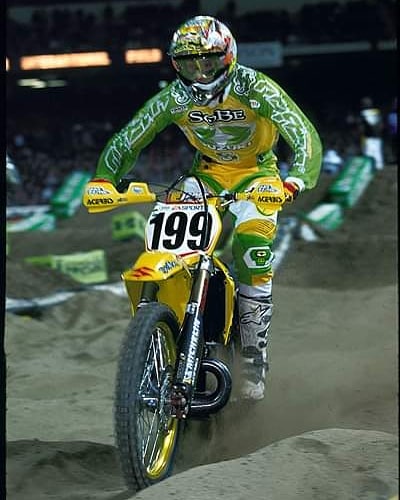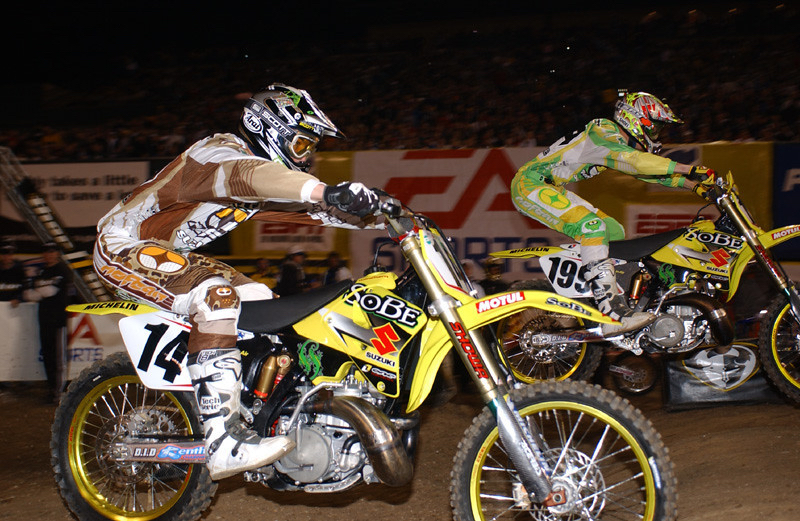 Matthes- This stuff was pretty awesome, the colors were unique for the their time and with a yellow bike, everything really popped out on the track. 
#4. –  JT Racing
1989 Dogger's Dalmatian kit
"I did this one on the first week of work at JT back in early 1989. I had this pattern for a while from the magazine Moto Verte and thought it could make a cool print on mx gear. The Dogger was so matching this, it went ballistic. John Gregory told me long after it was the best selling gear JT ever made.
I'm not sure if that was the first 'animal' print ever. I'm not sure but I think the zebra came after (or at the same time?)"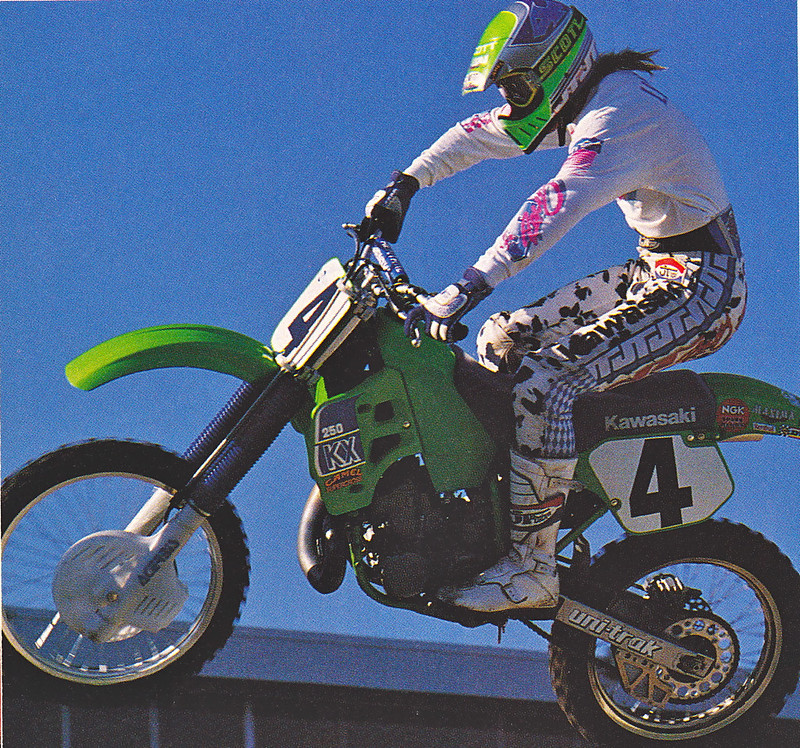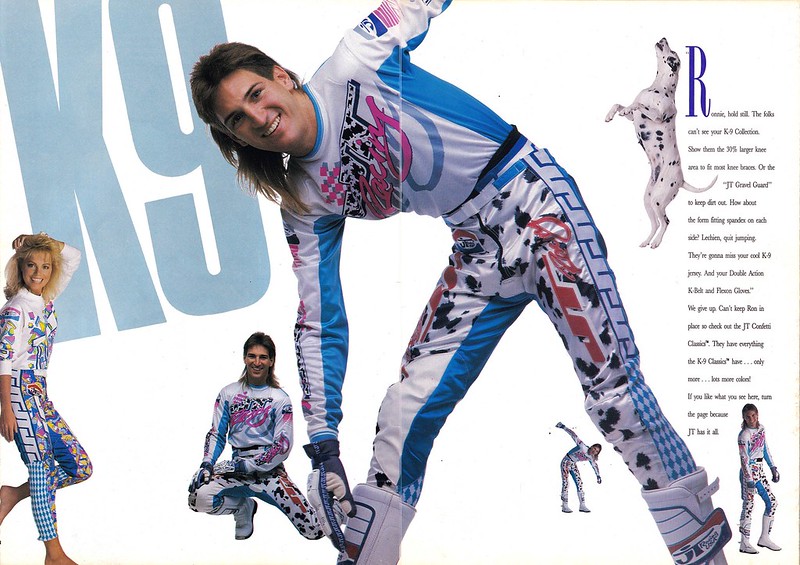 Matthes- I had this gear back in the day, it was cool but for me, I liked the Bad Bones stuff Ronnie wore in 1988 better but I think I'm in the minority there. This was still awesome looking stuff. As far being the first animal print, FOX had the Zebra stuff in 1988 for RJ at the USGP so Dalmatian was not the first animal print stuff. I think Marc was the first designer to use the wide spandex on a pant also which made the pant fit better.
#5. – FOX
Bubba's Pink/Zebra kit
"I liked the zebra on James more than the first time it came out. Maybe because back then I thought it was just another animal print. Bubba made the gear cool again. His speed and charisma was all it needed."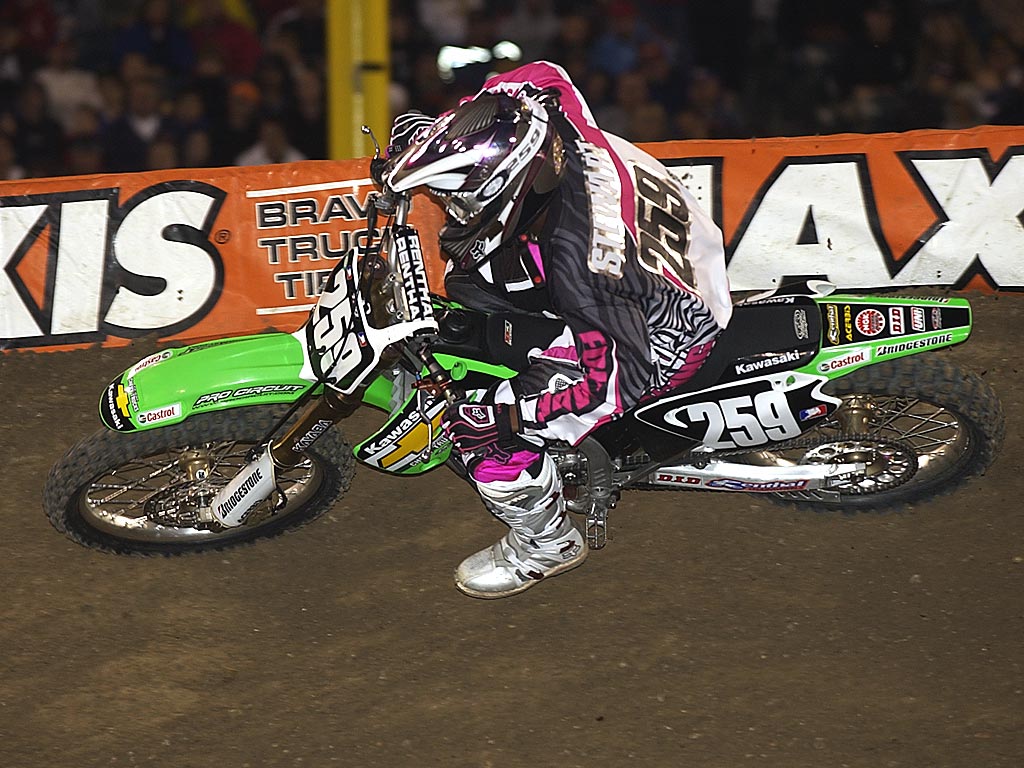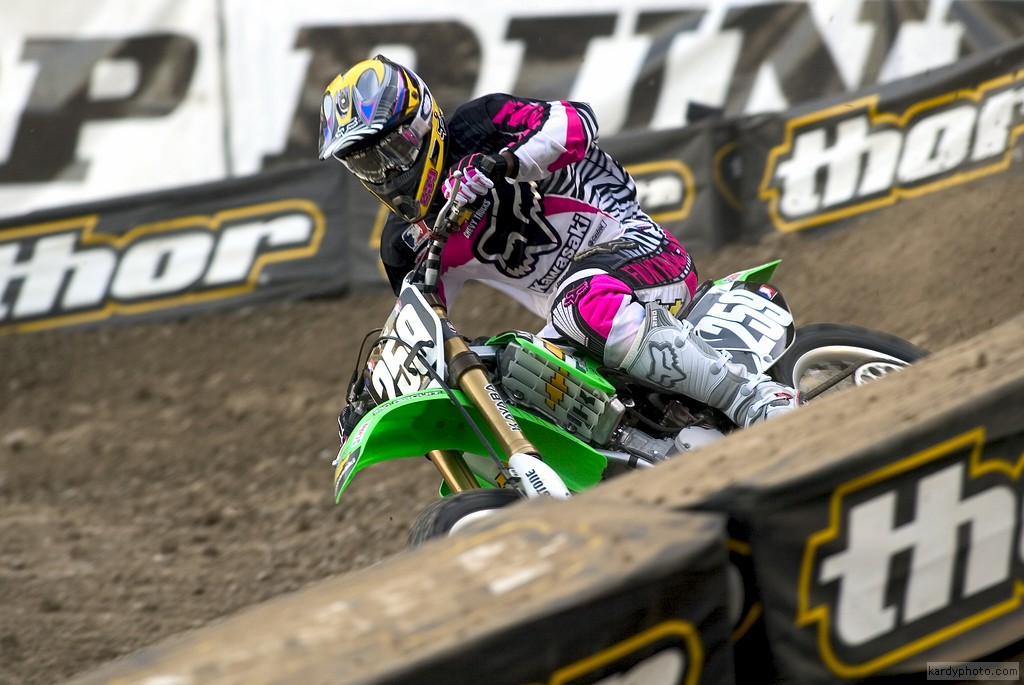 Matthes- See for me, I'll take the first Zebra stuff back in the day on RJ/Bradshaw over this stuff but when you're James Stewart, you can get away with pink/zebra stripes gear. Fox did do a good job with this stuff though.
#6 SHIFT
"It's hard to pinpoint a particular kit or color way but the very first launch of Shift and the late resurgence made by Jerome Mage and now with David Durham is the creme de la creme."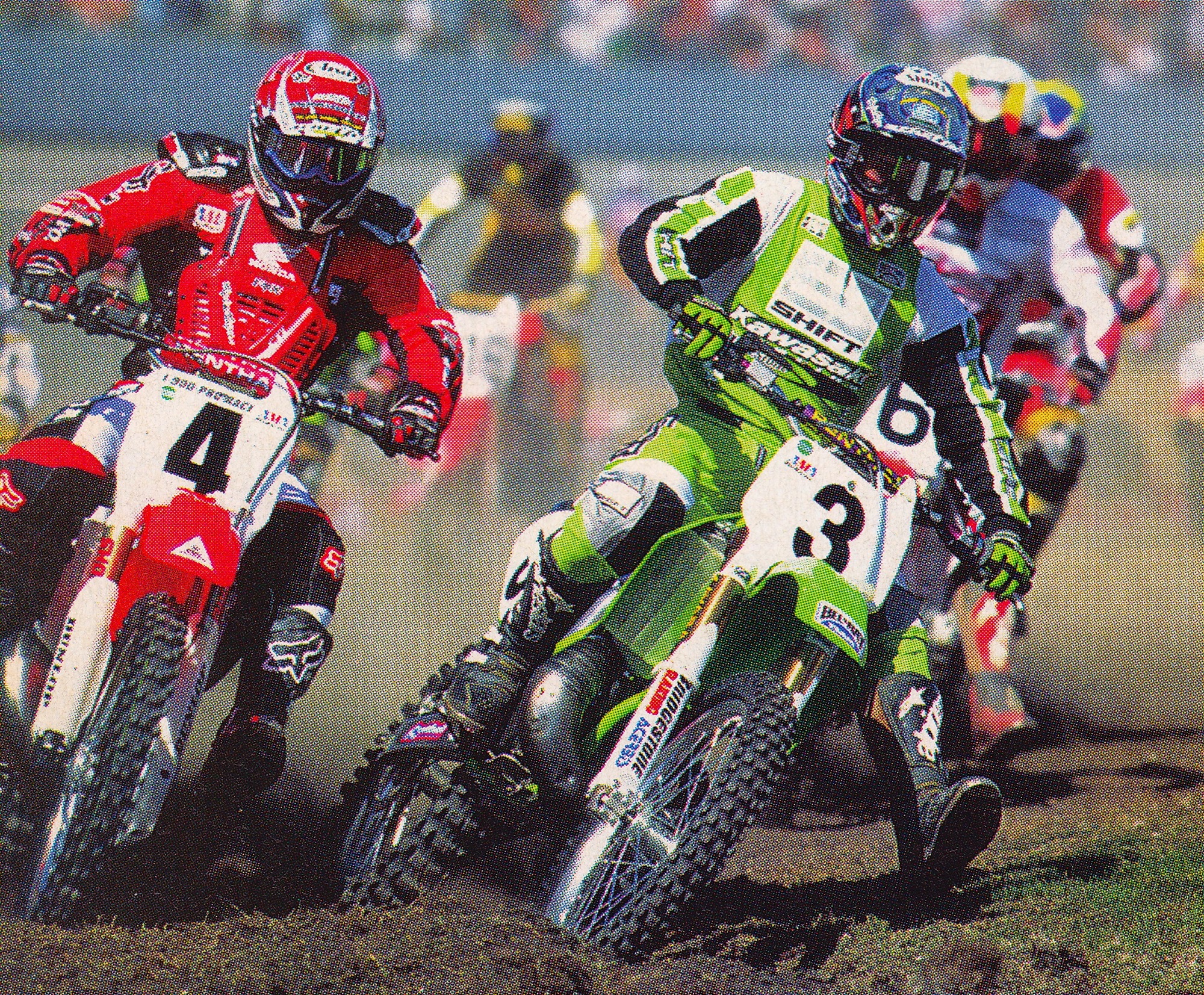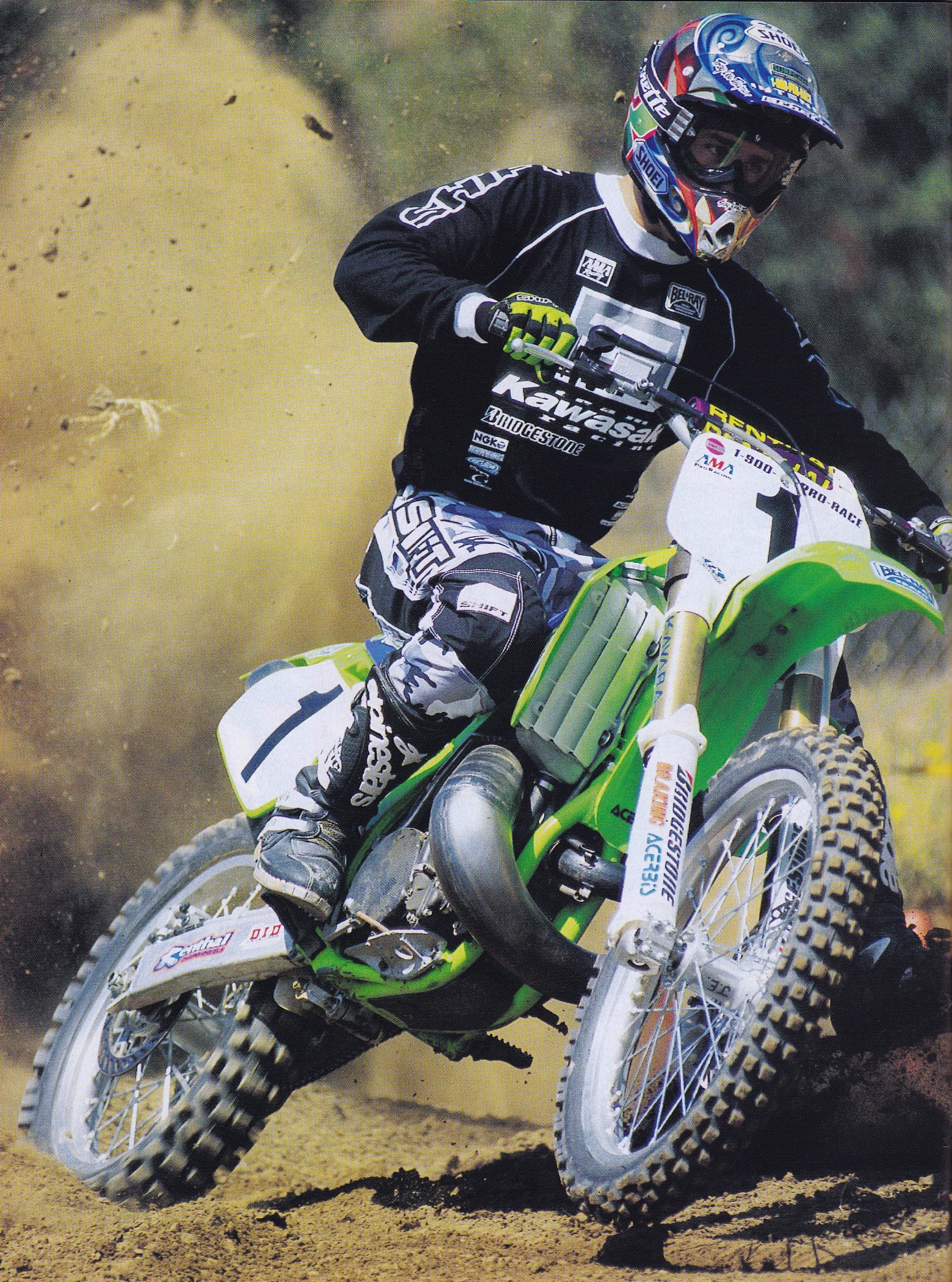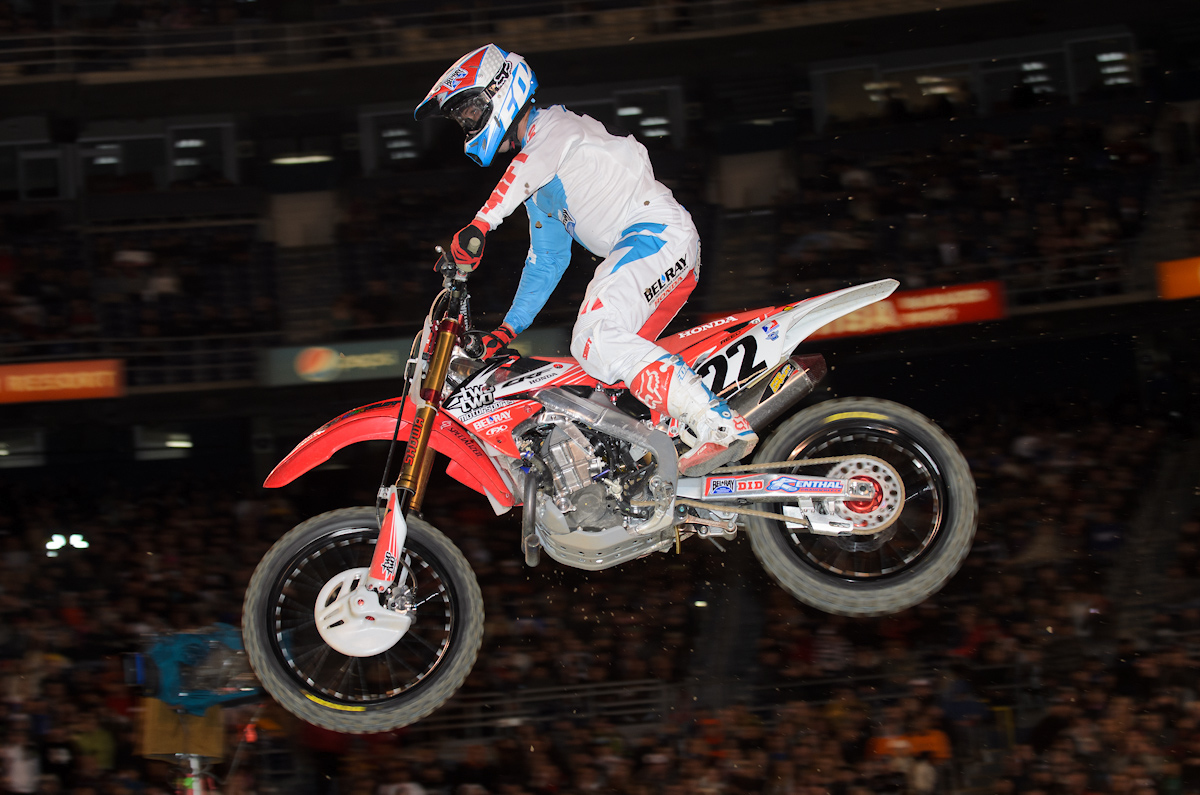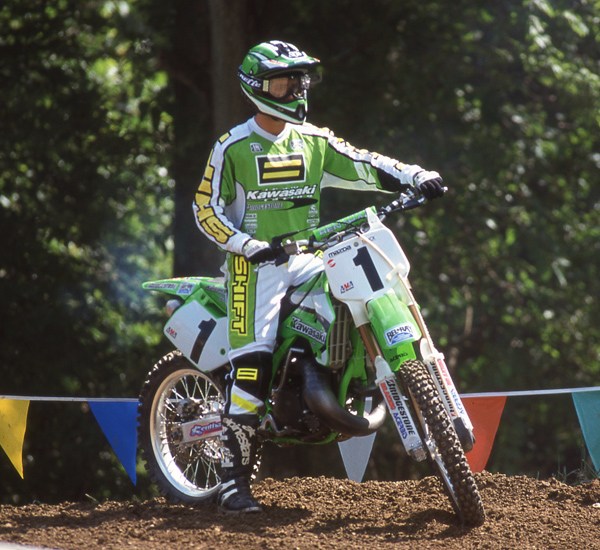 Matthes- Shift had the initial wow factor with Emig in '97, 98 (the photo above of Emig is SO cool, it's in my top five or six looks ever) and then they went away. When Chad Reed signed there, Shift came back in a big way and had a sweet resurgence with the 22 (for more on that story, read my history of Two-Two Motorsports HERE). How awesome was that GI Fro look? How many great looks did Reed have in Shift? 
#7 ONE INDUSTRIES
2010- The all red monochrome and the Drip
"My memory is lacking but it might be the first time we saw an all monochrome color on gear. Not sure. The drip one was a nod to street art. Some fashion brands were playing with it for a while. Tedesco was not the rider that could have brought it to stardom, regardless it was a nice piece before everything went to crap. LOL- I thought he looked like a young Jody Weisel here."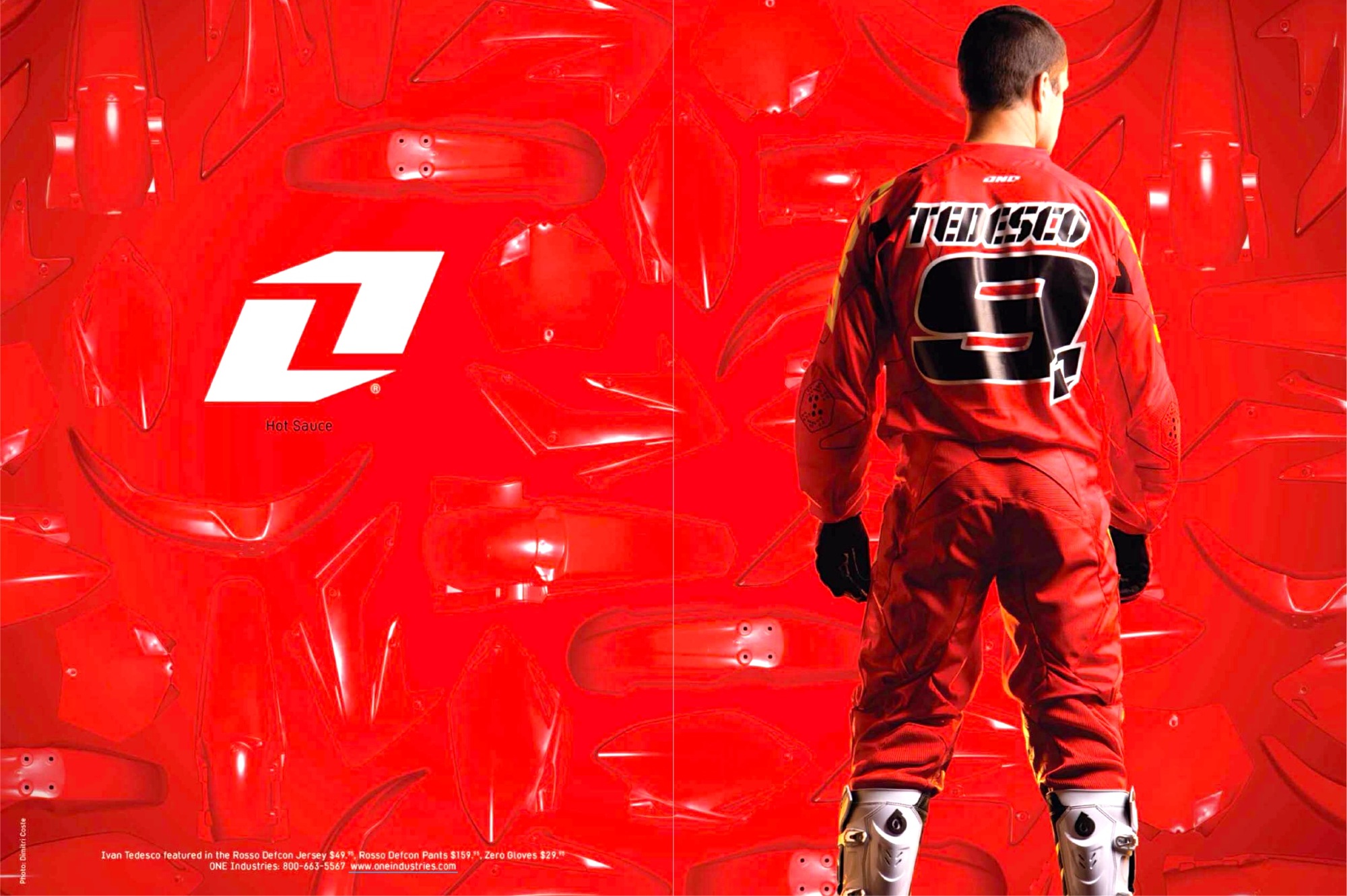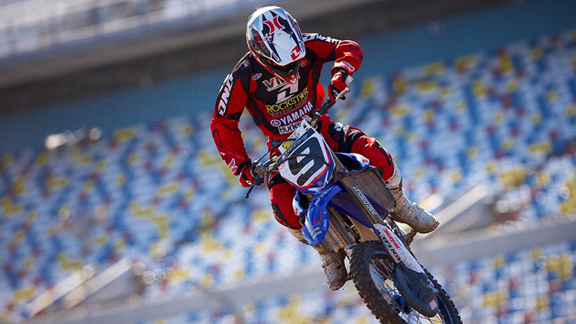 Matthes- Marc has had an incredible career designing gear, goggles, magazines- whatever he touches is pretty good so if he likes this stuff, then I like it also!
#8 SEVEN
"Seven brought a new concept in gear that is still copied today. The clean color blocking was just what the market needed."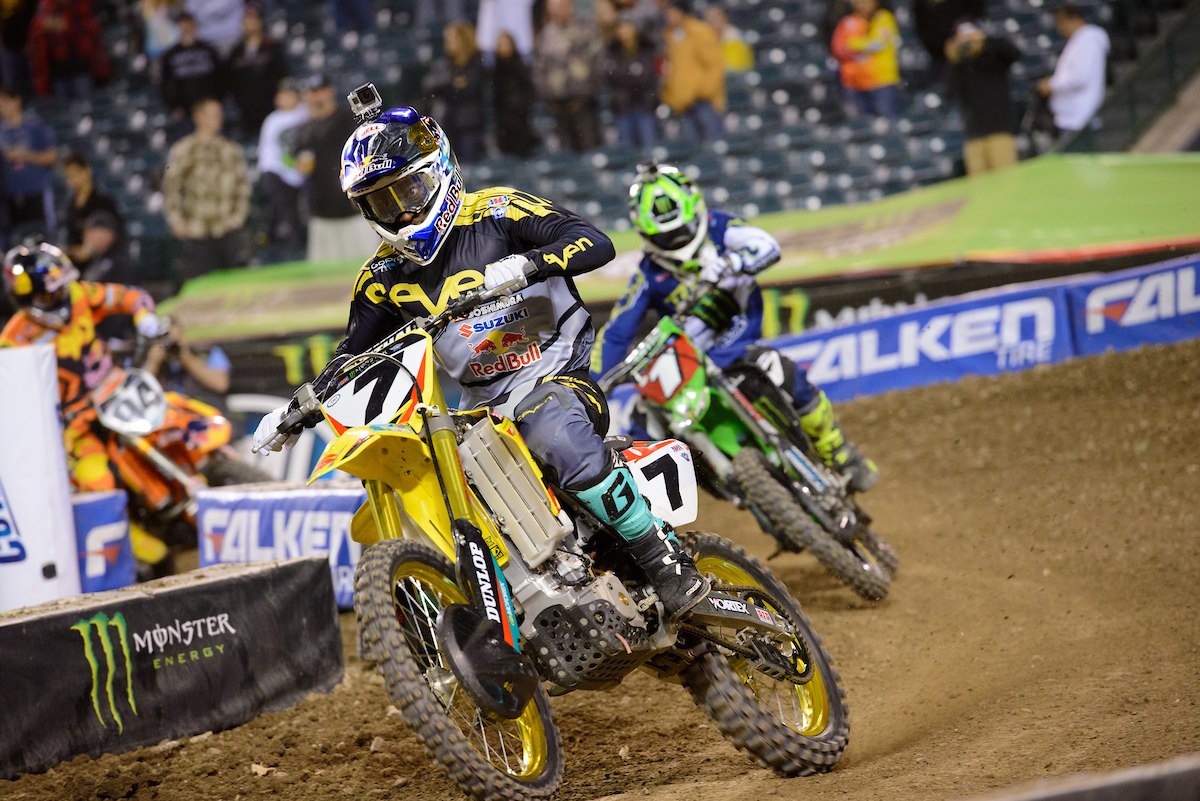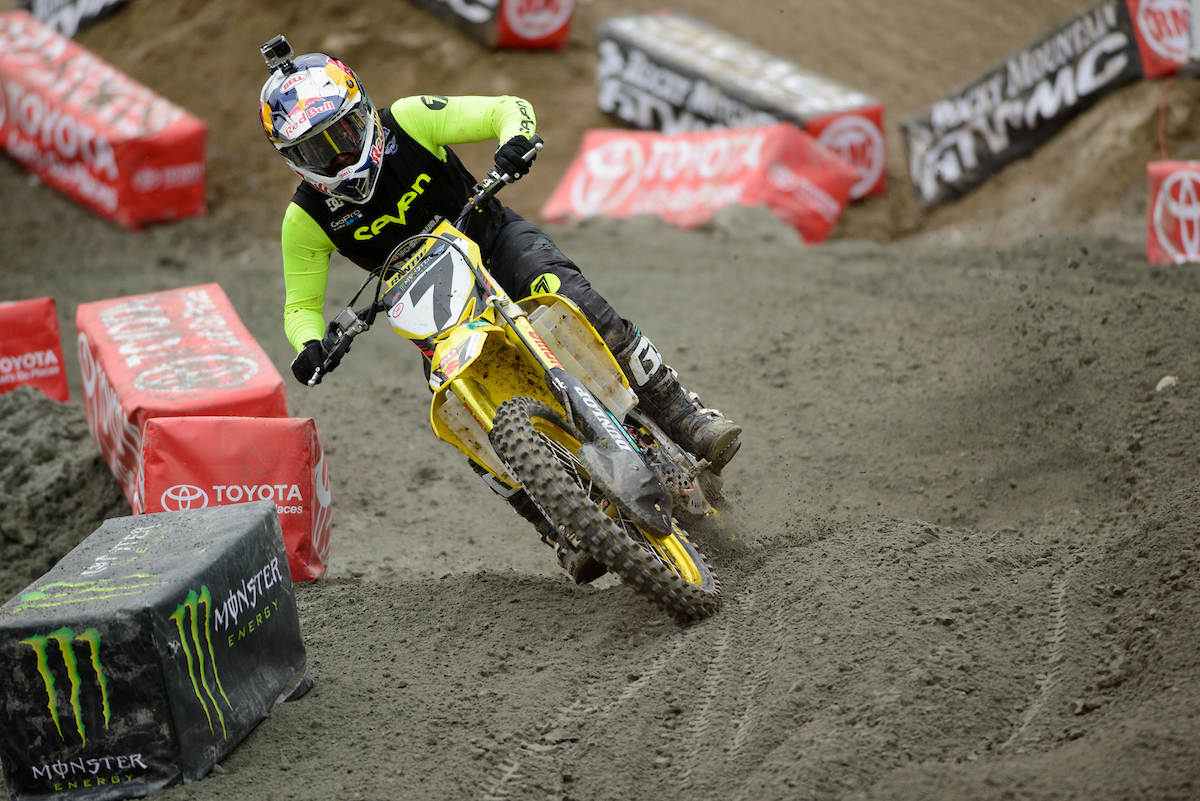 Matthes- You have to admit, Seven has done a good job with their gear line since launching with JS7, lots of unique looks that other brands have copied and it's funny, they're a small still-new company but they seem to already have a lot of cache with riders and kids. 
#9. –  TLD
Cole Seely Mugen replica
"Like the Zebra, I liked the modern twist better than the original."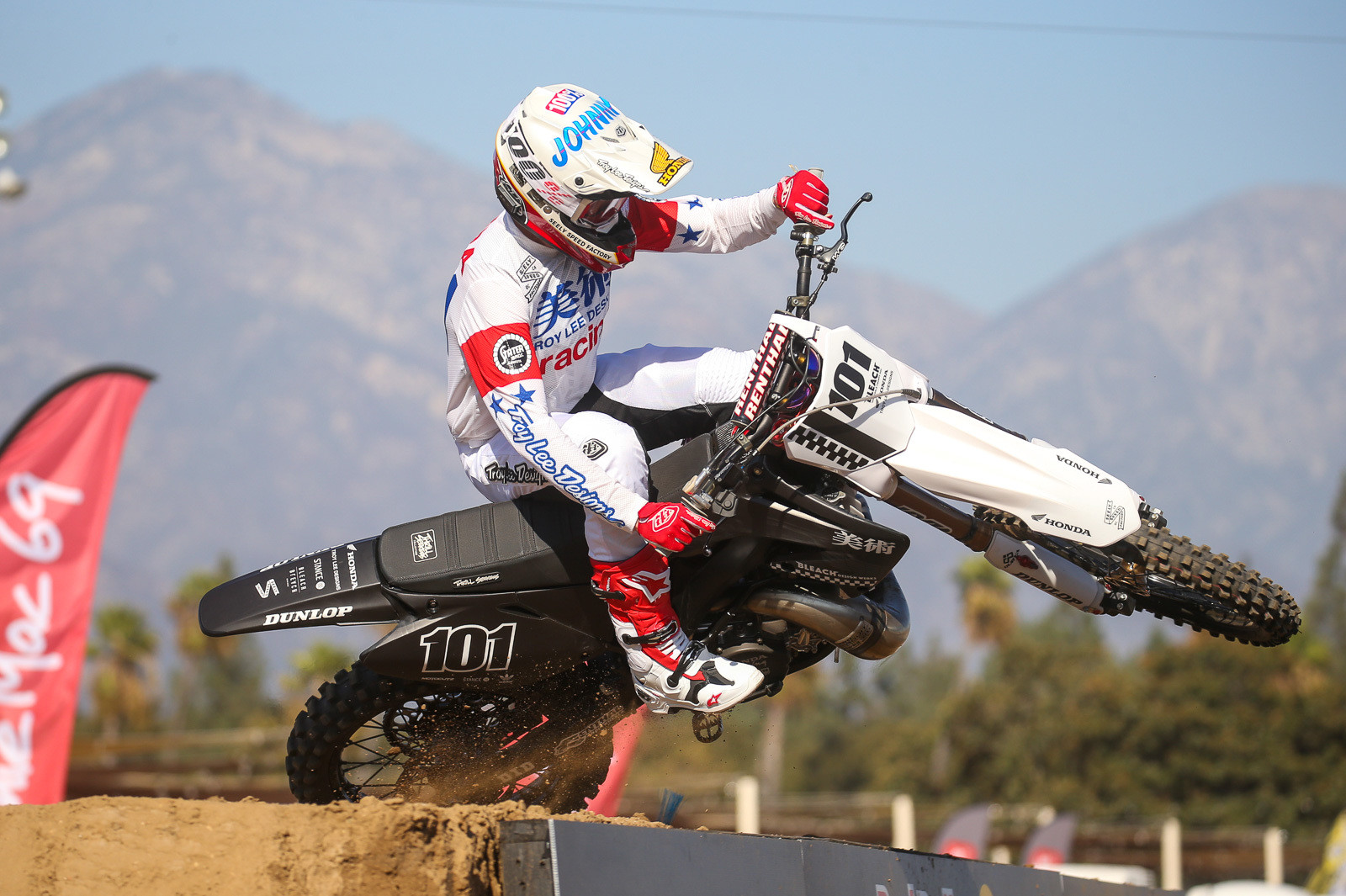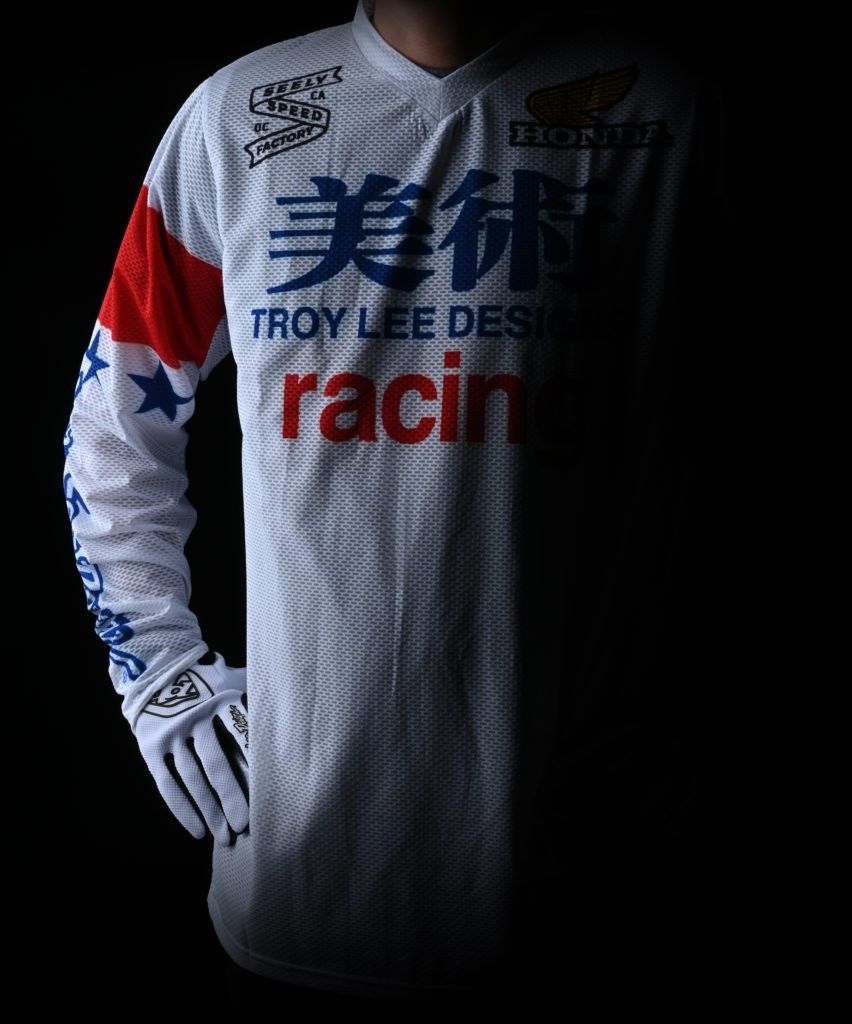 Matthes- I don't know if it's my age, my design pallet or what but there's not many TLD sets that I've ever really liked. Fox, Shift, Thor, Seven, Fly- over the years there's always been stuff that I've liked from one company or another but TLD, nothing really stands out for me. I just don't know what it is.
#10  –  FOX
Ken Roczen One off Anaheim gear
"The return of Ken to Anaheim after his crash was special just like his gear with the color just on his injured arm. Very clever."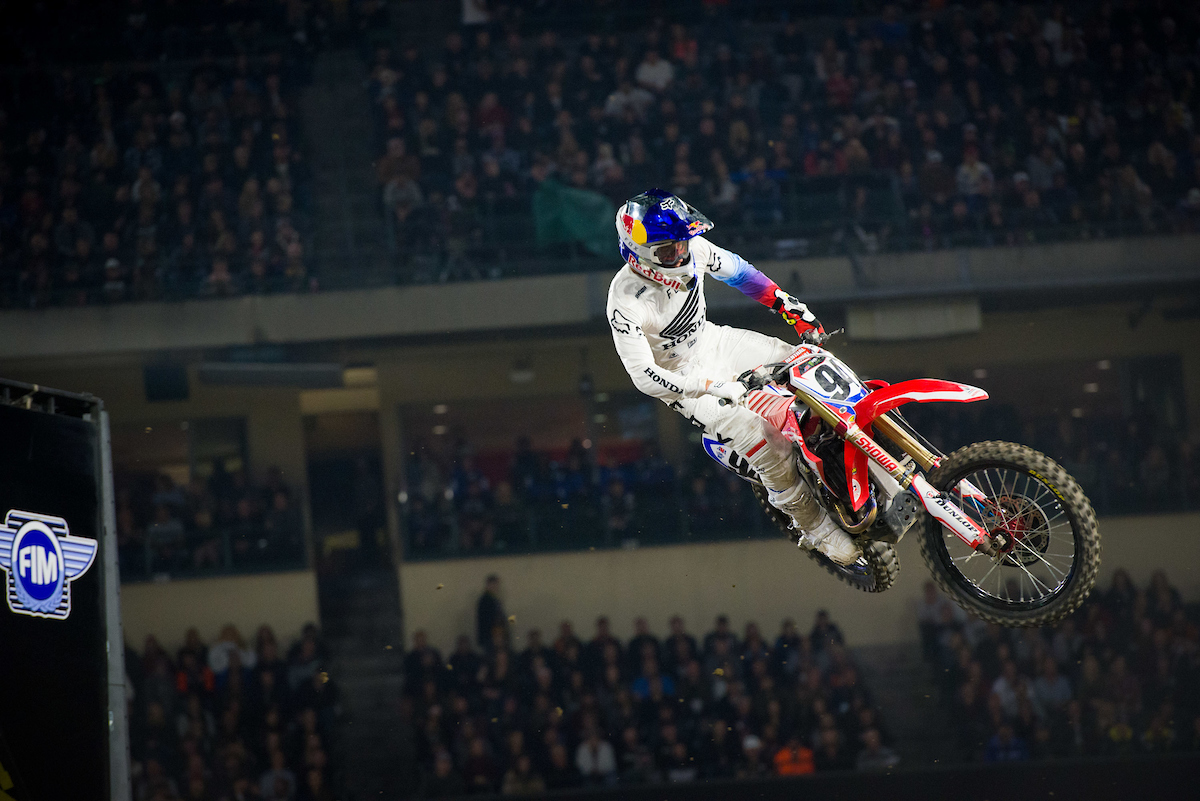 Matthes- Every gear company guy out there looks at FOX and what they do for inspiration or admiration and if they say they don't, they're lying. FOX always brings it for their riders and that's one of the reason guys want to ride for them. Yes, they seem to do a shit ton of LE stuff that I can't keep track of but this was really cool to do.
"Bonus points for the FOX Forest Green kit worn by Doug Henry."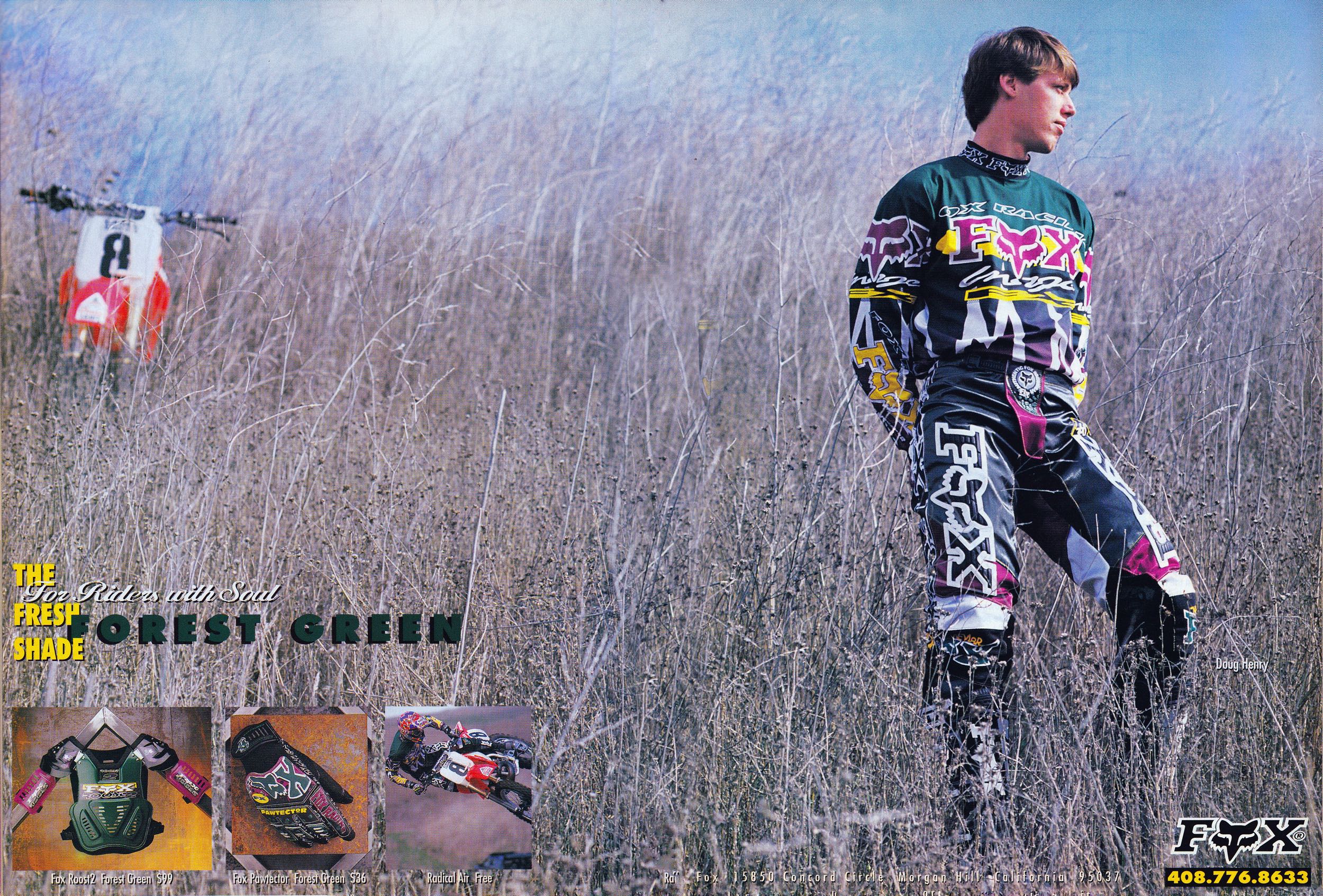 Matthes- These colors, and the black and gold stuff that I actually had, were so different, so unique for the time, it blew people away. After a bit of a lull with FOX where AXO stole some limelight away, FOX came back big-time with this stuff in my opinion.