With only 3 races remaining and 150 points up for grabs, Dylan Ferrandis has a comfortable 39 point lead over Ken Roczen in the 450 class while Justin Cooper and Jett Lawrence are separated by a mere 3 points in the 250 championship.
While both Dylan Ferrandis and Justin Cooper are leading their respective championships, how they are leading is very different. Dylan Ferrandis is moving forward through the pack each moto while Justin Cooper starts upfront and doesn't make any major mistakes. Let's take a look at each of these battles via the stats.
Dylan Ferrandis vs. Ken Roczen
Many will point to Ken Roczen's moto 1 DNF at round 6 in Millville as the reason why he'll likely lose the 2020 Pro Motocross championship. While that was very clearly a turning point in the series, its arguably not the primary reason. When you compare the stats of Dylan Ferrandis and Ken Roczen, Roczen is dominating all but one critical stat.
– Ken has been fastest qualifier 5 times compared to Dylan only 2x
– Ken has 2 holeshots to Dylan's 1
– Ken has 7 moto wins to Dylan's 5
– Ken has led laps in 10 motos to Dylan's 6
– Ken has been fastest in 4 motos to Dylan's 3
– Ken has led 129 laps to Dylan's 54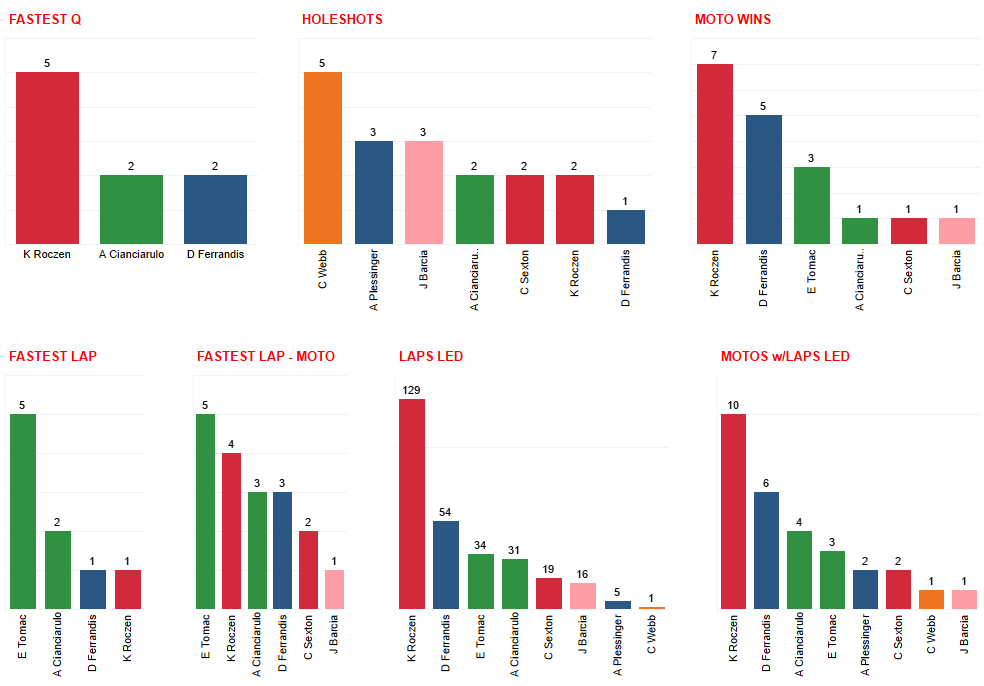 The one exception – Dylan Ferrandis hasn't lost a position in a single moto all year (change between first and last lap). On the other hand, Ken Roczen has lost positions in 6 motos for a total of -25 lost points. If he had held his position in these 6 motos, he'd only be down -14 points to Dylan. 14 points is a significantly smaller deficit that could be made up in a weekend of racing. Unfortunately, Ken's had a small handful of less than optimal motos that will make it near impossible to win this championship.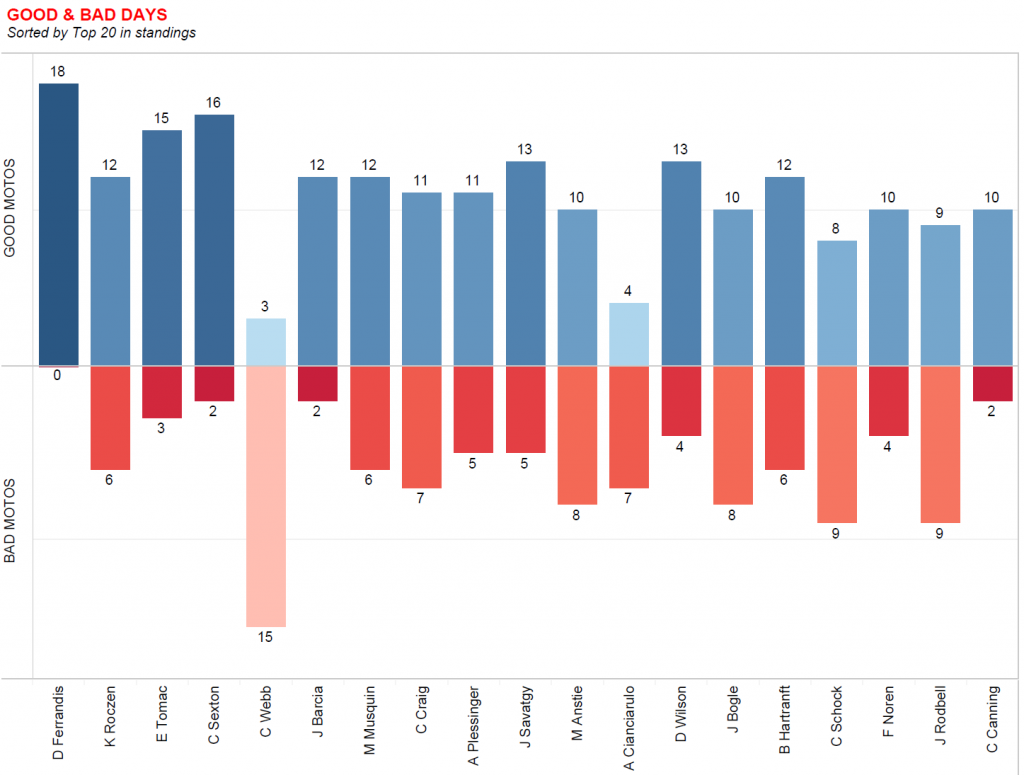 Justin Cooper vs. Jett Lawrence
Unlike Dylan Ferrandis who's leading the 450 championship but doesn't lead a single key stat, Justin Cooper is leading the 250 championship AND almost all key stats. The only major stats category Justin doesn't lead is Motos w/Fastest Lap – Jett Lawrence has 6 and Justin is tied for second with 4. Based just on the key stats, you'd expect Justin to be dominating the series, but instead he's got a very small 3 point lead.
The fact that he doesn't have a bigger lead is even more surprising when you consider he's rounded the first lap in either 1st or 2nd position in 15 of 18 motos. He's been upfront and in the position to win a lot.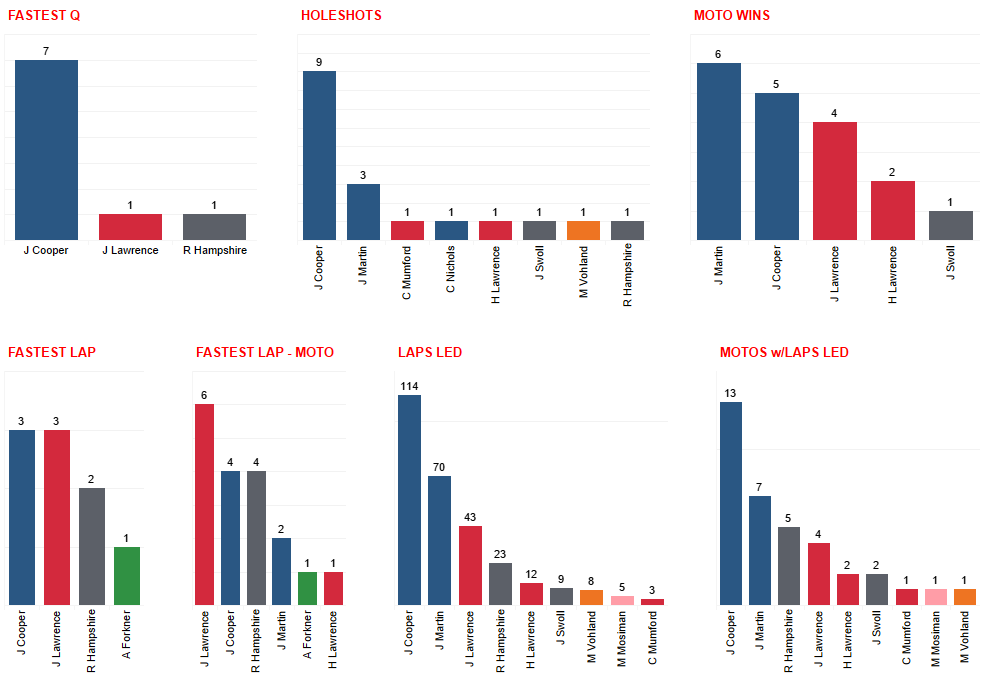 The issue is that he's lost positions in 9 of 18 motos which translates to a total of -49 lost points. If Justin Cooper was able to maintain his position in the 9 motos he's lost positions, his points lead would be 52 points right now!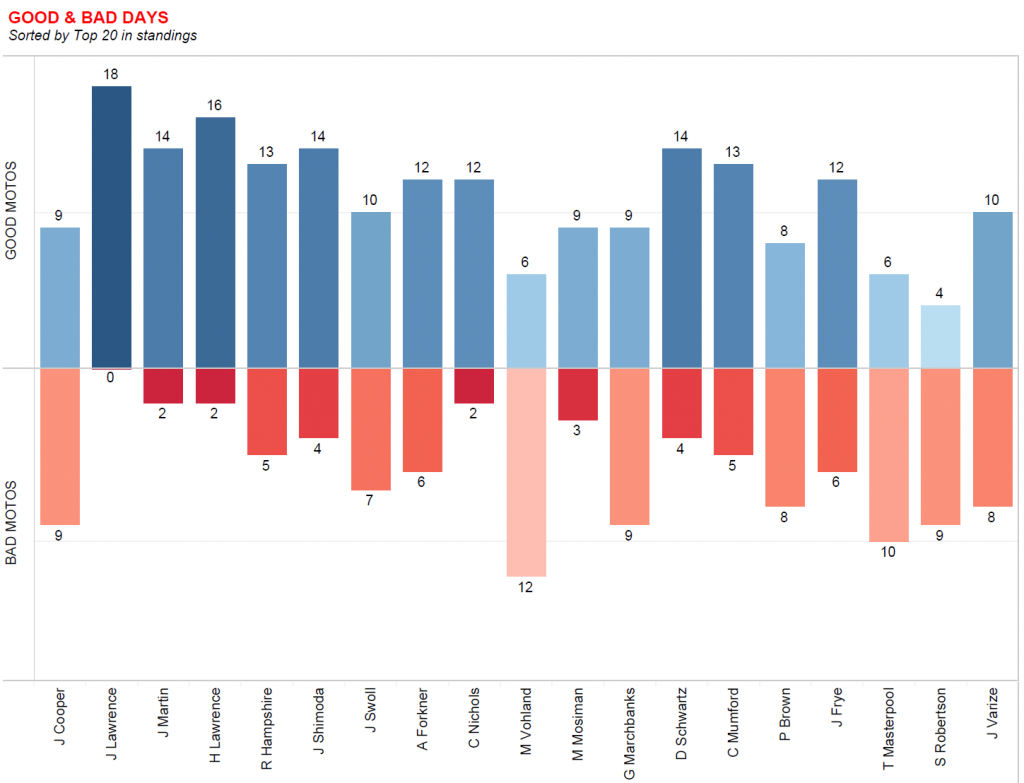 On the other hand, Jett Lawrence has only started in the Top 3 in 5 of 18 motos. In stark contrast to Justin Cooper, Jett has improved position in all 18 motos which has kept him in the title hunt. Most interesting over the last 3 rounds and 6 motos of the 2021 season will be whether Justin can hold his position and if Jett can get good starts and not have to come from behind. For both Jett and Justin, this will be the key to their season.
Got stats questions or want to bench race, hit me up @3lapsdown on Twitter or Instagram.