I get the question of how I met a guy from Florida and became his mechanic a time or two so I thought I'd tell that story.

I get the question of how I met a guy from Florida and became his mechanic a time or two so I thought I'd tell that story.
"…out on the road today
i saw a dead head sticker on a Cadillac
a voice inside my head said don't look back
you can never look back…"
I love the song 'Boys of Summer' by Don Henley and I suppose that most of us reading this right now have a song that when they hear it, takes them back to a time in their life when things were good or maybe a time when things were simpler. Like you know, when things like bills, careers, family and the like don't get in the way of living.
That song by Henley reminds me of 1987 (the song was out in '84 but I suppose I caught on late) and I was all of 14 years old. I was into comic books, hanging out with my friends and racing dirt bikes. I had an '87 CR80 which was a bad-ass bike and coming from my old '84 YZ80 which I rode for three years, it was like the space shuttle compared to a VW Bug! Like Don says in the song, a voice says don't look back, you can never look back but we all do it and we all forget the hardships back then and remember only the good times.
I was in Germany in the winter of '98/'99 working for a KTM team lead by a guy that I really didn't like. I always thought it would be so cool to go off and travel Europe to chase the GP's (and still do). I was living my somewhat dream but hating it. The first GP was in April and here I was in January and I really wasn't sure if I was going to make it to that first race. I was working for a kid from Finland and he wasn't really going to set the world on fire and you didn't need to be Tony D to see that. The previous year I worked for the FMF Honda team and really didn't do that great of a job, I was let go (for more on that season check THIS out ) and my prospects of a job in America were pretty bleak. I had a few nibbles here and there and I could've gone back on the road as a privateer guy but that wasn't really what I had in mind. I had decided that I wanted to pursue this mechanic career further so that meant I had to get on a legit team (if one wants to call Planet Honda, Demarini Suzuki "legit" teams that is) but there wasn't too many offers my way except for one by an ex-factory rider Billy Liles who I had met at Loretta Lynns and who had a ton of connections in Europe as he raced over there for years (Billy should've won the 500 title in, I think, '92 but he broke his leg while in the points lead). Liles set me up with this German team and I went over there bright-eyed and bushy tailed.
Too make a long story short, I was hating it. It was expensive to live there, I wasn't making any money and the team owner was in some sort of "How little parts a team could use in one year" contest. I knew this wasn't going to go well when I asked for some new rear brake pads and was told there was plenty of life left in said pads. So a couple days later when my guy flew through a snow fence while practicing in the sand due to no brakes, I had a few choice words to say to the owner.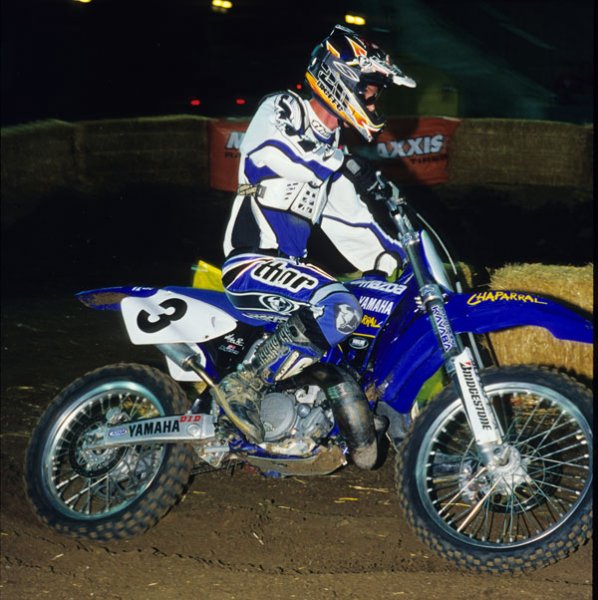 Here's Ferry later on in that summer of '99 racing Summercross. Which we know that he won.
It wasn't going well at all but my luck was going to change one night when I checked my pager (yes I said pager kids) and there was a message from Steve Russel, the owner of Noleen Yamaha. Steve said that his mechanic had quit on him and that my name had come up in regards to getting a replacement and could I call him ASAP to see if I was still available. I quickly figured out the time difference and I was in luck, it was still business hours in California. When he answered and confirmed that I could have the job if I wanted I felt like I had won the lottery. He just had one simple request, be at Anaheim stadium this Friday for practice as it was now round three of the '99 Supercross series. I didn't mention that I was in Germany and that I had a job already, those were trivial details in my mind. I WAS going to be at Anaheim to work for his teams rider who was, by the way, a guy named Timmy Ferry.
I made some calls, got a flight changed (thankfully I left my return flight open ended because somehow a voice was telling me that this move to a strange country just might not work out. However I do have to say that the day I got my dial-up AOL internet to work in Germany remains firmly inside the top ten happiest moments of my life) and the next day in Germany was going to be my last! I quit the team, got a ride from my rider to the airport and flew off for Anaheim!
What did I know about Tim Ferry at this point? Not much, I knew that I always saw him and Ezra Lusk together outside of the track. They were like Matt Damon and Greg Kinnear in that "Stuck on You" movie. He got screwed by the AMA by getting kicked out of the 125 class after he won the title, he was in his second year of being a privateer in the 250 class, he kind of sucked in '98 and I once was behind him when he was checking into a hotel one time. That was about it. At this point I was back in America, back following the supercrosses and even though I had to drive a box van once again, I was more than happy to take the gig. Being in effing cold Germany, being broke and hating life gives a man great perspective on things no?
I flew into LAX on the Friday morning of Anaheim 2 practice and who was there to pick me up but Ferry himself (the guys at Noleen had asked him if he knew me and he said he kind of did but he was mistaking me for Alan Terlecki, who worked for his brother Ryan, and that would explain I saw him waiting for me and he never looked my way when I walked up to him. He was looking through me looking for Alan! This super-team was off to a flying start already.) So once the introductions were made, it was off to the stadium to work on a bike I really knew nothing about. Luckily, it was prepped for the race already and I didn't have to do much but change tires, wheels and put gas in it. I don't remember much about the race really. I do remember that my future wife was there and very, very excited to see me. She was at the races with her friend and didn't know I would be back from Germany. So I remember that, and I also remember being extremely tired with the no sleep and I also remember that Ferry made the main and finished eleventh and first privateer.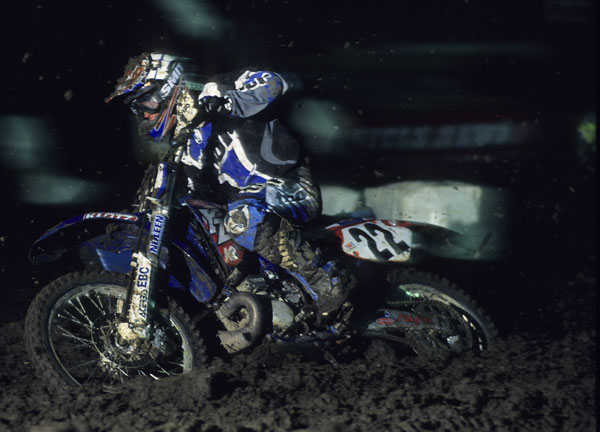 Ferry in his first year of privateering it in 1998 on the Noleen Yamaha.
After that race the next race was in Tampa which meant a long-ass drive and I would be on the road for a while. I had to stay behind while we got some work done on the box van as well as get some pipes for the trusty YZ250. I was forced to leave late because of all this and tried to drive to Florida with barely any sleep. Because he was from Florida, Red Dog had press day on Thursday but I had to break it to him that I couldn't make it…and then come Friday morning for practice I was sleeping in a rest area when he called and asked where I was! I had fallen behind in the driving while trying to catch up on sleep and one week into the job, I was already screwing up again.
Thankfully I made it with no time to spare and Ferry got out there for practice. Years later he would tell me that he had some serious doubts about me at this point. As far as the race goes, I remember that he passed Jeremy McGrath in the air over the triple in the heat race when MC wasn't able to get the traction he needed. And I remember that he crashed out late in the main while in around tenth or so. I began to see that Timmy was really on it and riding very well. He would go on to have some great rides later that season including a third at Indianapolis. A Top Privateer award would be his at the end of supercross and then a Chaparral ride (for both of us) for the outdoors but although his riding on the track was going pretty easy, behind the scenes we were struggling to get by.
There we were both of us dumping money into the team to get the van to the races, shared hotel rooms when my credit card didn't work and I vividly remember both of us sitting inside the box van in Minneapolis with nothing but a propane heater keeping us warm while Ferry ate some Top Roman noodles after practice. We really had to work as a team and figure things out as we went because there was no one else around to help out (I had a very similar experience working with Nick Wey at Moto XXX in '02. The two years ('99 & '02) were so much alike in so many ways, its eerie.)We became good friends along the way as well, his wife and in-laws welcoming me in when I was in Florida. I met Jason Thomas that year and he's become a life-long friend as well. There was so much good that year to remember that when I do look back (despite that voice in my head telling me to not look back, you can never look back) I realize that it was the start of a couple of friendships that run strong to this day.
So just like when I think of that 1987 CR 80 and think good thoughts, I think about that 1999 YZ250 and nothing but great memories fill my head. Maybe you can look back after all…