Remember when I said that this site is as much yours as it is mine? Well I may be regretting that move because guys like this are sending stuff in.

Remember when I said that this site is as much yours as it is mine? Well I may be regretting that move because guys like this are sending stuff in.
I met Moser (on left) in Seattle last year when Weigandt and I were just hoping to grab a quick bite to eat without being bothered by our "fans". Once seated it seems that someone bought our drinks for us which caused Weege and I to get really excited thinking that maybe some supermodels saw us from afar and decided to liquor us up and take us back to the hotel for an orgy. Unfortunately, it was just this Moser guy and his buddies and although they had their chicks with them, they seemed to really like one another quite a bit. We kept in touch and his apparent man-crush on Andrew Short was more and more evident each time I saw him. And did I mention that his buddy once broke down in tears when his hero Ryan Villopoto won the Seattle SX? Yeah, that's right, quite a pair. Anyways, he got jealous of Swizcore and all his fame he's getting from helping me out here on Pulp so he decided to write his own column on the 250SX class and it's actually pretty good.
Follow him on Twitter @CLMoser if you get a chance- Matthes
My Thoughts on the 250F/MX2/Lites Supercross Class
By Moser
Swizcore has been contributing almost as much or more content than Matthes to pulpmx lately so I felt I should help pull my weight and write something for you jerkies® to read. Swizcore also claimed his write up of the Supercross class took less than 15 minutes so the clock has started lets see how fast I can bust this out. Titslegendary has a News corner in the Pulpmx office now so I figure I'd better stake my claim before this ship sails. To channel my inner Matthes I've climbed into bed with plenty of snacks and soda within reach, switched the TV channel to a hockey game and invited my dog up onto the bed, as to what I'm wearing use your imagination. Also I'm not a journalist and everything that follows is nothing more than my Observations® and opinion, if you don't like it you can Suck It® Any comments please email me at jasonw@racerxill.com
15. Dean Wilson
He has to be a class favorite for next year, with a solid rookie season under his belt, and the juggernaut Pro Circuit team behind him there's no doubt he can win a championship, although weird things happen when everything looks to be going your way, my guess is he will end up on east coast again this year. Dean also has a cool mechanic Paul and they seem to have a great relationship (if only Paul would let me follow him on twitter). Let's hope Dean has his visa in order this season if not Mitch might want to put him on the West coast.
17. Justin Barcia
The new king of Bercy had a decent freshman supercross season, although some had higher expectations for him. He's fast enough to pull off a win or two me thinks® but not sure he's light enough or consistent enough for the championship with such a short season every point counts. Let's hope he keeps running into people because it's entertaining for sure. East coast again I heard it at the water cooler.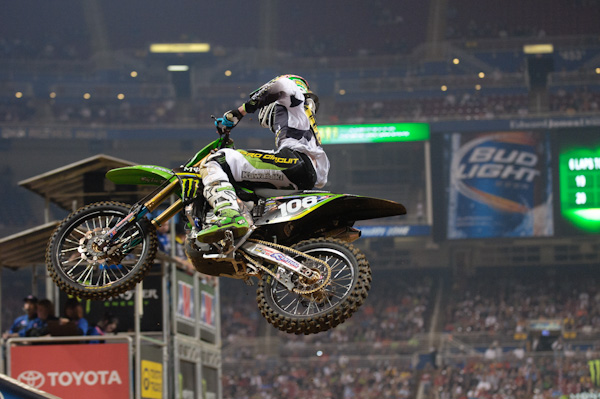 Moser really likes Dean Wilson to have a strong 2011.
19. Eli Tomac
Wildcard!!! I love the rookies every season because you just don't know how they will do but they always hold it wide open and show no fear. With a textbook riding style, conditioned stadiums (no heat stroke) his old man and Ryno in his corner I wouldn't be surprised to see an upset championship out of him ala Trey Canard. Likely west coast because I said so.
20. Broc Tickle
Lance says it's not about the bike and I guess we'll find out this season with Broc switching over to the Pro Circuit squad. Could be his year he's got the speed and experience and now the bike so time will tell. I think Broc has finally shook the drama caused by thanking his girlfriend and dog on the podium except everyone continues to bring it up. Also it's perfect Monster harmony under the Tickle roof now as both Broc and his girlfriend work for Monster, their Unit clothing ad is pretty cool too. West coast.
21. Blake Wharton
Purple rain has one of the best nick names in the pits in an era of lame nick names. Blake had a rough season in 2010 and I think he can turn it around in 2011 I've always liked Blake or maybe I just like his hair but if he can keep his head and hair off the ground I think he can be on the podium all season. Although his weekend in Bercy he spent a lot of time on the ground. Last year he got thrown into the West coast at the last minute to fill in for Metcalfe and didn't look quite ready, I think well see him on the East coast this season.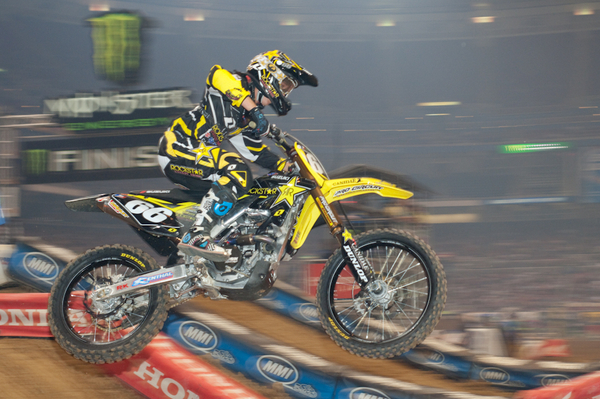 Moser thinks that Blake's refusal to give Mitch Payton the middle finger after being passed up for a PC ride helped him the long haul. I agree.
23. Martin Davalos
Really fast one weekend and off the next. Maybe the switch to a Suzuki is the change he needs to find some consistency. East coast.
25. Ryan Sipes
Some people (Matthes cough cough) have said Ryan's move from Motoconcepts to Star Racing was a bit of a parallel move, I tend to agree. But I'm going to cheer for anyone who knows how to make moonshine though. Let's hope he gets the win that he came oh so close to getting last season and deserved. He's got to be running out of time in the lights class though right? East coast.
* Swizcore is a liar I've passed the 15 minute mark how many numbers do I have left?? I have to pee.
28. Tyla Rattray
It doesn't seem like rookie and Rattray belong in the same sentence but we've yet to see him in supercross, rumor was he was flying before getting hurt last season. He's Mr. consistent and that wins championships, another upset contender in my book. West coast this year will allow him to heal up prior to the outdoors if this rookie supercross season doesn't go as planned.
31. Wil Hahn
Starts, starts, starts, everyone knows if you can pull the start and get a clear track in front of you it can make for an easy night and paycheck, I think this is Wil's biggest asset. Moving over to the GEICO team can't hurt either, consistent podiums and title contender for sure. West coast.
35. Kyle Cunningham
Kyle tends to blend into the pack or I just don't notice him as much for some reason, top ten guy. West coast
36. Cole Seely
Cole has some great rides last season and was a bit of a surprise I'd never even heard of him prior to last season. He's more of a supercross specialist, top 5 guy and wouldn't be surprised to see him challenging for wins. West coast.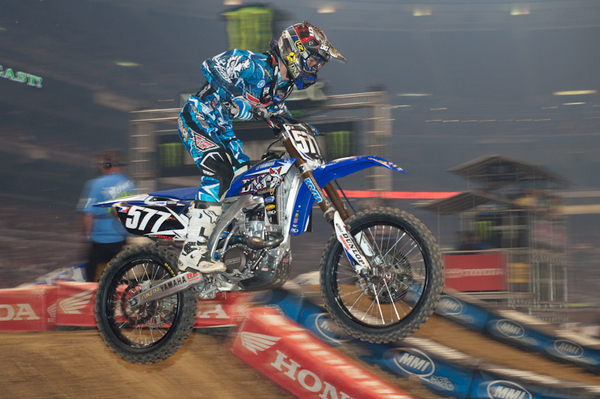 Davalos is on his third team in three years and Moser isn't sure how he's going to do.
37 . Darryn Durham
"DD style is a cross between Fergie and Jesus" that's a Josh Hill quote and I know that Red Dog Timmy Ferry is also a big fan of DD riding style, he looks great on the bike and if you don't follow him on Twitter your missing out. I don't know much about the new team he's riding for Eleven 10 Mods. He showed a lot of speed last season with some bad luck holding him back. I was hoping to see him get a ride on one of the top supported teams but lets see if he can put Eleven 10 Mods on the map. I see him as a top 15 rider. West coast.
40. Tommy Searle
With a Pro Circuit ride for Supercross and then moving over to the FIM GP series it will be interesting to see how this plays out. Pro Circuit has a proven bike..Shocker®.. and I think well see some solid results from Tommy this year (it's not often you don't from a Pro Circuit rider) I'm assuming West coast to accommodate the GP schedule.
42. Nico Izzi
Just realized he's riding for HOT next year, those bike graphics are sweet and looking good although not important for corner speed has got to help you through the whoop de doos. I hope to see him turn his career around but he would be the minority, he seemed to struggle in the outdoors but looked to be gutting it out coming back from injury and the dreaded riding yourself back into shape which is admirable. Maybe some time off if what he needed to pull it back together. West coast.
43. Weston Peick
Don't think he has a ride for next year yet.
(Ed note; Weston is not riding 250SX next year and has never ridden 250SX because he's the size of a two Moser's put together but that's ok, everything else in here is pretty factual so we'll let him slide on this.-Matthes)
44. Les Smith
HOT team he'll look fast without even moving
46. Alex Martin
DD teammate on the Eleven 10 Mods ride, for sure some of DD awesomeness will rub off onto him.
48. Matt Lemoine
No ride yet really? Didn't he have some solid results last year?
49. Ben Evans
MB1 Kawi looks to be the teams lead guy
51. Steven Clarke
Name sounds familiar couldn't find who/if he has a ride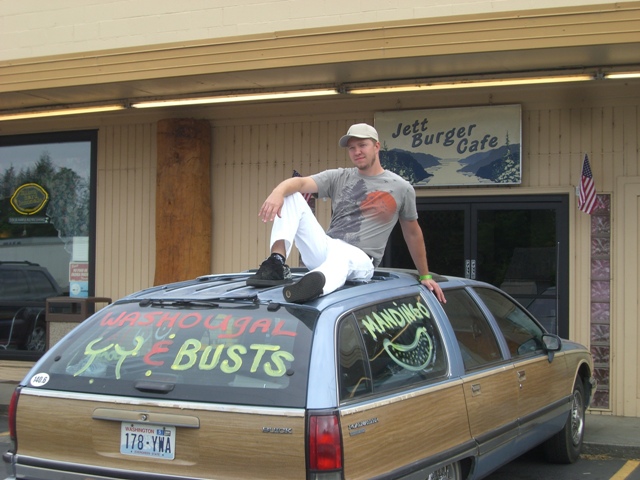 "Hey let me put on some tight white pants and a shirt that Zach Galafanakis would wear in the Hangover and then get up on my wood paneled station wagon and you guys take a picture of me." Ladies and gentlemen, I present to you…Moser!
52. Max Anstie
On the same ride as Searle and come to think about it they have similar results the last few years, both have shown speed but have had injuries. Max got banged up in Bercy I believe not sure how bad. Look for him to be a solid top ten guy, West coast.
55. Tommy Weeck
He's from the N.W. like RV, Weimer, Hill and myself so he's a badass by default, his pro debut thus far has been full of injuries, doesn't look like he has anything lined up for next year but you never know when you may get the call up to fill an injury spot happens every year.
56. Phillip Nicoletti
Heard the name before no ride yet for next year
57. Blake Baggett
Another rider drawn to the dark side as I'm sure some view the Pro Circuit team. With a rookie Supercross win under his belt from last year with the help of a lapper well see if that second win comes easier or harder in his sophomore season. Blake patiently waited for a chance to ride under Mitch and it goes to show that by not giving Mitch the middle finger last year paid off and now he has his shot. The inevitable mental side of the motorcycle racing game and confidence in the bike and program will have Blake on the podium for sure this season. East coast again this year as West coast will be full with other Pro Circuit riders.
58. Travis Baker
On the TLD team this year and with Ping's leadership gone he has a chance at some solid results this season, (joking of course). TLD's team has improved with every year on the circuit and Baker seems like a perfect fit over there challenging for top 5 rides.
61. Austin Howell
On the will ride for food program with several other fast guys
62. Robert Kiniry
How can all these nationally ranked riders not have a ride for next year?
63. Justin Keeney
Another N.W. guy, he hucked the biggest jump at Albany, OR on an Demarini Suzuki 80 in like 1999 I'll never forget that. Looking for a ride BTW.
65. Hewitt Hunter
No ride yet, I know a guy who's name is Hunter the jokes are endless.
66. James DeCotis
Unemployment line, have you seen the 125 2 stroke video on YouTube with DeCotis? It's legit and reminds me of the good old days.
71. Ryan Morais
Mo grew an impressive mustache for Movember and I hope he keeps it for the season as it also displays how long he's been in the lites class, he's been in the lites so long that mustaches were in style out of style and now back in style. He was a threat for the title last year before a wreck that will be on the highlight real for years to come. He looks comfortable on the Suzuki and it would be great to see him finish an entire season sx and mx nationals. A title favorite this year Stamp It® and if not likely off to the 450 class in 2012, maybe. He's also the brother in law of SUPER fast Andrew Short which must be a huge asset to Mo's program. West coast he always rides West coast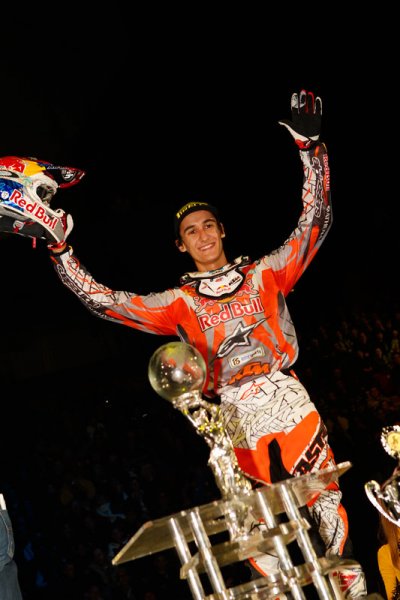 Too bad Moving Marvin got hurt at Bercy, Moser thinks that his closeness to Andrew Short is awesome.
72. Nick Palluzi
I thought he looked good on the JGR fill in ride doesn't look like it turned in to a ride for 2011 and that's too bad he seems like a fast enough and nice enough kid.
77. Ian Trettel
I'll plead my ignorance, I've heard Trettels name throw around I know he'll be a rookie this season in Supercross and is riding for the Rockstar Suzuki team. That's about it but you know what they say about rookies….see above…..East coast
78. Sean Borkenhagen
He just won the Hart Privateer challenge in Vegas that's got to help him find a ride for next year, at a minimum he has 10k in his pocket.
99. Ryan Abrigo
Yet another N.W. guy we're pretty well represented with national numbers this year.
100. Josh Hanson
The playboy, currently holding the title of the longest hair in the pits. One of the smoothest riders on the circuit he's got the bike and the speed but can he find the focus and luck to win a championship, sometimes you make your own luck? I think Josh is entertaining and adds some needed Color® to the sport. He should get some wins this season and anything less would be a disappointment. Racing down under has to help his momentum going into the season and I don't know who's call it was but I think it was a good one. Also a veteran of the class I look forward to seeing his new beginning when he jumps to the 450 in 2012 maybe. East coast.
144. Christian Craig
After coming back from a career ending crash last year it's great to hear Sting Jr is going to be racing again this season. Probably going to start out slow he should gain confidence and speed as the season goes on. Top 10 seems realistic. West coast.
525 Marvin Musquin
There was a lot of hype surrounding Marvin and I was a believer yet a torn ACL in Bercy is the first bump in the road in his trip to USA. I would guess we won't see him until the nationals but I'm not a medical doctor man. He's also Andrew Shorts teammate which is awesome I can't imagine how cool hanging out with Shorty every day must be.
** Jason Anderson
Rockstar Suzuki another rookie, this years highly touted® Lorretas graduate you just never know.
** Gannon Audette
Euro guy riding on the Star racing team, your guess is as good as mine. East coast (ed note: NOT a Euro guy. Good job-Matthes)
** Gareth Swanepoel
See above, West coast
** Ken Roczen
Riding KTM under the man for SX only in 2011 I think we'll see something similar to the arrival of Pourcel and solid results right out of the gate, with a huge following in Europe but flying under the radar a bit here in the USA. People (whomever those people are) say he's super fast in supercross (pun intended). He was fast at the MXDN besting Canard in every race I believe so he's doing something right, and with linkage and fuel injection on his KTM anything is possible. Also Jacki Short is a fan that means so am I. West coast.
I've likely missed some riders, if I missed someone you are a fan of write up your own damn pre season report. 2,356 words that's got to be right up there with anything Matthes and Weege put out. If you read this you really need to get a life not sure what that means about the guy who wrote it though.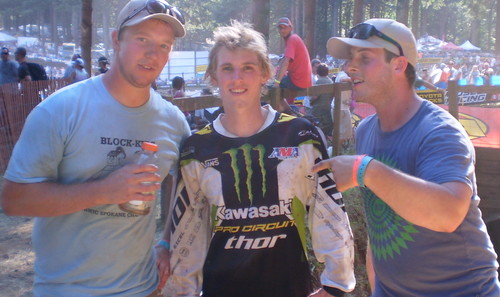 Moser (left) and The Cryer harrass Jake Weimer at Washougal. Thanks for this column buddy. Good job!