Before Mike Fisher was the team manager of the Factory Kawasaki team, he worked in R&D for over fifteen years and had a lot to do with this bike.

Before Mike Fisher was the team manager of the Factory Kawasaki team, he worked in R&D for over fifteen years and had a lot to do with this bike.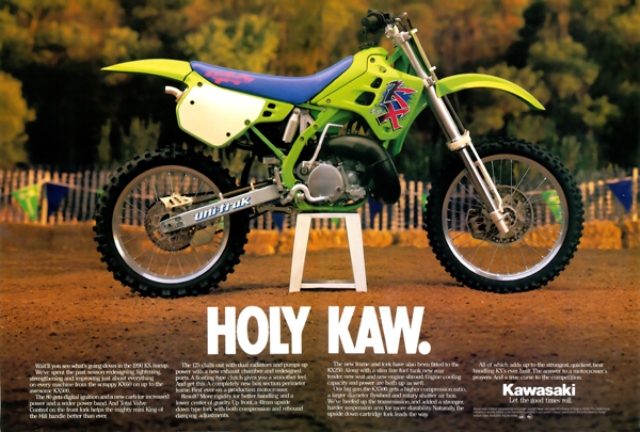 When this bike came out, it was pretty cool and even won MXA's 250 shoot-out that year.
"I remember a lot about this bike. This is the 1990 KX250 and it was pretty radical in its time. I was still racing for Kawi and working in the R&D department developing these bikes. A lot of people might think it's real glamorous being a test rider for these companies but really, it was the exact opposite. You couldn't tell anyone what you were working on, you couldn't go out riding with your buddies and everything you did took place behind closed doors.
I first rode this bike in late 1987 when I went to Japan for about four weeks. It wasn't this exact bike, it had some different routing as far as the radiator hoses are concerned and then the next year, the fall of '88, I went back for five weeks and rode the more finished prototype. The first bike I rode had the hoses in front of the frame and the actual frame was a bit different from this. We went out to almost every track in Japan. I remember that it wasn't too cold in Japan yet, you could still get in some riding. The bike was really different in that it had the perimeter frame and those aluminum extrusions that you see holding the upper shock. The bike was cool for sure.
There wasn't anything on this bike that shared the same part as the '89 model at least I don't believe there was much shared. Everything was new. There was some big controversy internally at Kawasaki because we went with upside-down forks and the 46mm conventional forks we had in '89 worked awesome. Those forks were sweet for sure and I think we had to go to the USD forks no matter what but with the new forks and that frame, it didn't work very good. These forks were not very good! (laughs)
The hardest part of that bike was those forks, my wrists still hurt from being slapped down at Carlsbad Raceway with that bike. I used to have to tape my wrists really good to avoid the pain!
This bike won some shootouts and was a good bike even with those forks. The old bike won pretty much everything as well. Even the '88 bike was considered the best chassis around. I think this bike was a little heavier than the previous model but it didn't feel like it. It was still really stable and I think it cornered well but that was probably due to the USD forks. Those types of forks really make everything stiff and help tighten everything up so that you feel like you corner better.
I think it vibrated more than the other bikes if I remember right and that wasn't good. But overall, the bike was bitchin' and we thought every year after this, it got better and better. We got that shock mount better and better each year. We went from these aluminum struts that were forged to some steel towers coming off there and then we made it all incorporated into the frame. The bike also got skinnier and skinnier. This bike was a little wide.
This time was the heyday of motocross bikes and there were new bikes almost every other year for everyone and this was about when the sales started dropping off in the early 90's. We had new plans all the time for bikes.
We tested this bike at Carlsbad a lot and everyone is always interested in everyone else's deal. There were these little dead end roads that were built and we would go there to park. We were instructed to stop riding by the Japanese if anyone ever stopped to look at us or if anyone got nosy. We would have to go back and cover it up.
My feet used to hurt all the times, my ankles also. Maybe it was my boots at the time and Mike Preston and I were testing and we just thought 'Dude, why don't we widen these pegs?" there was no reason to not do it. We made a set in Japan that were wider and were like "Wow!" They weren't even much wider but they made a big difference. The late 80's Kawasaki's came with the pegs and everyone soon copied that."