What a weekend, what racing!
What a weekend, what racing!
Photos by James Lissimore
We had two titles burning down to the wire, a big bike and little bike, four main events to watch and a crazy after party.
1W
Let's start with the most contentious of the title chases, the Lites West where my guy Broc pulled it off. I'll be the first to admit it, Broc was riding safe, as he has seemingly every week since his sole win this season. At times it has been frustrating to watch and I know it has been frustrating for him also to realize he hasn't ridden his best much of the time. It is kind of hard to argue against riding safe when it has resulted in your still being up 2pts heading into the deciding race though.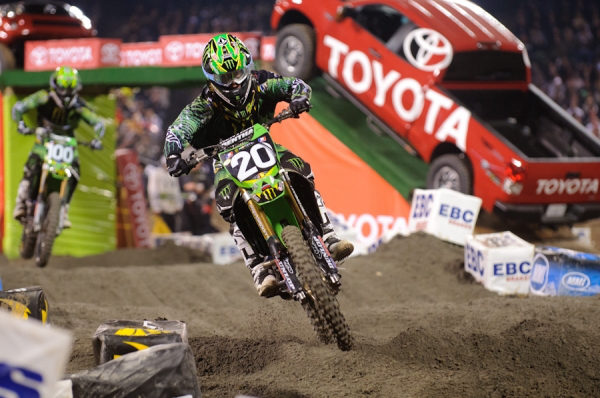 BT 1W.
I want to clear something up. We've heard time and time again, especially in recent memory(or more specifically since Bam Bam has entered the pro ranks), that every racer is gonna need a friend out there at some point, well example A people. Hold onto that point as we move along. The other cliche' we hear regularly is to succeed in this sport, you should always surround yourself with good people. Now, Eli certainly surrounds himself with good people, his parents from all accounts are awesome but perhaps Eli needs to extend that entourage a bit to include some of the fast guys he races with?
Maybe coming into the pro ranks so highly touted has isolated him a bit? Maybe he's rather shy? Maybe he needs to hate all his competitors ala Bob Hannah in order to perform his best?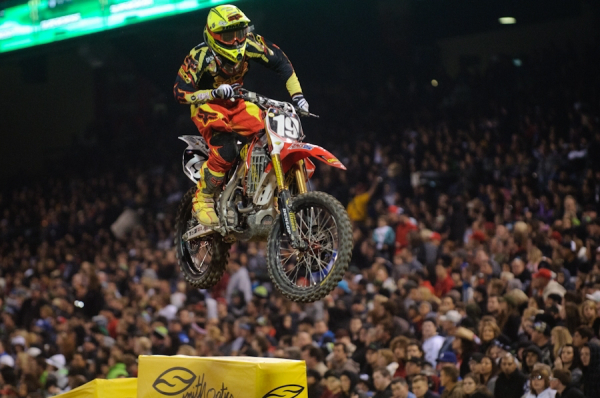 How will Eli respond outdoors?
Whatever the case, all of you people bitching and moaning about Cunningham and Seely "helping" Broc win need to remember those two key points we hear in this sport regularly. You're gonna need help out there at some point, and surround yourself with good people. Broc has done both of these, it's not his fault that they aren't also riding Pro Circuit Kawi's.
It's not like Eli was riding his best either in Las Vegas. He began looking back early in the race which is never a good sign and is usually followed by tightening up and mistakes, and they certainly came. There was the booter triple next to the ski jump which he doubled two laps straight and he never once tripled out heading into Monster Alley which was the faster exit from that section.
With all said and done, Broc would have been the Champ before we even got to Vegas in any previous year so the real hell to pay would have been between Mitch and Feld if Broc had lost the title.
1E
We knew this one was pretty much over barring a mechanical or lights out DNF before the gate dropped but Barcia was definitely looking to exclamate his title with a win, unfortunately THE corner(as Adam Cianciarulo was calling it on twitter during qualifying because there were many dudes washing out there) bit him and allowed an always crazy fast Sipes and surging Baggett by. Baggett's inconsistency was surprising following such a great start to the season but he showed his Daytona speed in Las Vegas again. That speed that makes him look unbeatable when he's laying it down. It's very impressive especially considering who he was racing with from the drop of the gate. Ryan Sipes has been the fastest guy in the east all year but made enough mistakes at inopportune times to sap his title hopes nearing the end of the series.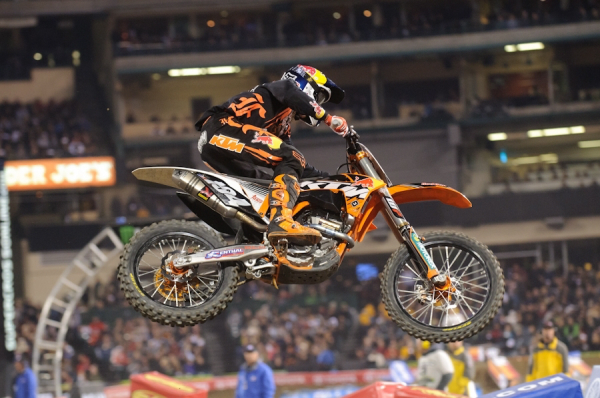 Ken Rocz'd the Las Vegas West Finale.
It really does amaze me how much speed Sipes picked up from last year to this. He must really feel comfortable on that Yamaha because he looks like a completely different rider in my opinion. Maybe it was all the time he spent on that 450 last year outdoors? Moving back down to the little bike may have just boosted his confidence in just man-handling that bike and pinning it?
East v West
I have a feeling we won't be seeing this format again judging from the effort put forth in the shootout this year. Hanny no showed(Watson says due to confusion), the two new #1's were mailing it in and for the most part, those really pushing it were the guys who, were it not for some bad races in their series, would certainly have been battling for the title in Vegas as well. It was a sort of consolation title race for the also-rans.
Sipes got his validation, as did Seely and the never say die Ken Rocz but from there down the finishing order, you could see their interest in the race represented by their interval behind the leaders.
We'll see if the format returns but with the way the teams felt before the race and the effort put into it, I'm betting they either revert to how it was every year before this, or find a truck or some worth-while cash to throw at it.
RV1
Ryan Villopoto has been trying to wash the bad taste of St.Louis 2010 out of his mouth for almost a year now. Heading into Vegas he needed only finish 5th or better to take the Championship and validate all the work he has put in since that sickening night in STL. I've said it before, RV believes he is better than Ryan Dungey and that injury forced him to watch Dungey collect the titles and accolades he envisioned himself collecting in 2010. That breeds a lot of contempt, especially with the manner which Dungey decimated the field outdoors, which is of course believed to be Villopoto's stronger series.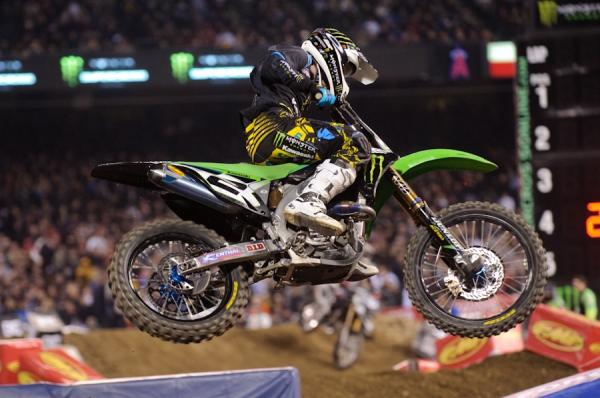 RV One. Persevered.
RV hired Aldon Baker and followed his program to a T in hopes that it would result in a quicker start to the season than he has shown in the past. An A1 win was proof positive that RV was indeed ready and though he certainly faced adversity during the year, he was resilient and sealed the deal in Vegas.
450
Windham's transfer was giant. It's always cool to see what he comes up with each week and I'm glad to see he's developed a partner in crime to the nose wheelie.
Did anyone catch the Crazyballs scrub on the ski jump at the end of his heat? It was incredible. A scrub that hard at that speed took my breath away, I don't think I was alone because the press box as a whole gasped when he did it. For a moment we all thought he was swapping violently off the face to a certain death but nope, just Crazyballs wowing us as usual.
Windham looked great at the start of the main and was keeping Stewy honest after he passed him. Stewy passing K-Dub was inevitable with him pulling the trigger on the quad. Kudos to the Elder Statesman though for picking up on it the next lap and matching it, that's ballsy!
Stewy continued to pull the quad and on lap 5 he clipped it slightly and while it didn't appear to affect him, maybe he was tightening up because two corners later he was unraveling in the whoops, once again crashing spectacularly.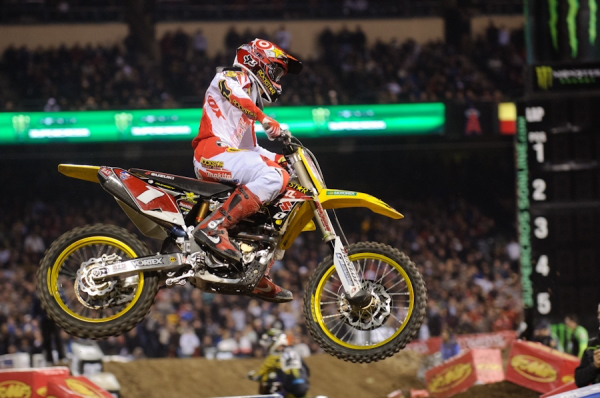 The Predator.
Unfortunately Stewarts crash veered to the left right into the fast line of the whoops where K Dub was charging through. James came to rest near the end of the whoops and K Dub attempted to manual James' bike and carcass unsuccessfully. K Dubs rear wheel pushed Stewy's bike into his body and it looked like James took a swing-arm to his ankle area. Ouch! Also claimed was K Dub who got pitched over the bars, a major bummer because K Dub looked to be riding well enough to pull down his first win of the year. K Dub uncharacteristically took a lot of big hits this year and were it not for Reed also getting collected painfully many times and finishing second in the series, I think that Bret Michaels deal should have gone to the old #14.
RV2 and Reed were quick to capitalize on the carnage and slightly behind them was the ever steady Dungey. Over the course of the next 6 laps RV and Reedy would battle while Dungey, seemingly invisibly, knocked time off them and found himself right in the thick of their battle ultimately getting by RV and giving chase to Reed.
I've been a proponent of calling Dungey the "Dungenator". This was based primarily off his ability to track down and leave in his dust everyone in the outdoor series last year. Well, following this Supercross season I am leaning toward a new name for RD5. Im glad to say it is still based on a fictional movie character. Predator. It fits perfectly with his performances this season. Like the creature in Predator, he blends in with his surroundings and you don't even realize what he did until the checkers fly and there he is on the podium again.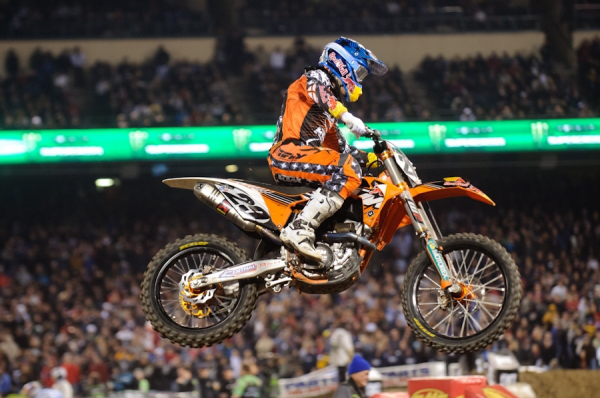 4 Moser.
Dungey looked more impressive in Las Vegas than any race all year, even his win in Toronto. If you thought last year was a fluke, maybe it was but not because Dungey won, because so many top guys crashed out. This years third place finish in the title chase validates his title last year. If you think his best is behind him, your probably the same silly person who counts Reed out every year. Just foolish.
Reed did all he could do in Vegas to help his last push in the points, he won the race. He rode great but in the end RV's margin for error was more forgiving than Reed would have liked but such is the way this series has gone for the top 5.
The ifs and buts for the year are innumerable. But Im going to use this one point to illustrate something I find interesting. We all agree that all of the top 5 riders have had their share of misfortune this season, so I thought it would be interesting to see how the points would look if you took each riders average finish and replaced their worst race with those points. I decided not to include Trey since his DNF of the season would make it pretty pointless. Check it out.
1st Dungey–363pts
2nd RV–356pts
3rd Reed–341pts
4th Stewart–328pts
So there you have it, without each riders worst of their worst, Dungey repeats as SX champ in the most highly contested season ever. How about just giving the guy credit finally? He deserves it.
Las Vegas was a great finale to a great season and yet I cant wait for the outdoors to start!!
Thank you for reading Swizcorner!