Our guy in Europe Mccready watched the Latvian GP and this is what he thought about it. Go Osborne!

Our guy in Europe Mccready watched the Latvian GP and this is what he thought about it. Go Osborne!
Story by Jonathan Mccready
Photos courtesy of Youthstream
MX2

Ken Roczen strengthened his grip around the 2011 MX2 World Title after going 1-1 on a track Jeffrey Herlings fancied his chances on. After the qualifying heat race, where Herlings had caught Roczen, it looked like Ken would have his hands full in the Sunday, but within two corners of the first moto it was all over.

Herlings went down in turn one, and pole position man from Saturday Gautier Paulin went down in turn two. Roczen in contrast took the holeshot and cruised to a 20 second victory as Herlings scythed through the pack impressively reaching third place by the end of the race, just unable to make a move on a stubborn Tommy Searle.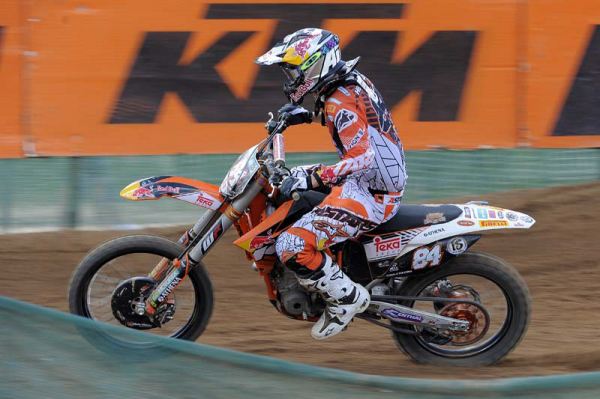 Herlings was quick in Latvia but not quick enough as teammate Roczen won again.

Race two and Roczen yet again got the holeshot, Herlings went from fourth to second on lap one and then caught and passed Roczen. But Roczen kept close and Herlings made a small mistake, allowing Ken back through, then, with ten minutes to go, Herlings went down while staying in touch with the German, handing an important double victory to the championship leader.

Herlings insisted he was waiting until the last ten minutes to make his move in race two, while Roczen said he let Herlings passed in the first place! Whatever the truth, the bottom line remains that Herlings yet again was as fast if not faster than Roczen and had the speed to win both motos, but it was the mentally stronger Roczen who delivered, taking the best starts and the double victory.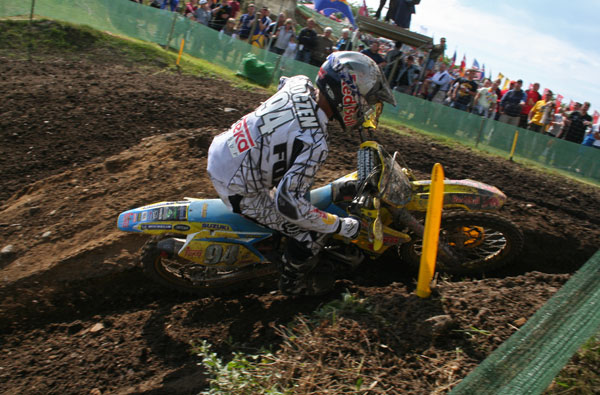 Yeah Ken Rocz! Looking good for the championship right now is USA-bound Roczen.

Tommy Searle was third overall but he had no answer to the speed of the KTMs, being caught by Herlings who started dead last in race one would not have been good for his confidence and neither would losing by 30 seconds to the KTMs in race two. It won't be any easier to beat the KTMs in Lommel either.. They both haul in the deep sand.

Gautier Paulin was only ten points behind Searle in the championship before Latvia but left twenty seven points back. Running the same pace as Roczen and Herlings in the heat race on Saturday,

Paulin crashed on the first lap in both races, getting run over in the process and what should have been a least a podium finish was reduced to come back rides and eighth overall.

Arnaud Tonus couldand should have challenged for a podium placing but a broken rear wheel in race two and no rear brake in race one, while running second put paid to his hope, but the Swiss Cosworth Yamaha rider is flying right now and is a likely bet for a podium before the year is out.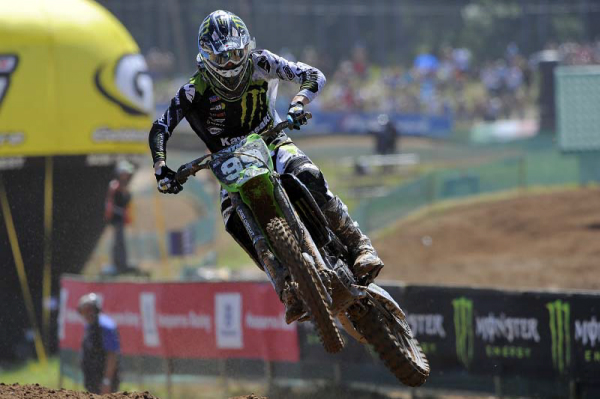 Max Anstie had a good day in Latvia where I think Dr Doom is from.

Max Anstie had probably his best ride of the year, fourth overall and challenging his teammate Searle in both races should have wet the appetitie for Anstie to get a podium. He grew up in sand and is very confident about breaking his podium duck at the next round in Lommel.

Zach Osborne was fifth overall and rode well all day, fighting hard despite his illness, Osborne is determined to hold onto fifth in the championship from his teammate Tonus, and the two riders are also locked in a duel for the British championship ( Tonus leads) the first rule of always beat your teammate is proving an entertaining subplot within Steve Dixon's team as both are glued together on the track in both championships.

Other notable performance came from the injury returnees. Valentin Teillet steered his factory Suzuki to seventh overall and his best results so far. He ran a strong third for a long time in race two before bike fitness slowed him down. British rider Jake Nicholls was ninth overall and had his best finish of the year with sixth in race two, and stakes his claim for the MXDN in September.
Home hero Matiss Karro had his best GP results for two years with ninth overall, The MVRD Honda rider is only a couple of weeks into his comeback after a broken leg and impressed everyone on both races.

MX2 Overall result:
1. Ken Roczen (GER, KTM), 50 points;
2. Jeffrey Herlings (NED, KTM), 42 p.;
3.Tommy Searle (GBR, Kawasaki), 42 p.;
4. Max Anstie (GBR, Kawasaki), 34 p.;
5. Zachary Osborne (USA, Yamaha), 30 p.;
6. Harri Kullas (FIN, Yamaha), 27 p.;
7. Valentin Teillet (FRA, Suzuki), 25 p.;
8. Gautier Paulin (FRA, Yamaha), 24 p.;
9. Jake Nicholls (GBR, HM Plant Red Bull KTM UK), 22 p.;
10. Matiss Karro (LAT, Honda), 18 p
MX2 World Championship standings after 10 of 15 rounds
1. Ken Roczen (GER, KTM), 446 points;
2. Jeffrey Herlings (NED, KTM), 419 p.;
3. Tommy Searle (GBR, Kawasaki), 370 p.;
4. Gautier Paulin (FRA, Yamaha), 343 p.;
5. Zachary Osborne (USA, Yamaha), 295 p.;
6. Arnaud Tonus (SUI, Yamaha), 274 p.;
7. Max Anstie (GBR, Kawasaki), 249 p.;
8. Harri Kullas (FIN, Yamaha), 224 p.;
9. Nicolas Aubin (FRA, KTM), 207 p.;
10. Christophe Charlier (FRA, Yamaha), 170 p
MX1
Tony Cairoli took a giant step towards claiming his fifth world title by taking his first double moto victory of the year in Latvia. It was the Scilian's 40th GP victory of his Career, and his career numbers are rapidly vaulting him to the status of living legend. His favourite track of Lommel is coming up, and he could very well put the final nail in the coffin for his title rivals there.

Cairoli fended off early pressure from Evgeny Bobreyshev and late race pressure from Steven Frossard to take a narrow race one victory. Race two was a similar experience as Frossard stayed with Cairoli right until the last five minutes, when Cairoli showed he had that little bit extra and pulled out a comfortable margin of victory.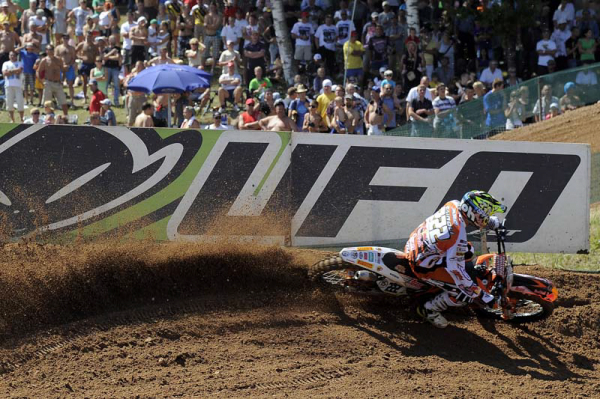 AC222 is turning it on now and looks good to win the title once again.

Steven Frossard was twice second and closed in on Clemant Desalle for second in the championship with five rounds to go. The Frenchman has won as many motos as Cairoli but as the saying goes, you win your championships on your bad days, and Frossard had had a couple of more bad days that Cairoli.

Clement Desalle has had more moto wins that anyone but his dislocated shoulder came at the worst time and another crash in race one, seemed to aggrevate his existing injuries as Desalle struggled to ninth overall. Clement needs to be 100% for the last five rounds if he is to have any chance of the title now.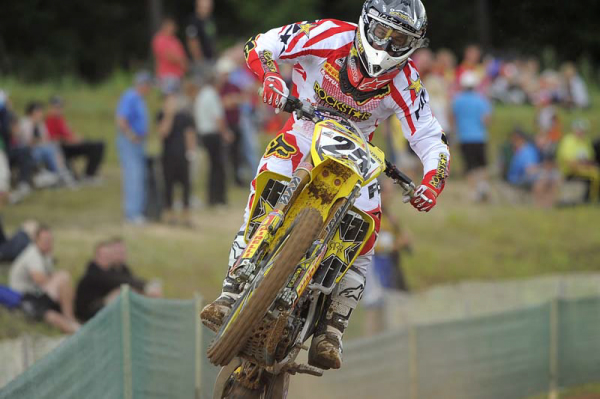 Too bad Desalle got injured, he was in the points lead and it looked to be a good race to the end.

Evgeny Bobreyshev took a popular third overall in Latvia. With many of his Russian fans crossing the border it was another popular podium and impressive ride for the Martin Honda rider, especially the blistering speed he showed in race one, when he gave Cairoli everything he could handle for the first twenty minutes.

Rui Goncalves also on Martin Honda gave the team more reason to celebrate with fourth overall, Goncalves has been fast and steady all year, and Honda have really forced themselves back into the top tier of GP racing with their results this season. Next year should be even better!

Both David Philippaerts and Max Nagl showed the speed of the top three but crashed relegated both of them to fifth and sixth respectively. Both however are fast in Lommel and will be looking for the podium there.

The enigmatic Christophe Pourcel chose not to race in Latvia preferring to test in private in preparation for a better showing in Lommel and the rest of the GP season. It remains to be seen if
Pourcel has sorted himself and the bike out to challenge for podiums for the rest of the year, the deep sand of Lommel may not be his best opportunity, but at least he will be there, and hopefully in better shape than he was in Germany… he will need to be!

MX1 Overall Result :
1. Antonio Cairoli (ITA, KTM), 50 points;
2. Steven Frossard (FRA, Yamaha), 44 p.;
3. Evgeny Bobryshev (RUS, Honda), 40 p.;
4. Rui Goncalves (POR, Honda), 32 p.;
5. David Philippaerts (ITA, Yamaha), 32 p.;
6. Maximilian Nagl (GER, KTM), 29 p.;
7. Ken de Dycker (BEL, Honda), 27 p.;
8. Steve Ramon (BEL, Suzuki), 26 p.;
9. Clement Desalle (BEL, Suzuki), 26 p.;
10. Tanel Leok (EST, TM), 23 p

MX1 World Championship standings after 10 of 15 rounds:
1. Antonio Cairoli (ITA, KTM), 416 points;
2. Clement Desalle (BEL, Suzuki), 374 p.;
3. Steven Frossard (FRA, Yamaha), 370 p.;
4. Evgeny Bobryshev (RUS, Honda), 334 p.;
5. Maximilian Nagl (GER, KTM), 311 p.;
6. David Philippaerts (ITA, Yamaha), 282 p.;
7. Rui Goncalves (POR, Honda), 281 p.;
8. Steve Ramon (BEL, Suzuki), 229 p.;
9. Ken de Dycker (BEL, LS Honda Racing), 228 p.;
10. Xavier Boog (FRA, Kawasaki), 215 p