Accuracy in keystroking is not my forte' at the pace I flow…
Accuracy in keystroking is not my forte' at the pace I flow…
I said in the first Swizcorner ever that this column was to be essentially a stream-of-conscious of my view on that weekends on-track and post-action events. Although a few typo's slip into my column, I can assure you, Uni-Dilla is not one of them.
It looked to me like the track was prepared well, the modified track surface was apparent in that the rocks took longer to come to the surface and be a factor than in years past. Even with the tracks marked improvement in dirt consistency it was pretty disappointing to see one fast line in play. Sure guys were experimenting with different lines but there was definitely one fast line which made passing opportunities difficult as usual.
450
I'd like to pre-face that Weimer was indeed riding better than ever since his move to the 450. Is it the 2012 bike, increasing comfort/seat time, finding his groove? It remains to be seen but even as good as Jake looked, there was no one more frustrated than Dungey for much of the first moto as he tasted different lines on all sections of the track, looking for a way around Jake and later Barcia.
Now yes, Barcia was crazy impressive, let me say that again, CRAZY impressive but don't fool yourself into confusing a debut on the big bike at essentially a home race in terms of fan support with running Dungey's pace for the duration of a title season. Barcia may very well make me eat those words at Southwick in two weeks where he won in his rookie year but the safe money is on a reality check between now and Pala.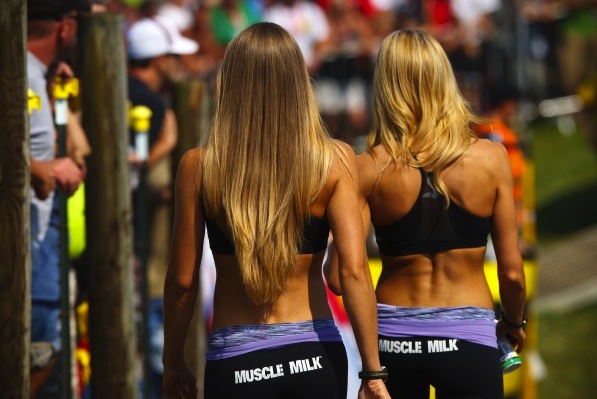 Whoops, how'd that photo get in here…
As for the debate on Dungey's frustration with Barcia's contact in moto 2? Barcia did cross jump but it wasn't with the intention to jack with Dungey, he was setting up his next corner and shit happened. Dungey didn't want any part of a Barcia apology because he was frustrated with not being able to make the passes he needed to to try and stick with RV. We've all been guilty of it and to the crowd who are now claiming that Dungey isn't mentally strong due to this frustration or that Barcia is "in his head like JLaw was"… in the words of Vegas K-Dub, "Dude, you're a straight up idiot". Get serious people, the dude had a DNF in Supercross and managed to finish within 7pts of the title in the most competitive series ever. EVER. Some fans of this sport are more of a detriment to it than an asset with their skewed subjective opinions.
RV was super impressive. He was so aggressive and man handling that new Kawi all around the track. It's hard to argue that the new bike isn't better than the 2011 when you see how much more confident he and Jake look on it in its first race with limited testing. They definitely didn't follow the "revolutionary" blueprint dictated by the blue bike(yes I'm still beating that drum). I didn't expect RV to come out swinging like that at Uni-Dilla and if he looks that comfortable for the last 3 races, that's gonna be 8 moto wins in a row to the title. He was that impressive in New Yawk.
Reed has definitely not been himself since his crash. The good thing is he knows it, knows what is wrong and can therefore focus on correcting it. It's weird, typically in racing, rider confidence fluctuates frequently and good or bad results can easily mean more of the same and an "upward spiral" or steady decline. This year though, it seems more and more, the top riders are learning to build from the good fortune and completely flush the bad. Not even validating it with a second thought, just getting back to working on improving and believing in the plan they have set for themselves. Reed's been this way for years, a big reason he's been so successful is not letting the lows get to him and building from the highs.
Will 22 turn around his results before the math is just too much to overcome? Looking at RV and Dungey makes the chances look improbable but that doesn't mean I'm ready to bet against him either. I just cant wait to see what happens at Southwick already, only 30 hours after the checkers at Uni-Dilla.
Really pumped to see Regal allowed to finally straddle a bike outdoors again. I'm not reading into the fact that he's on a Suzuki having any bearing on James' riding yellow in 2012. It is intriguing to me in that, the word is that James' out of his Yamaha deal is, L&M signed the manufacturer contract so James is not bound to Blue with the absolving of the JSE/L&M/San Manuel team. So the question is, with the absolving of that team, is the Yamaha contract null and void for L&M as well? I would have to think yes since rumors have LB and The King shaping up a Honda based team. Whatever, the case Kyle is racing again, on a great bike and that's best for everyone, us as fans included.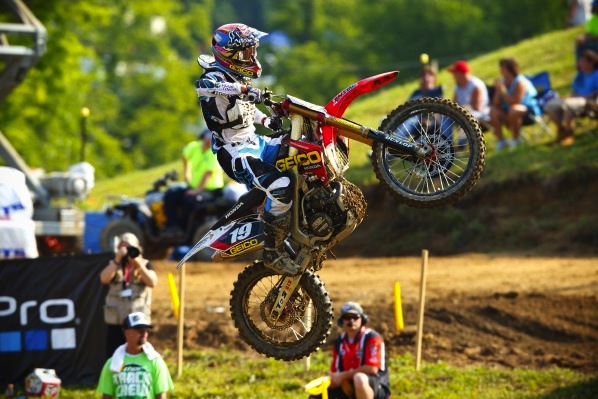 Love E.T's style.
250
Sonofabitch Wilbur got wrecked again. I'm a firm believer that all things no matter how catastrophic happen for a reason. Perhaps the reason won't reveal itself soon or in a manner we may even recognize but it's there and Wil's too good a guy to not be a better person for his hardships in 2011 looking forward. That being said, he's had shit luck this year and I hope he just stays optimistic and files the troubles of 2011 in a folder labeled "Ridiculousness"( by the way, I don't know if I've ever been as excited about a tv show as Dyrdeks new show, looks amazing.) Chin up Wilbur, if its any consolation, while you were lying concussed at Uni-Dilla, I was seeing stars myself after being shot 4 times in the head during a first ever paintball outing. Apparently "ducking the roost" is a bad idea with an exposed dome. Damn old dogs and our stubborn tricks.
Now Justin Bogle. Talk about the complete package. This dude has serious charisma. Rips on a bike, well spoken in interviews and that voice! With a voice like that he's gonna have to beat more chicks off with a stick than Hanny during an Australian SX series. I see two awesome butt patch possibilities for Bogle in his future, they'll never happen but at least two people will read them here and i'll have my say. "Pillow-talk" or "Panty Dropper". That's a crazy unique voice, market that shit to the max.
Another strong finish for Kyle Cunningham again. Great to see and 2012 looks better for Kyle with each passing weekend.
Pro Circuit. I think Mitch has actually developed a recipe for and begun bottling podiums. Unfortunately supply is limited.
Wrap
Well, one race in and Barcia is making friends in the 450 class like the booger picker on the first day of elementary. Keep it up Bam Bam, the sport is better for your intensity.
I'm going to do something I try not to, make predictions for the next race.
450- Barcia, Villopoto, Reed
250- Baggett, Rattray, Wilson