Here's a couple of reviews on the new JT Racing gear. Check it out.
Here's a couple of reviews on the new JT Racing gear. Check it out.
Photos by: Marc DeCubber
By Swizcore
We've all known it was coming for some time now. Initially it was mass excitement, anticipating the return of the legendary gear company to the sport which spawned it. Soon thereafter the cynicism and speculation set in with claims that this iteration of JT Racing would be nothing more than a trendy boutique brand purchasing the name to cash-in on the core enthusiasts affinity for the glory days.
Rumors began to surface pointing toward many of the original JT team members being involved in this rebirth. Once it was confirmed that David Bailey was involved, the rest meant exactly squat to me. When THE David Bailey puts his name behind something, you know it's not going to be a lot of fluff or trendy bullshit.
One of the first questions was will the new JT reflect the classic JT or will it be a whole new approach with designs more akin to the offerings from current gear companies?
Well, the catalog recently came out and many questions were answered. Classic JT Racing aesthetics with modern technology was a great way to approach their return to racing.
But enough with all the conjecture, how does it perform?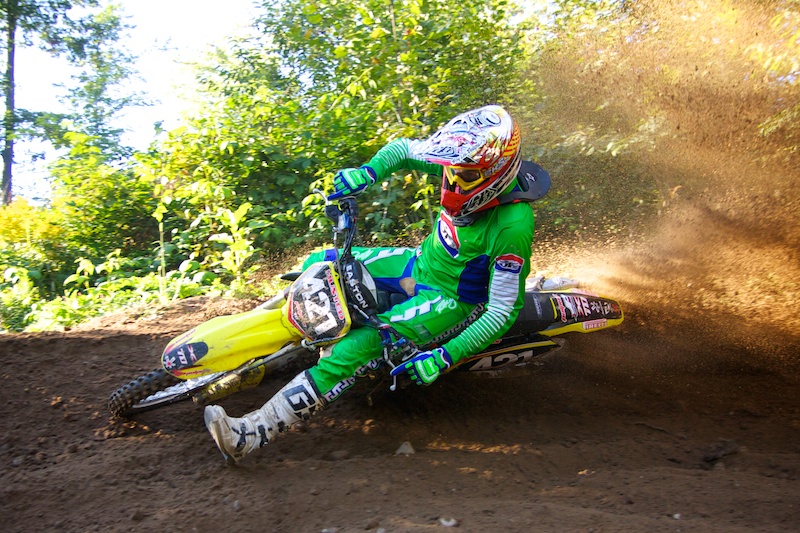 Dogger threads.
Digits
First of all, the gloves, ohhhh the JT gloves. If you ever had the fortune of wearing the classic JT Racing gloves in the '90's, you know, JT KNEW how to make a damn good glove. Well, they still do, these gloves are ridiculous. Far and away the best I've ever worn. Imagine the comfort of a completely unpadded MX glove but WITH padding, not a lot of padding, a nominal amount. Just right. There's a nice little "tab" on the bottom of the wrist to aid in pulling the gloves on, not really necessary but a nice touch and doesn't take away from the glove. Do yourself a favor and even if you aren't a fan of the classic style, at least slip your digits into one of these gloves. I'm betting if you do, you'll end up buying some.
Jersey Shore
One thing I'm really glad wasn't brought back from the original JT gear was the cotton jersey's and tight, thick collars and cuffs. Let's be honest, these days, a jersey is pretty much a jersey, if you get that wrong you're just being lazy with your product design. The new JT jersey is great. Very light, great ventilation and really the only thing you could criticize would be the design aesthetic regarding graphics or lack thereof.
It's the Pleets
Pants these days, unlike a jersey, have many features which can make or break them. Comfort is one, adequate room in the knee for knee braces is another, inner knee strength for both interior wear from knee braces and exterior wear from possible exhaust contact. Constant hammering on the shrouds and seat also take a toll on the knee materials. The JT pants utilize small vents like many pants these days and one of the most unique features of the JT pant is the rear of the waist. It's noticeably higher than any other pant I've ever worn, it's almost like a partial kidney belt height but not tight to the body at all. It feels the same as a popped collar shirt but on your lower back. I felt kind of like Lord Emperor from Star Wars when walking but when riding you never notice it. My buddies weren't making fun of me(for that anyway) so don't go thinking it's gonna make you the punchline of race day jokes or anything. I used to be a dedicated kidney belt wearer so I actually liked the feeling.
I Dig 'Em
I'll be honest, when I opened the box and saw that JT has sent me Kawi green gear, I was like ugghhh. I can't say for certain if I'm just being nostalgic or what but I really do like the classic JT design sense represented in this gear. My janky friend Jeff termed the ensemble my "Gumby gear" but everyone agreed the moment I put it to use on the bike, it looked pretty damn good. I mean it's not an easy thing to do to make green look less than puke-worthy on yellow but it worked. I'm stoked on the gear for both it's look, performance and the simple fact that JT is back and it's not a sham. Now if only I could pick up a lightly used '95 RM125 pfffffftttttttttt…..
Check out your local dealer or go to JT Racing.com and order it yourself.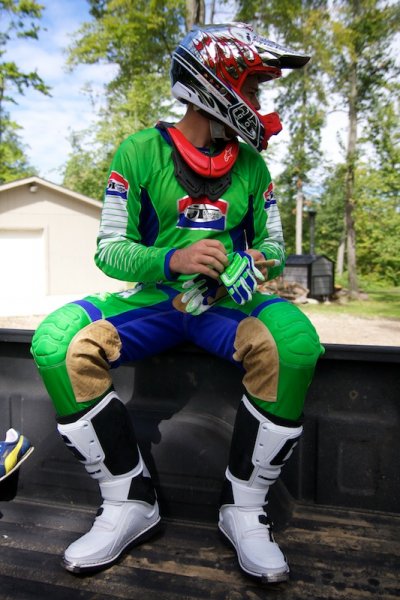 Pre-ride.
JT Gear Review Part 2
By Jason Matthes
Pics by Sandra Houde
If you are an old dude like i am, you know that JT gear is back. JT racing was off in the world of paintball, making some big bucks, but they are back to their roots of mx.
The new owners of Jt are not the Gregory's who originally started the company, but a new group with new ideas and still a great fondness and respect for the JT of old. When i saw pictures of the new gear floating around the World Wide Web, I knew right then what my next set of gear had to be.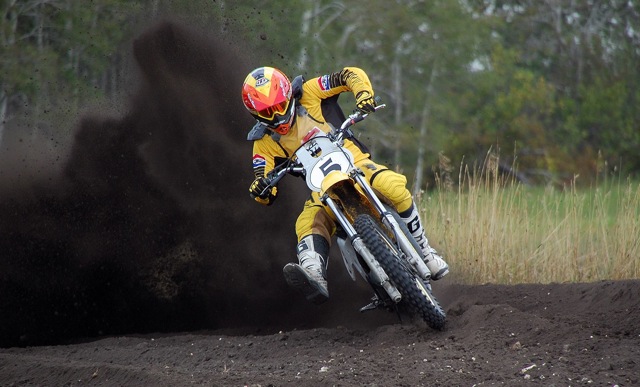 Jason Matthes shreds a berm on his '81 YZ250.
You see, I am vintage, my bike is vintage , and JT is vintage. It just works. But this gear is not the same as it once was. Yes dear reader, things have changed. Are you one of those people who doesn't like change? Well i don't know if JT gear is for you then. You see the new stuff is different. Not weirdo different like Wulfsport or Aero boots different. But different in how it fits and looks. And you definitely don't have to be vintage to own this stuff.
The fit is not like old JT. Old Jt gear was tight, hard to bend your knees in, and and always crawling up your butt. I am happy to proclain that the new JT fit is fantastic. Much better than the Thor gear i have, and way cooler as well. How is it better? Its looser in the knees for one. As soon as you get on your bike your legs can move freely. There is no restriction at all.none.Knee braces shouldn't be any problem at all. The back of the pants is higher up, so your they dont go Dean Wilson on you. They are pajama comfy. Or MC HAmmer pant comfy if you prefer. they are fully mesh lined on the inside from top to bottom.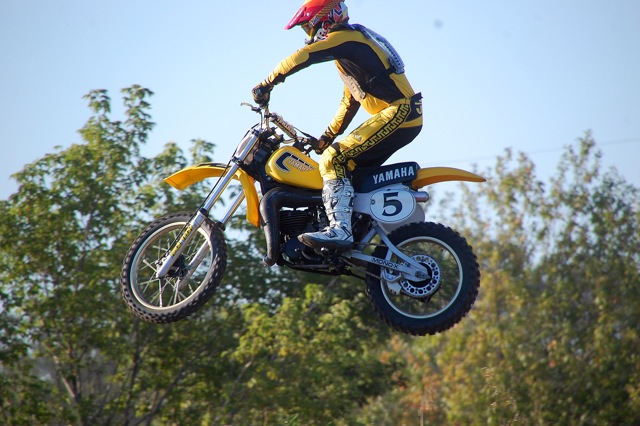 Jason liked the new offerings from JT.
On the inside of the waist is a great rubbereized banding material to keep your jersey tucked in where it belongs.And, and, and, they have put in stretchy panels just above your butt for comfort. This panel is below the cool giant jt logo butt patch. ( i think i may have said butt too many times during this article, sorry) You do tuck in your jersey right, LBZ guy? The waist has the typical ratchet system and a velcro cinch on each side. Below the ratchet is a cool old school Jt racing usa woven badge (patch) just like they had in the eighties. There are a ton of flexible materials sewn in to make this pant sooo comfortable. Now here is where it gets RAD. Air scoops. Yep air scoops, on each leg. Just like a jet intake, but cooler, because they're on your mx pants! Its actually a built up intake made of flexible rubber in each lag that directs air toward your thigh, Jt calls it ALS( Air Line System). So of course beside it is an ALS logo, which i thought was a great touch. On the inside of the knees is Grade A cowhide panels. Thick stuff. Also they are embossed with a repeating jt logo.
The jersey is well fitting and has a ton of vented panels. Very breathable, with the vented side panels running from arm cuff to the bottom of the jersey. The bottom of the jersey has JT silconed around the bottom so as to give your jersey extra motivation not to pull out of your pants during the long 6 lap moto. My jersey was size large, and next time ill go xl.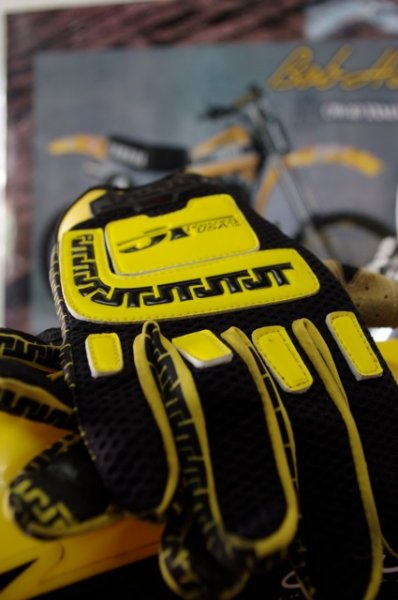 Both testers thought the JT gloves were incredible.
Next up gloves and these gloves stand out for a couple reasons.
1. They are actually padded on the outside to protect your hands from roost. Crazy huh? Its almost like they know these gloves will used in a sport with flying rocks and roost. these gloves are not the typical baseball/golf gloves that seem to be in vogue now.
The top of the hand is padded and well as each finger.
2. The fit is great. They seem to be just a bit longer and protect and fit better around your wrist.
They also have some rubber tips on the underside of the first two fingers for added clutch grip. there is no padding on the inside of the glove, but it is padded on the outside of the palm. Overall a great glove.
Close up shot of the latching system on the pants.
At the track the gear grabs attention with its clean lines. It actually stands out because of this. Old guys and young guys alike thought the gear was really cool. I had tons of people asking about it.

So, is this gear for you? I think its very well built, fits great, and looks great. So you decide.
My overall impression? RAD!!! Get it from your local dealer of order online at JTRacing.com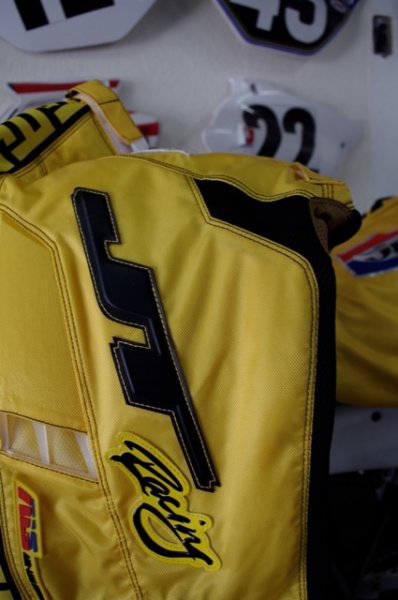 The pants were top notch as well.