Storm-trooper designer kneewear. The Asterisk UltraCell is legit.
Storm-trooper designer kneewear. The Asterisk UltraCell is legit.
You know, I'm kind of hesitant to write this review. Every product I have reviewed thus far has been great and I've said as much. At this point I'm coming across as a pushover who appears afraid to speak poorly about a product passed on to me for a little publicity. It would appear that way anyhow but I can assure you, in the words of Marc Pelligrino, "if it was shit, I'd say it was shit". I have no qualms about knocking something that's just plain wrong when it is.
Maybe it's an indication of the level of innovation in our sport(probably)? We've been circulating dirt bike tracks long enough to have a pretty solid idea of where each product on either the bike or rider needs improvement. So at this point, unless you're just bargain shopping and getting crap, chances are, the products are pretty damn good.
I started with EVS Web braces a few years ago which were decent, I then moved onto CTi knee braces after my ACL reconstruction. I hated the CTi's, they were always falling apart and I always had troubles with them not staying put while riding. Last year I switched to Asterisk Cell's which have honestly been ideal and not displayed any shortcomings of past braces I wore. When I saw the UltraCell's I was intrigued though not at all interested in upgrading because I couldn't imagine needing a brace to do more than my Cell's already were.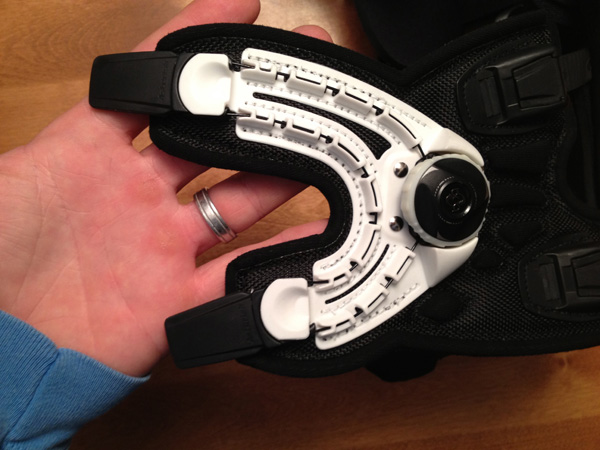 The BOA Cam and securing arms confused me at first.
This brings us to the recently announced Asterisk UltraCell Knee Brace. I gotta be honest, when I first saw the publicity photos of the new securing system, I was confused. It looked cool but I could not make sense of how it worked. Even when I unboxed them I was puzzled. If you're a snowboarder, wakeboarder, or other such action-sport enthusiast where securing yourself to equipment is part of the deal, you may have already been familiar with the BOA system. It's a type of cam tensioning system which could not be any simpler, secure or effective than it already is. On top of the insanely simple and fast securing with the BOA system, they carry a lifetime guarantee. Incredible.
I hate to make another Apple parallel two reviews in a row(who am I kidding, I love it) but Asterisk has done something very Apple-like. They improved a product in ways I never knew I needed them improved but you bet your ass, the other brace makers are doing one of two things; scratching their heads wondering how to match this leap in design, or trying to formulate creative ways to infringe on the UltraCell patents. This securing system is akin to the first motocross boot to use a locking closure mechanism instead of the standard leather strap and nub setup.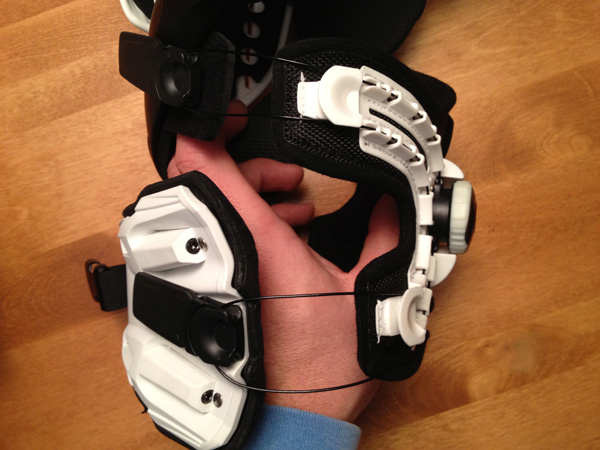 Securing arms in place, press the cam down and click it tight. Awesome.
Beyond the securing system the UltraCell is dramatically more comfortable than it's predecessor and fine-tuning of knee lockout is as simple as it gets as well. You could get away running these braces sans-brace gaskets if you needed to, the interior padding is THAT comfortable.
Do yourself a favor, when you do need to get a new set of knee braces, save yourself a lot of wasted research time and just get these. As good as the Cell's are, the new UltraCell makes them look antiquated, which is actually ok because they make other braces just seem like a joke.
The UltraCell runs $699/pair which is a steal considering the Cell's were $599. Of course, I suggest you get them from BTOSports.com and since you're getting free shipping, might as well throw in some Eks Brand optics right?