"Ryan Villopoto is just a different duck"- Jake Weimer described Ryan that way on a PulpMX show once and it's pretty spot-on.

"Ryan Villopoto is just a different duck"- Jake Weimer described Ryan that way on a PulpMX show once and it's pretty spot-on.
Last year Jake Weimer was absent from our visit to RV's digs due to the broken arm he suffered on the eve of the 2011 SX season. I figured with Jake around on this visit, the mood may be a little different from last year but it really wasn't. Ryan himself, was the same as he always is. A steady diet of sarcastic joking, clowning Matthes (and himself) and having that heir of a Dennis the Menace. He doesn't go out of his way to be overly cordial or "politician-like". Some call him a dick but he's never been one to me and when it comes down to it, I don't expect anything from these guys, so I never come away feeling like I was gyped. I'm not going to fault RV for not being Adam Cianciarulo, Nick Wey or any of the other guys who do see the value in making that effort.
Adam Cianciarulo was there and I had done an interview with Adam before so I was glad to meet him and watch him ride. Obviously you know the kid flat out rips but as usual, the most impressive thing about Adam is how sharp he is in terms of charisma and "getting it" at his young age. He and RV could not be more different in that sense. That may sound like a dig at RV but it's not, they are like complimentary opposites of one another. If Adam sticks to the program that has gotten him where he is in terms of skills on the bike and off, he will be the sports best ambassador yet.
Jason Baker, founder of "Dream Traxx" came out with his kids as well. I hadn't met him before and didn't expect him to be so young (two years younger than me) but what really threw me for a loop was how genuine the guy is. He approached me, introduced himself and we talked tractors, tracks, kids, riding and his job for a while. Really great guy. I got a laugh when he asked "so whats the secret to Mad Skills?"
Having wrapped the SX title up already, RV was excited to get to work testing for outdoors way earlier than he did last year. That's bad news for those lining up with him in the National's. RV looked like an animal out there.
Really good to see Casey Stewart out there as well. Casey is RV's practice mechanic who I did a podcast with on Pro Moto Talk a few weeks back (search iTunes store). Aldon was as pleasant as always. I'd expect a trainer with his credentials to be a little arrogant but nope, he's a very nice guy.
Following the riding sessions, there was a discussion in the garage about "mini-Dads" where Mr. Cianciarulo guranteed he will not be wearing a team shirt or headset when Adam makes the jump. We all know Matthes' thoughts on this and he made sure to let Mr.C know, he's holding him accountable when the time comes.
After Jake, RV and Adam left for the gym, the cows invaded the track and Robo and I followed them to the water hole down by the pitbike track. Next thing we know, Matthes comes riding over on a KLX110. He makes his way around the pitbike track, then Robo does and then its my turn. I tried to scrub the on/off but the front tire just slid right out from under me upon landing and nearly sent me into "The Donk Pit". She rode straight when I completed lap 3 so hopefully I dont get a bill from RV.
Thanks to RV for letting us come out and doument a little of what goes on "inside" and for nailing that other thing which I was sure he was going to sabotage.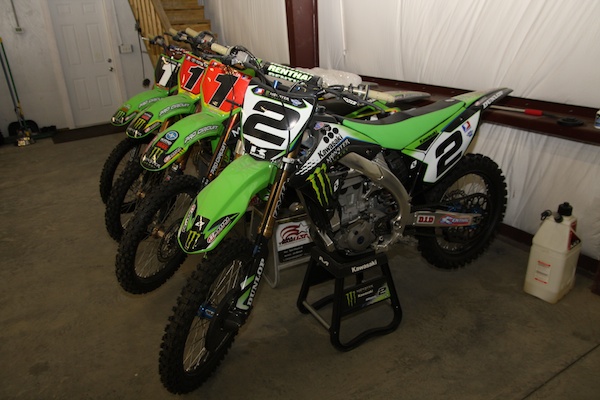 The guy has done alright in this racing biz.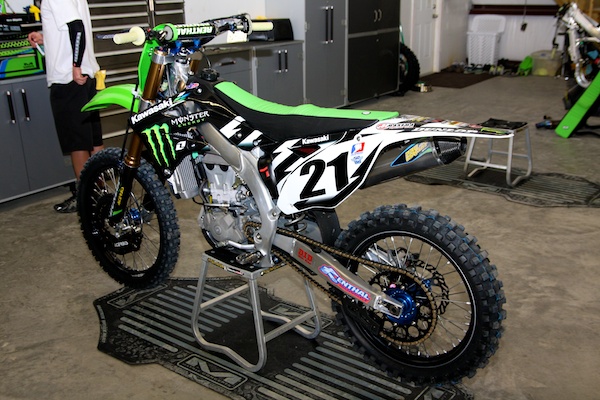 Jake's machine prior to moto's.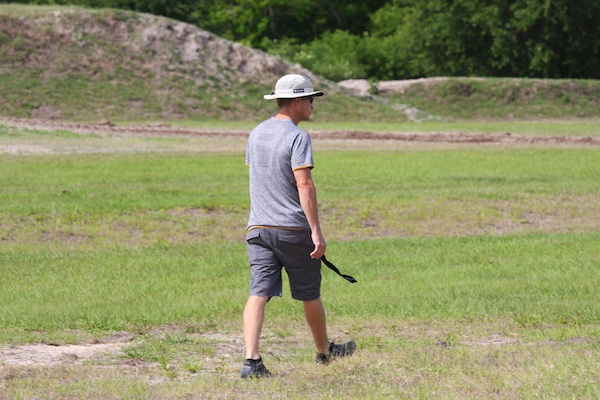 Aldon heading out to the "timing tower". Aldon is a good guy.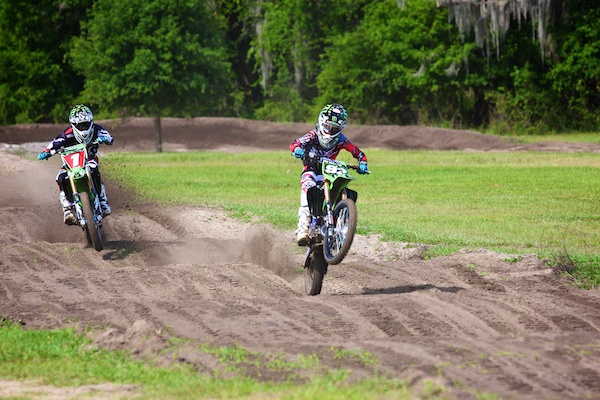 This was before RV started his moto. Adam was in the midst of his own session and RV comes just roaring from behind. When they both reach the single out of the rollers together, RV is going so fast, he just about jumps over AC's head and lands in the grass just outside of the left hand sweeper.
Matthes and I both pooped, right on the spot. It was nuts.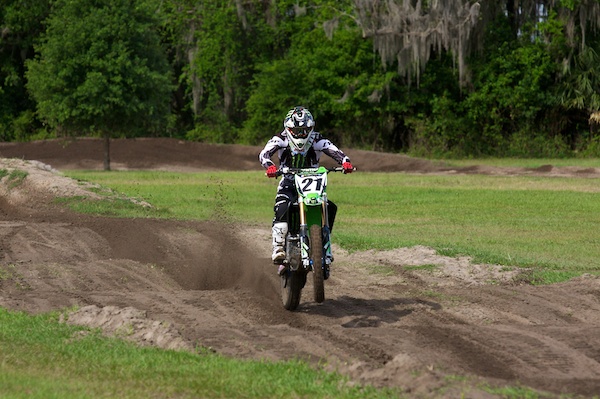 Jake in his first session when he started behind RV.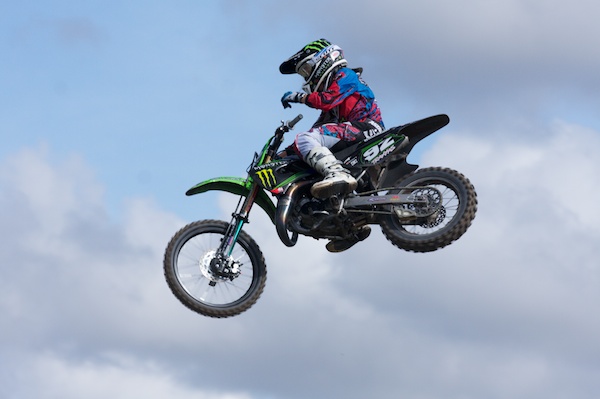 I think AC is reaching for a tear-off here that Knowles forgot to install. Just kidding John.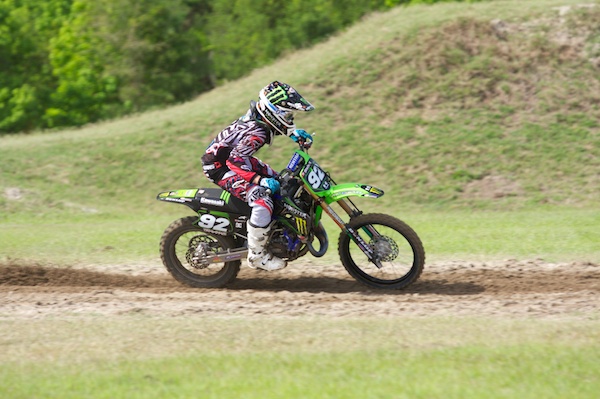 AC looks like he's just about ready to kiss the Super-mini goodbye.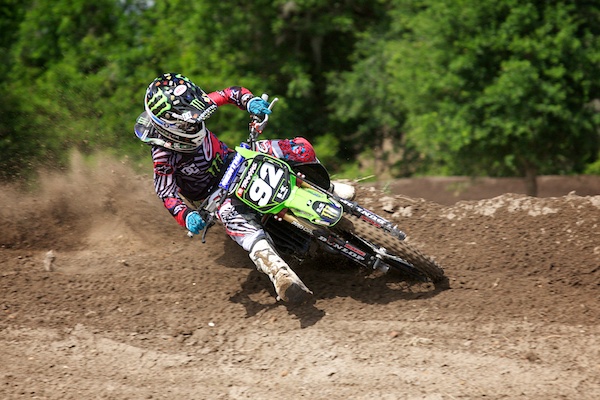 Skills that pay the bills.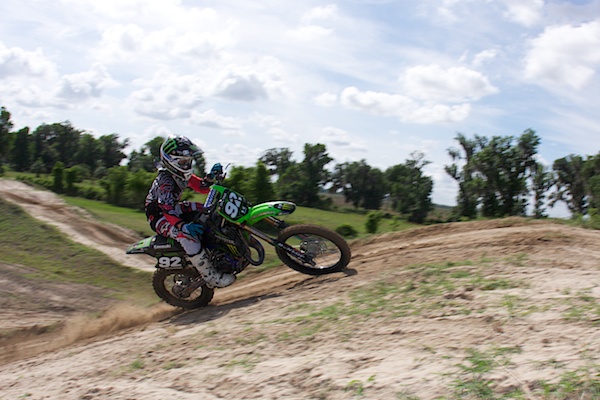 Pre-scrub.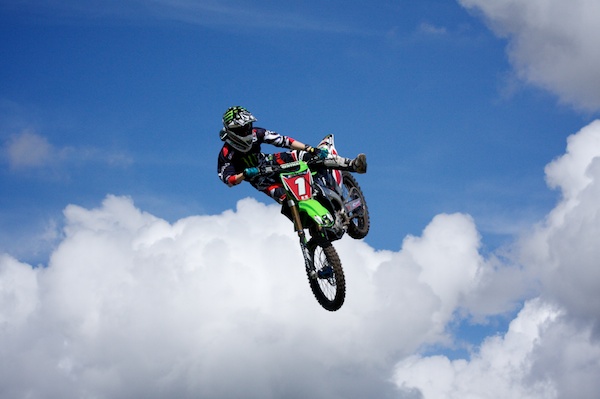 I'm thinking RV is staying put for 2013.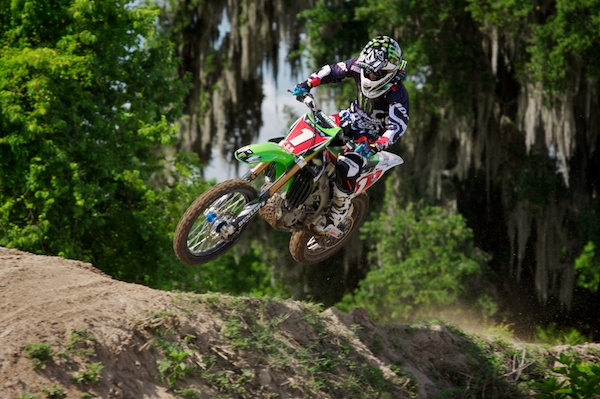 I mean, can you even imagine him on any other brand?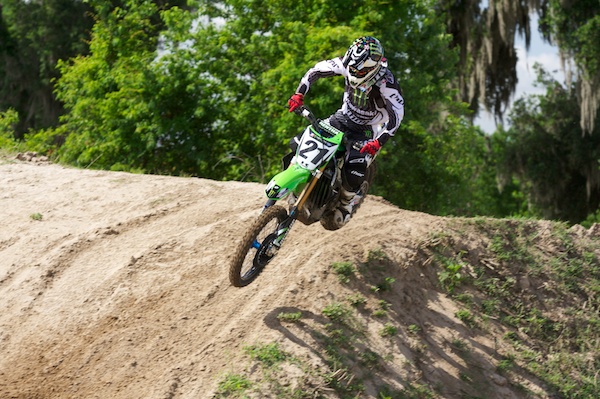 The differences between Jake and Ryan's riding style start with RV's pronounced aggression, whereas Jake looks more fluid.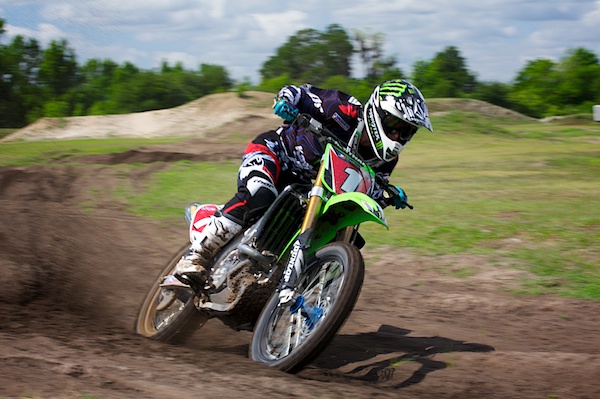 Attacking the sweeper after the rollers.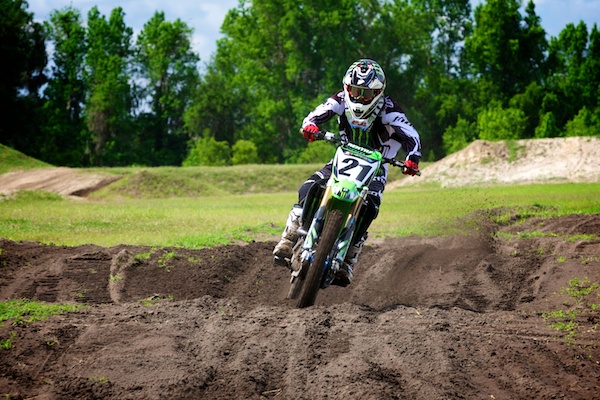 Jake's style is more standard moto textbook than RV's "Ballzout" handbook.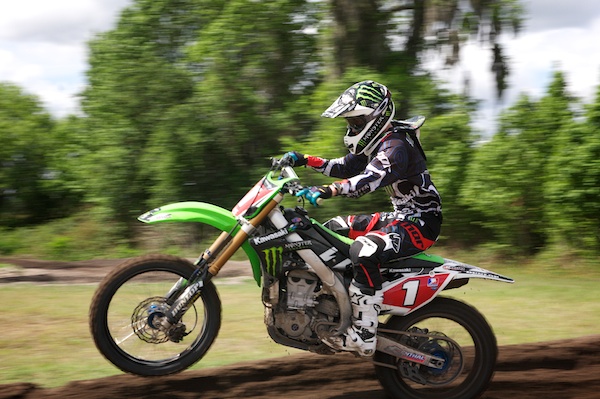 Getting the power to the ground folks.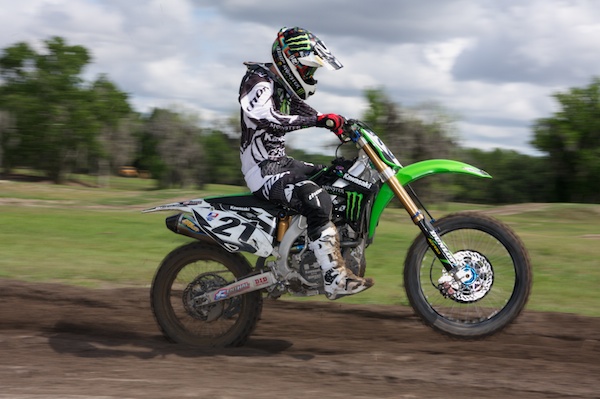 Same corner, different angle.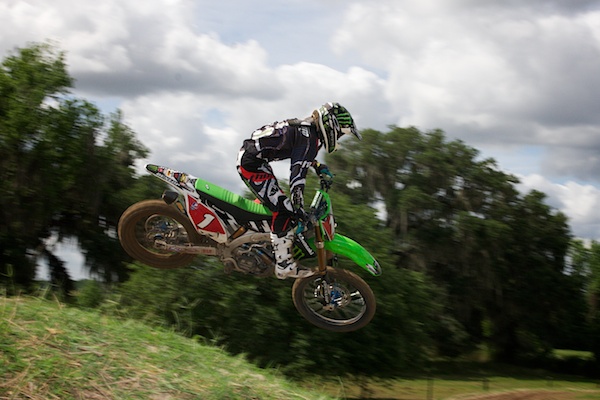 Pretty sure RV was acutally trying to kick me here…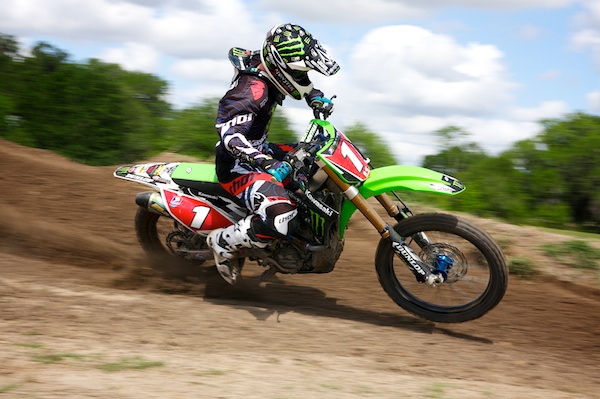 Ripping.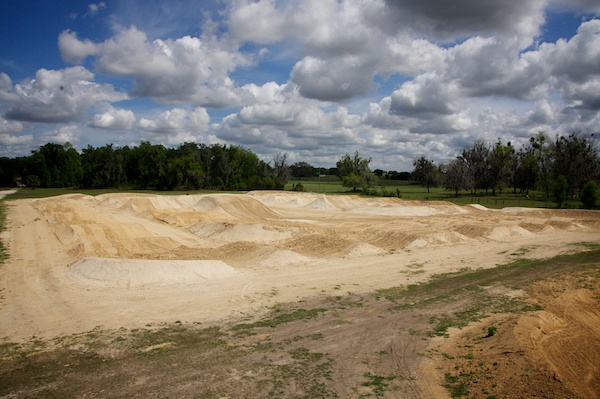 RV's newest Supercross track by Dream Traxx. Jason said this track took 815 off-road dump truck loads of dirt to build. (The dirt came from where the pit bike track is now built.)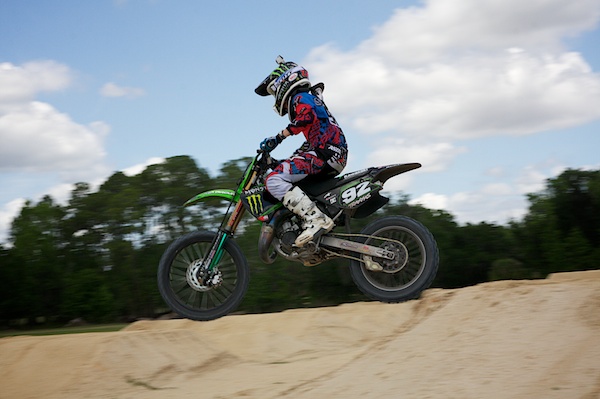 AC played around on the SX track for a little bit for us, even though he had outdoor suspension… and he was on a Super-mini.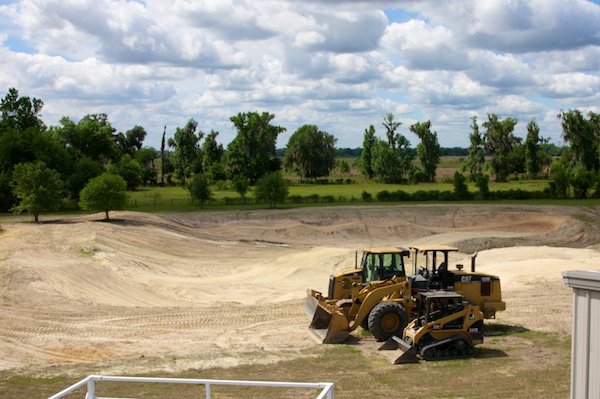 Here's the best shot I took of the pit bike track. It's much funner than this pic looks. Lots of elevation variance but the pic doesn't show it. CLICK HERE for a larger panoramic shot of it.