Paul Quesnel's latest deals with a growing concern in our sport. Oh and there are no asterisks.

Paul Quesnel's latest deals with a growing concern in our sport. Oh and there are no asterisks.
By Paul Quesnel
Photo by James Lissimore
In a perfect world, more specifically a prefect supercross series, there would be nothing but great racing action without any of those unfortunate things called injuries. Yet while everyone knows that our world is far from perfect, we still expect to see this phenomenon transpire every Saturday night on TV. Since the beginning of the season, there has been a dark cloud steadily growing over the 2012 supercross championship. As a matter of fact, most people will tell you that this year has been downright depressing thus far. With every injured rider/lackluster race comes a new sense of dejection from within the sport and every time we think it's over we are again reminded of just how cruel racing can be. As if this wasn't already bothersome enough, there also have been many people murmuring a three word line lately that sounds a lot like, "worst season ever." At this point in time, the series has become like a ball of negativity, just gaining momentum as it rolls down the hill. But while there is no doubt that this negative perspective has been caused by a surplus of unfortunate injuries, it's simple to realize that this type of outlook that most of us have adopted recently is counterproductive to the sport itself.
First of all, let's just settle something right now and get it out of the way. With so many riders getting injured this past year, there has been a lot of talk about the word, "asterisk," going around the pits, message boards, and local tracks lately. In case you don't know what I'm referring to, it's the tiny little star-like mark that symbolizes a blemish in an otherwise outstanding achievement. Well, in my opinion, I believe that unless someone gets caught using steroids or something like that, there are NO SUCH THINGS AS ASTERISKS when it comes to supercross, period. Now I know that when people have brought this term up recently they are really only talking amongst themselves and in no way will there ever be an asterisk in the record books due to the amount of injured riders, but still by bringing this word up in conversation's all we are really doing is insulting the riders themselves. By saying that Ryan Villopoto's championship from this year deserves an asterisk beside it, you are really saying that the guys still racing every weekend aren't even considered competition, despite the fact they are world class riders. By saying that Justin Brayton wouldn't have gotten onto the podium if other riders hadn't gotten injured, (even though he was obviously riding better) you are just ignoring his improvement throughout the year and continuing to add to the negativity. Furthermore, if we would stop and think for a moment we would realize that these types of malevolent remarks could have more of an impact on the racing then we might realize. For instance, when people speculate about how Ryan Villopoto only won the title because his main competition was injured, all that's going to do is piss him off and make him want to win that much more.
When riders like Brayton challenge for wins and then get insulted by comments like, "you would still be a fifth place guy if all the top riders weren't already out of it," all that's going to do is demoralize him and make him believe that he doesn't belong at the front of the pack. Now I'm not arguing about whether or not there is any truth to these comments and I'm not even saying that the riders care (or hear) about what we (the fans) talk about, I'm just saying that with the way things have been going in the sport this year, this malign attitude is not what we need. Instead of taking out our frustrations on the riders and ragging on them for doing well while others are hurt, we should be supporting them and/or praising them for their consistency and resiliency.
Whether you're a fan, journalist, rider, promoter, or team manager, we are all enthusiasts of the sport first and foremost. From the guy on his couch who reluctantly sits through Brett Michael's painful excuse for a theme song every weekend, all the way up to James Stewart, we all got into the sport for the same reason, our love for everything moto. As enthusiasts of the sport, we should all have a common goal that is beyond just riding dirt bikes. And even though the average fan might work towards this common goal differently than an professional rider, in the end we all want the same thing, a common interest.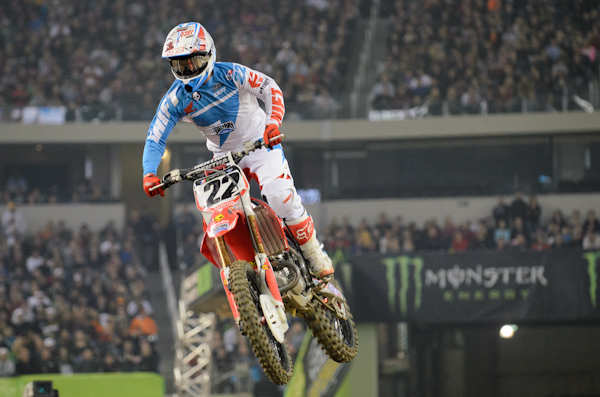 The season has seen a lot of racers, like Chad Reed here, depart with injuries.
Our objective, as general enthusiasts, is to strengthen the sport by continuing to help it grow, expand, flourish, are whatever you would like to call it. Why do we want to do this? Well for one, if you truly love the sport then you want to see it keep moving forward no matter what, but some other reasons include; better TV coverage, better bike sales, more money for privateers, mainstream recognition, more factory level teams, more factory level riders, more participation at local tracks, more local tracks, more local riding areas…better racing at all levels. Now I know that right now you are saying to yourself, "How am I, just an average fan and local B class rider, supposed to help the sport grow?" Well that's easy to answer. Say you get a friend, relative, or acquaintance involved in watching supercross by telling him how awesome it is and then he goes out and buys a new bike. Pretty soon he's getting another friend involved and in turn that friend gets his brother involved which leads to the brother then getting his dad involved and so on and so forth. Now stop and think about if, instead of telling your friend how awesome it is to watch supercross, you tell him what a boring and shitty season it's been and then he just completely tunes out the sport for the rest of his life. In reality you might have only affected one person, but in the long run who knows how far your words could have influenced. Growing the sport is all about word of mouth and it starts with us, the average fans. I'm not saying that we have to run around screaming about how awesome this year has been like a bunch of idiots, I'm just saying that we need to keep a positive attitude, or at the very least stop calling it "the worst season ever."
Everyone reading this already knows that compared to last year (the greatest season ever), this year has been considerably less entertaining, but still this is no time for being critical of each other, the riders, or the sport in general. It's easy to see that we are all frustrated with the way the series has played out, but now more than ever we need to band-together and stop making it all worse by overstating the obvious (excessive injuries) to potential future fans. Ever since the beginning of 2012 our sport has been wounded, and with every instrumental rider we lose indefinitely (Canard, Reed, Windam, Villopoto, Stewart?), the wound just keeps getting bigger and bigger. Instead of just moping around and speculating on what this year could have been though, we should be concentrating on the good things taking place in our small world. With most of our central players now sidelined, we need to reach back in the pack and praise the guys who are still left out there and not ridicule them because they are getting better results while others aren't in the series anymore. We need to find and make popular all the feel-good stories, the kind of stuff that will inspire people. At this point in time we need to remember that the sport is what we make it out to be and that there is a silver lining in every cloud, we just have to look for it.