This week's selection from GP's Classic Steel is the 1989 works Suzuki RM250 raced by Bob "Hurricane" Hannah in his final professional race.
This week's selection from GP's Classic Steel is the 1989 works Suzuki RM250 raced by Bob "Hurricane" Hannah in his final professional race.
By Tony Blazier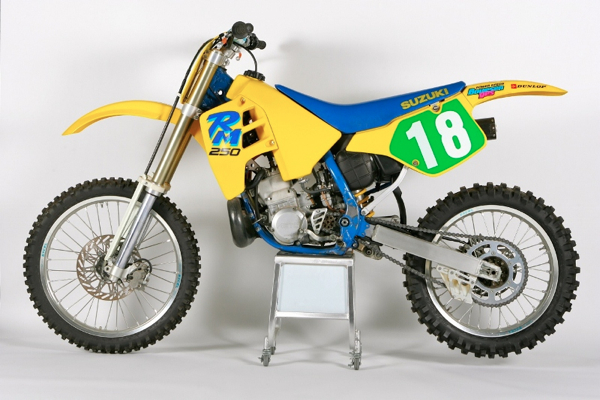 Bob's '89 Unadilla bike was a full on works bike from Japan. The frame and engine were custom made by Suzuki and shared virtually no parts with a stock RM. Bob's frame was specially made to his specification and featured an extremely steep steering angle for razor sharp turning. Photo Credit: Stephan LeGrand
Bob's final race took place in the summer of 1989 at the Unadilla Valley Sports Center in New Berlin, NY. The legendary Unadilla track was the site of the '89 250 USGP and Bob chose this historic race as the one to close his career. The "Hurricane" had enjoyed many incredible battles at Unadilla over the course of his fifteen-year career and it was fitting that the Unadilla "Hill People" would be there to say goodbye to their favorite son.  Even now, over twenty years after his final race, the Hurricane's name resonates in the world of two-wheeled racing like few others. In a sport where very few riders are remembered after their careers end, the Hurricane endures as an Icon of motocross here in the US.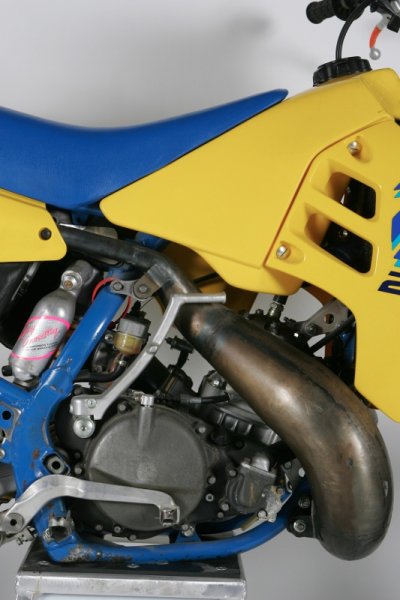 Bob's factory motor used a works cylinder, piston and ignition to produce an incredibly wide, usable spread of power. From the outside, the sand-cast cases and handmade works pipe let you know this was no ordinary RM. Photo Credit: Stephan LeGrand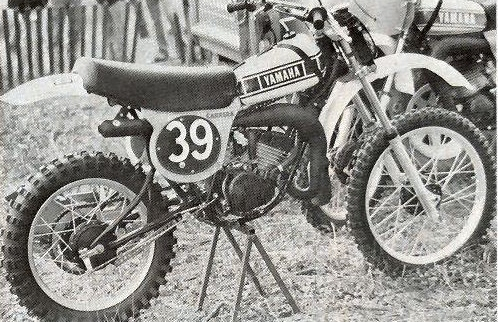 This is Bob's first works bike. The incredible Yamaha OW27 that would take the Hurricane to his first National Motocross title in '76. It really is amazing when you look at the difference between Bob's first bike and his last, a lot of things changed in those fifteen years. Photo Credit: Terry Good
Bob Hannah started his riding career in the deserts of southern California at the age of seven. Bob's first dirt bike was a custom Honda 50 purchased by his father. Bob immediately took to dirt bike riding and would spend the next eleven years blasting around the desert honing his riding skills. Because his father was against him racing, Bob would not enter his first race until he was eighteen and out on his own.
Once Bob actually hit the race track, it became obvious the kid had something special. He only competed in one amateur race before being moved up to the expert class by race officials.  In 1975 Bob raced two 125 AMA Nationals, his best finish being a sixth at San Antonio TX. That was quite an accomplishment for a kid who had been racing less than a year at that point. In 1976, at the age of nineteen, Hannah was picked up by Team Yamaha to race in the 125 Nationals full time.  The 125 class at the time was being dominated by Honda's teen idol Marty Smith who had captured the two previous 125 National titles. Hannah hit the class like a "hurricane," taking the first round in a major upset. The unknown Yamaha rider would end up dominating the series, winning five of the eight 125 Nationals on his way to his first motocross championship.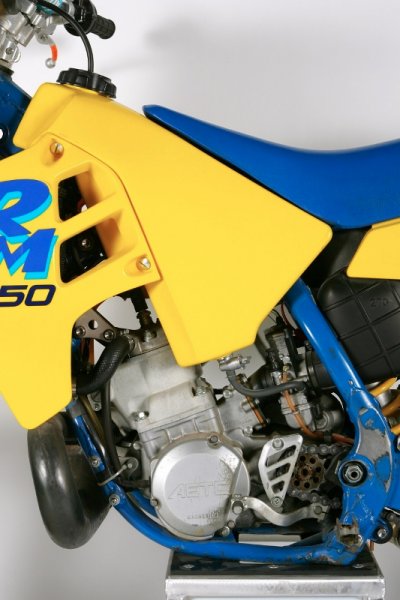 Much of Bob's '89 works bike was designed to be a pre-production test bed for the '91 and '92 production bikes. Without the constraint of the AMA's production rule, the GP's were a great place to test future designs under the strain of race conditions. When Bob moved to Suzuki in '86, one of his main responsibilities was bike development. The 86 RM's were far from the best bikes in the class at the time and Hannah's input had a lot to do with the strong turn around the brand made in the latter part of the decade. Photo Credit: Stephan LeGrand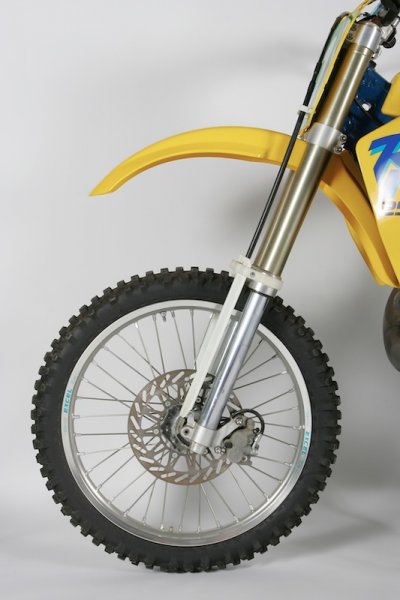 The front of Bob's RM featured works forks bolted to a set of hand-machined triple clamps. The axle carrier and wheels were likewise hand-made factory pieces. The works oversize rotor and factory Nissin caliper guaranteed Bob's bike would stop on a dime. Photo Credit: Stephan LeGrand
In 1977 The Hurricane would prove his 125 title was no fluke by capturing the AMA Supercross title for Yamaha. It would be the first of three Supercross titles in a row for Hannah as he dominated the series from '77 to '79. In 1978 Hannah would move up to the 250 class outdoors and add that crown to his resume as well. By the end of the decade, the Hurricane would capture a total of six AMA Supercross and Motocross titles, making him by far the winningest American rider of the seventies.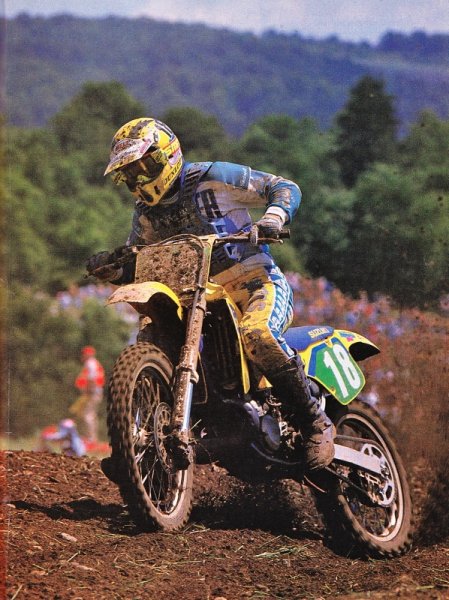 Bob put on quite a show at Unadilla passing 28 riders in the first moto alone. Unfortunately terrible starts plagued The Hurricane in both motos and 9th overall was the best he could muster in his final race. Photo Credit: Motocross Action
As it turned out, it would take an injury to finally derail Hannah's reign at the top.  In the fall of '79, Bob was severely injured in a water skiing accident in the Colorado River. While water skiing Bob had hit an unseen rock and been thrown onto the riverbank. The accident almost ended Bob's career and nearly cost him his right leg. The crash broke his leg in twelve places and was close to causing doctors to amputate the limb. Even after the leg was saved, doctors told Bob his racing days were probably over. As a result of the injury, Bob was forced to sit out the entire 1980 season.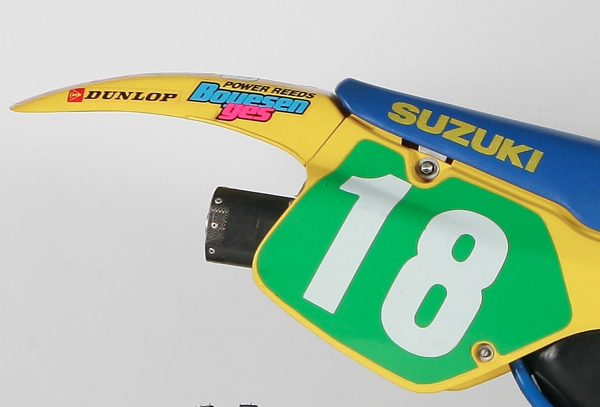 Bob had a close relationship with Eyvind Boyesen over the years, helping him develop products like his Rad-Valve intake and Boyesen Link rear suspension.  The bright green plates were used to designate the 250cc (now MX1) class in GP motocross racing at the time. Photo Credit: Stephan LeGrand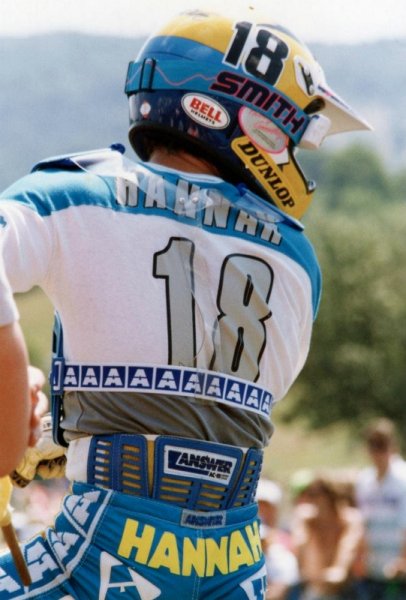 The Hurricane prepares to take to the track for the final practice session of his career.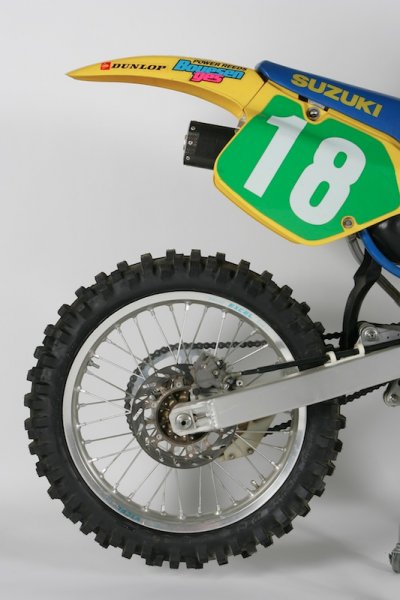 The back of Bob's RM featured a 15mm longer than stock Factory swingarm and works Nissan rear disc. The hand-machined rear works hub was both lighter and stronger than stock. Photo Credit: Stephan LeGrand
When Bob finally made his return to racing in 1981, he was not the same rider that had dominated late seventies racing. The combination of Yamaha's sub-par new race bikes and increased competition from riders like Suzuki's Kent Howerton meant the Hurricane's dominating days were behind him. Bob would soldier on for two more frustrating years at Yamaha, before finally ending their long relationship and moving to the powerful Factory Honda team in '83.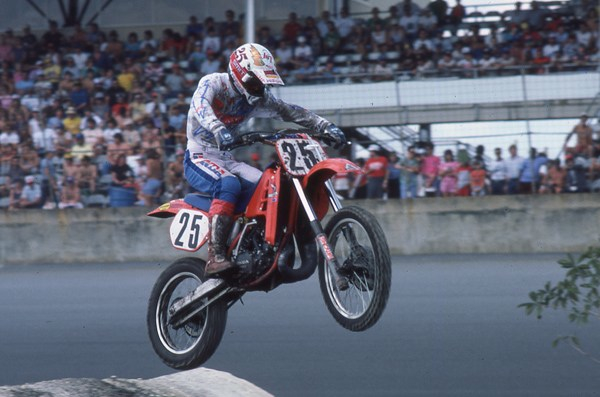 Bob had three very successful years on the powerful Honda squad. Here Bob airs out his $100,000 RC250 at the site of his last 250 Supercross win, Daytona 1985.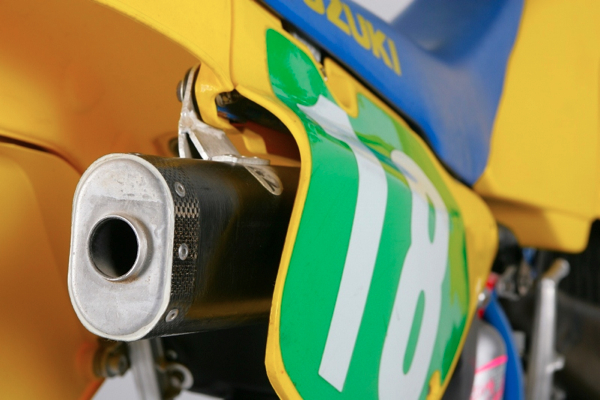 Although incredibly lightweight, works parts like this carbon fiber silencer were extremely fragile and required constant replacement. The cost and constant maintenance required on parts like this made them inpractical for most average racers. Photo Credit: Stephan LeGrand
In 1983, on the incredible works Hondas, Bob reclaimed a little of his former magic. He was by far the fastest rider on the track in '83, but once again injuries derailed his title chances. He would win several races that year, but lose both titles to a young up and comer by the name of David Bailey. The '83 season would turn out to be Bob's last real chance at a major title. He would continue to ride for the Factory Honda team up until 1985, but aside from the occasional Daytona win, he was never again a real title threat. Bob's final win came in the 250 outdoor National at Spring Creek in 1985.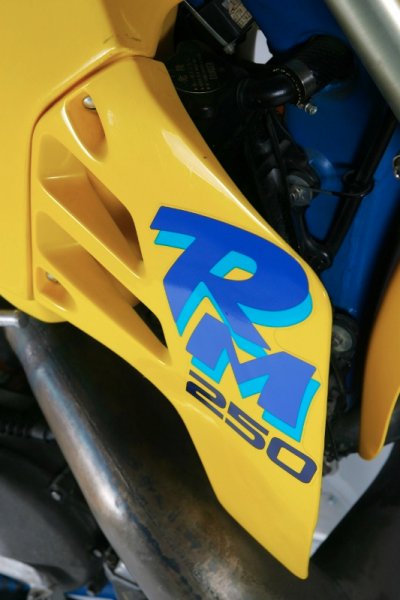 In my opinion, these 1990 RM graphics are some of the best looking one's ever used. The yellow and blue color combo always looked awesome on these bikes and the graphics were clean and tasteful.  It was only a year later in 1991 that the infamous Rorschach test RM's made their debut to the detriment of good taste everywhere. Photo Credit: Stephan LeGrand
After 1985 Bob signed on with Team Suzuki to help develop their production machines and race selected events. He would choose a few of his favorite tracks like Southwick and Unadilla and come out to show the kids how it was done. In 1987, Bob was picked to race in the 125 class for Team USA in the Motocross des Nations to be held at Unadilla, NY. The choice was a controversial one because Bob had not raced the 125 class in nearly a decade at the time. In the end, The Hurricane came through in flying colors, helping lead Team USA to victory in the prestigious event.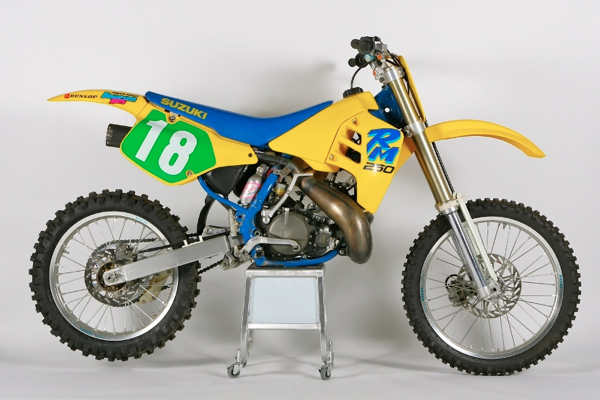 This was the last bike ever raced professionally by Bob "Hurricane" Hannah. After using it at the '89 250 USGP it was presented to Bob as a retirement present from Suzuki.Photo Credit: Stephan LeGrand
Unadilla had always been a special place for Hannah, and in '89 Bob chose the historic track as the location for his last professional event.  The '89 250 USGP would be Bob's last race as a professional. Although he did not win the event, (Rick Johnson took the win in a very popular comeback after his broken wrist) Bob's ninth place was wholly irrelevant to the Unadilla fans that came to see their hero in his last ride.  After crossing the finish line for the last time, The Hurricane was swamped at trackside by his adoring fans.  Unadilla's favorite son had come home one last time.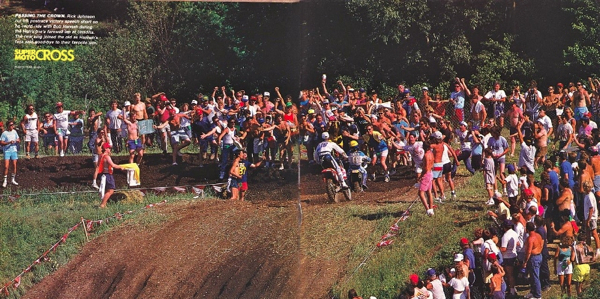 After the finish of his final race, the Hurricane joined event winner Rick Johnson for one final victory lap around Ward Robinson's rolling hillsides. Photo Credit: Fran Kuhn
At the time of Bob's retirement, he was second in all-time in Supercross wins with twenty-seven (one behind Rick Johnson at 28) and number one all-time in 250 Motocross wins with twenty-seven.  His combined total of seventy motocross and supercross wins would stand another ten years until it was finally broken by Jeremy McGrath in 1999.
Bob "Hurricane" Hannah was inducted into the Motorcycle Hall of Fame in 1999, and is currently living near Boise, Idaho, where he owns an aircraft sales company.