Our first annual awards column based on the 2012 supercross season.

Our first annual awards column based on the 2012 supercross season.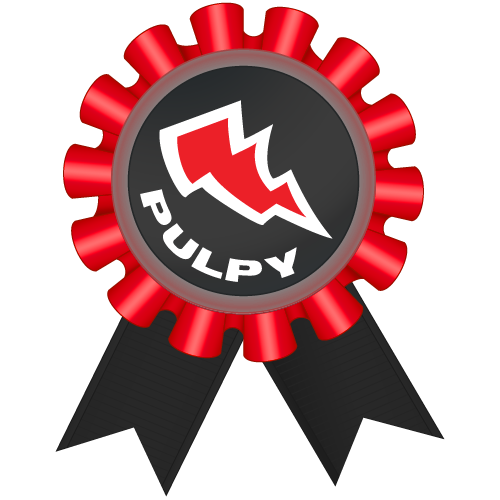 The Pulpys!!! Everyone wants one, only a select few can have one.
The "We Thought You Were Dead" Award- Awarded to the rider who reappeared out of nowhere and had us talking.
This award goes to Billy Laninovich who washed out the first time around as a factory rider for Factory Connection and KTM but took some time off, became a riding coach and then magically discovered that actually racing was better than showing a kid who you're faster than how to race. Lano came back this year and was a real story out there in the 250 west sx series ending up in the top ten in points. He even earned himself a fill-in ride for the TLD Honda guys for half the summer. Congrats Billy, we thought you were dead. – Matthes
The "350 Rider of the Year" Award- The nominee's for this category were a little slim.
We're going to go with Ken Roczen on this one Swizzle, he narrowly beats out Marvin Musquin and Tevin Tapia with his Seattle second place finish. Good job to you Kenny Roczen on tripling off a dragonback that only one other rider did all night and almost winning the whole damn race. You also get the award for "Best PR Man"when after the race you insisted to anyone and everyone that the 350 can win races and titles. Good one man, that was hilarious. – Matthes
The "Hey, One is Better than None" Award- Awarded to the rider who only made one main event but dammit, it meant something!
This goes to Cody Gilmore who ended up with five points from his New Orleans main event which we believed was the first one he's ever made. Cody's battled hard off the track and he and his Ti-Lube Kawasaki rode strong at N'awlins to make it right out of the heat. – Matthes
The "No Really, We Thought You Were Dead" Award- Awarded to the rider suffering the gnarliest crash where we actually feared for their livelihood.
This award has to be split between three nominees who each had us equally scared that it was lights out for real. Ryan Morais, Trey Canard and Kyle Cunningham all had us saying prayers this season as we waited for them to snap out of la la land following scary crashes. Please guys, don't do that to our hearts again. – Swizzle
The "Wait, What are You Doing There?" Award- Awarded to the rider who had one great finish that when compared to the rest of their 2012 race finishes made us go, "huh?"
This award obviously goes to Josh Grant based on his 2nd place ride in #NOLA. It's been a long time since Josh's 2009 A1 win, with many more hard-ships than peaks since then. In #NOLA though, Josh made the best of a great start and pulled down a 2nd. – Swizzle
The "Best Impersonation of a Pinball" Award- Awarded to the single rider who seemed to get bumped around most consistently during the season.
Sorry Jake Weimer but on multiple occasions in the beginning of the season you were on the receiving end of a few slide jobs that earns you the top spot for this award. Ryan Dungey twice put Jake on the deck and James Stewart also showed him the floor. A big part of Jake taking the top spot in this category is all these instances were front and center on the broadcasts and clearly frustrated Jake. On a positive note, it is an award.– Swizzle
The "Best Impersonation of a Steam Roller"- Awarded to the rider who, ok fine; this category was created just for Weston Peick for his pummeling of Andrew Short in San Diego.
Congrats Weston! If we had to take a pick out of all the supercross racers we would least want to run us over, you would be number 1 (it would be a close race with Alex Ray but Weston gets it) but unfortunately for Andrew Short, you were the guy to run him over right in front of Moser's eyes at San Diego.– Matthes
The "Most Impressive OEM" Award- Awarded to the Manufacturer who surprised us with their results.
Who knew that if you could get enough of those tiny hot tub jets together they could power you to holeshots in a supercross race? This award goes to Motoconcepts who raced all season long on MCR bikes for Mike and Jeff Alessi, Jake Canada and Tommy Weeck. The hot tub accessory king Mike Genova deserves props for making a bike out of old hot tub parts and some plastic and making it work!- Matthes
The "Best German"Award-
We'll go with Roczen on this one. He beats out a deep field of no other Germans that we can think of.– Matthes
The "Best Canadian"Award-
We're not counting Dean Wilson anymore (the therapy bills alone on getting me to admit he's not Canadian could pay for Austin Stroupe's yearly bottle services alone) so we'll have to go with Cole Thompson on this one. Early on he was inside the top ten on the 250 east coast before struggling at the end of the season. Still, we admire Thompson for trying to race against the best while other Canadian guys just stay home and hope their 30K lasts the winter. Runner-up is Kyle Beaton who maxxed out his credit cards but did make 2 mains.– Matthes
The "Close Only Counts in Hand Grenades and Horse Shoes" Award- Awarded to the rider who consistently came closest to making a main but did not.
Oddly, this award goes to one-race Hart & Huntington fill-in rider Mike Horban. Mike was consistently in the hunt for a sniff of the main but sadly never got a taste of the forbidden fruit. Somebody scoop this guy up and bring an end to this unfortunate consistency streak. – Swizzle
The "I Can't Thank My Team" Award- Awarded to the rider who just can't remember to add "enough" to this simple phrase, time after time in podium interviews.
I'm not going to single out one rider because there are so many who do this. Come on guys, is it really that hard to actually think when you're up there? I mean really, just one more word and you're golden. Practice it in the mirror before track walk. I promise, it won't hurt. – Swizzle
The "One Who Flew the Cuckoo's Nest" Award- Awarded to the rider who had the most extreme straight-jacket moment during the season.
I'll give you one guess on this award, because that's all you're going to need. Well actually, you may think Justin Barcia's team-mate, Justin Bogle, should be battling for the top spot but this award is based on one single incident of shear madness. It's really hard to think of an instance that rivals Justin Barcia's Houston mega-meltdown but there is one. Remember Mike Alessi in moto 2 at Glen Helen in 2005? That's a seriously boneheaded standard to ascend to but Bam Bam reached it during a moment of temporary insanity. – Swizzle
The "What Happened?" Award- No description necessary.
Much like the Career Achievement Award from lesser awards ceremonies, the "What Happened"award may as well be hence forth known as the "JT$ Writing on the Wall"award. It quickly became PulpMX Show lore as week after week, JT$ fought with valiant effort but was met with strict opposition at every round, save for three. There has been much theorizing on what led to such an abysmal year for the faux-hawk warrior. I believe it's a hybrid of two-parts increased class parity, one-part "that's racing"and three-parts "shit happens". Hello outdoors. – Swizzle
The "Poor Planner" Award- Awarded to the rider who left the West SX2 class while in podium points to focus on the GP's but got hurt while testing.
Poor Zachy-Poo. What was he to do? He had prior commitments that he remained committed to despite having a breakout partial SX2 series. I respect the shit out of Zach for exercising such integrity but it's nothing surprising from this guy. He's much more mature than his years as evidenced by his commitment to a life abroad despite it being a real bitch at times. Most riders would have seized the moment and continued on in the series until it went south but there's not a team in the sport that doesn't respect Zach for sticking to his word. With his ride signed and sealed for 2013-14 back in the states, the sting of his foiled 2012 GP plan stings a little less. – Swizzle
The "AARP" Award- Awarded to the oldest rider who made mains.
Ryan Clark has been lining up for SX for 16 years! That's seriously impressive. To qualify for three mains this season is nothing to scoff at and though he only tallied 11pts, at his age, just staying awake for 20 laps is a real feat. Congrats on your award Mr. Clark, if you need it, we can provide an assistant to carry your award for you so as to not blow out your back or break a hip. –Swizzle
The "Best Fill-In Rider"Award- Take your pick, Kiniry, Peick, Georke I would think are the top three guys. Maybe Sipes but definitely no one from H&H. For whatever reason, even those guys couldn't make it happen although Bowers had a couple good finishes. Let's go with Georke because without him, BBMX was EFFED.– Matthes
The "Worst Fill-In Rider"Award- It pains me to "award"this category but it's got to be done. Kyle Regal joined forces with the Hart & Huntington team in Indy and had an absolutely dreadful seven rounds. It was really peculiar, at times he looked great but when all was said and done, he was towing the line at the end of the pack. Kyle's always been fancied an outdoor specialist but he's got the skills to be way better in SX than he showed in 2012.-Swizzle