Moser's back with his column about those riders that had some shortcomings at Texas.

Moser's back with his column about those riders that had some shortcomings at Texas.
Shortcomings Vol. 2
A Short look at some Shortcomings from Freestone
By Moser
Last week Shortcomings featured two riders that were sidelined with injuries, this week features the dreaded bike mechanical DNF. Having your bike give up the ghost is never convenient but when it's 90+ degrees outside with 60% humidity that's not ideal weather to push your bike back to the pits. I would like to give a Short shout out to every rider that has ever suffered a bike problem but had the respect and fortitude to push that wounded bike back to the pits when everyone's initial reaction is to throw it on the ground and jump up and down on it. I can only imagine the amount of frustration a rider on a professional level feels when suffering a mechanical but to me is says a lot about a person's values and character if they make that walk of shame with the bike that got ridden hard but came up Short of going the distance.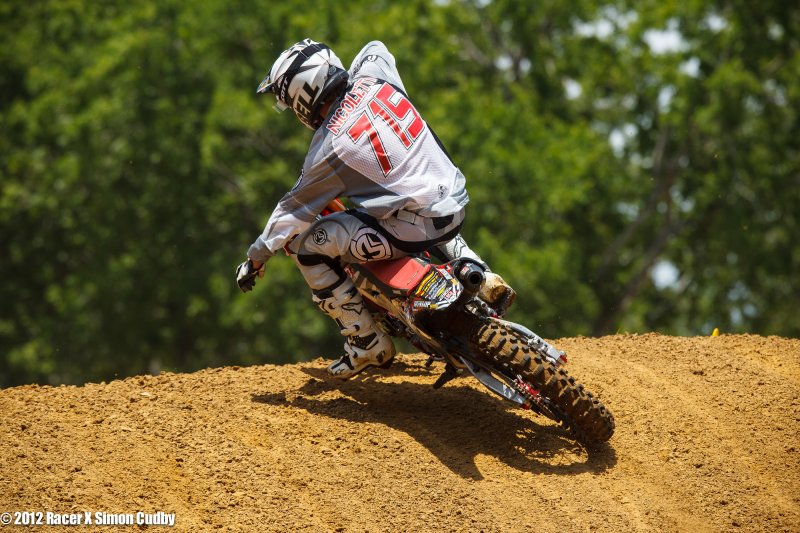 Filthy Phil had a tough Texas but for a brief while, it was glorious. Photo by Cudby
#715 Phillip Nicoletti – Eleven10Mods
Filthy Phil's day went from good, to bad, to worse in Texas. Pulling a holeshot on the Eleven10Mods bike has become a familiar sight, and pushing the Eleven10Mods bike back to the pits has also become a familiar sight. I don't know what Chad Sanner is doing to these engines but as Brotocross would say there are not F*$%# given as he continues to roll the dice by making them very fast but walking the line on reliability. A fast bike is a dangerous thing for a riders psychi and confidence which I think also reflects in how well the Eleven10Mods privateer riders perform and more specifically how good their starts are. I don't know much about Filthy Phil although he's become a familiar name to read or be mentioned in a telecast.
Starting with the good, on Saturday Filthy Phil pulled a holeshot in moto one and things were looking positive that he would best his overall finish from Hangtown of 40th place. Then the bad, it wasn't meant to be as his Eleven10Mods Honda would run out of magic before the end of the race and have to be pushed back to the pits in the Texas heat. Followed with the worst as a crash in moto two would end in a DNF. There are some riders that show blazing speed but no consistency while other riders may not have that all out speed but are consistent every weekend, Filthy Phil falls somewhere in the middle. He has shown the speed to run up front but he's also consistently finished in 40th place at the first two nationals this year.
I don't want to be too forward but I'm going to go out on a limb and say that next week Filthy Phil will finish better than 40th. Where was Filthy Phil last year and how did he get the nickname Filthy Phil? I was determined to find out. Filthy Phil rode the Aussie SX series last year, apparently enjoyed his time down under and had every intention of returning this year but ran into a slight problem with his Visa and when I say slight I'm being sarcastic because he's been banned from Aussie for three years. I'm no stranger to getting myself in a pickle and believe it or not I even had to file for a visa once upon a time. The paperwork is daunting but I'm not sure how you get uninvited from a country for three years. These visa problems are starting to play an important role in SX/MX, Wilson got stuck in Canada last year and one might also argue had Townley's visa gone through sooner this summer he would not have ridden the second Aussie MX national and could be in Merica right now racing on the weekends and gitboating during the week.
Inquiring minds (or at least I) would like to know what happened? Did Filthy Phil forget to pay his taxes, lie about being a Dr. on his visa application? There has to be a ½ dozen little Hanny's running around down under right now and he's still invited back as far as I know. Hopefully Filthy Phil's Shortcoming on his visa applications can help prevent one of the Pulpmx readers from making the same mistake, make sure to proofread that visa paperwork twice before sending it in, they really mean use pen and fill in all the blanks. So how did Phil become Filthy Phil, was it something he did down under? I don't know and forgot to ask anyone that would know but I'd assume it's because Phil rhymes with Filthy, much like Sexy and Shorty. It's an unfortunate nickname. and unless your @hobo_nick it's not going to help you with the ladies, it attracts the wrong type of females, I'd take Chupacabra over Filthy Phil.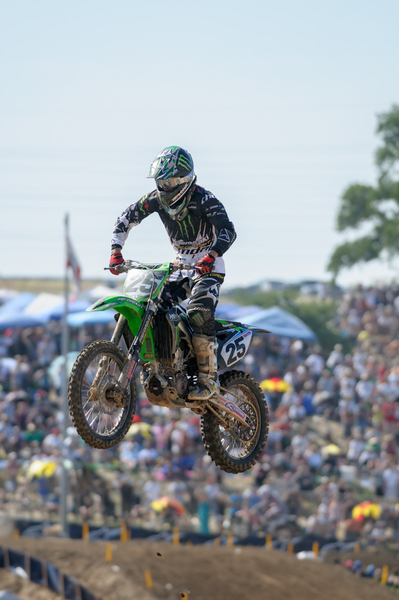 Tickle's Texas made Swizzle cry once again. Photo by LIssimore
#25 Broc Tickle – Monster Energy l Pro Circuit l Kawasaki
Broc has come out of the gate swinging so far in the outdoors putting a real Tickling to the competition. You know that game where someone blurts out a word and you say the first thing that comes to mind? Let's play right not BROC TICKLE…….. alright how many of you thought of the word outdoors? Anyone? How about MX or Motocross? Don't be shy raise your hand. Shocker that this word association game didn't put the thoughts of Tickle and the Nationals together. How many of you immediately thought of Chickle? That's what I thought.
Last years MX nationals for Tickle me Broc was a nightmare, nothing went his way I would argue a lot of that was at no fault of his own either. I don't think the saying you make your own luck holds much water, I'm more of a the glass is ½ full kind of guy and think that's holds more water, well about ½ as much. Going off memory I think Broc had at least 3 or 4 mechanicals last year I asked the Tickle superfan Swizzle if he could remember how many mechanicals Tickle had last year and he couldn't remember and/or ignored my question. Regardless going into this outdoor season I can honestly say that I was not on the Tickle me bandwagon. I avoid wagons in general as a precaution for personal reasons but I was not a believer that Tickle riding the 450 outdoors was a good idea. There are few riders that I can name that have become a better 450 rider than they were a 250 rider. If you are under performing on the small bike jumping up to the bike bike is a bike gamble, the safe bet is to become a solid top 5 guy small bike guy before making the jump up.
I don't think anyone, not even Swizzle would defend the supercross season Tickle me had. I agree that he got better as the season went on, I'm sure he learned a lot and that he will do better next year but it still wasn't a season to hang your hat on. Before Hangtown when Swizzle posted that Broc needed to be a top 5 guy to continue to ride the 450 the jaws music instantly que'd up in my head it was the beginning of the end in my mind. Then Tickle me knocked my socks off with a 6th overall in Hangtown, maybe Swizzle hasn't damaged his cognitive thinking with all the death metal. Tickle me rode smoothly, confidently, aggressively he looked like another rider. Dare I use the all too common and overused phrase he was "riding to his potential". With a 7th place finish in moto one at Freestone Tickle me was well on his way to another solid ride but 2 laps into the 2nd moto his finely tuned Pro Circuit machine died, yet again. I don't know if anyone over at Pro Circuit keeps records on their riders mechanical DNF's but I think that Tickle me has to be the current title holder. When Broc was interviewed on TV he said all the right things, thanked his sponsors etc. etc. but I couldn't tell if he had pushed his bike back to the mechanics area or if it was leaned up against a fence post somewhere.
In general people say the 450 bikes are more reliable at least on the engine side of things because they are so fast out of the box that they aren't tuned to get every little bit of potential power out of them and not walking that reliability line. Did Broc have a electrical problem or an engine problem I probably should have looked into that before getting this far. My point was that only Tickle me Broc could take a bike that is supposed to be more reliable and break it, but the glass is ½ full, he could have worse luck he could be Ben Townley. Pondering the recent change or "new beginning" for Tickle me the only logical explanation I can come up with for this transformation is that his backyard pool is finally finished, so now he has somewhere to unwind and partake in a bit of skinny dipping. If you haven't gone skinny dipping before well let me tell you it makes you feel like a new man and that in my opinion has made the recent difference in Tickle me.
Thanks for reading this Short recognition of the guys that had Shortcoming this weekend, see you next week Moser
Please send any comments to jasonw@racerxill.comshockingly he really does read them.