Le Cobra is back with his thoughts on what happened at Freestone.

Le Cobra is back with his thoughts on what happened at Freestone.
By David Vuillemin
Photos by Simon Cudby
Hey everyone and welcome to another edition of my weekly column on PulpMX.
Once again, the riders in both classes spoiled us this weekend in Texas. I, unfortunately, wasn't there but I was "velcroed" to my TV screen to check the action and to my computer to follow and analyze the live timing.
Let's start with what I liked in Freestone County…
The track:
I thought the track was not over-prepped like it was last year. It wasn't as deep and as wet which let the riders go wherever they wanted rather than be stuck in a rut all around the track. I still think the track could improve though. I am not a fan of all the double options lines in the turns or in the straight aways. One line is always way faster and, eventually, makes the track twice as narrow. But, once again, it was maybe the best racing track Freestone has seen yet and gave us some great racing. Plus, the weather wasn't as bad/hot which is always a good thing for the riders and crew.
Tomac:
Not much to say on his 1-1 performance though. He dominated! He was the fastest and kept that pace the longest of anyone. His starts weren't great, 5th on the first lap in Moto 1 and 6th in the first lap of Moto 2, but he made it work. He made quick passes and checked out. Blake Baggett made Eli's day a little easier when he ended both first laps 7 positions worse than Eli. Speed and fitness wise, BB12 would have been the only one to contest Eli's domination with better start. We would have to wait a little longer to see their head to head battle… Like in SX, Eli showed the he was in it to win it!!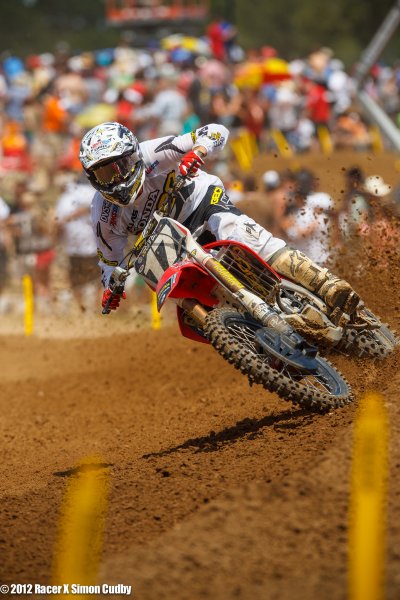 DV liked Tomac's ride. Obvious.
Barcia:
We didn't see Justin much on TV but he salvaged some points after 2 bad starts. 19th and 18th respectively in both first laps, JB dug deep to get a 4-5. His speed was a little off compare to Eli and Blake but it's understandable, he spent his whole motos in traffic basically. Also, his fitness will not be questioned. He charged for two motos with consistent lap times… With better starts, like in Hangtown, he will be in the mix and his time to win will come.
Wharton 2nd Moto:
Blake's second moto was impressive. He led for 6 laps and ended up on the podium getting passed only by Eli and Blake at the end of the moto. I am sure he would have liked to win or get 2nd but I thought it was a very good performance especially in the heat and in 2nd moto (and after his 16-6 in Hangtown), even if he lives in Texas…
James Stewart 1-1:
This win from James came from the guts while staying smooth on the bike… In the past, it would have been, "I am going to pin it and see what happens"… Like I mentioned it after Hangtown, James rides with a lot of maturity lately and you can see him breathe, take his time when he can and stay more concentrated/focused. It wasn't as easy as Hangtown that's for sure but, in a way, I feel like this win has more value to it because he was pressured for 1 hour and 4 laps and didn't cave in. James had a couple close calls in the sand whoops for example but recovered nicely. As a longtime Bubba's fan, I was already a fan when he was a rookie and I was winning Supercross races in 250cc (yes 2 strokes) in 2002, I never missed his practices nor his races. I am glad to see him win and ride close to his potential. I said close because I think he still has some speed left in the right wrist and I am happy he's taking it step by step.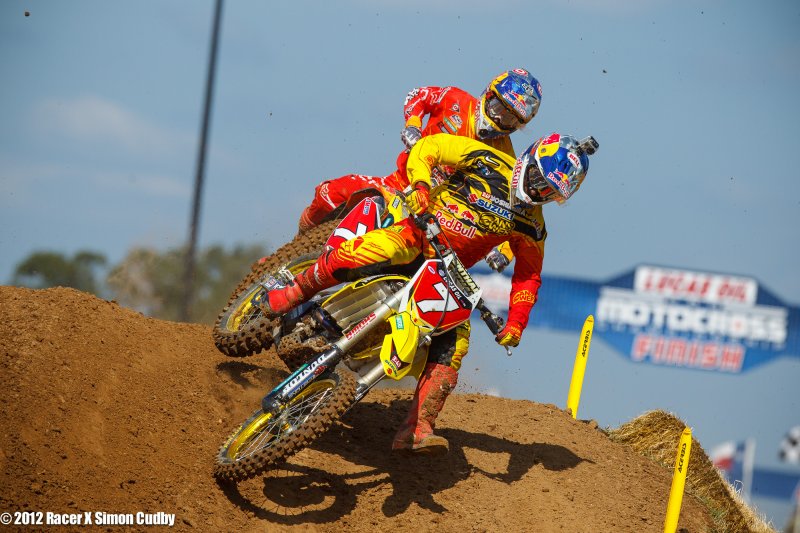 This was about as far as these two got apart in the second moto.
Ryan Dungey 2-2:
What a race from RD5 too!! This Ryan Dungey is growing on me since last year. I am liking him more and more every week! He rode with a lot of heart on Saturday and ate Bubba's roost all day. I know how it feels and wouldn't have wanted to be at his spot… It almost looked like he had the abilities to pass James. They were really close in times even if James had the fastest lap times in both motos. James and Ryan rode amazing and might easily be the 2 best riders in the world but I am still questioning Ryan's passing strategy, if there was one. RD gets a A++ for trying, no doubt about it, but as far as the passing move tries, he looked a little bit like a fish out of water. Most of the lines he was taking to pass were almost "hopeless". He was trying a lot of outsides, multiple times the same ones that didn't work. For example, the outside in the trees where he was doubling out of the turn or the outside/outside in the tight switchback 200 yards after the mechanic area. The first outline was too slow and in the swithback, Bubba would end up in his line and RD couldn't go anywhere.
Another one was after the finish line jump, Ryan kept going inside on the sweeper and hitting that big single jump while James was going around it wipe open. No way you could pass there but RD went there 3, 4, 5 times and using more energy to do it. There was one spot I thought was good to make a move. If you saw the race on TV, you will be able to relate. There was that RedBull triple jump where Bubba was going outside in the turn before every lap and then was getting in the next turn very tight on the inside and drifting outside… I would have like to see Ryan go a little faster on the inside before the triple, land on the left side of the track which would have opened his corner entrance. Picture Bubba getting tight into a right 135/140 degree turn with a limited speed (because of coming in tight) and Ryan opening it up and already turning while Bubba is still straight.
Ryan would have had to square the entrance and come to James' line at the exit of the turn. Easier said than done, I give you that, but in my opinion it was a good spot to at least try something. After the race the NBC Sports' woman commentator asked Ryan if he was frustrated about the day. Why would he be? He rode with Bubba all day, was closer to him than in Hangtown and got the proof that James wasn't that dominating and unbeatable. It has to feel good for his confidence. Anyhow, those 2 guys gave us a hell of a show and I can't wait to witness a race live!
Bubba's second turn on Moto 2:
We just talked about passing strategy. Did you see how James passed Dungey and Alessi in a single 90 degrees left hand turn? Yes, on the second turn, James squared them off so fast and ended the next straight away in the lead. That was an amazing move with lightning fast decision to make it happen! That was for sure "The-Fastest-Man-On-The-Planet-Like"… Because of that move, James led all 34 laps of the day and went ahead to win moto 2.
Nico Izzi:
Nico was in the top 4 for a moto and a half before he hit a hay bail and crashed. He was even running in 3rd for more than half of the first moto. After a couple/few tough seasons, he turned it around, improving and running up front…
Mike Alessi first half of the 2nd moto:
I thought Mike rode well behind the big 2 in Moto 2. Mike tried to stay close to those guys and wasn't getting gaped that much. Ryan and James started hammering down at lap 8 and started to pull away a bit more then. But, Mike will need to do this again. I don't see him beat those guys straight up yet but he will learn a lot by staying the most he can with those guys and also get a feel of his bike at a faster pace. The second half wasn't as good but he was basically by himself so we can't blame it for it. In the last 2 races, he beat everyone but the "Big2" which is a great performance for a privateer effort.
Jake Weimer 3-6:
Jake got his first ever moto podium in 450 in Moto 1 and had to work from a bad start (or a crash?) in the beginning of moto 2. Only 28th on the first lap, he came back to 6th! Considering the circumstances, that was a good day for Weimz!
Here is what I didn't like that much…
Justin Brayton, 14-14 for 13th overall:
Where is the real JB10? I know he has been dealing with a leg injury since the San Diego SX and I don't know if he is dealing with other issues but he, obvisouly, isn't at his place. After a DNF-16 in Hangtown, everyone was waiting for Justin to rebound in Texas. He was 10 yards away to get lapped in Moto 2 in Freestone. Something isn't right and if it's not injury related, he will have to turn it around soon.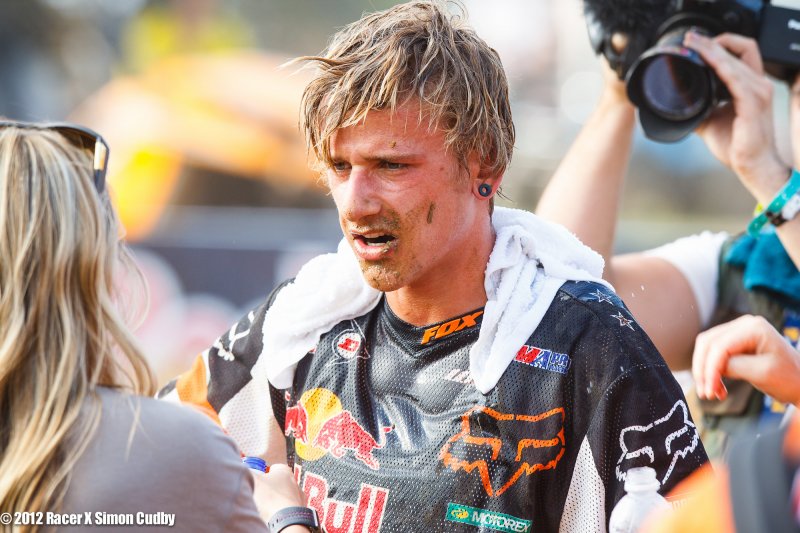 Vuillemin didn't like the amount of seconds that Roczen lost to Tomac.
Ken Roczen:
Like I said after Hangtown, I picked him to win the opener and he was only a handful of seconds to do so. In Freestone, he was farther to win than in NorCal. He had a decent start in moto 1, he was third behind Nicoletti and Nelson. I thought he would have passed them quick and go ahead to battle for the moto win. He was in a great position to win his first MX moto. Instead, Tomac passed him early and checked out. Later on, Bagget railed him in and passed him on the 10th lap after being 12th on lap 1. He went ahead to finish 3rd but was 26 seconds behind moto winner, Tomac at the end. Barcia finished 4 seconds behind him after being 19th on the first lap. That's really not Roczen-like or what we are used to see him do in MX in the past. In moto 2, he was 2 spots behind Tomac on the first lap and ended up 4th, 30 seconds behind Tomac. That's close to an average 2 seconds a lap. On paper, 3-4 for 3rd overall isn't bad at all but when you look at the numbers more closely, it seems like a huge gap. I know it was hot. I know he has to learn the tracks but all of us Euros had to learn them too. Tortelli won his first National and I won my 2nd and 3rd ever National too. Ken had a promising race in Hangtown but he wasn't Roczen-good in TX. Ken needs to rebound and it could be in Lakewood this weekend. He knows the track and rode amazingly good at the MXDN in 2010.
Track watering:
The watering between the motos especially in the shaded areas of the track wasn't great and didn't really need more water to start with. It made the track a little on lined and sketchy at times where the visibility wasn't good. Your eyes always take time to adapt from the sunny open areas to, all the sudden, the shaded ones. A problem I've always had in Washougal for some reason.
Team Langston:
It's not that I don't like it, more the fact I feel bad for a past National Champion to see his riders go 22nd and 24th overall. I know the feeling and it could be frustrating. I know it's a new team without much expectations but I wanted to point it out, no pun intended. Owning and running a team takes a lot of time, effort, money and I wish and hope for the best for GL for the future.
Davi Millsaps injury:
I was excited with Davi's performance in Hangtown. He even popped his elbow out there in moto 2. I guess he got hurt during the week and couldn't race. I saw him ride the day before he got hurt in Lake Elsinore and was looking great. I hope he will get well soon and be back in the mix asap.
That's a wrap for me. If you have any ideas to improve this column or want me to talk about some different subjects, hit me up on twitter at @DavidVuillemin or let my "boss", Matthes, know…
Talk to you next week and I'll try to get this thing earlier… 😉
DV