There's nothing quite like the feeling of a new motorcycle, is there?
There's nothing quite like the feeling of a new motorcycle, is there?
By Aaron Hansel
They way it shines in the garage, the excitement you feel when you load it up to go rip for the first time, or the way that everything feels nice, new and tight, unlike that sloppy, clapped out piece of shit you just sold to afford your new beauty. You know, the bike you advertised on Craig's List as, "very clean," and, "never raced." Maybe you even threw in the classic, "fresh tires," and, "very fast," but that's another story.
Right now we're talking about your new bike, and how much it excites you. Of course, no matter how happy this awesome new ride makes you, there's just no way it can replace some of your favorite bikes from the past. How could it? You haven't had a chance to bond with it yet. You haven't cleared that big triple together, or conquered that huge, gnarly hill full of tree roots and loose boulders yet. Hell, you haven't even gotten in trouble together yet! The lack of bonding time is why bikes of years past will always hold a much more special place in your heart than any new bike ever could, and as time passes, those memories just get fonder and fonder. With that in mind, let's dive into a few of the bikes of my life.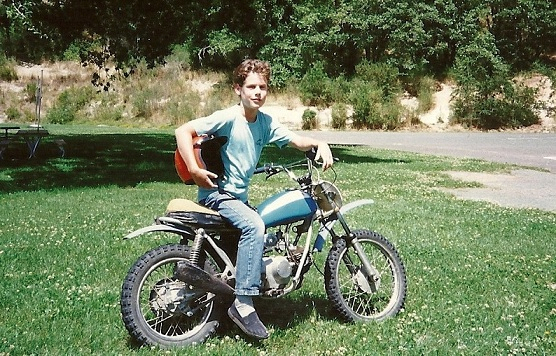 Swagger for days.
Honda SL70
I can't even remember what year this bad beast was. It was either a '72 or a '76. Either way, it was old when I bought it for $50 from my brother when I was an anxious little 9-year-old. I don't know why I bought it, my brother let me ride it whenever I wanted anyway. I guess I just wanted to be able to own my own motorcycle. My idea of maintenance it was to drain the oil, have a look at it to make sure it was the proper shade of pitch black, and pour it back in. Never mind the fact that more bolts had vibrated out on the trail than were left in the bike! As long as the oil got a little fresh air every now and then, we were good.
My best memories on this bike came from riding through the woods with my dad on his Honda CT90, a bike he insists to this day is more trail-capable than modern motocross bikes. I know pops, it's tough to argue with that trick, high and low transmission setting. I also used to rip it up and down my driveway and do big turnarounds in the street, just to make sure the cute neighbor girl down the street saw me on my big bad chopper.
This bike also introduced me to the world of motorcycle-induced pain. There was a big field I used to ride circles around for hours and hours, and if I was feeling confident, I'd click 'er up into fourth gear. Fourth effing gear around a broad, sweeping corner was a big deal for me then, and I'd go home feeling like I just blitzed a set of nasty stadium whoops. Well, one day, predictably, I slid out, high-sided and flew through the air like a jumping bean on steroids. It knocked the air out of me and I laid there, wondering why my motorcycle had betrayed me. A year or so later I burned the hell out of my leg on the exhaust pipe (why the hell did my parents let me ride in shorts?). I shrieked in pain, dropped the bike, and wondered why my motorcycle had betrayed me yet again.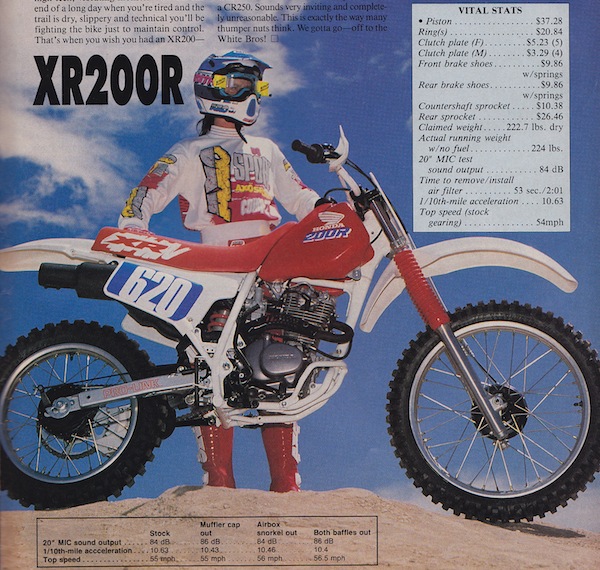 "R"acer.
1990 Honda XR200R
Like my first bike, this motorcycle was purchased from my older brother. You can bet your ass that when I talked about my XR200R with other enthusiasts, I always made sure to include the, "R" as part of the nomenclature. The R stands for race, right? Hell, the R could stand for repossessed, and to me it still would have meant race. There were a lot of similarities between the way I treated this bike and my first. I loved them both to death (almost literally), and made sure the oil in my 200R got just as much fresh air as the oil in my SL70. With the R, however, I took maintenance a step further by cleaning the air filter once every eight months or so with gasoline, and made sure to lube it back up with quality foam filter oils like chain lube and motor oil. That's right folks, my air filter received more new motor oil than my actual motor. Punctured tubes were handled by cutting a slit in an older tube, slathering it with rubber cement and wrapping it around the tube that still needed to hold air. Believe it or not, it actually worked two times out of three, and you know what they say, two outta three ain't bad!
There's too many good memories to list with this bike, but riding at the track on it for the first time with my brother was a awesome. I remember the first double I cleared. Even though it was maybe a 10-foot gap at the most, I was scared shitless. Literally. I may have pooped myself a little on the run up to the jump face. Like all doubles, it was easy after clearing it once, and the next day I went around bragging about the 90-foot gap I had cleared with my hands tied behind my back while smoking a cigar blindfolded.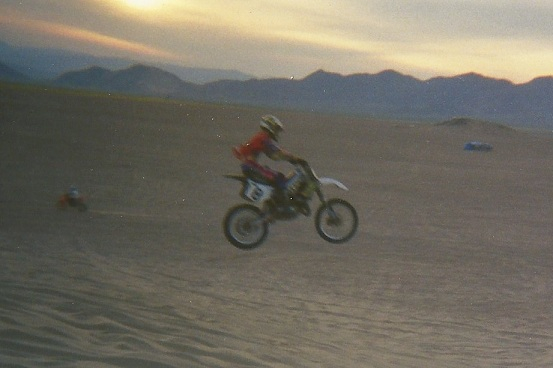 Sitting down with weight back? Check. Helmet visor pointed nearly straight down? Check. Jersey flapping in the breeze untucked? Check. Dune goon? Check.
1993 YZ125
Look out, I was now the proud new owner of a liquid cooled, fire breathing, two-stroke motocross bike. I had worked all summer and saved just about every penny I had earned in order to afford it, and now that I had it, I felt like a million bucks. I almost wore the garage door hinges out that night by checking on the bike every three minutes. Finally, no more of that silly four-stroke nonsense! Those slow, ill-handling, overweight turds weren't competitive and never would be, right?
I knew the once-every-eight-month-air-filter-cleaning-schedule wasn't going to cut it with this highly tuned race machine, so every few rides I would pull the seat off and pour some fresh foam filter oil (that's right, I even started using the correct products!) all over the filter. Nuthin' like a solid maintenance program to keep a good bike running great!
My brother ended up breaking his femur on that bike at Riverfront Park in Marysville, California. That was a rough night for both of us. We were several hours from our home, I wasn't old enough to drive, and I had to leave my prized possession sitting at the track in the back of my brother's truck all night with the wounded sub frame pointing straight up like a middle finger. As I sat in the hospital waiting for my parents to arrive, I wondered why the bike I loved so much had chosen to betray my brother.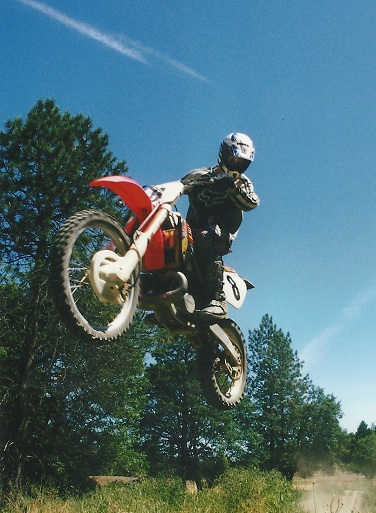 Showing the camera what's up on my '97 CR250. Jeremy McGrath used to ride a Honda, that practically makes us teammates.
1997 CR250
Enough of that 125 garbage, I had moved on to the baddest size of motocross bike there was. I figured since Jeremy McGrath rode a 250, I needed to ride one too. Plus, you just couldn't go wrong owning the first production aluminum-framed motocross bike in history, right? Hey, Dirt Rider said it was good…
Of all the bikes I've owned, this one has to be my favorite. Not because it performed well, because it really didn't. The power delivery was the polar opposite of linear, and the ride was so rough it made me feel like I had picked a fight with Mike LaRocco after every time I went riding. I just have more memories attached to this bike than any other bike I've owned, probably because I got a license to drive right around the time I bought it and started driving to different tracks more often. I also started working in a motorcycle store around that time (Jim and Jim's Yamaha in Santa Rosa, CA) and met a bunch of new people to go riding with. I also started watching entirely way too much Crusty Demons of Dirt and became obsessed with the sand dune lifestyle.
I entered my first race on that bike, rode it into class night at my high school graduation, and even had some friends tape me riding it through, In 'N Out Burger, in Napa, CA. I'm not talking the drive through either. Some friends held the doors open for me and another ran a camera as I rode in and out of the In 'N Out. I told you, The Crusty series had way too much of an influence on me at that time.
Several months later I found myself laying on the ground in pain at Hangtown with a broken wrist, wondering why my CR250 had betrayed me. More than likely, it was karma that had gotten me, and the fact that I had foolishly chosen to whack down a few beers before heading out for my final practice session on a rear tire that was so bald it looked like a road race slick. Did I mention that the Crusty Demons had way to much of an influence on me at this time of my life? Luckily a DUI would snap me back to reality a year or two later, but that's another story.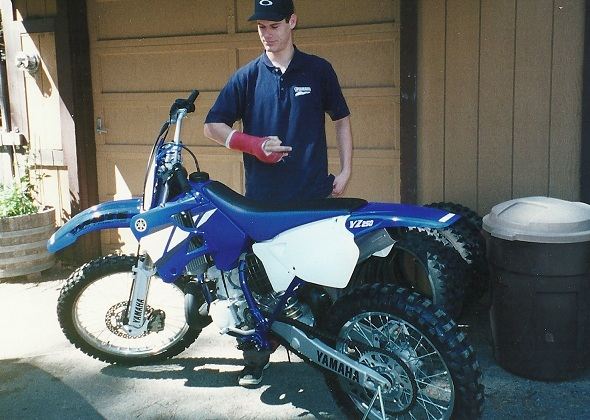 My very first brand new bike. The cast on my hand would prevent me from hitting the track, but not from revving it daily in the garage.
2001 YZ250
This was the first brand new motorcycle I had ever purchased, and as I was driving home with this pristine piece of engineering in the back of my little beat up Ford Ranger, I felt ten feet tall. It really sucked that my hand was broken at the time (I had thrown a tantrum and punched a wall because my parents wouldn't loan me the money for a new bike) and I couldn't ride for another two weeks, but I digress. Now that I had a new bike, it was time to ditch this Crusty crap and get serious about racing. Money spent shoulder tapping outside the liquor store would now be funneled into my racing budget, and I even started jogging to make sure that my body was up to the challenge of handling the power of the ultimate motocross machine I had just purchased. Further motivation was provided by the fact that I was SOOOO close to getting out of the C-class! Once that happened, it was only a matter of time before I was lining up on the gate for supercross. I'd been watching guys like Damon Huffman and Robbie Reynard, and in my head, I wasn't too far off their pace. However, my goals of making it big were derailed shortly thereafter when I turned 21, moved out of the house and enrolled in Chico State University, where the swimming pools are filled with beer, whiskey comes out the drinking fountains in the park, and every bar is within walking distance. That last part is actually true.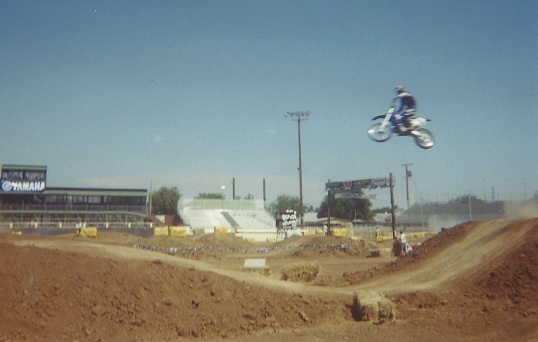 My YZ took me to me first 1-1 at Summercross so fast the camera couldn't even get a sharp picture.
2003 YZ250
Maybe it was because I had worked in a few different Yamaha shops by now, but for whatever reason, I had grown to love the brand and for a while, my bikes were the same color as my balls. The '03 YZ250 did not disappoint. It was just an amazing bike, and despite the massive punch it packed, it delivered it in a very manageable way, unlike my '97 CR250, where a sixteenth of an inch of throttle was the difference between life and death.
The best memory on this bike came at the California X-Treme Summercross Nationals in 2003 or 2004. It was basically a race held at the fairgrounds in Red Bluff, CA, with a supercross-style track, and I raced amateur day. There were two big jumps on the track: a double after a sand section, and a triple right out of a corner. They were actually much easier than the rhythm jumps on the rest of the track (even the top few sandbaggers in the beginner class were hitting them), but I ended up being the only guy in my class to do them, which gave me a huge advantage and I won both motos by huge margins. To celebrate, I did a stoppie down the backside of the finish line jump and ended up going over the bars right in front of the grandstands. Why had my bike betrayed me in front of all these spectators? I felt like an idiot. An idiot that had just gone 1-1 for the first time in his life, that is!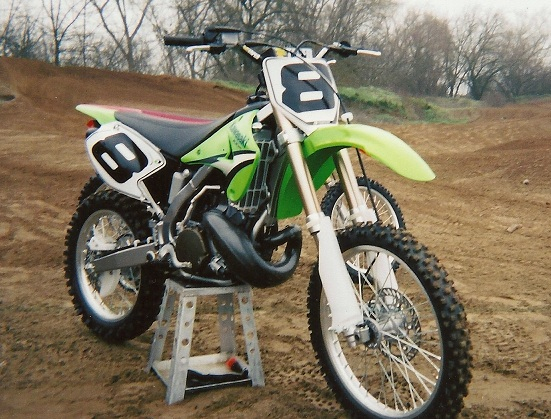 My KX250 about to be ridden for the first time. James Stewart used to ride a Kawasaki, that practically makes us teammates.
2005 KX250
This is the last two-stroke I ever owned. It was a great bike, I just didn't have a whole lot of time to bond with it in the two years I owned it. In the time that I did ride it, it produced quite a few nasty crashes. People like to blame four-strokes for a lot of the injuries in MX these days, but the explosive snap of that KX put me on the ground more times than I can remember, especially when I got tired. I even lent it out a couple of times to accomplished riders, and each time it came back more torn up than Charlie Sheen after a weekend in Bangkok.
A big part of the time I owned the bike, it just sat in the garage because I couldn't ride it for a while after partially tearing my ACL in a race at Cycleland Speedway in Northern California. Years later, I would tear that ACL the rest of the way in a drunken potato sack race the day before I got married. I didn't even own that bike anymore at this point, but as I lay in the grass clutching my wounded leg, I wondered why the KX had chosen to betray me all this time later.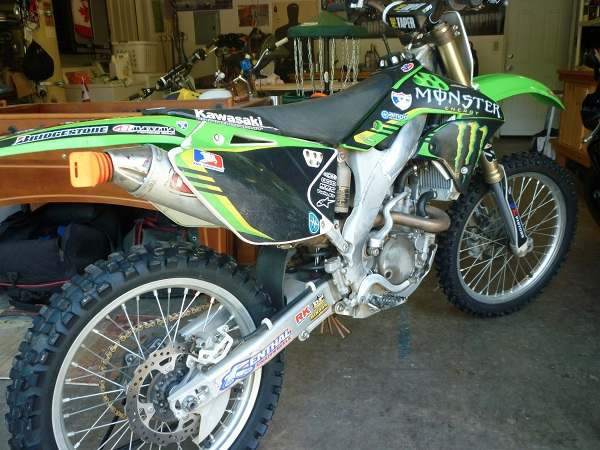 $2500 OBO
2007 KX250F
If you've made it this far into the article, I'm amazed, and I'd like to say you're going to be rewarded with hilarious tales about my first four-stroke, but that'd be a lie. The best memories of this bike are entertaining to me, but they are all, "you had to be there" kind of stories. I will say this though, this bike made me remember how much I like little engines. There's just something rewarding about feeling like you're riding a bike for all it's worth, and trust me, this bike has had its neck wrung more than once. In fact, I still have it today.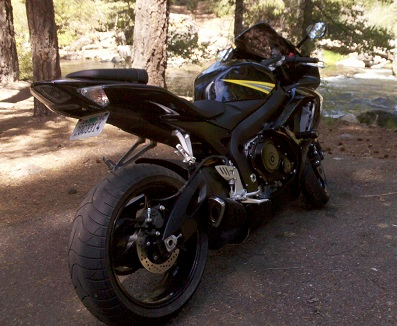 $5700 OBO
2006 GSX-R750
This is the first street bike I've ever owned, and I still own it today. Sadly, it's for sale, but hey, daddy needs a new dirt bike. But even though it's for sale, this bike has a special place in my heart. I bought it for $1500 with 300 miles on it, because the guy left it outside of his apartment and somebody stole a ton of parts off of it. All the fairings, mirrors, windscreen, foot pegs, everything was all gone. That was his story anyway, but as I was buying it I caught the distinct aroma of insurance fraud coming from somewhere. But that was on him, not me, and several months and $1500 in eBay purchases later, I had a fully functional street bike that was ready to tear up the asphalt.
If you think a 450 is fast, it's because you haven't ridden a sport bike. These bikes are insane, and if 0-100 mph in something like four or five seconds isn't bad enough, they also instill a very misplaced feeling of invincibility in the rider. Maybe that's why they are so fun to ride.
Of course, that can all change quite quickly. Last summer I went on a ride with my father-in-law, and everything was going great until we came into a deceptively tight right-hander. Caught off guard, he locked up the brakes and drifted into the oncoming lane as a truck was rounding the corner. He had no choice but to get off the brakes and shoot off the opposite side of the road and straight into a tree. It was gnarly, and when I got back to him he was unconscious, a blood from a cut on his forehead was trickling through his open, staring eyes, and he had had the air knocked out of him, which meant he wasn't even breathing. I thought for sure he was dead, but it turns out he was just laying there contemplating why the bike had betrayed him. He regained consciousness after a couple minutes, and I flagged a passing motorist down to go call for help. We were out in the middle of nowhere and had no cell coverage, and it took a good hour for emergency crews to respond. He spent a few weeks in the hospital, but he made a full recovery, which is good, mainly because he's an awesome guy, but also, if he hadn't, I'd still be hearing about it from my wife.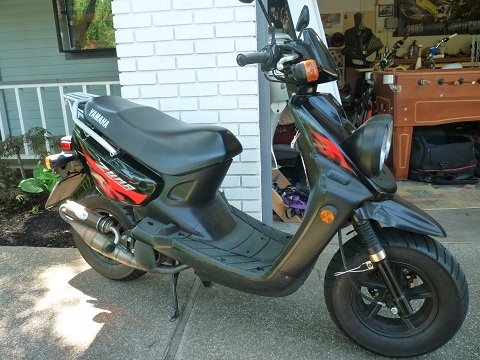 This scooter is an insane amount of fun to ride, especially through city traffic. I find it sad, however, that it sees more action than any other bike I own right now.
2005 Yamaha Zuma Scooter
After that tale of nastiness, let's wrap this thing up on the lighter side. For those of you who don't know what a Yamaha Zuma is, it's a 50cc two-stroke scooter. People get ridiculously into these things, and I've seen a few 70mph Zumas, which is completely absurd, considering that it only goes 35mph in stock trim. I hopped mine up a little bit, but I didn't go crazy. I threw some supermoto tires, high performance Leo Vince exhaust, and carbon fiber reeds on it, and had the cylinder ported and polished. Believe it or not, there are shops that specialize in Zuma engines, which is good because I've blown this thing up a bunch of times.
I'm proud to report that my Zuma now goes 43mph with a tailwind, and if you tuck, you can squeeze an extra 2mph out of it. Don't think for a second that I'm not in a full tuck everywhere I go on that little piece of two-wheeled joy. And did I mention it gets 100 miles to the gallon? With the engine upgrades, it'll even pull wheelies if you preload the forks properly. I know because I looped out one time right in front of my driveway. Of course, the scooter betrayed me when a bunch of my neighbors were hanging out on their lawns outside, and now I can't even touch the scooter without one of them making a wheelie motion with their arms.
So, those are some of the bikes of my life, I hope you enjoyed reading about them as much as I enjoyed writing this little story. I'd put a clever little conclusion together, but something tells me nobody is going to get his deep into a 3000-word article. If you did, thanks for reading.
Aaron Hansel works as an Editor-at-Large for Racer X Illustrated, and can be reached at aaron@racerxonline.com. He also has a twitter account, @aaronhansel, but don't bother following him because he rarely tweets anything of value.