It's been awhile but after stumbling onto this photo, I had to call Ron "The Dogger" Lechien and get him to tell us a story about it.

It's been awhile but after stumbling onto this photo, I had to call Ron "The Dogger" Lechien and get him to tell us a story about it.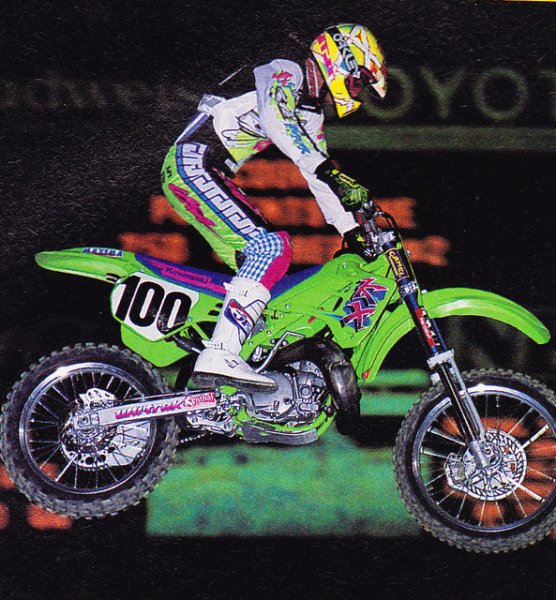 "This was 1991 at the San Diego supercross, I broke my leg in 1989 and didn't race at all in 1990. I had a try-out with factory Kawasaki for the 500 series but didn't show up. I wasn't ready for it. This year, in '91, my dad, JT Racing and Mitch (Payton) got a bike for me for this one off deal. I might have even pitted with Mitch at this race. I got "Guess who's back?" on the back of my pants here.
I did alright, I think I got 13th and went down in the first turn even. I broke my finger in the crash that I still have a nice reminder on my hand to this day. It pulled the tip of my finger right of the bone and it healed with a kink in it. It's not too bad. I had a good time and was stoked to be out there. The jumps were a little bigger, I was a little older and I hadn't been riding that much. But by today's standard, if some guy hadn't raced in a year and came back to get a 13th, that's pretty killer. But to me, back then, it was win or nothing. My hand was hurting and I just tried to put in some laps, I just didn't want to get dead last.
This wasn't anything serious, I wasn't riding much to be honest. I think it was just some people trying to help me out and get me back into racing. I ended up riding the outdoors at the end of this year for TUF Racing but this was nothing serious, I can tell you that.
It was just one race this year and the next year, I rode Anaheim with some help with Terry Varner. I was riding a bit more and doing the Golden State nationals trying to make some extra money. I was getting help from FMF and Varner. I broke my wrist at San Diego after Anaheim, I think it was '92. There was a triple I hadn't done that was pretty big before I broke my wrist and I remember thinking that I didn't know if I was going to jump it or not.
This was an awesome bike and I wished I still had it. It was trick, the frame was gusseted, the motor was great and it had everything done to it. Those times were tough for me because to have stock suspension, I was hating it because I had ridden with the works stuff and knew how good it was. I already knew I was in deep trouble racing with the factory guys.
After I came back from my leg, I was still partying a lot but nothing like in the mid-90's or so when I had to go to the doghouse for a little while. I actually had a nice little deal going with racing overseas. I just knew I couldn't win in the USA, didn't have the best equipment or the best teams. It was easier to go to Europe and race for more money and less pressure. And not everyone had works bikes like in America.
I did pretty well here and there, I raced some Pan-America SX series where it was three races. It was around '93 or so and they used to have Osaka and Tokyo back to back. The Suzuki and Yamaha guys would go to Osaka and the Honda and Kawi guys would go to Toyko. So I won the first round of this series in Fukodome or something like that. Darryl King and Eddie Warren were there. I ended up winning with a flat tire with about five laps left and I still won the thing. I had it on video somewhere watching me with a flat tire. It was sketchy!
Anyway I got an invite to Osaka and I won that race beating Bradshaw, Swink on my own bike. So then I got an invite to Tokyo and Stanton and those guys were there. I remember telling Kaw manager Roy Turner that I was on fire and to watch out for me, I was back! So I went out for practice and got the track down. I hit this triple and did a big-ass no-footer and couldn't get the bike back. I ate shit huge on this triple and didn't race the rest of the night. I was in the stands drinking beer but man, what could have been if I had been able to do well. I was so revved up before practice and I can specifically remember telling Turner to watch this shit, I'm back!"