MXA's favorite test rider tells us about the factory bike that he loved.
MXA's favorite test rider tells us about the factory bike that he loved.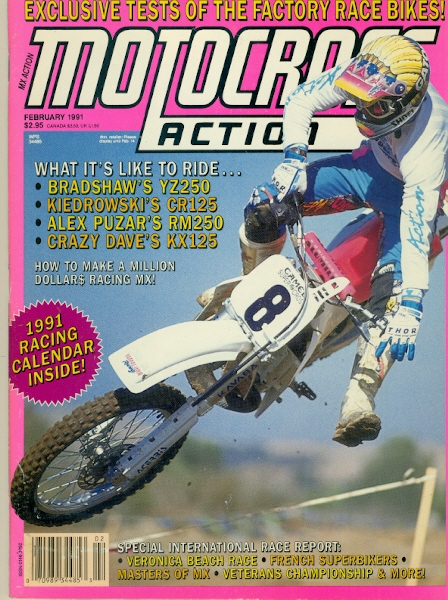 "This was at the end of 1990 and it was at Perris Raceway. I went out there and rode Damon Bradshaw's 1990 YZ250 and I'd have to say, it's still a bike that I remember well. The thing was so good, the motor was amazing, you could just grab a handful and all that you would want and more was right there. It definitely suited Damon and his grip it and rip it style. The bike was so fast!
I had been riding a Kawasaki all year and this thing was so snappy and explosive compared to that thing. You definitely needed time to get adjusted to it. Almost threw me over the back at first. You could push this bike as hard as you wanted and it worked awesome and then if you backed it down a bit, it still worked great. However fast you wanted to go, it could handle it.
The suspension was amazing, the forks were super firm and the shock was awesome. This was the first works bike that I had ridden that was set-up just perfectly. I was racing at a high level this year, fourth in the 250 outdoors, and this thing was awesome. I had ridden Damon Huffman's Suzuki and that suspension wasn't that good. This chassis was so, so good, the motor was so amazing. It was night and day better than my Kawasaki and I thought my bike was pretty good! It just made me realize more that these guys had such good bikes.
I didn't get to ride too many factory bikes because after I did this a couple of times, the teams stopped me from riding it. They didn't want me to know their secrets I guess. They didn't dig it.
His mechanic Mike Chavez came out with the box van and this bike. He was always a cool guy and just moved some clickers here and there for me. There weren't many changes. We were out there all day, I didn't crash that I could remember.
Bradshaw and I didn't really get along, he was a young kid and sort of flipped out here and there. I liked him, we got along well until '91 I was racing with him here and there and we got into it. If you beat him, he threw a fit here and there. At Phoenix after the race he swerved into me for something he thought I did and I raced back into the tunnel and we got into a fight right there! I wasn't going to take that kind of stuff, I thought he was being a punk. Anyways, it didn't go well with us and then when he got his mechanic Brian Lunniss, him and I were friends before, then we got into it. Once you start racing with these guys- relationships go out the window. Especially back in the day, not so much now. "