Tony Blazier and myself debate which is the best supercross race of all-time, Atlanta 1990 or Anaheim 1986?
Tony Blazier and myself debate which is the best supercross race of all-time, Atlanta 1990 or Anaheim 1986?
By Steve Matthes and Tony Blazier
This is it, the ultimate debate is settled. Sort of.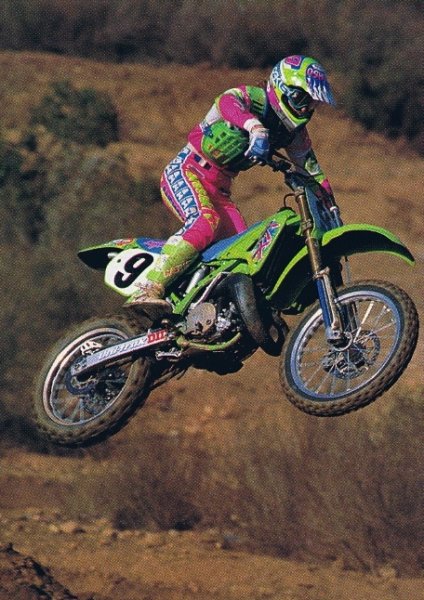 One of the greatest and most underrated gear and bike combos EVER.
Matthes- There's no doubt that the 1990 Atlanta Supercross 250cc main event is the best supercross in history. I know everyone wants to talk about Anaheim '86 and yeah that was a good one but the battle in the A-T-L in '90 tops that by far. It's just because Anaheim '86 was in, well, Anaheim stadium and was the opener that it seems to be brought up now and again. No one really wants to trumpet up the poophole that was Fulton County Stadium as being the host of the "best of" anything.
The 1990 season was epic anyways, the old guard of Rick Johnson, Jeff Ward, Johnny O'Mara were starting to slow down (Johnson was helped by a bad wrist injury because in '89, he was still the man) and the new kids were hungry. Moving up from 125's was Damon Bradshaw, Larry Ward, Jeff Matiasevich and Mike Kiedrowski. This was a perfect storm of young stars versus the old guys. And then you had Guy Cooper who was an old guard but really just starting to come into his own at an "advanced" age.
I recently watched both '90 Atlanta and '86 Anaheim and there's no doubt that Atlanta blows Anaheim out of the water. Let me recount the race for you in all its glory.
First off, let me just say that lime green and hot pink is a color combo that should never work unless you're blind but yet somehow, early leader Johnny O pulls it off right here. After three years of getting beat down mentally on shitty bikes (ok, to be fair Suzuki's were good in '89 and in fact, O'Mara led Anaheim '89 for a long time before, yep, it broke. Oh how O'Mara's dark Suzuki years would have looked different if he'd been able to win that race but anyhoo…) O'Mara would switch to Kawasaki for '90 and he showed that he still had some fight in him. On another note, the first time I saw the perimeter framed 1990 Kawasaki's was on the same level of amazement and awesomeness that I'll have the first time I ever see a spaceship.
Unfortunately for Johnny O, having some fight in him still didn't mean he could hold off the Beast from the East, Damon Bradshaw and soon Bradshaw took the lead. Damon burst onto the scene in '90, won the first two races going away but crashed while leading the third race and had to miss a few after that. Seeing as how this was round five of the series, I'd venture to gather that this was DB's first race back. And he really didn't have the endurance to last twenty. Soon he was eaten up by Cooper (who appeared to have a jet pack on as he came from 84th to second in a lap or two). The defending champion Jeff Stanton was right there for the lead until going sideways in the whoops.
On lap twelve Cooper jammed his way past Bradshaw and the man who had never won a supercross (but led a shit-ton of them) was looking good for the win. But then Cooper being Cooper, he stalled and Bradshaw inherited the lead back. Kiedrowski is next and in his haste to get by Bradshaw, he cleans them both out before the mechanics area. But Kied saves it, gets 700 feet of Camel Supercross banners in his wheel, pulls onto the track with banners caught in his rear wheel and he crashes over a berm three turns later when the banners cause his brakes to fail. If you were a Mike Kiedrowski fan what just happened might be the most epic swing of emotions ever.
So Cooper was now back into the lead and none other than Rick Johnson decided that he was going to reach back, ignore the wrist that didn't really work all that well anymore and try to win one for the gipper. RJ, despite wearing JT gear that indicated he was a cyborg, was not a cyborg in any way, shape or form. He was a shell of his former self but tonight, in Atlanta, he was going to get one more win.
But it was not too be. Cooper blitzed a series of jumps, feet flying off and made the pass again. This was now the third time Guy Cooper led this particular race. Yes folks, it appears that the moto gods did hate Cooper. Meanwhile using a creative line in the whoops was Jeff Ward, the old man of moto. He jammed his way past RJ on the second to last lap and used the same line again, on the last lap, to pass Cooper and take the lead and the win.
That's right folks, the winner didn't lead a lap until the 20th one. Ward wins it and does an epic triple-pump over the finish line and Cooper right behind him does his own version. Despite leading three times and blowing it with a half lap left, Guy is still happy. Weird huh? And RJ puts in his best ride of the '90 season to take third. The old guys, at least on this night, triumphed.
So yeah folks, SIX lead changes (if you count Kiedrowski leading for about .4 seconds) and the winner was in sixth with seven laps remaining. And a last lap pass for the lead at that. Add in the undertones of the old guys versus the new guys, the triple-pumper finish line celebration, O'Mara's gear and Cooper being Cooper and this is the best supercross ever.
Stamp it.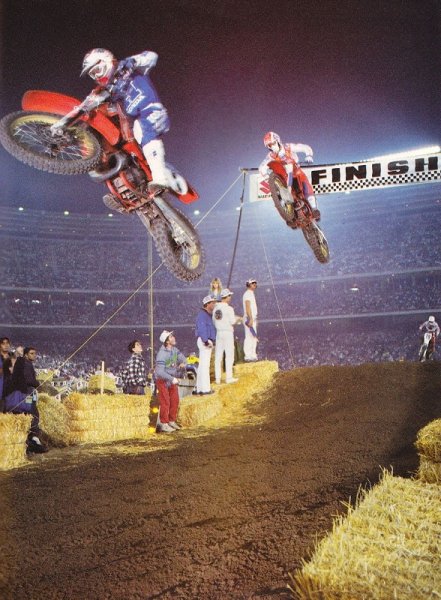 Bailey and Johnson went at it hard at Anaheim.
Blazier- Ok, I think Matthes may have jumped the gun here a bit with his overactive "stamper." There is no way that Atlanta '90 beats out Anaheim '86 as the greatest Supercross of all time. Some things, like the venue and track, do make a difference. There is no way that if the '86 Anaheim race had taken place at the Rogers Centre in Toronto it would be remembered as fondly by the motocross faithful. That said, the '86 Anaheim race is iconic because of so much more than just the great dual that took place that evening.
Unlike the cookie-cutter track in Atlanta, the '86 Anaheim track was unique and a real force in that race. When you watch it now, the first thing you notice is just how narrow the track was. Because Mike Goodwin had gotten the bright idea to race quads during the intermission, there were actually two tracks crammed onto the Anaheim floor that night. The result was narrow, crampedrace track that probably more resembled an Arenacross (with the requisite bar banging and take outs) than a typical Supercross track. In addition, the track itself was just plain gnarly. The one triple on the track was a sketchy 100 footer with holes up the face and little take off (one night's carnage from this jump could fill an entire DVD of Supercross Thrills and Spills). There were crazy sand wall jumps that were never designed to be doubled (yet somehow Bailey managed to double over Johnson's head on one of them) and whoops that defied blitzing. Every inch of this track was rough and technical. When you add up the anticipation of the season opener, the atmosphere of Anaheim stadium, a ridiculously technical track and some of the world's greatest racers, you have the recipe for the greatest Supercross race of all time, my friend.
The race itself gets underway with a holeshot by Team Yamaha rider Scott Burnworth with Team Honda's newest member Rick "Too Hip" Johnson in tow. Johnson, dressed in some bad ass Fox Racing signature gear, quickly takes the lead in the second corner with one of the all-time best torpedo moves ever. He rams Burnworth at a good 30 MPH and knocks the Yamaha ace's motorcycle clean out from under him. Burnworth, who is dressed like an escapee from a Star Wars convention, ends up pinned under his Yamaha until well after the entire pack has left him by.
The carnage in the second turn causes the rest of the pack to pause and swerve around the melee, allowing Johnson to pull out an early lead. Meanwhile back in the pack, 1983 SX Champ David 'The Little Professor" Bailey (in the coolest flo-orange JT gear ever) is quickly knifing through the pack on his way to the front. By lap two, Bailey has made his way past his Honda team mate Johnny O'Mara (who is nursing a badly tweaked knee) into third.
Meanwhile, Johnson is up front pulling away to a nine second lead over second place. At this point, the race is starting to look like a snooze fest, that is, until Johnson comes up to lap Darth Vader. Burnworth, in all black Hallman attire, has picked himself up off the Anaheim turf and is circulating at the back of the pack, apparently just waiting for Johnson to come up on him. Once Burnworth sees it is Johnson behind him, he expertly implements the dreaded Alessi Manuver® to great effect. With Burnworth doing his best impression of a moving chicane, Johnson is held up enough to allow Bailey (who by now had made his way into second) to catch up to his rear wheel. After a frustrating lap of following Burnworth, Johnson finally makes the pass in the sand section right before the finish. To add an exclamation point to Burnworth's intent, he immediately pulls off the track to allow Bailey an unobstructed shot at RJ. At this point, the stage is set for the greatest mano-a-mano dogfight in the sport's history.
After making his way passed Burnworth, Bailey wastes no time in making his move on an obviously frustrated Johnson. Right after the finish, Johnson miss-times a double and Bailey jumps past the kid from El Cajon (pass #1).
It takes Johnson all of two turns to drive it in on Bailey and cut him off going up to one of the big doubles on the outside of the track (pass #2).
Bailey makes a pass attempt in the next corner by going up the inside on the triple of doom. Unfortunately, he can't clear it from the inside and this lets Johnson pull a few bike lengths with his death-defying leap. It takes Bailey the better part of a lap to make up the ground he lost on the triple gambit, but we do get an excellent view of some random photographer smoking a Camel and blocking the camera's view of the race (ahh the 80's…sigh). On this lap, they both execute the triple of death without wading themselves up, allowing Bailey to get close enough to deduce what pre-mix ratio Brian Lunnis is running in RJ's bike in the tight infield section. With Johnson two feet in front of him, Bailey pulls the 1986 version of a "Crazy Balls" move by launching off of one of the sand walls. He actually survives this ridiculous maneuver by doubling onto the second sand wall and jumping clear over a stunned Johnson's head (pass #3).
Johnson slams into Bailey in the next corner but Bailey holds steady and maintains the lead. Then in the next left-hander, RJ again attempts to run it in on Bailey up the face of the double, but Bailey refuses to shut off and launches it while Johnson is forced to single. Johnson follows Bailey for half a lap as the two weave their way through the lapped traffic. By the time they get back to the Snake River Canyon Triple, Johnson is back on Bailey. In the turn after the triple, Johnson dive bombs the Little Professor, ramming his Honda and nearly taking Bailey down (pass #4).
Bailey quickly recovers from the less than polite move by the "Bad Boy" and proceeds to stalk Johnson all over the track. For the next lap they are no more than four feet apart as Bailey sizes up Johnson for a pass. Bailey once again goes for the inside going up the big triple, only this time he cuts off Johnson enough that he can't jump it from the outside. They are both forced to double and with inside position in the next right-hander, Bailey once again takes the lead (Pass#5).
After getting passed, Johnson follows Bailey around, studying his lines. After two laps, Johnson runs it underneath Bailey in the corner before the Himalayas (token Winners Take All reference) and makes the pass (pass #6)
Bailey, sensing Johnson's intention, checks up on the outside then attempts to dive back inside and still yank the triple! Bailey does not have the run and cases the absolute crap out of the landing. Amazingly, (and unlike about 20 other guys this night) Bailey rides out the landing and takes back the lead (pass#7).
With Bailey once again in the lead, the two continued to circulate the track only feet apart. As they made their way past the sand walls and into the tightest part of the track, Johnson once again blocks Bailey in the turn before the finish, taking the lead (pass #8).
His lead is short lived however, as Bailey manages a better drive and jumps past Johnson over the finish line, reclaiming the lead (Pass #9).
Johnson immediately attempts another pass in the turn after the finish by once again ramming Bailey, but this time Johnson gets the worst of it and almost falls. At this point you can see that Johnson is pretty much exhausted and he starts making a lot of small mistakes. With two laps to go, Bailey slowly pulls away and secures one of the hardest fought wins in Supercross history.
While the '90 Atlanta race certainly was an exciting event, it can't hold a candle to the '86 Anaheim event. Anaheim was an example of two of the world's top racers, at the absolute peak of their careers, pushing each other to the limit for twenty grueling laps. The Johnson/Bailey battle still holds up as the greatest one-on-one dual of all time. As for lead changes, I see your six and raise you three. That's right, NINE LEAD CHANGES (I don't know how they do math up in the United Socialist State of Canada, but last time I checked nine is more than six). Atlanta is certainly a sentimental pic, with the old guard getting a popular last hurrah, but it was more a comedy of errors than a display of riding excellence.
Stamp that!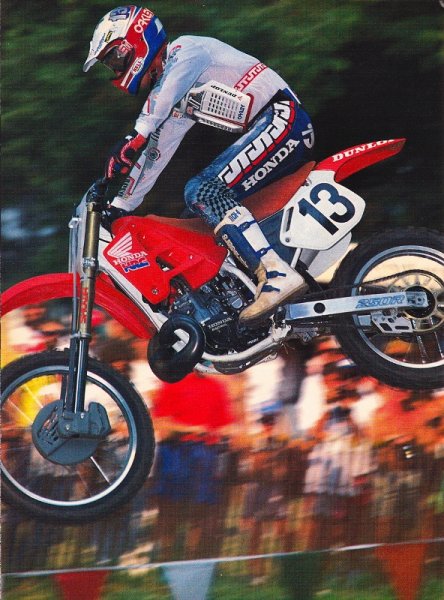 The 1990 Atlanta race was RJ's last chance at sx glory and he almost pulled it off.
Matthes- Blazier's high and drunk again. Yeah, there were more passes in the Anaheim '86 race but it was two guys going at it. Two guys. Yeah, they were two bad ass guys but c'mon man- the '90 race had it all.
The "race of the century" at A1 just doesn't match up because well, there weren't enough racers involved. RJ and Bailey looked like they lapped up to around seventh or so. Let's take a look at the some of the guys that weren't even in the race. The defending champion Jeff Ward wasn't even in the main event because of a broken throttle cable in the heat race. In those days you had to at least beat a couple guys in the heat or you were out for the night. (It was pretty funny, at least to me, that Wardy's mechanic that night ,Tom Havelson, was the factory Yamaha road race manager when I was at Yamaha. He told me that race still haunts him to this day, it was his first year with Ward at Kawi and the cable breaking wasn't his fault. Still he said Jeff never really trusted him after that. The funny part was me going into his office whenever I was building a bike and asking Tom to check my throttle cable to make sure it was good. I always mentioned that I didn't want to pull a "Wardy in '86" and I knew he could check my cable over. He usually told me to fuck off but this whole exchange never got old to me and was funny every single time.) So Ward wasn't even a factor in the main.
Next up was Yamaha's Broc Glover who fell on the first lap and was way back (he would get lapped). Johnson and Bailey's teammate was Johnny O'Mara and he had hurt his knee a couple weeks before the race and was barely able to hold on much less challenge the two guys. Ron Lechien was well, Ron Lechien and struggling to adapt to the new Kawasaki.
And while it was a great race, there weren't enough guys in the race to make it the best race ever. Bonus points for Bailey's super sweet flo-orange JT gear (which matches the O'Mara stuff) and for the take-out and revenge factor of Burnworth. He had some nice gear as well. This was a positive for the race no doubt but not enough to put it over Atlanta 1990. I will put this in the positive column for Anaheim '86. In the LCQ, a friend of mine and top Canadian rider at the time Alan Dyck (pronounced, well, Dick) was in it and Larry Huffman keeps calling him "Alan Dike" which is hilarious for so many reasons. So a Canadian racer in there does bump it up a bit.
And what's your problem with the Rogers Center?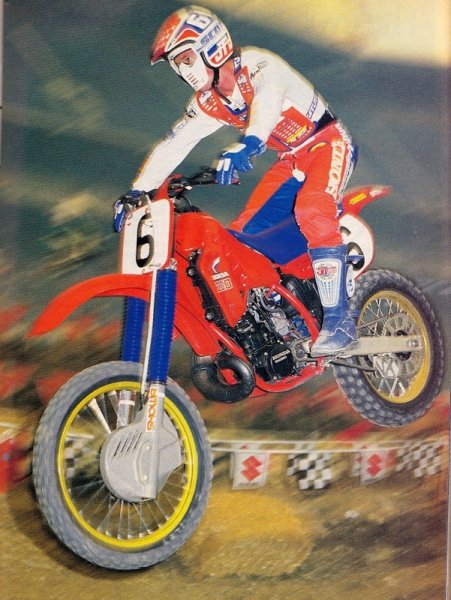 One of the very best gear and bike combos ever. Unlike O'Show's, it's rated by everyone.
Blazier- I was wondering how long it would take my buddy Matthes here to mention that he was, yes, indeed a Factory Yamaha mechanic at one point (Can a certain four Manitoba titles be far behind?). The Ward tie in was a stretch, but at least he didn't drag Red Dog into this yet (I think there is a drinking game in here somewhere). Well played Mr. Matthes…well played.
As for your contention that Anaheim '86 cannot rank as the greatest of all time purely based on the amount of combatants involved, I must strongly disagree. Yes Ward did miss the main based on bad luck and some idiotic technicality, and yes Glover and (a probably hung over) Lechienwere no factor in the race. None of these facts however, change the reality of the incredible race that took place at the front. Johnson and Bailey literally beat on each other for twelve straight laps, never more than a few bike lengths apart. The fact that six guys had a sniff at the lead in Atlanta, but could not keep it together, is not enough to unseat the "race of the century."
Now if we were handing out awards for "most sentimental comeback ride by a former champ with a jacked up wrist" or " best take out by an outdoor specialist in a supporting role" then I would give it to you, but if we are talking about the greatest Supercross race of all time, Anaheim '86 reigns supreme.
Oh, and if you count the Burnworth torpedo, there were actually TEN passes in The Greatest Supercross of All Time.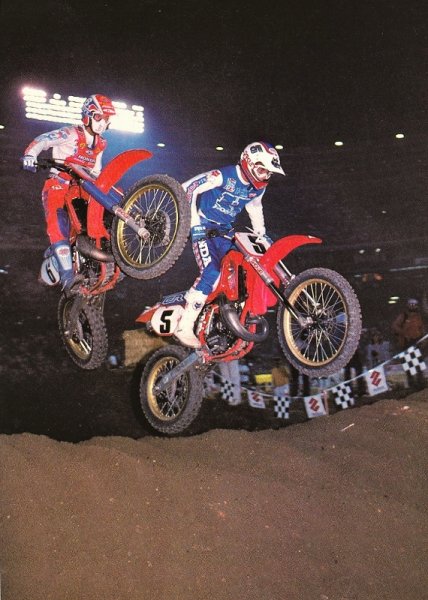 One of the many times that RJ and DB got this close that night. RJ does get bonus points for the cool number font.
Matthes- You're not seeing it straight Blaze. Two riders going at it aren't as good as SEVEN. Having a last lap pass for the lead is better than a guy cruising home with two laps to go. Having a LAPPER hold up the leader and affect the race isn't as good as just a pack of racers going for it with no interference. And just to top it all off, if you pause the Youtube video of the race at 14:05 when RJ passes Guy Cooper a young Jason Thomas in a blue jacket (down on the floor for this race) starts jumping and down like he's having a seizure. And that my friend, is my trump card that I just played to no doubt make Atlanta '90 the best supercross ever.
Suck on that flo-orange JT gear bro.
Blazier- Wow, I must say I did not see the JT$ curve ball coming. A young, pre-faux hawk Jason Thomas, screaming his balls off, while certainly compelling, is not really germane to our current discussion, MR. Matthes.
That said, I much like JT, was also going totally bat shit back in 1990 when RJ made that pass for the lead. I had always been a RJ guy (as opposed to a Ward guy, back then it was like USSR vs. USA, you had to choose sides) and to see him look like he was going to finally make it back after struggling so badly from the wrist injury was just amazing. It seemed like my boy was finally going to take back what was rightfully his, and send that upstart farm boy packing back to Michigan. That is, until that damn Flying Freckle had to go and spoil everything!!! (OK, deep breath, deep breath…) Anyway, as we all know, it was not to be. Johnson was indeed not the same guy that had captured six National titles in the 80's (personally I think that idiotic JT Cyborg gear stole his mojo, Samson and Delilah style). RJ was not up to the task and he let that green half-pint steal his glory! (OK, end of rant)
Aside from dashing a certain young boy's dreams, the Atlanta battle was indeed an incredible race. It was a thrill-a-minute barn burner no doubt, with a great story and exciting outcome, but was it the greatest Supercross race ever? I submit no. The greatest race ever has to be about more that the random number of riders involved.It has to be about more than how many people led (and then crashed or faded back), or on what lap they passed for the lead.
The greatest race of all time is about the eternal question of talent versus determination, a battle between a bulldog and a gazelle on the world's biggest stage. It is about an epic confrontation between the sport's toughest guy and the sport's most gifted, on a track that could not be tamed. It was a knock-down, drag-out battle for Supercross supremacy that captured the imagination of a generation of motocross fans.
That, my friend, is whyAnaheim '86 is THE greatest Supercross race of all time.
If you want to decide for yourself, here are the two races: