Round 6. The best dirt, an addictively fun layout, big air and sweltering heat… it's Reddddd Budddddd!!!
Round 6. The best dirt, an addictively fun layout, big air and sweltering heat… it's Reddddd Budddddd!!!
Photos By: The James Lissimore
We all knew the heat was coming for the second consecutive year at the Independence Day round of the summer series. Thankfully, by the grace of God, this year the riders heeded the tragic cautionary reminder of Josh Lichtle's passing last year at his home race. This year was every bit as hot as last year and apparently or simply coincidentally, Josh's passing was lethal reminder of how important hydration is as a key to survival in those conditions.
It was great to see the many forms of support for Josh at the race. From the moment of silence for both Josh and BBMX's Nick Hoffman, the many riders sporting the 811, including Nico Izzi's parade lap with Josh's jersey on and a pit setup geared toward Josh's memory.
It's kind of funny the way things shape our perspective on things. Last year following the tragedy at Red Bud, all the bench racing discussion was focused on how unsafe racing was in those conditions and the fans were speculating on what to change in order to make the racing safer when the heat becomes dire. This year, with no rider heat issues coming to fruition, there is nary a word on changing anything about the event even though the heat mimicked 2011's.
MX2
Even though we've seen the "Blake Baggett Show" on multiple occasions this year, everytime he "flicks the switch" it is just as impressive as the first. It's uncanny. Indescribable. Unanswerable. When the gate fell on both motos and Barcia forged to the front early and built pretty respectable leads, it was all for naught as it was glaringly obvious that Blake was blistering the track and unquestionably faster than Justin. At this point I'm bewildered by him. Freon in the handlebars? How about helium in the frame and tires, a nitrous system, 350 Chevy, stuck throttle, 15 shots of 5 Hour Energy (Extra Strength) and a clinically certifiable case of insanity. The dude is effing GNARLY.
I wrote in my PMT look at the MX2 front-runners that Eli was the man amongst boys; that may be so but Bad Boy Baggett simply doesn't care. He's attacking every race like it's his last day on a bike and he has nothing to lose. As impressive as RV was on a little bike in 2007, Blake trumps him.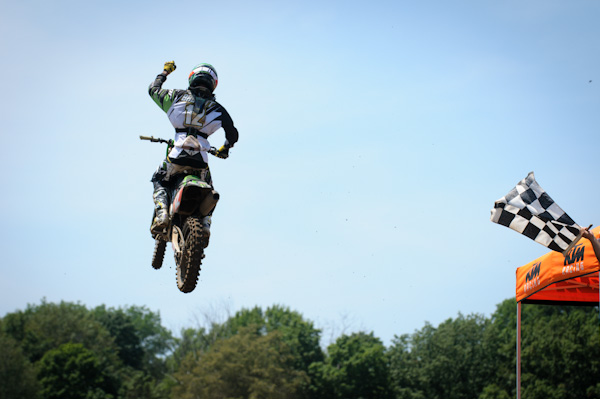 Blake Baggett did what we've come to expect of him and it's as impressive and indescribable as ever.
Justin Barcia had it all laid out in front of him. Good starts, great speed and momentum moving forward. It's just too bad that Blake Baggett was simply faster. Much faster. It's kind of a shame for Justin. It's his farewell tour on an MX2 bike and even as he is riding incredibly, there is this juggernaut on the green machine who flat motors him… and everyone else, mind you. When Blake "flicks the switch" and it works, his opponents have no defense. Justin and the rest of the leaders can do one of two things. 1- Make it harder for Blake to get by when he goes for it (ie-race for contact), or 2- hope the inconsistent Blake of 2011 resurfaces. Facts is facts.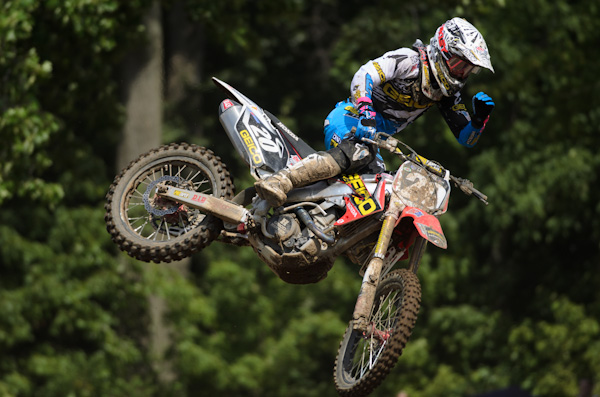 Justin Barcia looked to be THE guy both motos, early anyway. He just didn't have anything for Blake.
Eli Tomac rode two damn fine motos at Red Bud, unfortunately the were trailing the leaders from the drop of the gate. The speed of the top tier in the MX2 class is so equivalent that if you're not with them from the beginning, you're pretty much S.O.L. Blake Baggett is the exception to the rule of course. It was a quiet 5-3 for 3rd OA but it was a great day that saw Eli move into sole position of 3rd in series points, 36 points behind leader, Blake Baggett.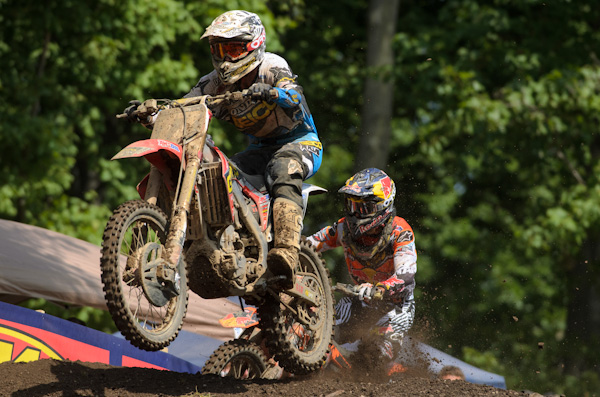 Eli got bad starts both motos and that means 30+2 chipping away at fractions of seconds.
I've been writing about Marvin Musquin getting closer and closer to racing at 100% of his capacity and with that moto 1 holeshot and impressive 4th place finishes on the day for 4th OA, I think Marvin is there. Sure he went 4-4 at Budds Creek as well but the difference is in the holeshot and getting a solid feel for the lead pace and filing that experience away in his mental bank. It helps him tighten up his program by giving him a better sense of what to focus on to elevate his game to be in that leader pace every moto. Marvin didn't win 2 World MX2 titles by luck, the guy can win here too.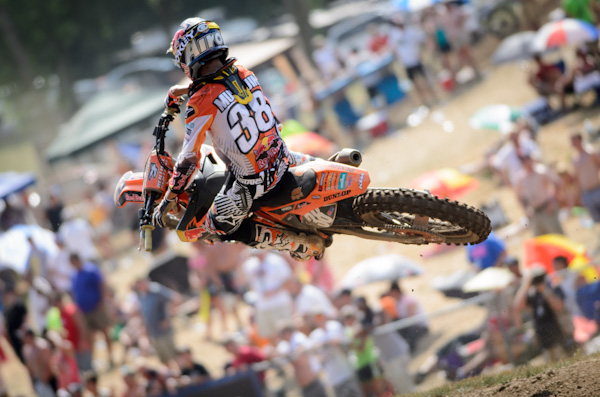 Musquin is getting closer to healthy and it shows. The better he gets, the better the series gets.
I'm glad Ken Roczen made it through the day in the Red Bud heat. As we know, Ken's perspective on racing in American "heat" has been a little skewed but now, following Red Bud it's safe to say that Ken has indeed suffered the pinnacle of AMA humidity and heat and proven he can succeed within it. Sure it was Ken's worst finish of the series thus far, his first off the podium but considering the shell-shocking intense heat, I believe Ken fared pretty well. He dropped to 4th in points, just one point behind Eli but he's by no means "falling off".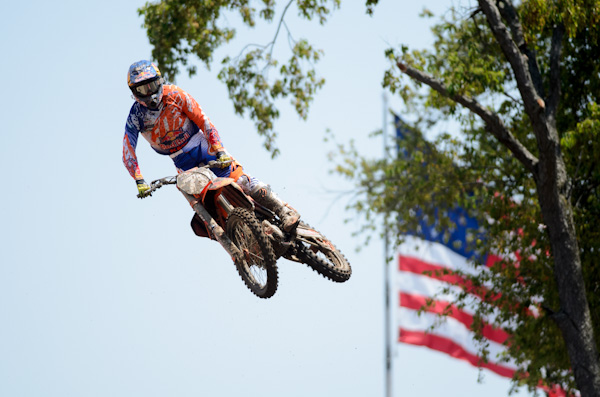 One thing is for sure now; Ken Roczen finally knows what American humid heat really is.
One of the feel good stories of the series and something I'm very stoked to see is the sustained strong rides from Wil Hahn. Wil is putting in the work, as he always has but finally getting to enjoy the fruits of his hard work. No, not wins just yet but solid, impressive results, just off the pace of that front running group. A group of guys who's confidence and pace have just been increasing for a long time. A period when Wil was on the mend and just dreaming of the day he was healthy enough to stick it in there with them, where he feels he belongs. And belong he does. Wil wants in that mix so bad he can taste it, shit, anyone that watches Wil's effort can even taste it. 6-5 for 6th OA. Keep it going.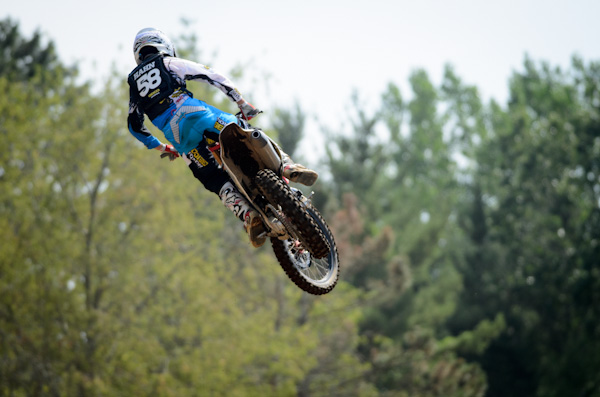 Wil Hahn continues to improve and sustain his progress. Strong Red Bud for 'Bur.
Kyle Peter's has had an unfriendly welcome to Pro racing thus far but for most of moto 1 he really impressed me. It's amazing what a great start will do for your confidence and determination. Moto 2 was more of a struggle but Kyle certainly has the skills run up front. Just needs to work on starts and fitness.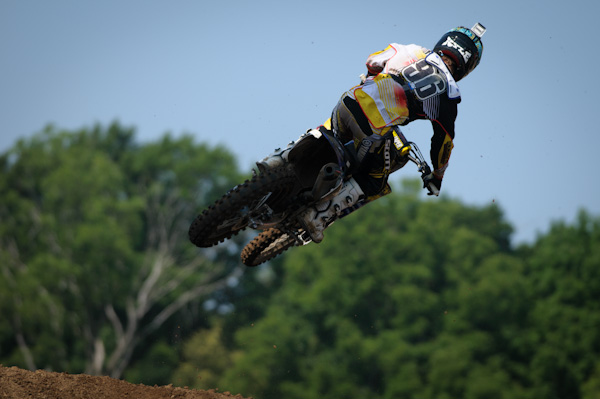 Kyle Peters really impressed me, he looked great, especially in moto 1.
MX1
The Ryan Dungey clinic went of without a hitch in Buchanan. I mean really, what can you say? Was there ever a more perfect performance? Let's just get past the fact that there are still some injured riders absent from the starting grid, I'm over it and you should be too. It is, as they say, what it is. All Ryan can do is prepare himself the best he can; and that he has done. I think it's pretty unarguable that Dungey is the most consistently improved rider, from year to year, in the history of the sport. From his pro debut in 2006 where he looked like a promising rookie, to now, six years later where he's proven himself by winning multiple titles on both size bikes and is universally considered the most fit rider in motocross.
The Dunge never skipped a beat in moto one as James shadowed and pressured him, hoping to overtake him, break him and walk away from him. Dungey rode like he had blinders on and completely muted external distractions even as James was right on his rear tire. Sometimes that "robotic" persona really works in your favor and that's how Dungey performed while James pressured him; like a machine with a program set to "run" with no bugs or viruses.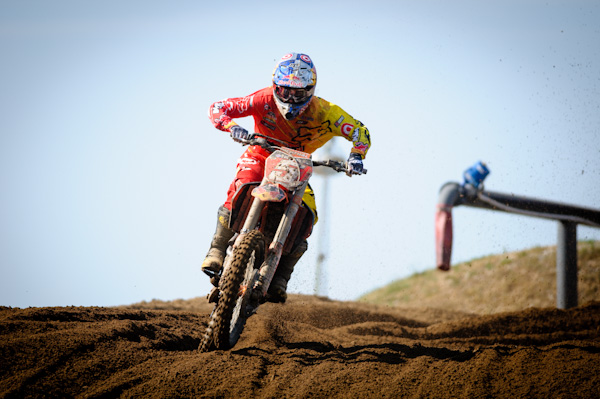 All that flat-out pacing the Dunge did while James was absent clearly paid off.
Wow, where has this Justin Brayton been through the first half of the MX1 Series? The knock on Justin has always been that he's more of a Supercross guy. With his Arenacross background, it makes sense but we all knew he was better than what we've seen through the 2012 outdoors series. Sure, you don't usually see a 3-4 for 2nd OA but it was a huge improvement and confidence builder so he'll take it. Can he build from this and not make this 2nd place finish the anomaly of the series? Typically we call JB10 "Realtree" but there isn't enough camouflage in the world to hide this finish.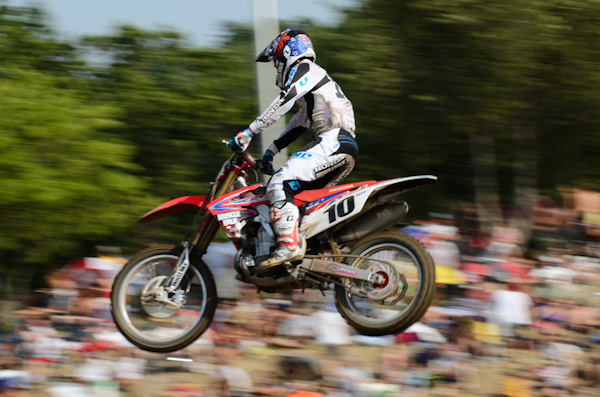 Justin Brayton finally arrived.
I was extremely impressed by James Stewarts ride. Following his great moto 1 start and heated pressure on Dunge was James losing the rear end, effectively ending his hopes to overtake the unflappable Dungey.
James has stated numerous times that he races to win and if he isn't winning he doesn't want to be out there. Some may take that as a whiners attitude or character flaw but honestly it's just what he expects of himself. After winning as much as any elite rider has, to finish anywhere else is as enjoyable as kissing your sister. The difference is, James is pretty much the only racer known for "crash or win". As such, he is either winning the race(especially in the outdoors) or DNFing due to a crash and any moto/race finish other than that is rare. Add to that James' utterly forgettable 2010 Unadilla experience where he essentially quit between motos and this 6-3 performance showed a lot of humility and fight in my eyes.
Definitely don't expect James to keep smiling if the wins don't start coming again soon but finishing races regardless of position builds character, fans and personal satisfaction when the wins do come back to you.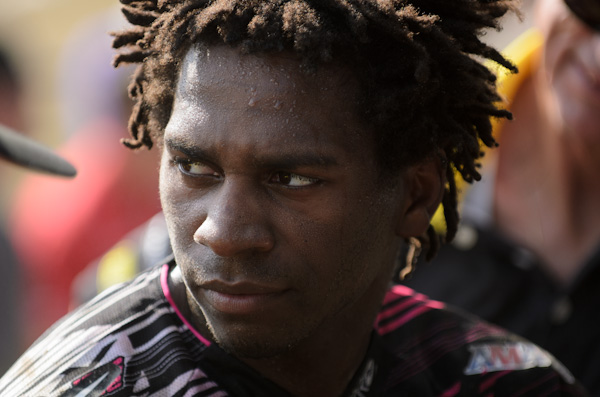 "If I'm not winning I don't want to be out there" James has said this in the past, so for him to go down early in moto 1, get a poor start in moto 2 and fight through the heat to 3rd overall– I was impressed.
Tyla Rattray proved just how strong he is by going 4-5 for 5th OA in essentially his first race of the year. Oh and by the way the craziest heat as well. You know how they always say it's so hard to come into a series after everyone else has been racing week in and week out; well, apparently Tyla has a serum to that condition. After all, he is from South Africa and has often said, American heat isn't that bad in comparison.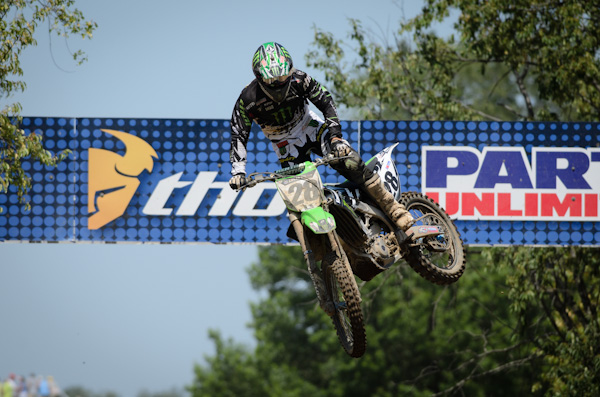 Tyla returned to the series and put in an impressive effort at the hottest race of the year. Right up his alley.
Mike Alessi jammed up the start on the inside of moto 1 and took down a slew of the field with him, pretty much the antithesis of the Alessi trademark holeshot. He was wayyy back, 34th to be exact and rode his ass(and number plate) off to an 11th. Let that stand as evidence to just how fast the class really is, depleted field and all. The guy who is sitting second in points didn't scorch the field back to 2nd, he battled to 11th. It's a crazy fast pace regardless of who's not out there. In moto two MX Mike pulled the holie and secured 2nd place with a solid pace throughout the moto. James appeared to be worked by the end of the race and had no intention of contesting Mike.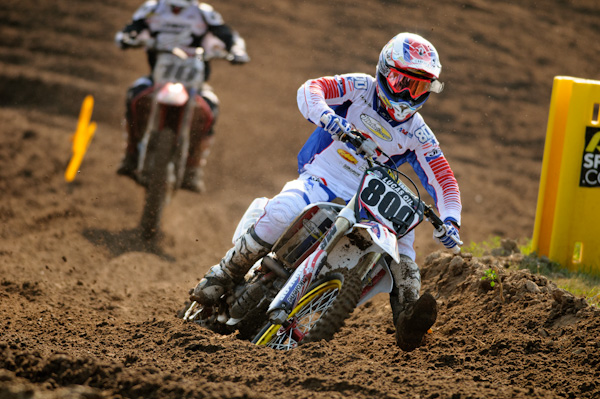 Mike jacked up a butt load of racers on the start of moto 1 but bounced back with a trademark holie in moto two and held on to 2nd.
I really have no idea what Vince Friese was thinking in moto 2 when he took out both he and Weimer. Oh wait, yes I do, he's Vince Friese. As Jake entered the corner following the finish, I could see it all unfolding. It was obvious that Vince wasn't going to be able to hold the inside line he chose and it was going undoubtedly going to fade into Jake's front end. Before Jake even knew Vince was there, they were both on the ground. Typical Friese. Jake had gotten a terrible(34th) place start, worked his way to 19th by lap 6 and then Friese did what Friese does; ruined a better riders day for no good reason. Friese had started 16th and by lap 6 had fallen back to 20th when he decided he was going to "jake" Jake. Yeah sure, Jake and Friese were racing for position but when you are clearly going backwards, what is the point of taking out the guy who just made up 15 positions while you lost 4 in an elapsed 6 laps? Again, no idea what he was thinking but par for the course.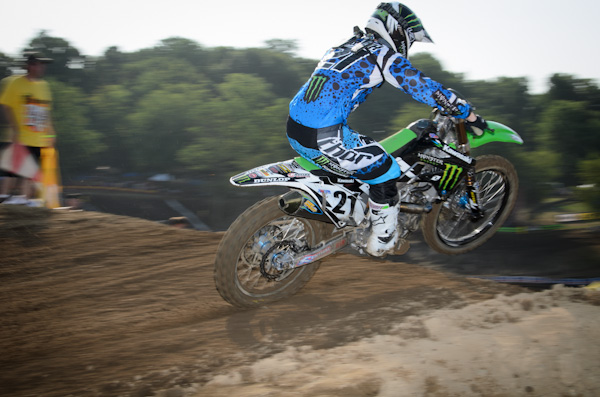 Jake got jacked by Friese and just about everyone racer on the track would have loved to see Jake give Friese a little back.
Christian Craig's return was filled with some great starts, a few great laps and so-so finishes for 13th OA. Man that kid has insane skills on a bike. If he figured out how to stay healthy and extends his fitness, he'd be lightning out there. (Is there an echo in here…?)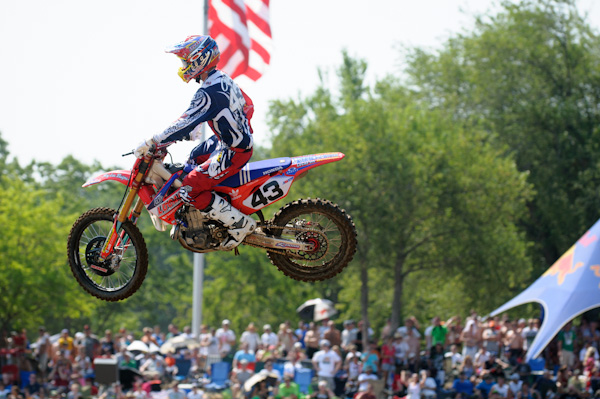 The enigmatic, though fragile, Stingray Jr looked amazing for a couple laps in each moto. Man it would be great if he could stay healthy for a season.
How will JS7 approach this week of preparation as the series heads to Dungey's home track?
Will the momentum swing to yet another rider in the MX2 class?
Will Roczen be able to put the heat behind him and achieve the ultimate revenge in Minnesota?
A KTM class sweep perhaps?
On to Millville!