Man this summer is just flying by. With round eight of this twelve race series in the books, we are 6 weeks away from the conclusion of the series. Don't worry, I'll pump my own brakes here before I get too far ahead of myself and focus in my gaze on what caught my eye from the Washougal action.
Man this summer is just flying by. With round eight of this twelve race series in the books, we are 6 weeks away from the conclusion of the series. Don't worry, I'll pump my own brakes here before I get too far ahead of myself and focus in my gaze on what caught my eye from the Washougal action.
Photos by: James Lissimore
Washougal is a conundrum. It is far and away the most breathtakingly scenic stop in all of moto. You don't even have to have been there before to gather that. Rarely do photo's do reality justice and in the case of Washougal, that probably holds true but even the photos are awe-inspiring. But I did say it was a conundrum and that is apparent in it's treacherous track surface that is made up of a thin loamy layer atop a slick, hard-packed base with hellish roost and mind-effing shadows. For all the beauty in Washougal, there are equal parts of deception and uncertainty. Imagine racing in and out of shadows at your own pace, let alone the mind-bending speed of the National caliber racers. Straight-scary.
The Washougal track brought to light an issue we hear often in racing but as the talent at the pinnacle of the classes has tightened up, it is more true than ever. Add to that, Washougal has long been labeled as a one-lined track and you just knew it was going to be an issue in 2012.
It's a secondary conundrum of the Washougal track. A track where the constant pelting of painful roost makes you instinctively get out of the main line to avoid the roost, yet you have to remain in the main line to keep those in front of you, in sight. It's up to you. Take the roost like a man and risk injury and goggle failure or lose sight of those in front of you and make way for those moving up from behind in the main line.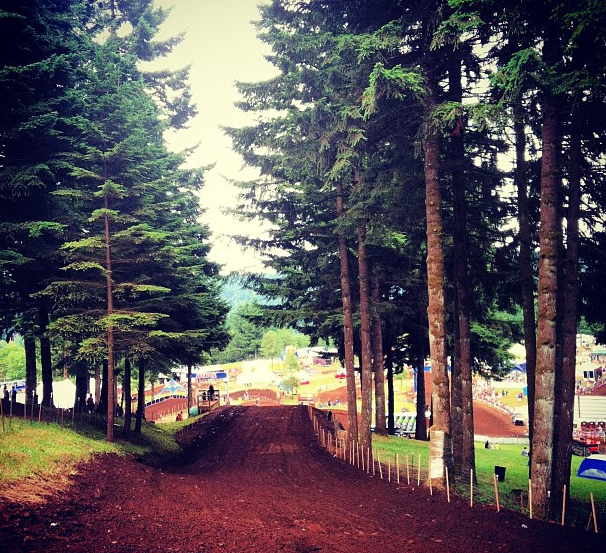 Washougal is a real hum-dinger when it comes to tranquil beauty. Photo by: Broc Tickle
It's always been and always will be a complaint of those who just can't make their way around the guy they're chasing but at the head of the field it's more frustrating than ever and it's not going to get any easier in the foreseeable future. It's really simple logic actually that always gets reduced down to the claim of a track being one-lined. Well yeah, that's what happens in competition. Every lap around a moto/supercross track is an attempt to get from point A back to point A as fast as possible. When that most likely line is established, it's a race to hit it as flawlessly and consistently as possible. The time sheet decides who everyone will watch and consequently the line is wore in and wore out as the laps increase. With the top of the class so close in speed and all remaining in the fast line, it's more a matter of the parity in speed than the track lacking in passing areas. So yeah, it's true that "there's no where to pass" but it's a misleading statement because of course the are places to pass, the track is 25' wide; they're just too close in speed to take advantage of the guy they are chasing. This is of course awesome for us as fans.
MX1
What a ride by Mike Alessi in moto-one! I was really impressed with Mike's ride. He got his trademark holeshot and pinned it as usual. But unlike every other race this year he never relinquished the lead. See this is where I kind of eat my own words about the whole "one-lined/not fast enough" argument. Is there anyone who would argue that Mike Alessi is faster than Ryan Dungey? I bet not but even though Dungey has had the speed to dispose of Mike all year, he couldn't make it happen in moto-one at Washougal. What could be the argument if not simple the track being one-lined? Another factor supporting the one-lined argument was Mike's uncharacteristic "race-forward" demeanor. Never once did I see the typical look back's and bobblehead maneuvers from the 800. He simply stuck to the main line, roosted the shit out of Dungey and spun impressive laps. When The Dunge did try to venture out of the main line and make his move, he either ended up off the track or on the ground.
It was an inspiring moto and a great lesson in tenacity by Mike. Never has someone been beaten so consistently and kept a positive, though tattered outlook from year to year. It's moto's like that which keep the Alessi hope alive and well.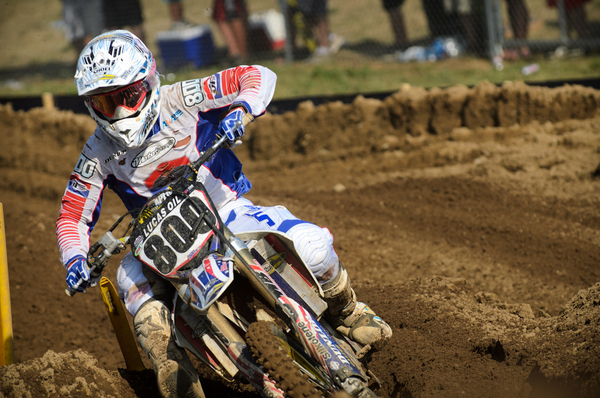 This guy rode his ass off and deserved that moto-one win.
Dungey wanted to have none of Alessi following the checkers. Matthes has said before that no one in the pits wants to be beaten by Alessi and for more reasons than I care to outline here, it's true. There's this kind of "Alessi-aura" in moto. You know what I mean, the clichés that he speaks in when interviewed, the pseudo-sportsmanship… he comes off essentially like a baby-kissing politician and his competitors just roll their eyes and carry on. Truth be told, aside from Mike not knowing when he's said too much, I like his candor in interviews. Sure he paints rainbows out of his tales of triumphs from a privateer semi but at least he's not "pressing play" every time he gets on the mic.
Following the checkers in moto-one, Mike was justifiably gratified with his slaying of the Dungenator and was looking to let Dungey know he saw it as a hard fought moto win. Which it was. But in Dungey's eyes, it wasn't a loss to a peer on his level, it was "The Alessi-aura" making him play second fiddle. Dungey respects Mike's skills but he doesn't respect him the way he does many of his other competitors, I'd say many of Mike's competition feel the same way. It's just what happens after you earn the reputation Mike has over the years; and earn it he did.
Was Dungey out of line for snubbing Mike? Tough call. He's a racer who just lost to someone he feels he has covered most any day, he hit the deck and was frustrated with himself, the track and his victor. Honestly, the whole deal was made much worse than it was by Mike's dramatics over Dungey not giving him the acknowledgment he was after. It's happened before. It seems like every time Mike does pull off one of these albatross wins, he's looking to really play up the triumph over the gladiator with a dramatic mano a mano, fist-bump hug-session. You know, the kind of thing you'd expect between The Dunge and RV on the Pala podium last year, not after Mikes moto-one win over Dungey. The Alessi-aura is if nothing else, entertainment value of a 10.
Can you imagine Dungey's level of disgust if he had to go into a two-week break having suffered two moto losses to the 800? Yeah, that wasn't happening in moto-two and just to make sure, Dungey pulled the holeshot and never looked back.
Really great to see Chizz back-up his solid moto-two from Millville with two consistent rides in Washington. 8-10 for 7th? That means things are turning for you Kyle. Keep it rolling and keep just letting the BS that usually trips you up, fade into the periphery.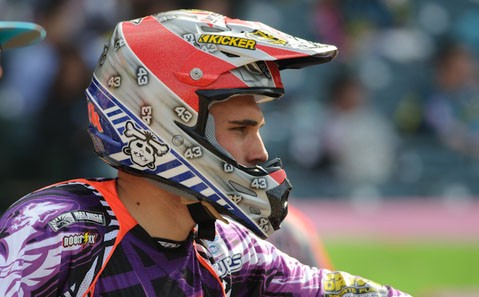 This guy could be any team's Rock.
Weston Peick went ahead and bought himself some Suzuki's, showed up at Washougal, his first outdoors race of the year and took the standard theory of "coming in mid-season" and dropped kicked it's ass off of a Washougal waterfall. I feel kind of bad for calling Weston a water buffalo when he ran over Shorty in Supercross but seriously, the guy is solid in every form. How this guy continues to get overlooked in this sport is an absolute joke. A JOKE. The dude pounds laps, finishes races, finishes seasons, rarely gets hurt and never does anything that would embarrass a team. Any team out there looking to, as Matthes says "go for the triple" had better sign up Weston because he's a guaranteed double with triple potential. One of the many "inexplicable's" in out sport, where years of unfulfilled potential will always get the nod over average results.
I'm not sure what the issue was with Tyla but he's had a real tough go of it since his impressive return at Red Bud. He's gotta be dealing with that hand still and little lack of race shape to be finishing 15-18. Toss in a couple crashes too, this is not the Tyla Rattray we can expect when things are in order.
Good job to the TV crew for continuing to focus on the battles in the pack in the MX1 class. That footage of Sweden's Frederic Noren battling the rolling grenade, Vince Friese, was great.
Get well Top Jimmy!
MX2
Justin Barcia is definitely putting in the work in all the right areas because week after week he looks to be getting closer and closer to not getting "Baggetted". It's his last year in the class and Justin isn't one to let his goals slip from his grasp, especially when they are so close with so few races to go. Justin has been very respectful thus far but if he doesn't pull 1-1's at The Wick and 'Dilla, I'm going to be even more excited to watch this class at the last two rounds. Bam Bam will be called off of the bench to seal the deal if need be.
Will Baggett rise against a game of contact, or cower in the face of it? As this series reaches it's end, the rules are rewritten and all involved had better be prepared for anything.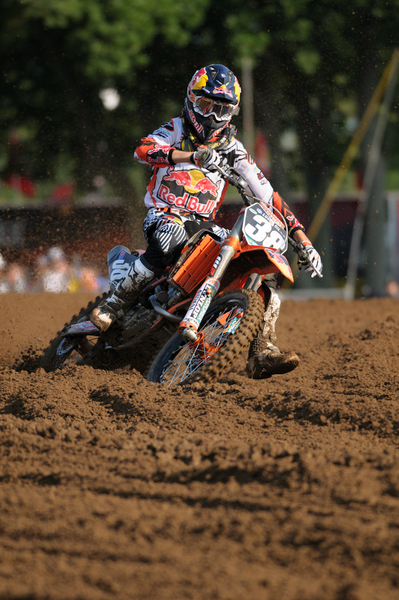 Musquin has continued to work his way into the lead battle from week to week.
Tomac, more than anyone in Washougal, fell victim to the "one-lined" theory in-that, while the faster Dungey really couldn't find a clean line past Mike Alessi, Eli and Marvin were so evenly matched on speed, that he couldn't do anything to make up the difference out of the main line. Call it what you will but in my mind, Marvin is learning a lot from race to race and is on the cusp of becoming the focal point of the KTM MX2 effort in this series. He's less than 50pts behind teammate Ken Roczen now who appears to have stymied his progress since racing in the Red Bud sauna.
I'm going to go ahead and call it now, Musquin will win a moto at Lake Elsinore. With the talk of how baked that place gets and Musquins progress, I can see it working out.
It's funny how we don't mind that the MX2 class coverage is limited to the front of the pack because the best battle in all of the outdoors is right there and exciting enough that there's no need, or even chance to move away from it. Kudo's to the TV crew for finally caring enough about the presentation of the races to go after the compelling battles, which in the MX1 class right now are typically anywhere but the front.
So now it's off to vacation for two weeks and then back to Mass for the Justin Barcia show… or will it be?