Once again, it's Paul Quesnel's weird wacky look at supercross by the numbers
Once again, it's Paul Quesnel's weird wacky look at supercross by the numbers

By: Paul Quesnel
As the majority of us already know, the first known Supercross race held in the U.S. took place in 1972 at the historic Los Angeles Coliseum. The, "Superbowl of Motocross," as it was called at the time, was won by a young Yamaha rider by the name of Marty Tripes and was an instant success due to the fact that it had brought the sport of motocross into public the masses.
Two years after the original inception, the first Supercross championship was established in 1974 and consisted of a three race series. In the beginning, there was a plethora of different manufacturers trying their hands at this Americanized version of European motocross. Bultaco, Honda, Can-Am, Yamaha, C-Z, Kawasaki, Husqvarna, Suzuki, Penton, and Maico were all there when the sport began and they all saw the benefits that came from winning a race in front of 50,000 people.
Since the series began in '74, there have been 555 main events in the premier class and an average of 14.2 races per season. Out of the total main events, the big four Japanese manufacturers have won an astounding 98% of them (542) while companies like Can-Am, KTM, Bultaco, and C-Z have only won a mere handful. When it comes to titles it's more of the same as again, the Japanese have taken a kings share of the 39 number one plates while the only other manufacturer to win a title was Can-Am in 1975.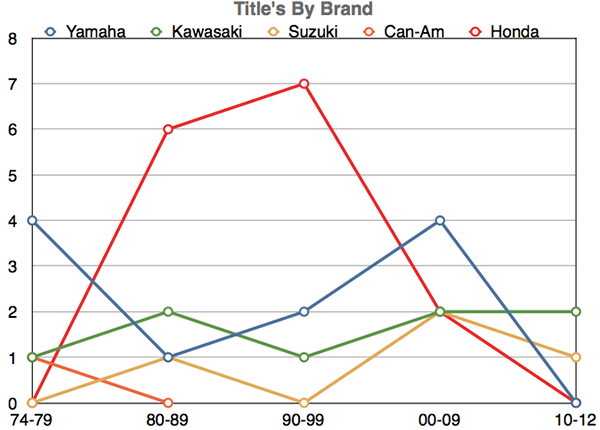 Lookin at the two charts above, it's easy to see why people still talk about the dominant Honda teams of the 80's and 90's. During these two decades, Honda was able to win an astounding 50% of the total main events (149 out of 296) and they were also able to capture 65% of the available 20 championships. Below is a chart that breaks up the individual decade's even further and shows how many wins each of the Japanese manufacturers were able to pile up over the years.
As you can see from the chart above, there have been 555 total main events since the beginning of the series in 1974. If you add up the wins from the Japanese manufacturers you will come up with an impressive 542 wins. The missing 13 wins were earned by Can-Am (7), KTM (4), C-Z (1), and Bultaco (1). Here are a few more numbers and averages from the big four the Japanese brands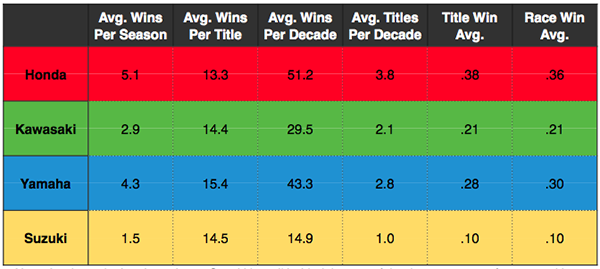 Note: As shown in the chart above, Suzuki is well behind the rest of the Japanese manufacturers with an average of only 1.5 race wins per season and only 1 title per decade. Yamaha, on the other hand, is right there waiting for Honda to falter as they are, on average, only 1 race win behind the powerhouse squad per season and also only 1 title behind per decade.
Since the Supercross series began in 1974, there has been an ample amount of mixing and matching when it comes to the venues and locations. Almost like a traveling version of musical chairs, the SX tour has seen many cities like Buffalo, Foxboro, Pittsburgh, Philadelphia, and even Washington D.C., come and go without much of a second thought. Fortunately, there are more than a few cities that have been in the sport since the very beginning and continue to host the series to this day. The chart below shows which cities that have held the most races and which manufacturer has had the most luck there.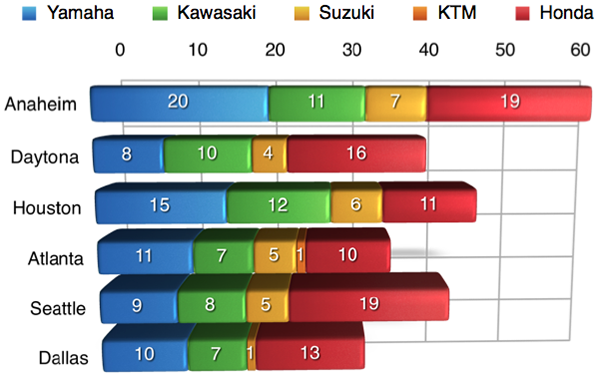 Note: Due to the fact that I left out Can-Am, C-Z, and Bultaco(combined have 9 race wins) some of the numbers for total races held might be off by one or so. For instance, out of Can-Am's 7 wins, 2 of them were at Houston, 2 of them were at Dallas and 1 was at Daytona. Also, the 1 inside the Dallas column is for Suzuki, not KTM(it looks a bit orange to me for some reason).
Honda's 200th?
The 2012 Supercross season marked a huge milestone for one of the Japanese manufacturer's. This past year, Honda became the first company to hit the 200 win mark when Chad Reed flew over the finish line at at Dodger stadium for his first win of the season. The only problem is, I honestly don't believe that was Honda's 200th win in the premier class. In my opinion, that was Honda's 199th win and the 200th came when Andrew Short won his first premier main event in Seattle later in the season. Now, I'm not sure if Honda calculates all their own wins or if they just go off from the statistics that Feld distributes but either way, when Reed won in LA and everyone thought that it was Honda's 200th win, there were some numbers that were thrown around on the Internet and after looking at them I believe I know where Feld and Honda went wrong. These are the numbers put out by Feld after Reed's LA win and Honda's supposed 200th.
1. Honda won their 200th Supercross Class race in Los Angeles
2. In 39 seasons of Supercross Class racing, Honda has at least one win in 31 seasons
3. From 1982-1996, Honda won 138 Supercross Class races, along with 13 Supercross Class titles
4. Win #1: Marty smith 3/27/1976 in Pontiac, Mich.
5. Win #50: Rick Johnson 6/7/1986 in Los Angeles
6. Win #100: Jean-Michael Bayle 3/28/1992 in Tampa, Fla. 7. Win #150: Ezra Lusk 4/25/1998 in Dallas
8. Win #200: Chad Reed 1/21/2012 in Los Angeles
9. Honda is the first brand to win 200 Supercross Class races
Now, to back up just a little bit, when I started this piece I went through all the results and calculated my own wins for each brand. When my numbers didn't match the official ones I went and dug into it a little deeper. Feld and I do agree that there have been 555 main events since the beginning of the series in 1974 and that Kawasaki has won 115 while Suzuki has won 58. But when it comes to Honda's and Yamaha's win count, we begin to have a different opinion.
I do agree with Feld when they say that Honda's first win came with Marty Smith in Pontiac, 1976. The problem I start running into is when they say that Rick Johnson's LA win in 1986 was Honda's 50th win. Now I have double/triple checked every result sheet I can find from back then and I believe that from Honda's first Supercross series win in 1976 to Rick Johnson's LA win of 1986 (which was also the last race of the season) is only 49 total wins from Honda instead of 50. Here are the numbers to the left.
Now I have come to the conclusion that the error is somewhere in that 10 year period (or Honda's supposed first 50 wins) because if you take RJ's 1986 LA win and count towards Reed's 2012 LA win you will come up with a perfect 150 wins. In other words, it looks like the chart below.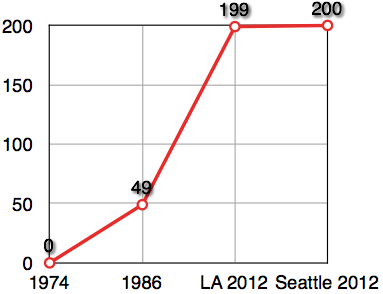 Like I said before, I'm not sure if Honda calculates there owns wins or if they just go off the statistics that Feld distributes, but either way if anyone sees this and can prove that Reed's LA win really was Honda's 200th please let me know. Until then, I truly believe that Reed's win was only Honda's 199th win and that the 200th came when Andrew Short crossed the finish line at Seattle. Congrats Shorty!
The Lites
The two Supercross Lites championships were created in 1985 and have since acted as a feeder series for the premier class. Since their inception, the two regional championships have been highly contested over and have pretty much been just as appealing as the premier class championship for the manufacturers.
As you can see in the two charts above, Kawasaki really stepped up their lites program in the mid 90's and still have yet to relinquish that spot at the top of the class. This is of course most certainly due to the fact that Mitch Payton and his mighty Pro Circuit team switched over from Honda to Kawi in '93 but whats also interesting is just how badly the Honda lites program plummeted in the mid-to-late nineties. It almost makes it ironic that today, the manufacturer trying the hardest to beat Mitch Payton's Kawasaki's are the same guys that let him go twenty years ago. Below are some numbers that delve even deeper into the history of the class.
As you can see, there have been a total of 435 lites races since the beginning of the series in 1985(East/ West shoot out included up until the rule change in 2011). If you go ahead and add up the race wins from each manufacturer in the chart above, you will notice that it only comes out to 434. Can you name the manufacturer that has the only other win in lites supercross? Below are some from further statistics from the 28 seasons of lites supercross racing.
With a remarkable 34% of the total wins and 39% of the total titles, Kawasaki is without a doubt the king manufacturer in the lites series. Yet they at not without there challengers. Since the beginning of the new decade(2010), Kawasaki is tied with Honda at 3 titles a piece and are only ahead by 2 in win count (24 to 22). Below are some numbers from some of the older venues in the series.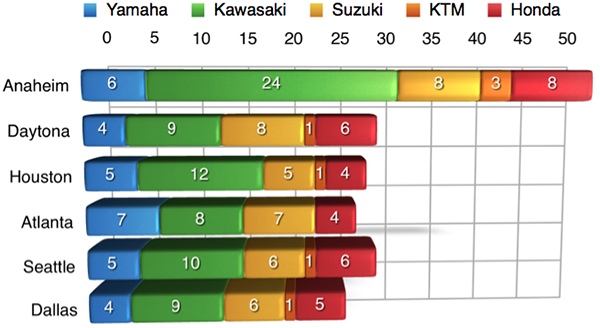 Note: Kawasaki's wins from these six tracks alone make up a whopping 49% of there total win score in the lites class.