What a wild, crazy night in Oakland…

What a wild, crazy night in Oakland…
Photos by James Lissimore
Captions by Steve Matthes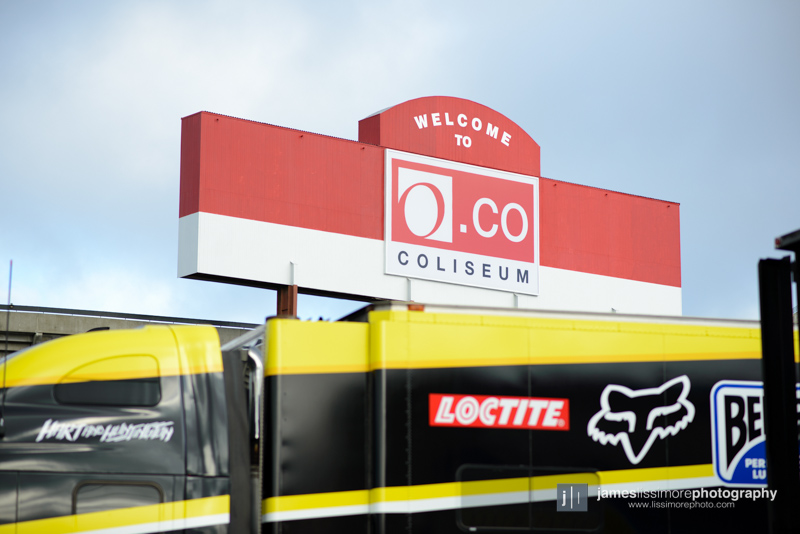 The O.Co Coliseum? Just doesn't sound that cool does it? Maybe the "O" stand for "Uh Oh" as in "Uh Oh, the Raiders just turned the ball over again".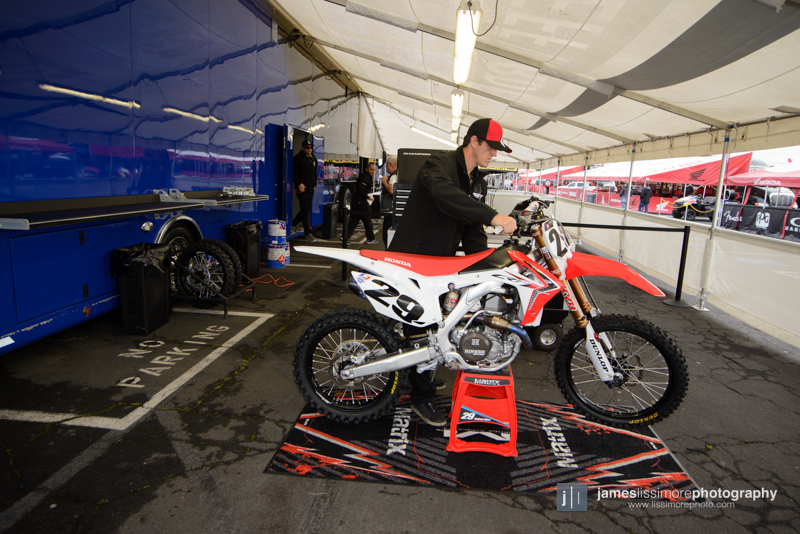 Well as the Shorty turns…there have been whispers of the L&MC Team going away as far back as the opener at Anaheim and this week, it became true. So a very good rider in Andrew Short was in need of a home and he got one in the Kranyak Racing team which was housing Josh Hansen (the team told me and everyone that Hanny was sick but then two readers sent me Twitter feed of Twitch talking about how epic is was out in the desert and you can clearly see Hansen's truck in the photo. So, uh, yeah- whatever). Anyways, Kranyak Racing got Short a production bike (a little bit of a drop from the factory Honda he had been on) and with very limited testing, Short tied his season best with a sixth. Good ride for Short and good debut for his new team. Don't ask if he or the team are going to keep on going because no one seems to know and same with Hanny, who in the eff knows?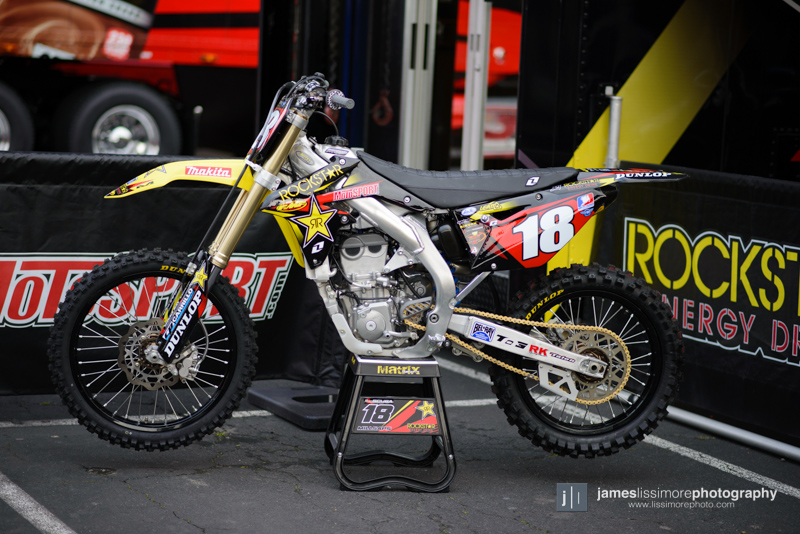 Yeah, he's still got the red plate and he had it after this weekend as well. Millsaps scored a hard earned second place.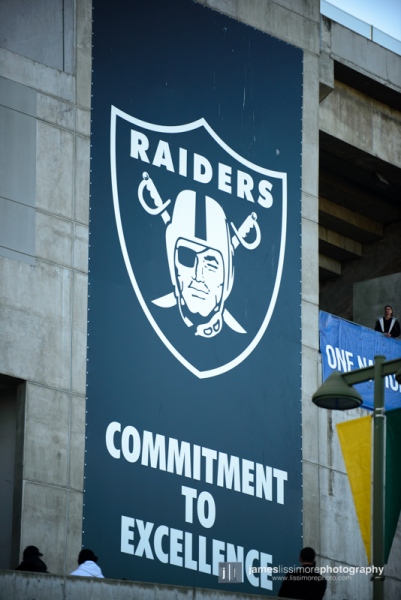 This term is used VERY loosely nowadays and this is coming from a Raiders fan.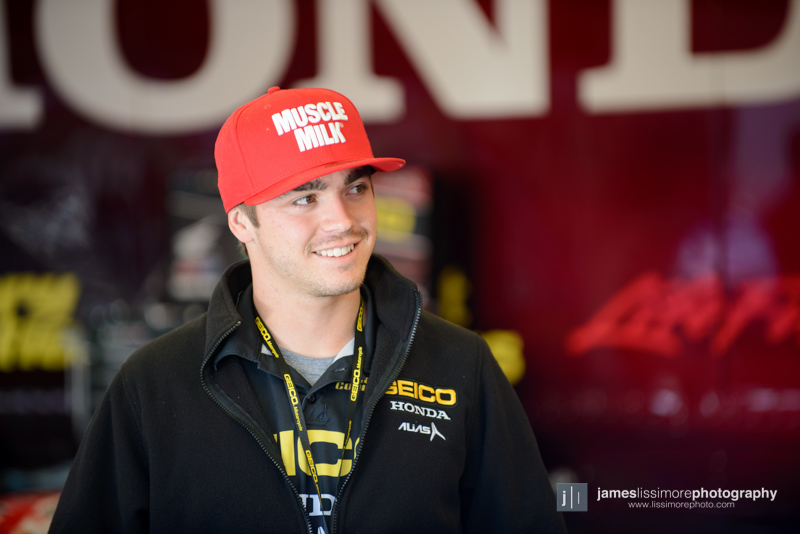 I feel like it's a shame that Zach Osborne doesn't have a podium yet, he's been pretty good and is right there as the leader of the next bunch of dudes. His crash in Phoenix that hurt his shoulder has healed enough to finally allow him to practice during the week. As far as his Oakland went, he was riding well but developed clutch problems.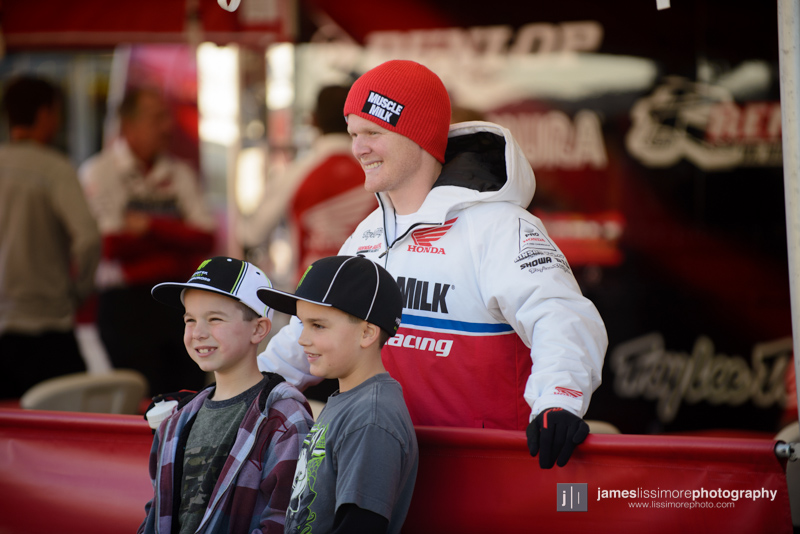 How could you not like Trey Canard? He likes kids! Probably likes puppies as well.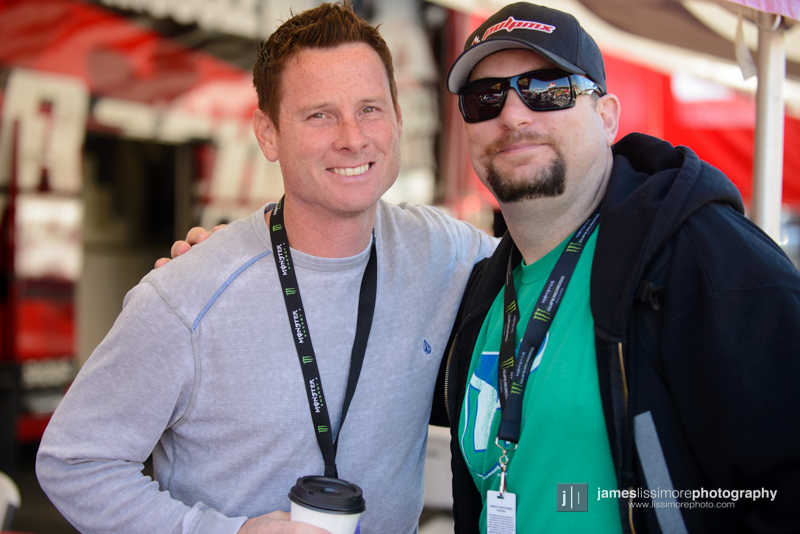 Reunited and it does feel so, so good. Tim Ferry was back and looking like he still has podium speed. I'm being dead serious. We need a "Tim Ferry Road to Excellence" inserted into the supercross series.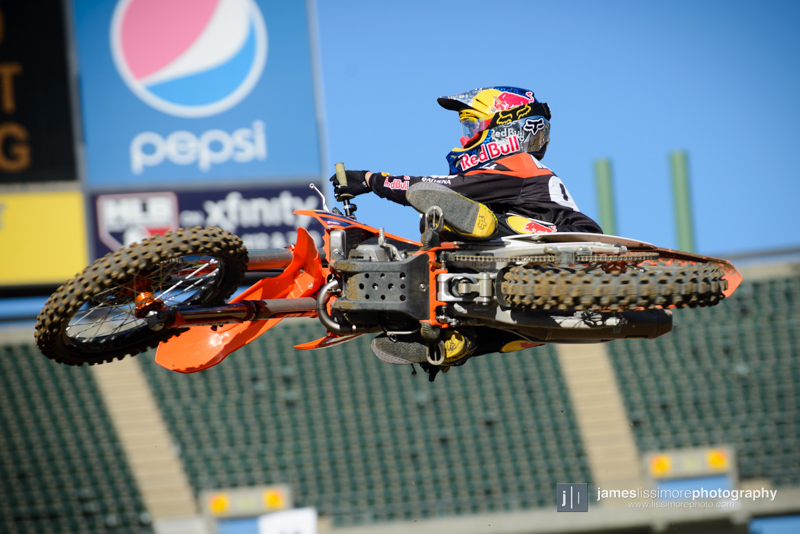 Lookit Kenny Roczen, flat as a pancake. He was very fast from the very first practice and won his first race of the year.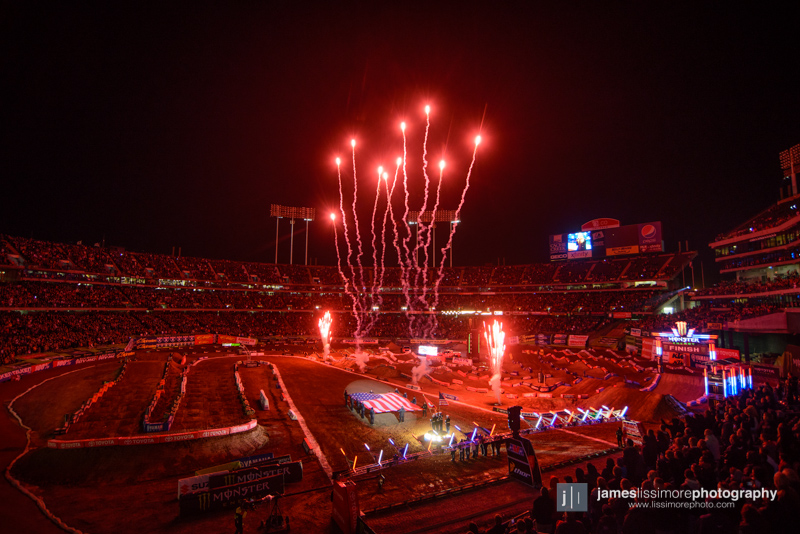 Fireworks! Lissimore placed these photos and so, yeah, fireworks man. I don't know what else to say.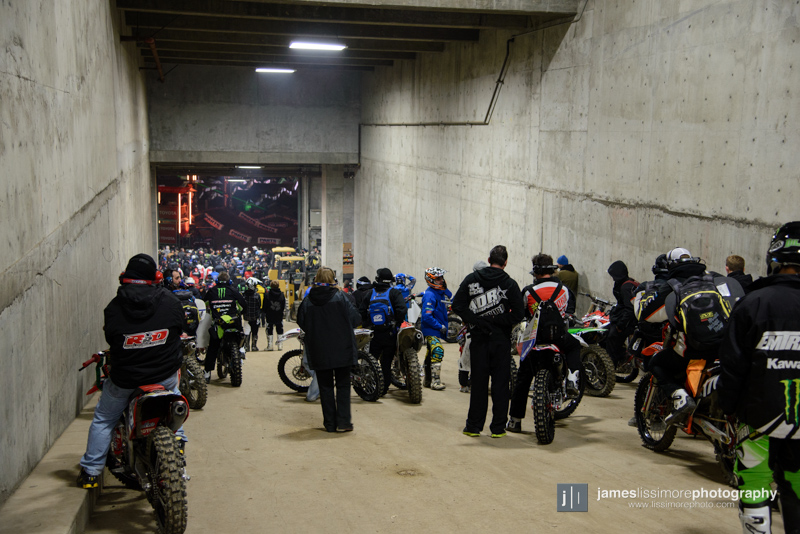 The tunnel down to the floor for these gladiators.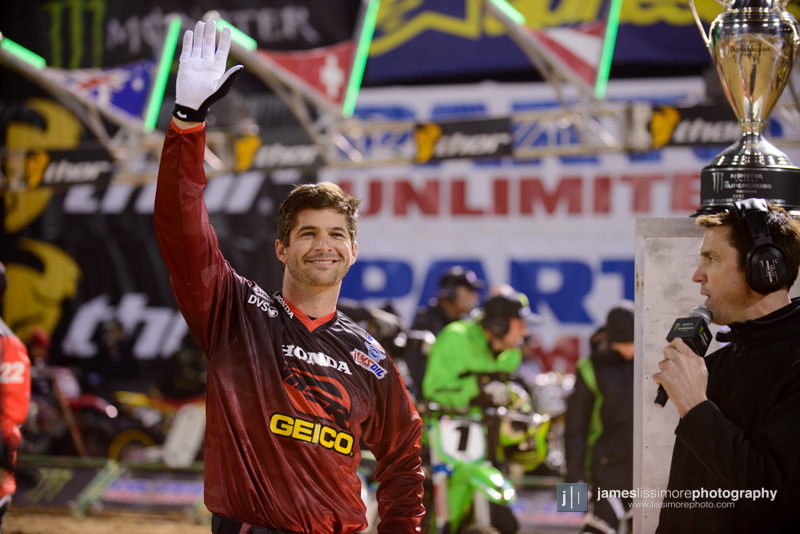 Kevin Windham is still around and is still loved. He did two transfers and they were pretty cool as usual.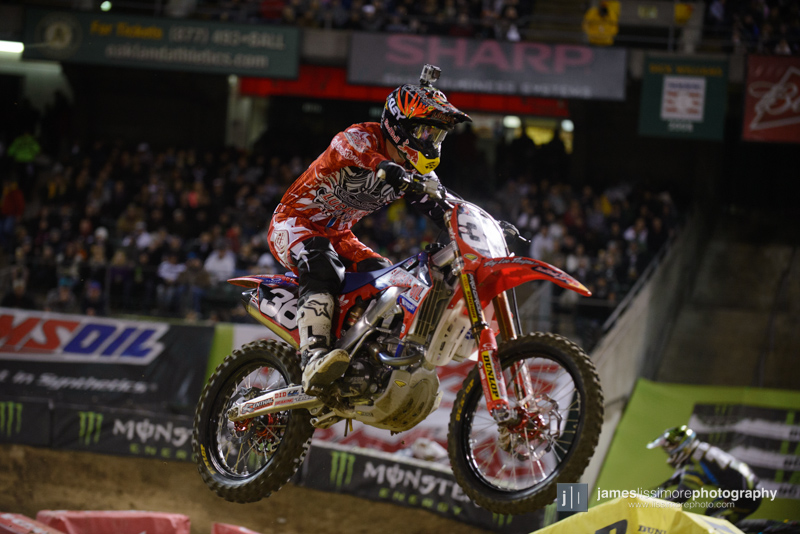 This Jessy Nelson kid is legit, his starts have been on point this year and even though he fell in the main, he still rode well.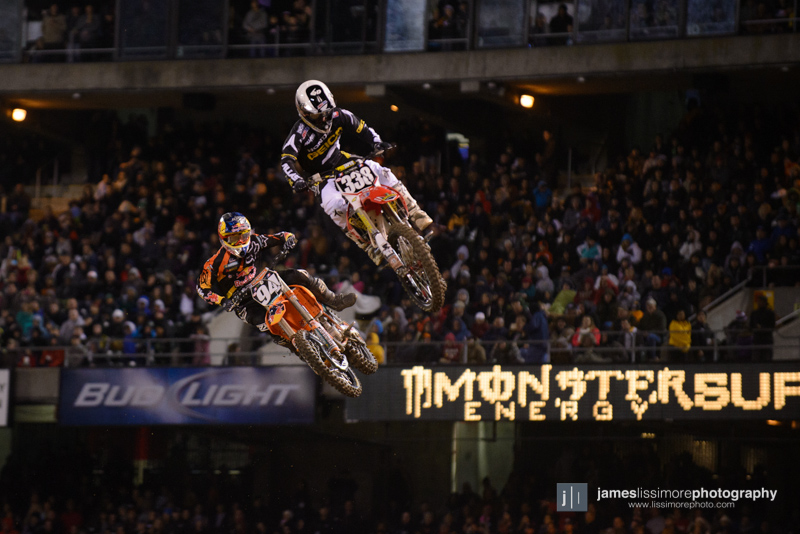 Is this Oakland or is this Loket? I just can't tell as these GP rivals go at it. They both a different path than most but here they are, in the biggest motorcycling series in the world.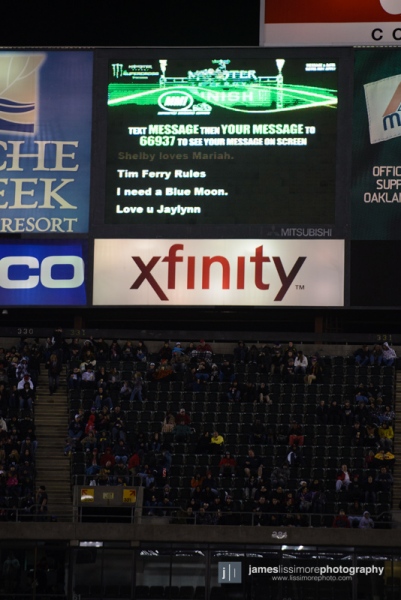 This is what I texted in to the Jumbotron during the day and it ran all night. Yes, I'm pathetic and yes I'm a loser.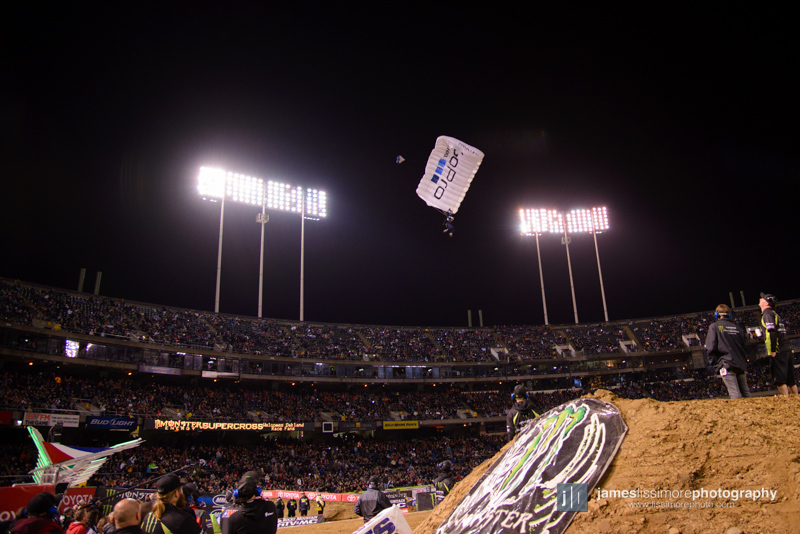 GoPro skydivers man…maybe I'm old and crusty but to me, fireworks, sky divers, tuff block contests- whatever- let's get to some racing.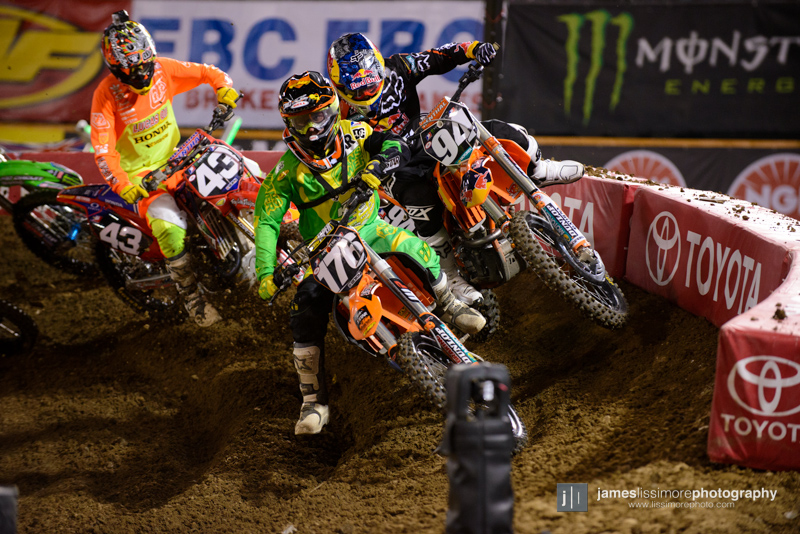 This is in the second turn and look how close Roczen is to going down when Joey Savatgy takes him high in the berm.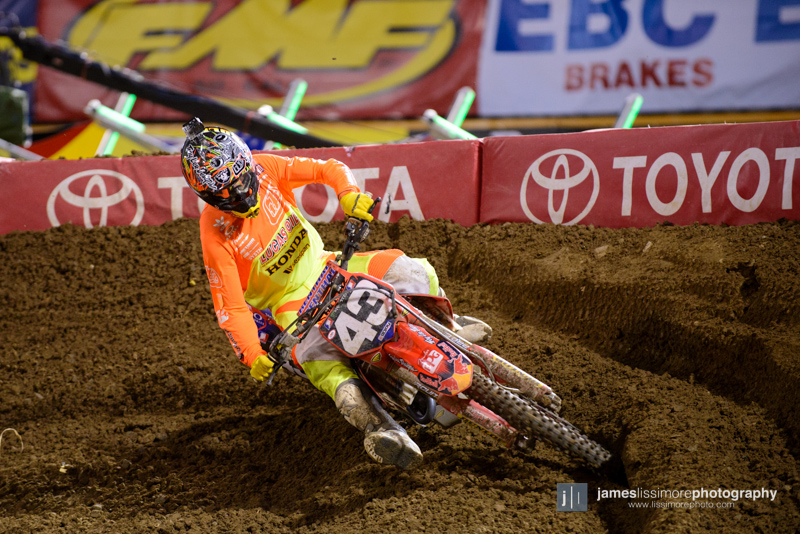 Seely led most of the race for the second week in a row but instead of a third like at Anaheim, he took a second.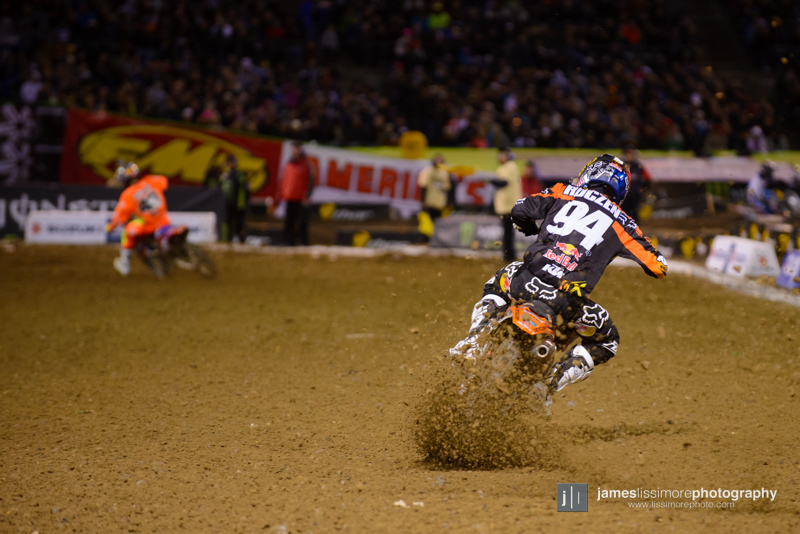 Da KTM making da power.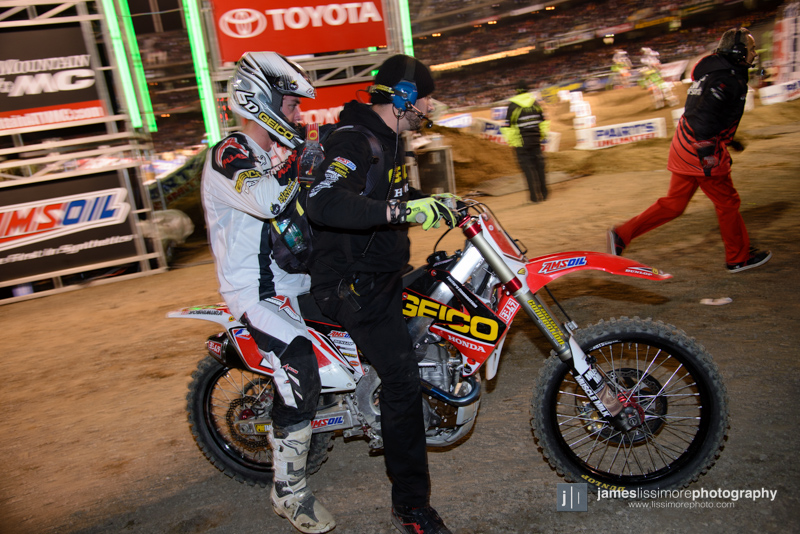 Disaster for points leader Eli Tomac as he crashed out of the main event. Tomac had looked so, so good and if he's going to win this now, he'll definitely have earned it.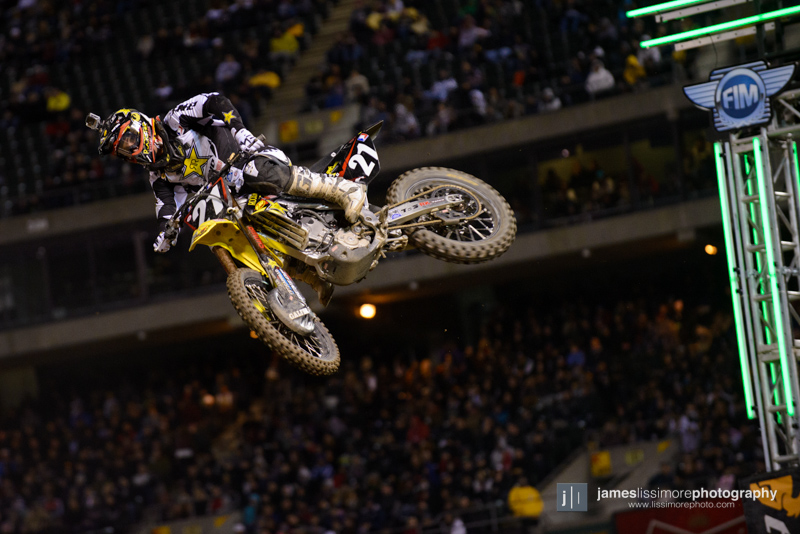 Jason Anderson must have been feeling like Millsaps is stealing the thunder for the Rockstar Racing team and enough was enough, he ended up third at Oakland and was really, really good. Like, the best I've ever seen him.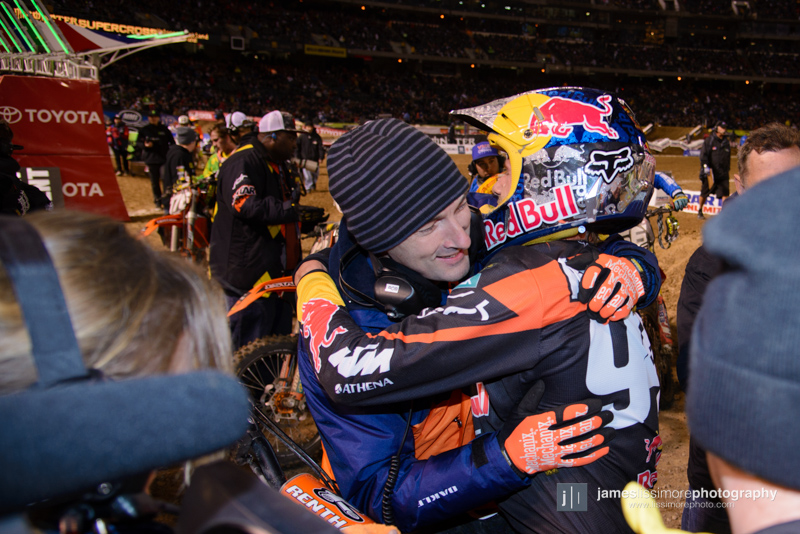 But it was Roczen kind of night in Oakland, he made a sweet pass on Seely and took off for the win. Vunderbar!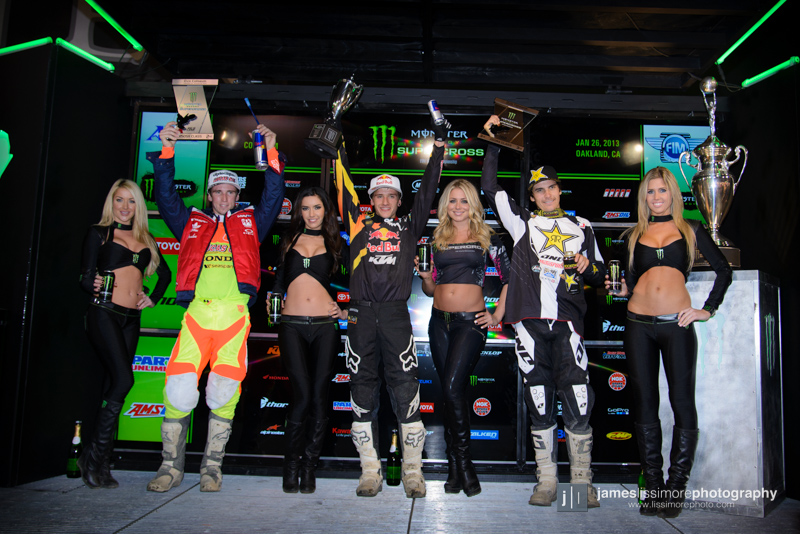 Your 250 podium.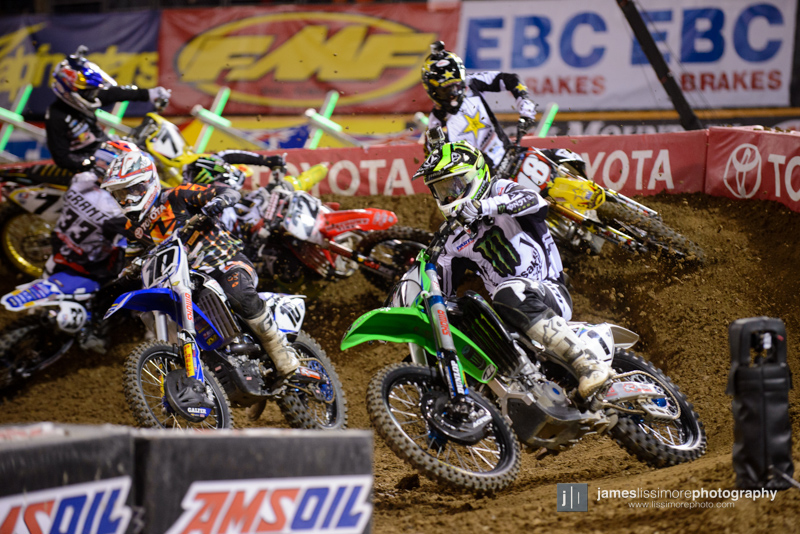 Just carnage on the opening lap of the 450 class…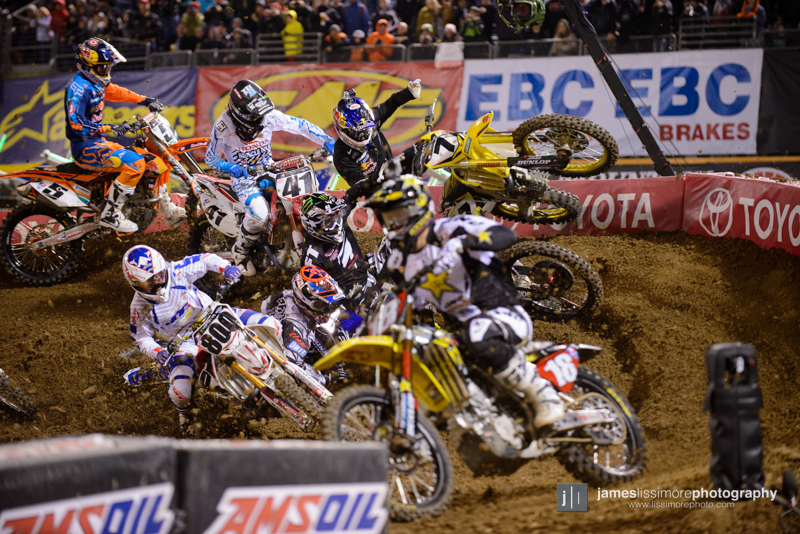 Stewie is thinking "Oh shit" at this point and one thing you don't want with a jacked up ACL is this.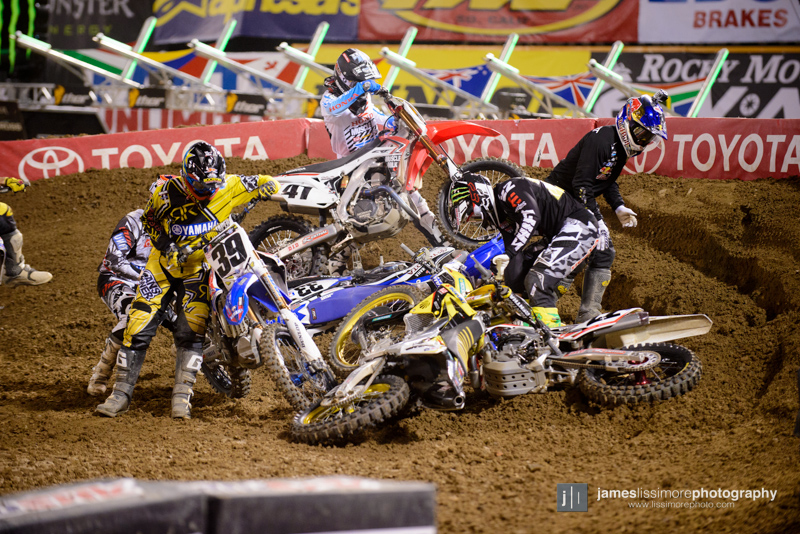 The aftermath and you can't even see Justin Barcia just dazed and confused out of the frame. It was s crazy crash- look at Canard there- he rode awesome to come back to fourth. Poor Bobby Kiniry there, he doesn't deserve this.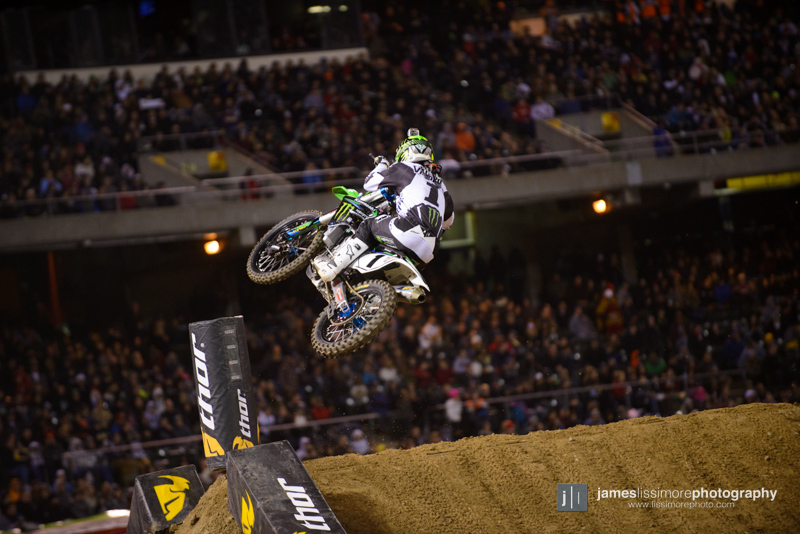 Meanwhile out front, it was curtains for everyone RV he grabbed the holeshot and took off. No one was stopping the Airfork tonight!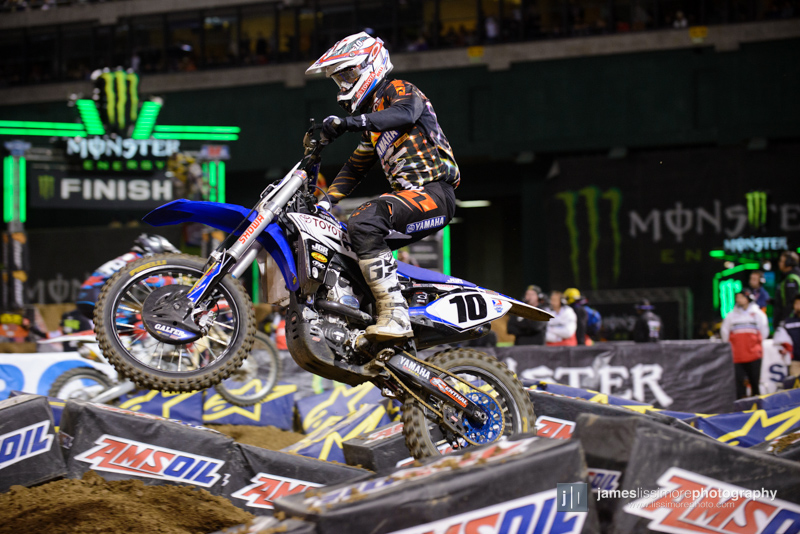 Brayton got a tenth but he deserved better, he rode very well all day and night. A collision with Ryan Dungey cost him a fourth, if not better.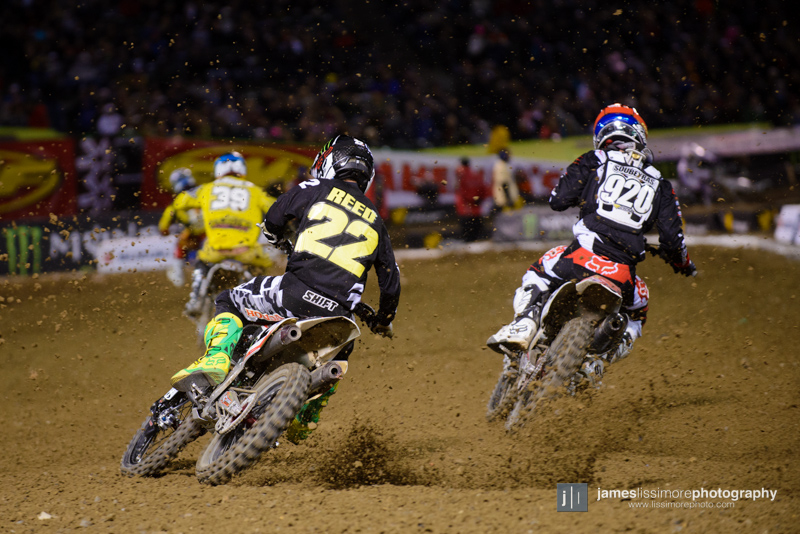 After the crash that he caused, Reed didn't ride as well as usual coming through the pack. He could only get a 12th. BUT on another note, Cedric "The Entertainer" Soubeyras made his first main event of the year in his last shot before he goes back to France.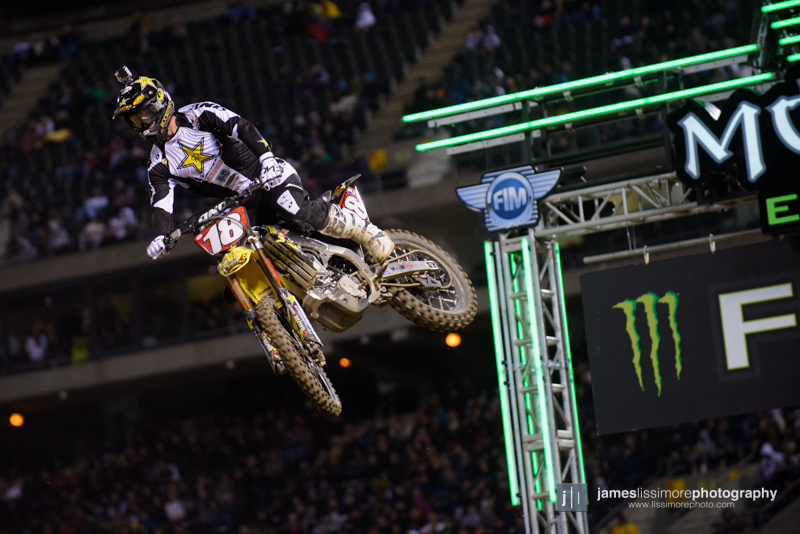 It took a long time but finally Davi Millsaps is a true week-in and week-out podium guy.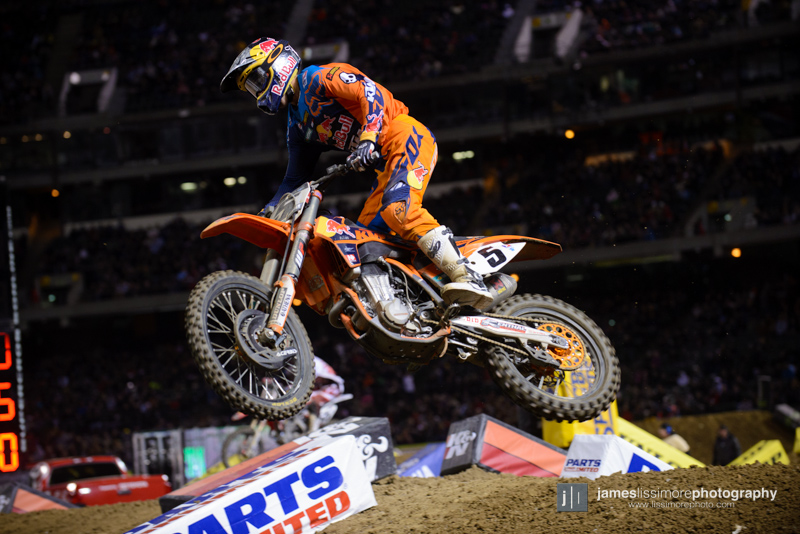 Dungey had his best ride all season to grab his first podium of the year with a third.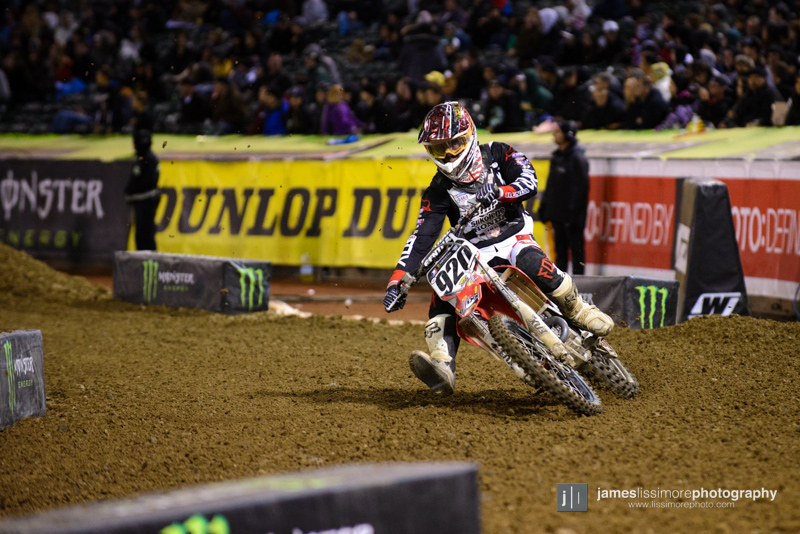 Soubeyras is sponsored by FREEGUN.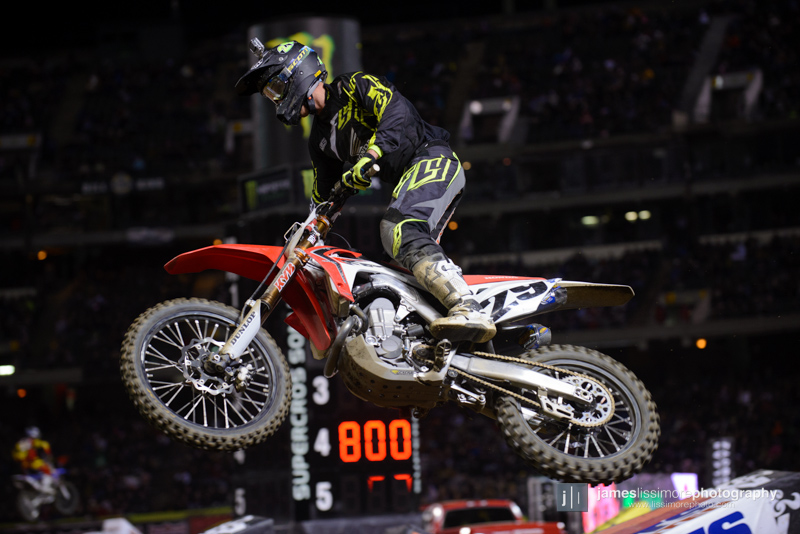 Looks weird huh? A high compression piston, a link, a pipe, revalved suspension and let's get 6th in a supercross!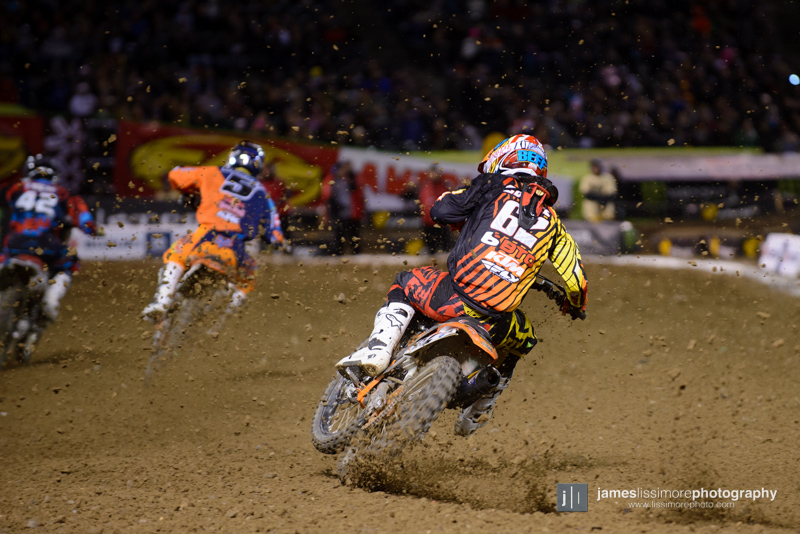 Matt Georke of the BTOSports.com KTM team is tenth in the standings…tenth! He's been great.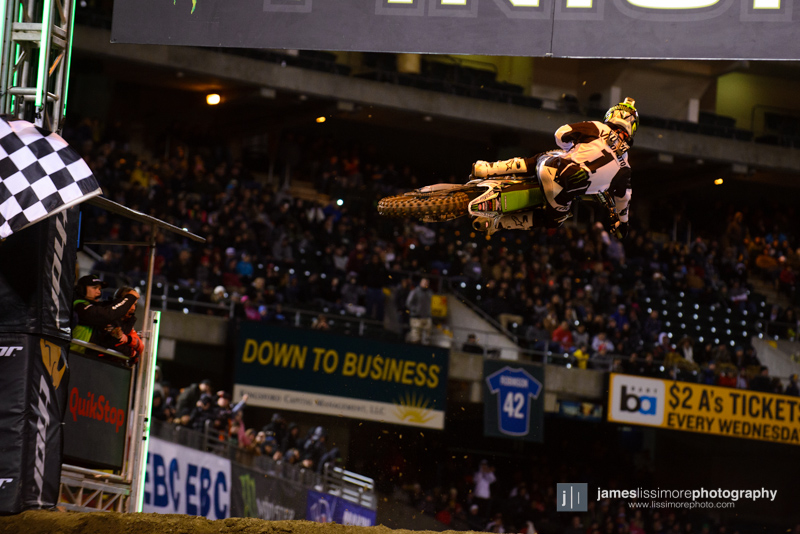 Flawless out there…although he did tell me cased a triple in a rythm lane one time. So yeah, he sucks right?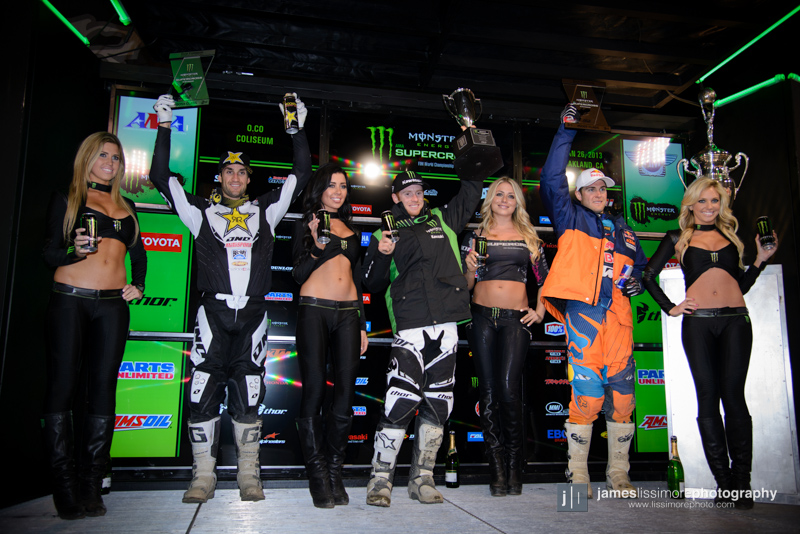 Your 450 podium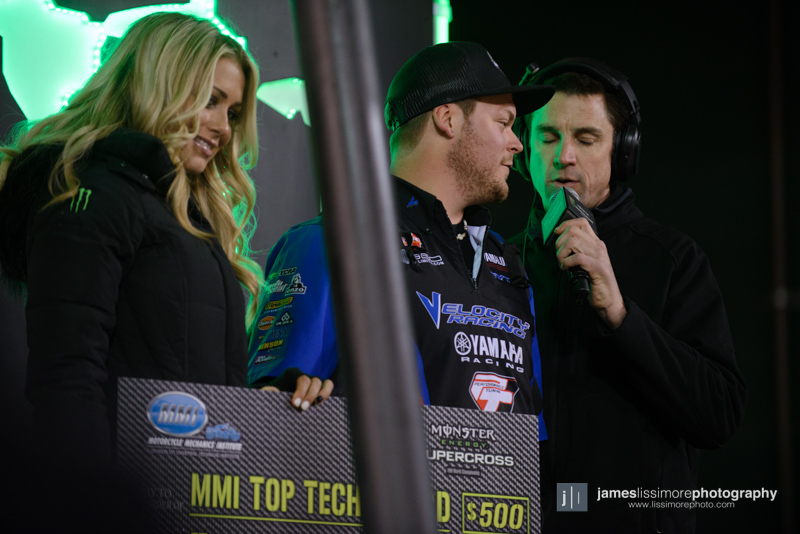 Chisholm's mechanic Donk got the MMI top tech award for working on Kyle's bike all day before the night show as something or another was wrong. Good job Donk. Donky Richy!