It seems like every season it's inevitable, there will be a "situation" that arises involving Chad Reed and James Stewart…

It seems like every season it's inevitable, there will be a "situation" that arises involving Chad Reed and James Stewart…
Photos By: Steve Cox and James Lissimore
It seems like every season it's inevitable, there will be a "situation" that arises involving Chad Reed and James Stewart which results in polarizing debates and discussions among bench racers everywhere. Given the history of these two Champions of our sport, it's impossible to argue that these debates aren't justified.
Leading into Anaheim 1 of 2009, a bitter break-up between Chad Reed and the L&M outfit stoked the fire between these two rivals, as James became the jockey for the team which was built around Chad in 2008. A rivalry which had, prior to Anaheim 1 of 2009, been built around an air of superiority by James and frustration by Chad, took a cataclysmic step toward personal bitterness.
That missed shift in the whoops at A1 of 2009 was not only the exclamation point to the controversy at that point; it bolded the type and underlined it. That kicked off a season-long grudge match that saw Chad hold onto the points lead through round 6, despite only 2 wins all series. The difference in the series in 2009 simply came down to James being faster. As aside from James' A1 19th place finish (Charles Summey DNF'd before James), both Chad and James shared a worst finish of 7th place during the year. Chad looked the best he ever had but James saw his most consistent series indoors, in his first year on the last traditional YZ450 iteration. Chad, known widely as one of the most consistent riders in the sports history, was "out-consistencied" by James with average finishes of 2.0 and 2.8, respectively. Let's not forget the heated 20 lapper in Jacksonville that year. Beginning with shenanigans in practice, James knocking Reed's fork-guard askew as he cross-jumped the end of a rhythm and a post-race neck grab. That race was so intense, you'd swear they only raced a 5 lap main event. As well, there was the SLC "team orders" incident which was in itself one of the most debated incidents of modern racing (as most incidents are when Larry Brooks is related in some manner).
The Jacksonville race in 2009 was a knock-down grudge match for the ages. Photo: Cox Photo
The 2010 series saw fireworks early as well when Chad and James came together exiting a corner on lap 5 in Phoenix. This incident marked the end of the series for Chad with a broken hand, James infiltrating the Kawasaki pits knocking Reed's bike off the stand and fines by the AMA. A few rounds later we saw James exit the series with a wrist injury incurred in Phoenix; aggravated in later rounds. The rivalry was again as heated as ever and now appeared every bit as personal as it was competition-based.
In 2011 the series had a bit of a new face, both figuratively and literally, as Trey Canard had graduated, new Champion Ryan Dungey had proven himself and Ryan Villopoto entered the series more prepared than ever. Chad and James were now considered the veterans of the class and early-on it seemed they had embraced this commonality and were possibly even ready to bury the bad-blood of the past.
Then came Atlanta.
Reed, who held the lead for most of the main event, felt a bit of deja-vu as again a teammate of JS was involved with his loss of the lead just before the 18th lap. Chad made the kind of aggressive move on James that again split bench-racers down the middle. It was dirty and chicken-shit or exactly what fans want to see on the last lap of a 20 lap death-match. Chad felt justified in his move on James and had no apologies afterward. James was pissed and the pseudo-camaraderie which had bore it's head thus far was now six-feet under. Actually, closer to the core of the earth.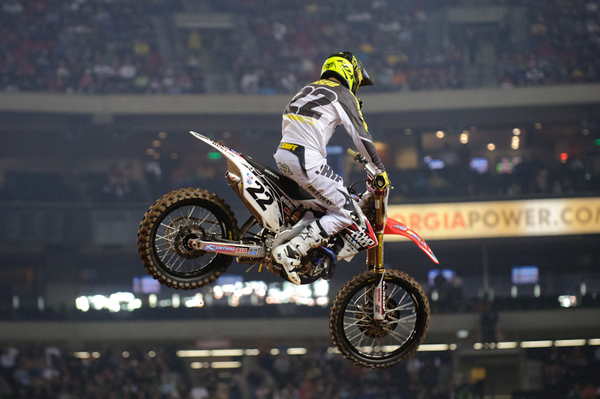 Atlanta 2011 ended the truce between Chad and James. Photo: Lissimore Photo
The feud was exacerbated further yet when five rounds later, the two got together again. James got buck wild in an uncharacteristically treacherous Dallas whoop section, leading to Reed being ejected and body slammed by his Honda on the cement. That guarantee James made only weeks earlier of the two riding at their compounds together left people wondering if they had actually dreamt-up that comment.
2012 was the exception to the rivalry though as James' biggest source of struggle was his own saddle. Chad had transitioned into an elevated comfort zone we hadn't seen since his 2009 season on the Suzuki. Just like their personalities, both riders' series' ended due to polar-opposite forces. James' was due to discomfort leading to injury, while Chad's ended as his comfort-level reached it's apex. Riding better than ever, a slight miscue put him down hard and for the rest of the 2012 racing calendar (save for the Monster Cup).
Coming into the 4th round of the 2013 Supercross series, all bets were off. The status-quo has been missing in action since round one. We had seen three different winners in three rounds (including a rookie-win), the returning series champ sitting 4th in points, an uncomfortable Chad Reed, struggling Ryan Dungey, wincing in pain James Stewart, unflappable Davi Millsaps, inspiring return of Trey Canard… and lets not forget the impressive rise of names like Goerke, Peick and Friese (sorry JT).
The term "unpredictability" doesn't even approach how this series has gone through three-rounds and round-four has pushed that needle even further out of the gauge window.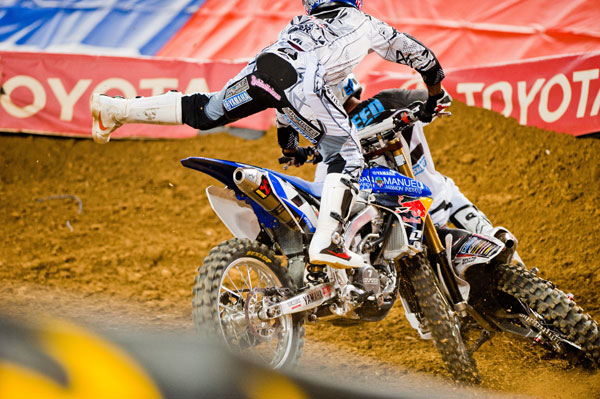 A treacherous Dallas whoop section in 2011 stoked the rivalry again. Photo: Cox Photo
Not even 1/10th of a lap into the main event in Oakland, the hibernation of the Reed/Stew rivalry awoke ferociously. Upon initial review of the incident it appeared that Reed's rear wheel came into contact with James' front tire in the whoops and while that indeed did happen, as often is the case, it's much more complicated than that; especially when the 22 and the 7 are at the center of debate.
I pulled the footage into my Mac and analyzed it from every available angle and the one that was most useful was the initial view only shown in real-time during the broadcast. I slowed it down and notated what I interpreted as the chain of events that lead to yet another mind-reeling round in 2013 Supercross. Click the photo at the end of Swizcorner to view the notated evidence.
My moto-forensic analysis yielded the following conclusion. Halfway through the whoop-section, Chad changes his line in hopes to set himself up to go "outside-in" and square under Villopoto in the corner before they enter the second whoop-section. In doing so his balance becomes askew as his line simultaneously converges with Millsaps' line into the wore-down line through the whoops. Chads loss of balance makes it impossible to commit into the line with Millsaps and essentially deflects him hard right, into the path of a charging Josh grant and chaos ensued.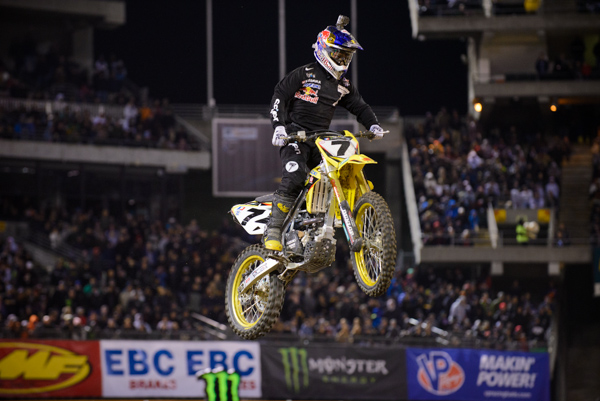 A broken throttle cable cut short Stew's night. He looks to be back at A3.
It brings about a few questions. Who's fault is it? What is "luck" in racing and how does it affect the reasoning of "that's racing"? These questions are all related. First of all, "luck" in racing, unless it is a mechanical failing, can always be traced back to a thought-process and decision. And typically by multiple parties. For example in this particular incident, the fault lies with Chad due to his decision to switch lines before his bike is clear of James' Suzuki. Could James have backed out of it? The middle of a whoop-section is no place a rider wants to be checking-up speed or veering off-course due to another rider's decision. Ever. Anaheim 1 2009 anyone?
James can't be faulted as his options were nil. Davi can't be faulted because although Chad bounced off of him, the damage was done before their lines came together. When executed successfully, it's what "The Moment" is made of. When it fails, the message boards light up in an inferno of blame and supposition.
This brings us to the often cited claim of "that's racing". What happens on the track is a conglomeration of split-second decisions being made incessantly under an insane level of pressure, focus and danger. Sometimes these decisions win races, alter results, come up short with no affect, end in injury, end in tragedy and sometimes go down in infamy.
It is racing. There is no luck. One rider's bad luck often comes down to another rider's choice. Conversely, a riders good fortune also comes down to choices made by themselves, or another riders decision, that didn't work out.
So what comes of this racing incident? An already hindered James Stewart has a side of "pissed-off" to go with his already troublesome start to the series. Chad has a deeper hole to dig himself out of after his worst finish in 4 rounds and the setup for the 5th round of this series is as "outer-limits unpredictable" as the first 4 have been.
For all the jokes made about the dangers of an Oakland California round of Supercross, shots were indeed fired but they were on the track. Not outside the stadium.
Shots fired.