There's lots of discussion following last nights dominating win by Millsaps of "bandwagons". That's the way it goes people.

There's lots of discussion following last nights dominating win by Millsaps of "bandwagons". That's the way it goes people.
Photos By: THE James Lissimore
Everyone loves underdogs and when someone takes it upon themselves to dethrone the players most widely expected to click-off the wins and dominate the series; they are rewarded with praise and vocal support. It's the same phenomenon which compels fans to wager, predict and boast. Everyone wants to say they saw something, they just knew the capacity of a racer. They want to lay claim to the credit for just knowing what could be and has come, to pass.
In relation to Davi Millsaps, the bandwagon theory is a bit of a misnomer. Davi has never actually owned, leased or rented a bandwagon in years past. Fans just came to expect that he didn't possess the focus or motivation to make them look like the idiot-savants they strive for. So they steered clear and occupied more time-tested bandwagons.
As we round the turn on the first 1/3 of this 2013 series, though, and Davi blazes the path to a dominating victory, you'd be silly to not climb on board. Especially with the continued miss-steps by Chad Reed, Ryan Villopoto, James Stewart and anyone else you predicted, wagered or boasted would be running this show, at 6 rounds in.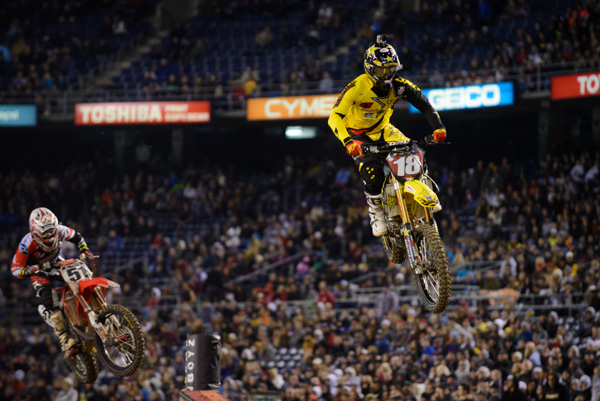 San Diego cemented the belief that the new Duke is for real.
I'm just glad I fired off "The Blessing" last week, before this convincing win. That at least moves me closer to the drivers seat of said bandwagon than the masses boarding now.
Seriously though, the discussion on whether Davi is for real or not can now stop. Even his largest detractors are impressed and his opponents realizing his threat is undeniably concrete.
This is not the Davi Millsaps of… well, ever before.
The unpredictably in sport is what makes competition reach it's pinnacle in the eyes of the fans. With regard to the results of the perennial all-stars of Supercross, this series is as exciting as any we've seen, bar none. Lets look at the finishes of the guys who were considered the pre-season title-favorites, or past SX-class race winners, as an example.
1- Davi Millsaps- 1-3-4-2-2-1
2- Ryan Dungey- 3-7-6-3-1-3
3- Ryan Villopoto- 16-2-1-1-7-6
4- Trey Canard- 2-5-2-4-7-8
5- Chad Reed- 4-4-3-12-5-5
6- Justin Barcia- 7-1-20-20-3-2
7- Andrew Short- 6-9-7-6-6-9
8- James Stewart- 8-7-12-19-4-4
Looking at these numbers, it's no shock that the point standings look this way. The shocking part is, aside from Andrew Short, these finishes are a pretty big departure from what history suggests we expect from these riders. This includes, probably most shockingly, Davi Millsaps' much improved average. The ever-reliable Dungey is right where we have come to expect him to be. Many expected the back to back race wins for RV to be the beginning of the end of the Millsaps show. But now with back to back tribulations and Davi's continued rebirth, all bets are again, off. Trey started out on fire but has simmered in the last few weeks. Chad had a rough night in Oakland and a rough start at A3 but managed to rebound and looked to have a shot at the W in San Diego. Two Two, like everyone else, is still tweaking the new air fork to find the feel they are confident with. Barcia has seen the best of the best and the ugliest of all with 3 podiums and 2 DNF's. That's an enigmatic rookie for sure. Andrew Short has been stead, though extraordinary, on paper but when you consider the distractions around him and having a Factory Honda replaced with a frighteningly stock race bike (which is also his practice bike), it's really damn impressive. From just before the gate drop at A1, it was made clear that fans should expect JS7 to play the role of soldier and just battling through the series. He's done just that. These last two rounds have been an indicator of his improvement as he keeps the pain and further damage to his knee, in check.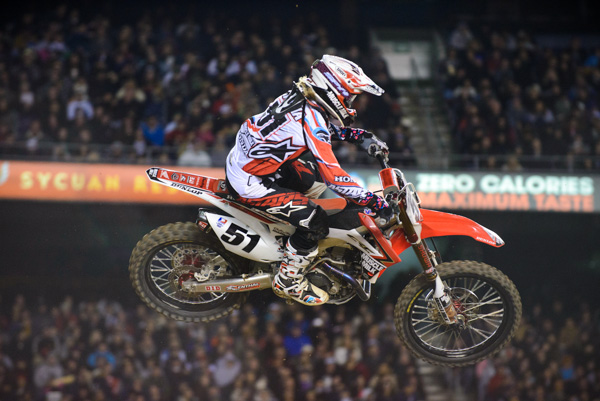 Barcia has two DNF's that could very well be the difference between leading the series and sitting right where he is.
This top 8 in points have all been getting better across the board. In Supercross we have long seen a rider establish dominance and separate from the pack. Though you could argue that Davi Millsaps is THAT guy in 2013, he has been challenged in every race, constraining the margin of error more than ever. Look at Chad Reed just as he was making his push for the lead in San Diego. On a track that was about as one-lined as we've seen in recent years, a fraction of a miscue not only ended his bid for the win, it made making up the lost positions nearly moot.
The one-lined nature of the track in San Diego, compounded by it's slick surface made moving forward a very physical proposition. You either had to commit to contact or rely on opponent-error to make passes. Sure, that sounds like the formula for most tracks but there was definitely one fast line in San Diego that made it more difficult to execute passes without putting your own forward progress in jeopardy.
It's crazy how good Justin Barcia could be doing in this series if not for a few split-second errors which had drastic affects on his finishes. At A1 he looked to be on point for a win throughout the day and into the main, then a 16th lap crash left him finishing 7th. Barring the consecutive DNF's after his Phoenix win, Justin Barcia could legitimately be leading the series right now.
That's the crazy part of the inconsistency across the board in the top 10 of the 450 class; just about any of them could be leading or very close to the points lead were it not for their poor finishes. I know, rocket science right? Just because it's obvious doesn't make the results of the math any less intriguing.
You can imagine my dismay as I watched Broc Tickle finally get a start and quickly be swallowed lap after lap by the surging pack. I can't put my finger on what was the cause but as they say, it's a learning experience. Maybe he was shell-shocked that he actually got the start he's been working for? Maybe he's been practicing starts so much he stopped working on his sprints? Whatever it was, it was a wake up call and hopefully the GOAT has the formula to nip it in the bud. I know Broc is loving working with RC so far and hopefully that continues but this sport is moving more and more toward 20 laps out of your comfort zone and Broc is a very calculated racer. That tendency could eat away at their rapport as the rounds move on. It's no secret that RC built his legacy on doing whatever it took to win and that's the polar opposite spectrum from the calculated approach.
Matt Lemoine had an incredible day and majority of the evening in San Diego. At one point, late into qualifying practice, he occupied the 5th spot. He, again, qualified straight from the heat, got a solid start in the main and ran 10th for a long time before hitting the deck, dropping to 17th and working his way back to 13th. The best part of the night was Matt's attitude following the race. Instead of dwelling on what almost was, he left San Diego focusing on how great he felt while running 10th and a genuine feeling of comfort and belonging. He's clearly settling into the SX class and putting the lessons learned each round to use. Now the series heads to his home race and the east coast where he's a little more familiar with the dirt. The feel-good privateer-tale continues.
Josh Hill completing 20 (ok, well 19) laps is a win no matter how you look at it. He's been working so hard for so long to come back from injury on top of injury and it looked, more often than not, like the finish of another professional race would not come. Simply overcoming the mental block created by so many attempts and failures, due to simple racing incidents, is step one of the recovery of his career. He finally has that finish to hang his hat on. It's the metaphorical cresting of the mountain top and I can't wait to see how this infusion of confidence benefits him in the coming rounds. Loved the no-footed one-hander in the LCQ as well. It reminded me instantly of Josh Lichtle in the Indy 2010 LCQ when he looped-out on the start, then proceeded to do 90º one-foot kick outs over every triple of the race.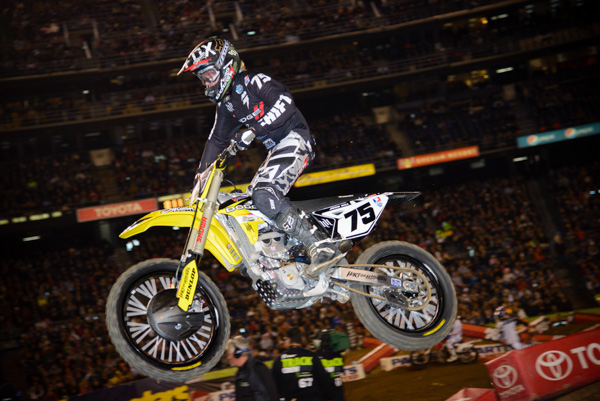 Josh Hill left San Diego with his first points in 3 years. Might as well have been a win.
I can't forget the fact that I kept noticing Chris Blose and how well he was riding. He finished 4th in his heat and ran 3rd much of it.
Good for PJ Larson making the main in the last two rounds as well. He's got a lot of talent. Too much to not be making mains each week.
250
With the 250 West series going on hiatus, all the talk is of whether Eli and Kenny will be saddling up on bigger bikes for the East rounds. This tends to work out very well for 250 riders who are a long shot for the title with little to lose. I'm not so sure it's a smart idea if I'm Roger or The Rock though. Then again, if I were Roger or The Rock I'd get a lot more respect and smile a lot less… but I digress. We've already seen a previously impenetrable Eli Tomac cough up his title hopes in one-round and Ken Roczen seize the reins, without faltering since.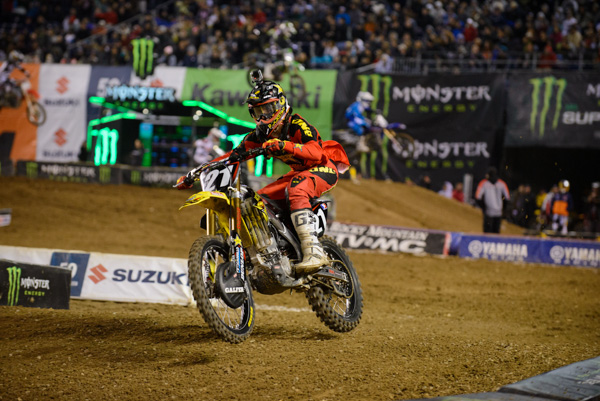 Untucked shirt and all, Jason Anderson is resembling the Horizon Award winner we all expected two years ago.
In my mind, with the way Kenny is riding since round-one, Eli's title-hopes are a long shot. So I see Eli mounting a 450 as more likely than Ken. I see no benefit to Ken putting himself in a situation that could jeopardize his points lead. We'll see though.
Man, Jason Anderson is just on fire lately. Unfortunately for him, his fire burns out a little quicker than Tomac or Roczen's in the main events. His resurgence is good to see though. Great, great style. He looks like a trail of water running down a rough surface. Just flows everywhere.
Austin Politelli finally has a result which is indicative of his skill. Much like Joey Savatgy, Austin has looked great for most of the series but always seems to get caught in some ruckus during the race which sabotages his results. Savatgy has the skills to finish on the podium but putting together the 15 laps necessary is a whole different ordeal. I'm claiming it now, Savatgy will podium when the West resumes.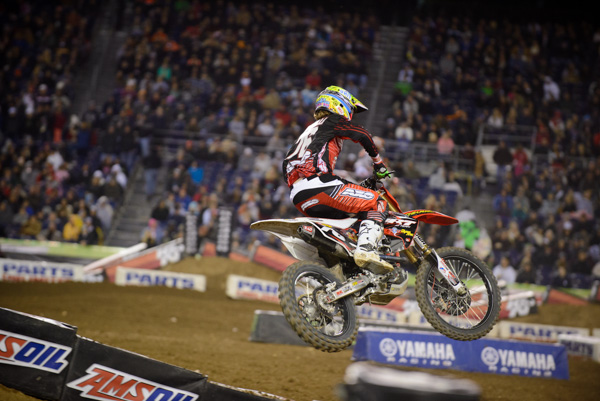 HRT Honda's Austin Politelli had a great night in San Diego.
Nobody is more happy to see the West break than Mitch Payton. The man who has revitalized, refocused and re-birthed more careers than Donald trump on Celebrity Apprentice has, thus far, found his kryptonite in Martin Davalos. What began as an idiosyncratic punchline two seasons ago, has now become the "told you so" of whichever 250SX coast he competes on. It's a lot like Josh Hill's comeback story. Martin has a longer history to overcome but the tales which follow his persistent course of hurdles are no less mind-boggling. Well, mind-boggling to us fans but utter disgust for the man who has come to expect his machines to make the pitfalls of a riders history just that; history. The guy who comes within inches of catastrophic injury to a podium finish at Phoenix, inexplicably finds a way to turn convincing heat wins and main event holeshots into frustration and despair. I want to see Davalos win like I wanted to see Josh Hill finish another pro-race. There's nothing I love more than history being refuted and triumph over the pressure of a track record of failure (main event failure of course). I believe he will win when the West resumes and if he doesn't, I believe Mitch will have a very sore throat and be popping a few Excedrine migraines.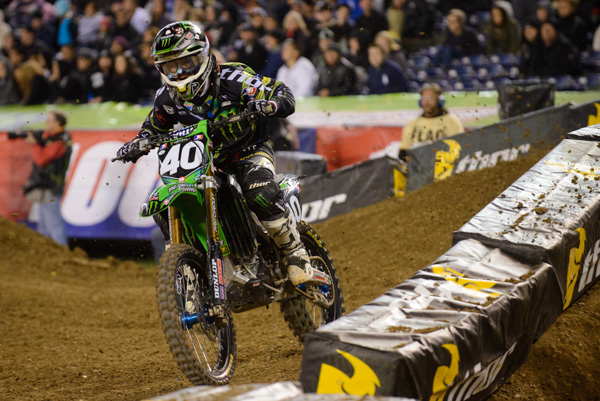 Something tells me a black cat crosses Davalos' path each saturday night.
It's on to the East where I will be at Dallas, Atlanta (barring snow here), Indy and Toronto. A fresh series launch and a 450SX class that is as unpredictable as Anaheim 1 still? Pinch me, I must be dreaming.
Oh and yes, "The Word" is, "unpredictable". The longer that maintains, the better this season will be.
Thank you for reading.