Not once but multiple times in St.Louis, an issue which almost gave me a coronary in Toronto of last year came to a head and needs to be addressed.
Not once but multiple times in St.Louis, an issue which almost gave me a coronary in Toronto of last year came to a head and needs to be addressed.
Photos by: THE James Lissimore
But before we get to that, most importantly is making sure everyone out there sends their prayers, good vibes, mojo, thoughts, blessings(or whatever other form you may choose to pay forward good will), to Kyle Chisholm. In a dirrrrty crash which began with Matt Goerke cross-jumping into Kyle's trajectory off the triple on lap-3, Kyle had his bike stripped from his body. It's always been one of the scariest coin flips in racing. Whether due to cross-rutting or simply a racer making an ill-advised move, the intensity in these races and split second decisions, which are the result of more instinct than thought, can have terrifying results. It can happen to anyone at anytime and in this instance, it happened in the worst possible area of a Supercross track.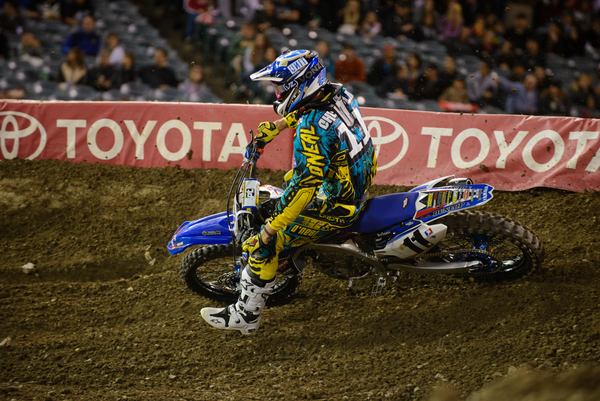 Chizz is no stranger to rebounding and needs to mount another charge after falling victim to a scary crash in STL.
Kyle's had a trying 2013, scrambling to line up a late off-season ride with the Velocity 3 team, which went terminal after about 1/3 of their first year as an outfit and then a concussion forced him to sit out of San Diego and Dallas. Kyle was excited to be brought on as Josh Grant's interim replacement(due to injury) with the JGR team. What looked to be a great opportunity seems to have brought about only more strife for the hard working Chisholm. In his first week with JGR it was a broken bike in his heat due to a crash with another rider and a poor start in the LCQ ended the night. Now, a week later and more comfortable on the new bike; a straight from the heat transfer was all for naught.
It's been an extended difficult period for the Chisholm's and it's times like this, where doubt creeps in.
Is it all worth it?
Why is this happening?
Will it end soon?
At some point in this sport, these questions are pondered by all at this level, believe that. You have only two choices: Endure and rebound, or cut your losses and move on. The simplicity of these options is a stark contrast to both the difficulty of making the choice, as well as implementing the work for the decision. Wil Hahn can attest to this process all to well. He is the exemplary beacon of hope for riders in this situation.
I'm still not ready to move on to my coronary issue yet, I need to get a little dirty first.
With all this talk of subpar tracks, holeshot to checkers, no passing and one-lined abominations– who woulda thunk that the solution to nearly all of these factors could be tractable terrafirma?! It makes sense. When a track offers a slick surface, race-craft moves from confidence and aggression, to insuring as little rear-wheel spin as possible and fighting a front-end which pushes everywhere. You're focused on minimizing errors which will send you backward. And opportunities to move forward are scarce, as everyone is fighting the same demon: minimizing error.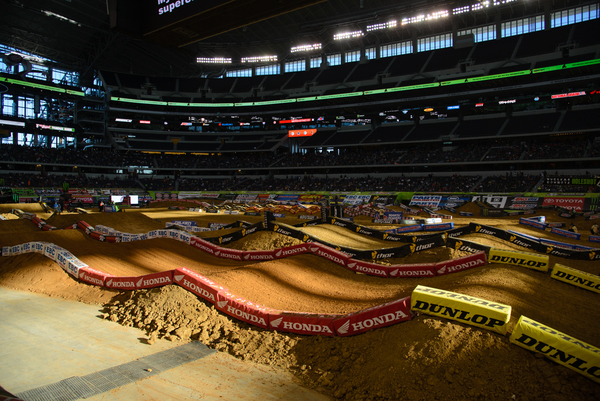 Dallas was as hard as a freeway. Not awesome for dirt bikes. Lets hope for more dirt like STL had.
Confidence and aggression make for great racing. The riders set their bikes up specifically so they are confident when pushing hard and when it comes to Saturday and a track surface which punishes this approach, we all lose. Water can't fix broken down soil. It affects even the National tracks. Just look at Southwick as a primary example. For all the time we humans spend trying to breakdown dirt with washing and cleaning, we need to start working on nurturing the dirt which plays such a huge role on the quality of racing we love to see week to week. See Red Bud as the primary example of how a track's chemical make-up can be sustained with the elbow grease and the desire.
Lets get into Flag Day, shall we…
In Toronto last year, if you're a sustained Swizcorner reader, you'll remember I was going nuts over the flagger who failed his duty continually throughout the night. In short, he was caught may times with crashes in "his" corner, while he was watching the action on other parts of the track. Some of these crashes indeed affected finishing results. Herein lies my complaint. I've never been a flagger but I can't help but feel either the instruction provided or the absorption of that instruction, is amiss. Adding to the lacking attention span of some flaggers, is another issue: the interpretation and heeding by riders of certain flagging procedures. Now granted, I would argue by and large, the riders understand what is expected of them when they see the flags but much like the new class names of 250SX and 450SX, the current procedure falls short of ideal and could be rectified very easily.
Specifically regarding the Red-Cross flag which RV was docked for jumping on; RV rolled the first jump after the Red-Cross flag, then doubled the next set. The Red-Cross flag was the last flag being waved in the altercation and RV jumped after passing the jump following that flag. Why not remove ALL chances of confusion/argument by any racer and introduce a rule that when there's a Red-Cross flag, it's mandatory wheels on the ground until they pass a green-flag?Any green-flag. Whoever has a green-flag and is waving it, that's the point where standard racing continues. Simple. No more wondering if a rider saw the flag or if they were justified when opting to race normally again. If your wheels come off the ground before you pass the green-flag following a Red-Cross, you're guilty and have no argument for recourse.
I'm still working on a solution to lapped riders not moving out of the way for the blue/white flag. One mountain at a time, people.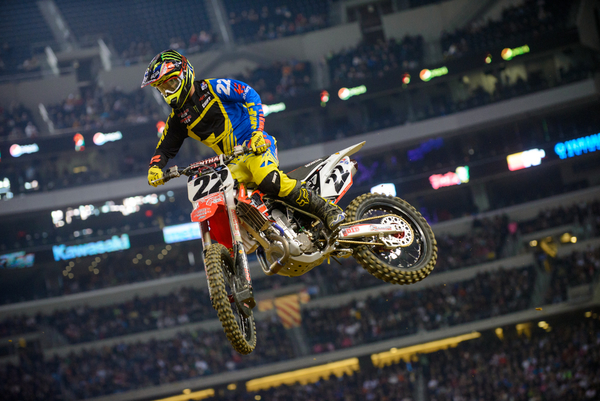 Chad Reed did what the series needed him to do: Get back to what he's comfortable with. Air can wait.
Chad Reed admitted that this week he switched back to running the pre-season fork settings he ran in the Aussie SX races. Yes, that is a non SFF fork. Even if it hadn't been mentioned that Chad had gone back to the conventional upside down fork(now theres an oxymoron), I would be convinced he had. He was more aggressive than we've seen all of 2013 aside from a few laps prior to hitting the deck in San Diego. The dirt was great in STL but dirt alone could not account for the improved look Reed had last night. It was obvious. 3 laps into heat one this was not the Chad Reed we've seen at just about any point in 2013. Likewise, you could see that look in his eyes on the podium. I can't say if Honda has, before this weekend, flat out said running the pre-air fork was not an option but I'm glad that this week it was. It's preposterous that they would deny him the option since the Factory Air fork is an entirely different fork than what they sell on production bikes. IF they finally did give him the greenlight on the old fork, good for them. Clearly, it makes more sense to let him run what he wants and finish better than it does for him to be frustrated, finish poorly and say "yup, we're running the Air fork alright". I'm sure after they dial-it in, it will be great but right now finishes count and that's not time to be chasing your tail.
There's hope once again in those eyes and that is a game-changer.
Remember a couple weeks ago when Tomac leaked that he would be racing the 450? There was a lot of excitement about him moving up and more than a few people were certain he would be a podium guy right away. Of course it was possible; though I just had a feeling. You know that feeling where everything just seems so right it's got to be wrong? Approach with cautious optimism. He'll be great when it counts but there was just too much hype and the hyper's were smited.
Davi had his worst finish of the year, though he was on the receiving end of an altercation with Canard which left him with a jacked arm. If that arm doesn't have lingering effects, I'd expect this 6th place to be his low point of the season. I'm not silly enough to assume the Davi-Train has gone off the rails just yet. This was his "bad race". The one any would-be Champion has every year.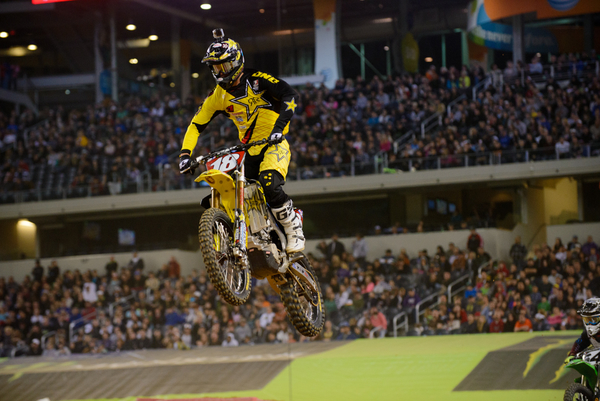 Davi had a roughter STL than he hoped and RV's win really put a hurtin on his points lead.
250
Last week was all about Wil Hahn's tale of triumph over tragedy and this week he made a statement. On clearly the most race-ready track of the year, where passing was the rule, not the exception, Wil made it happen again. Not only did he pull the holeshot and put in solid laps, he withstood legitimate advances by the believed stallion of the class, Dean Wilson.
I've got a high opinion of Wil and even I was impressed by how collected he remained when Dean pulled up to his position. I can't help but believe the trials of the last two years go a long way in maintaining his composure under just those types of situations.
Not only does Wil now hold the points lead, he holds legitimate momentum as well as pressure being added to Dean who was expected to capture this title by just about everyone. Dean isn't helped by the boat Mitch's West coast effort has left him in. The frustration of the West coast has built tension in the Pro Circuit effort. Add to that last nights 17th place finish for Justin Hill and that puts even more pressure on Dean. If Wil extends the streak of finishing ahead of Dean just one more round, I'd expect Dean's staying in Florida, away from Mitch, to become a point of scrutiny.
Can't wait for Daytona!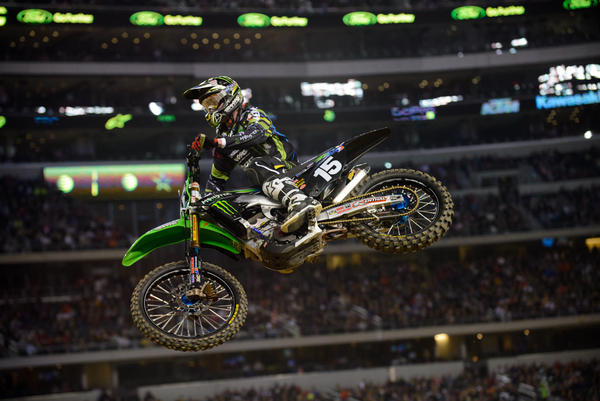 Is Dean going to put an end to Mitch's sleepless nights?